We love sharing the stories of our mums in the community who have had incredible weight loss journeys. None of their transformations have happened overnight.
With the help of The Healthy Mummy, they have all put in the effort, consistency and time, and are now reaping the benefits of a new healthier life.
Inspirational mums celebrate their weight loss success and new healthy life!
Helen Cox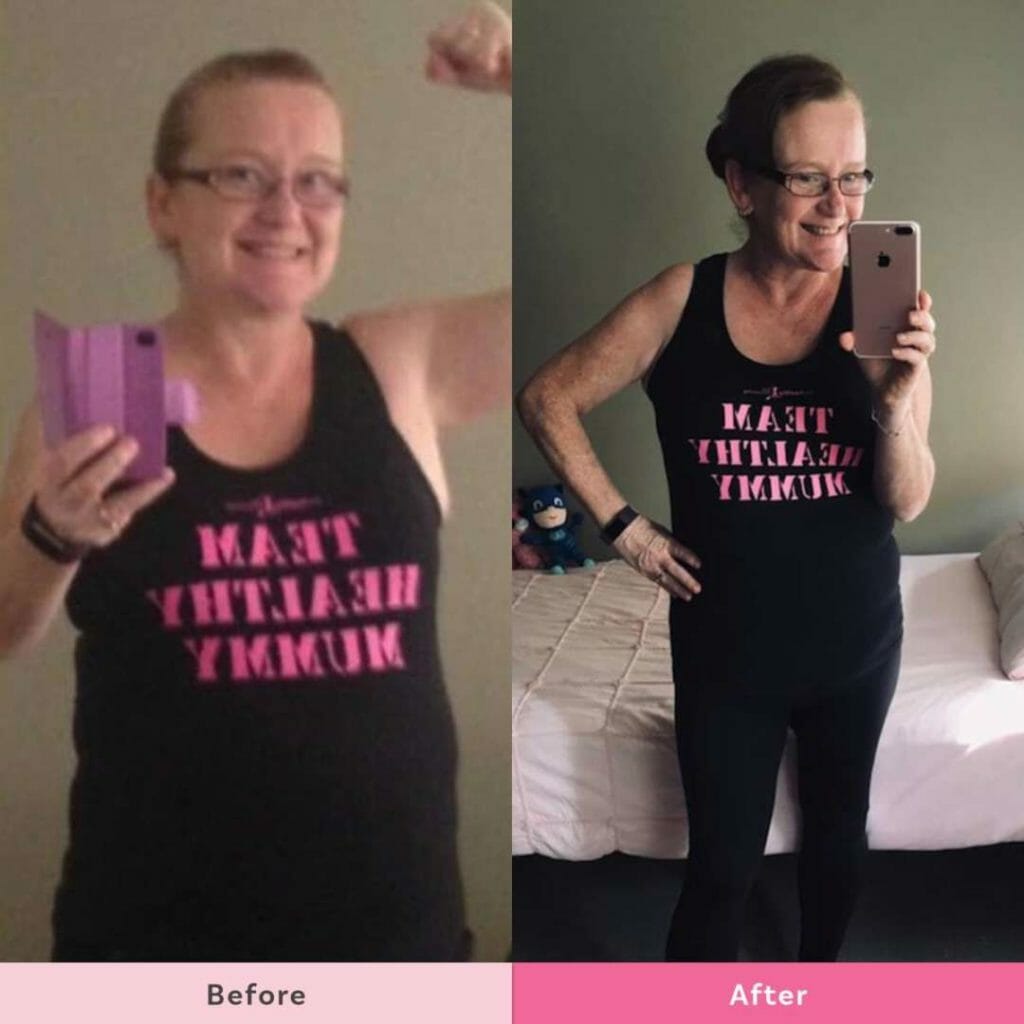 Helen says, "Twenty-two months between these photos, from when I first found The Healthy Mummy in May of 2017 to now!!
When I first joined I purely concentrated on my food and water with some light exercises, fast forward to December 2018 I increased my exercise to include daily walking and boxing in my garage.
To go from absolutely loathing exercise to hitting my step goal every day is definitely getting me the results that I thought I could never achieve."
Janeya Golding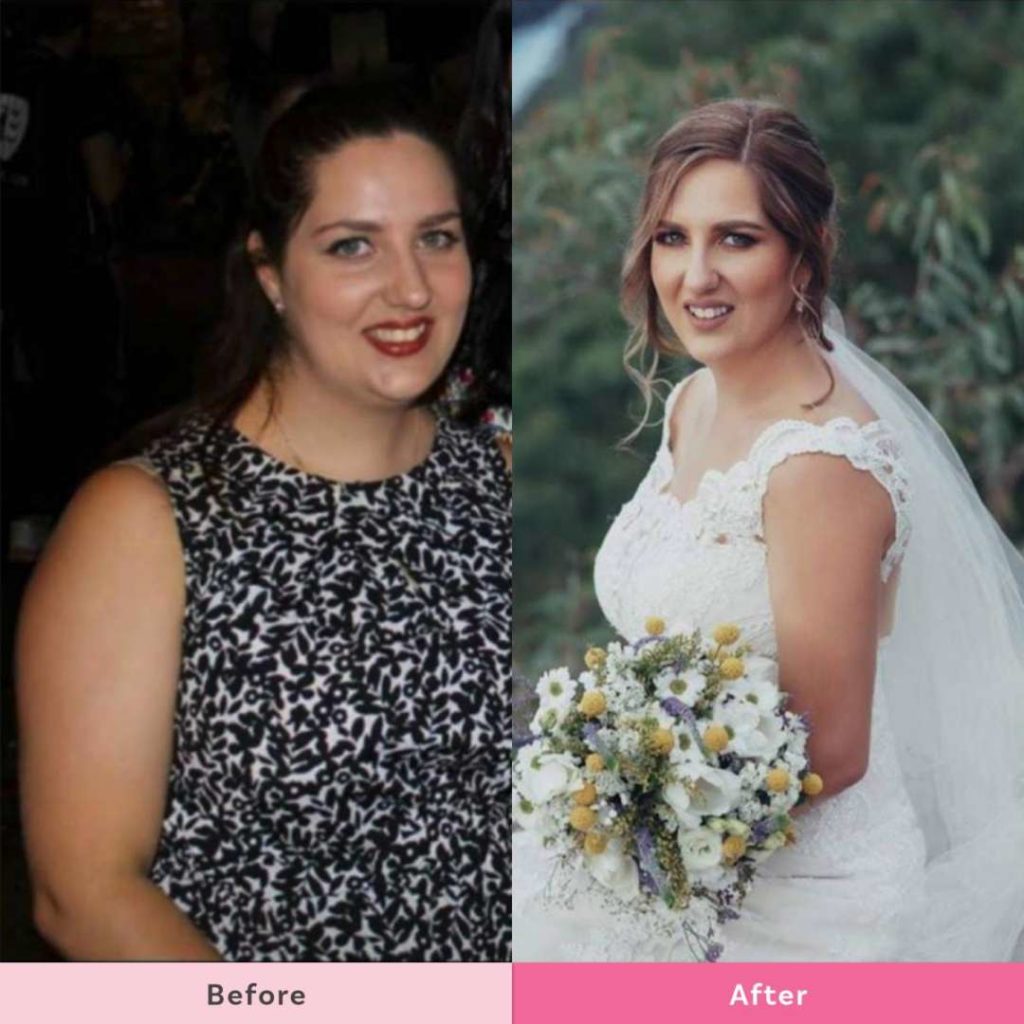 Janeya says, "77.6kg-64.2kg. 13.4kg gone forever!
Flashback to last Friday. I got married. I joined The Healthy Mummy not long after I got engaged as I had been sitting on the sidelines for so long but decided then and there that it was time to start my weight loss journey and create a new healthier lifestyle for me and my young family.
Through using The 28 day Weight Loss Challenge and using my wedding dress as a goal outfit I stuck to it and on Friday all of my dreams came true. When I put on my dress I felt like the prettiest girl in the room and that is more than I have ever had before. The Healthy Mummy not only helped me to lose weight, but it has also taught me how to love myself again, and how to put myself first once in a while.
I look forward to continuing on this Healthy Mummy journey with hopefully baby #2 soon this mumma has goals of a Healthy Mummy pregnancy.
Cheryl Boughton
Cheryl says, "Thirty-six versus nearly forty-six,  four kids versus five kids, 93kg overweight, obese, unhappy, unhealthy. Sometimes we come across something that changes not only our lives but also our mindset. The Healthy Mummy isn't just about weight loss, it's about confidence. It finds the inner you that you might have lost and may not have found.
I'm so grateful for my fifth because if I wasn't breastfeeding I might have continued to be who I was. But that pregnancy was my click moment. I had gained and lost 7kg while pregnant. I discovered The Healthy Mummy because I wanted to be able to chase him as we both got older. Being an older mum has its challenges but I know with The Healthy Mummy  I can and will be  a stronger healthier fitter happier mum."
Bec Jackson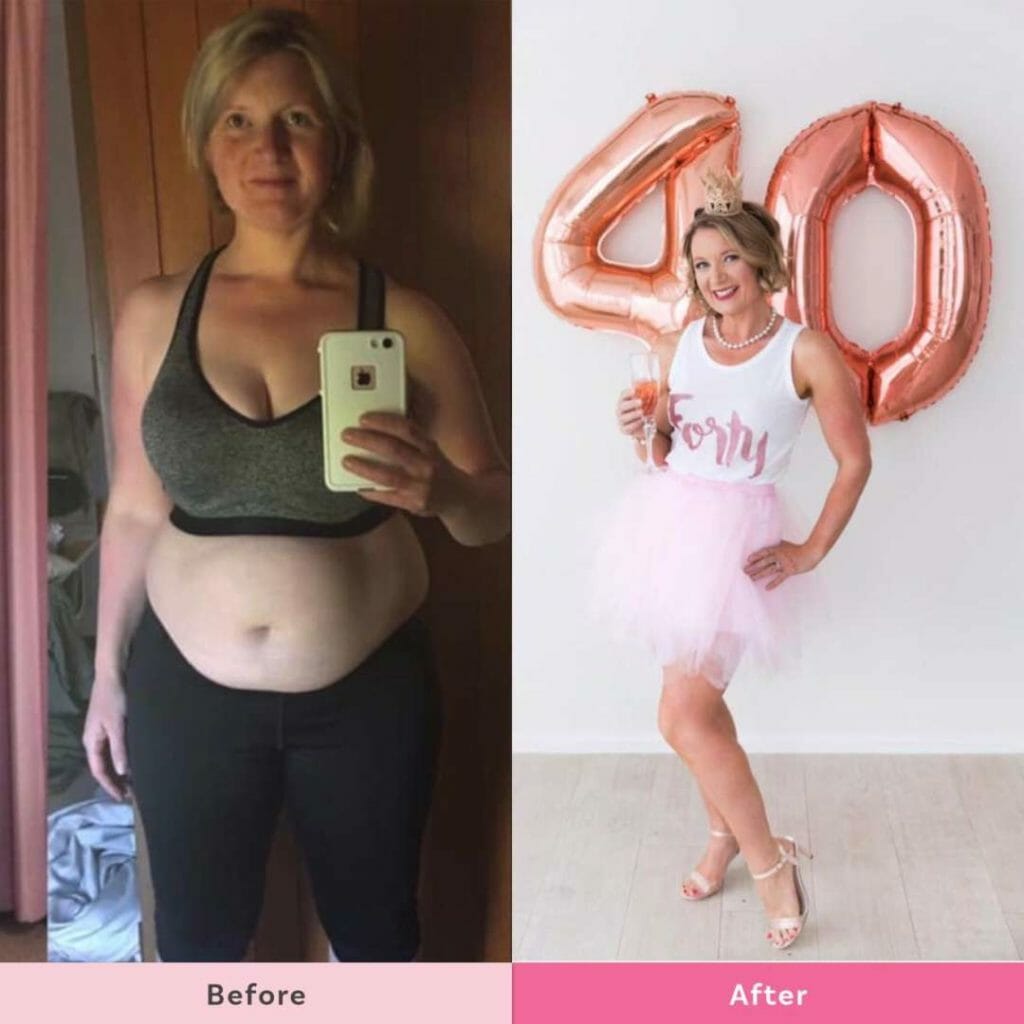 Bec says, "I turn forty today. Eighteen months ago after my fourth baby, I made a commitment to be fit, fun and fabulous by forty! 
I'm at my goal weight and living my best life. If you want something go for it!
I followed the 28 Day Weight Loss Challenge and Healthy  Mummy Smoothies and I train for 45 mins a day five times a week!
I celebrated with a photo shoot and a cake smash!"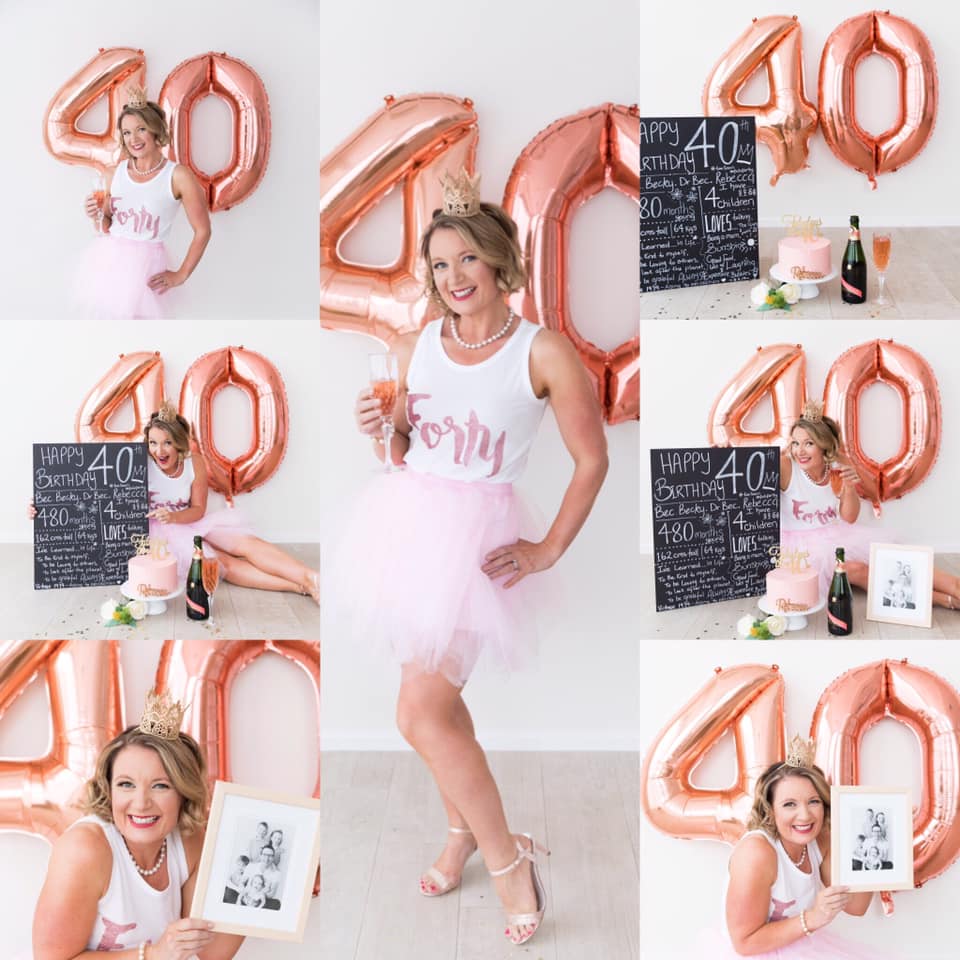 Sharon Laurie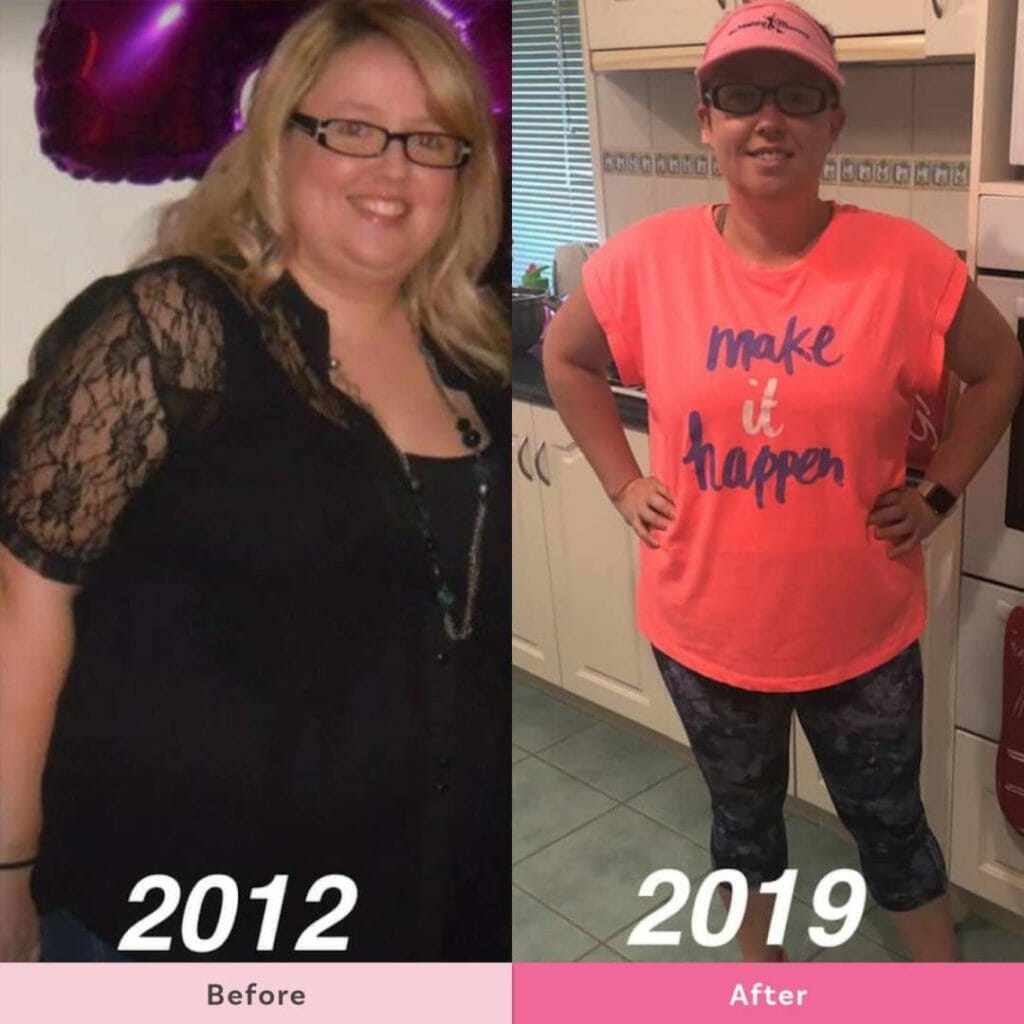 Sharon says, "It's crazy when you look back at photos and see how far you have actually come in my weight loss journey.
The picture on the left is at my heaviest at 86kg prior to kids….the picture on the right is me last Sunday after two kids at 72kg.
One hour of walking every day and smashing my 10k a day challenge. Thank you Healthy Mummy for helping me eat healthy the last nine months.
Steph Marriott
Steph says, "What gets you from point A to point B?
Time, consistency, not being too hard on yourself, moving your body, drinking your water, watching your calories.
The Healthy Mummy 28 Day Weight Loss Challenge taught me all of these things, and absolutely changed my life for the better."
Awesome job ladies! We are so proud of all you have accomplished.
Are you ready to be a Healthy Mummy? Join the 28 Day Weight Loss Challenge today.

If you are wanting to lose weight and improve your energy – not to mention – help improve your overall health and wellbeing – our 28 Day Weight Loss Challenge is an awesome program to check out.
Our 28 Day Weight Loss Challenge includes:
28 days of at home exercise routines (no gym needed) – with video instruction
Customisable and breastfeeding friendly meal plans (including 7 Day Cleanse)
Challenge combines Pilates exercises with interval and circuit training (HIIT)
Suitable for basic to advanced fitness levels
Home to thousands of EASY-TO-MAKE recipes!
To learn more about our 28 DAY WEIGHT LOSS CHALLENGE CLICK HERE or purchase our Smoothies.