Mums reflect on the past year and look to the future after losing over 115kg combined
As we start a new year our mums are reflecting on all they have achieved in the past year, these mums are proud of their achievements in the last 12 months and excited about kicking more goals in the next 12.
As we get started on a new year the mums in our community are reflecting on everything they have achieved in the last year and looking forward to what the next year brings.
These mums are proud of their weight loss and health achievements over the last 12 months and can't wait to continue kicking goals into the next year.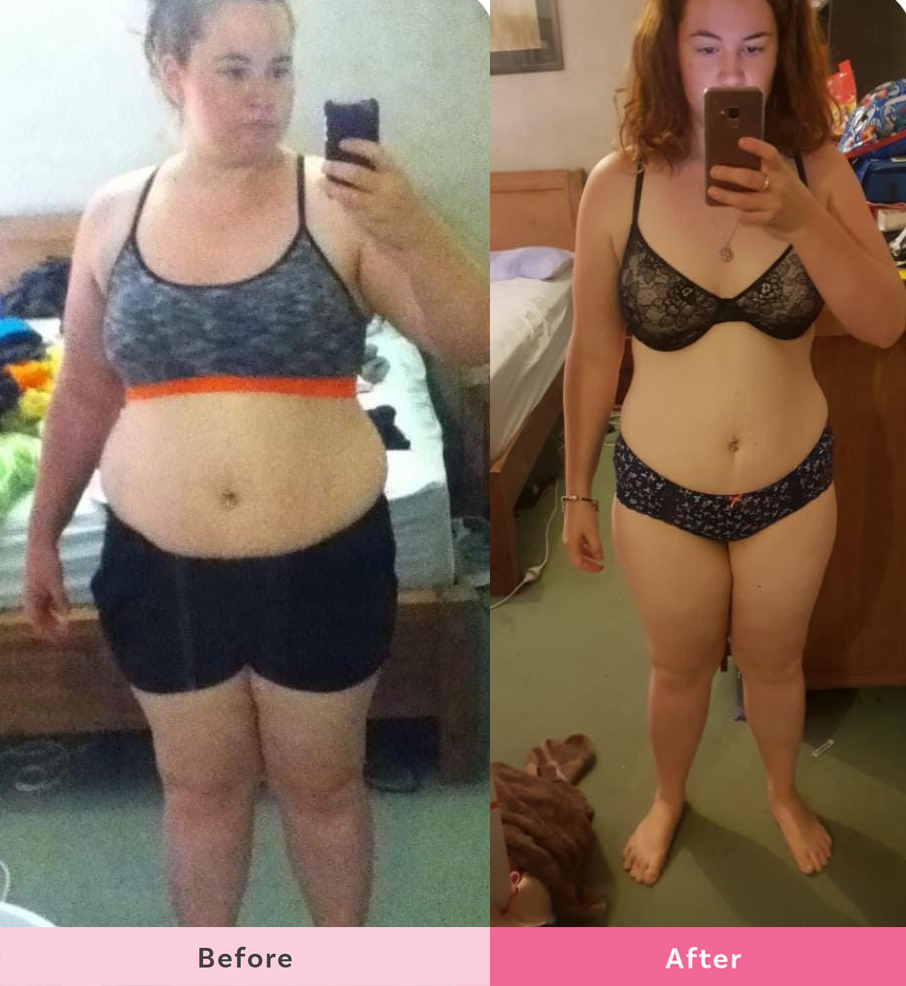 Mums look back on the year and ahead to the future
Tegan has lost over 26kg
Tegan Palmer has been a part of The Healthy Mummy for a couple of years now and still can't believe how far she has come!
"The photo of me on the left I was 102kg. The photo of me on the right is 75.7 kg.
"I started The Healthy Mummy in October 2017 weighing 102kg, knew nothing about healthy eating or healthy food, I had no idea what portion control was or how to measure and weigh food for serves. I didn't even know how to meal prep.
Then when I joined The Healthy Mummy I started having Healthy Mummy Smoothies for breakfast and for lunch. I learnt how to portion control and how to eat in healthy moderate amounts, I learnt that healthy eating wasn't just boring foods with no flavour. I also learnt that eating healthy can mean flavorful food that's filling and full of nutrients that I needed to fuel my body.
I use the 28 Day Weight Loss Challenge meal plans and excersises and have found that they helped me get back into an easy going excersise routine.
I also love The Healthy Mummy app and how it has everything I need for my journey in my pocket. I love the fitness tests and that it has a spot I can place my measurements."
Jayde has lost over 24kg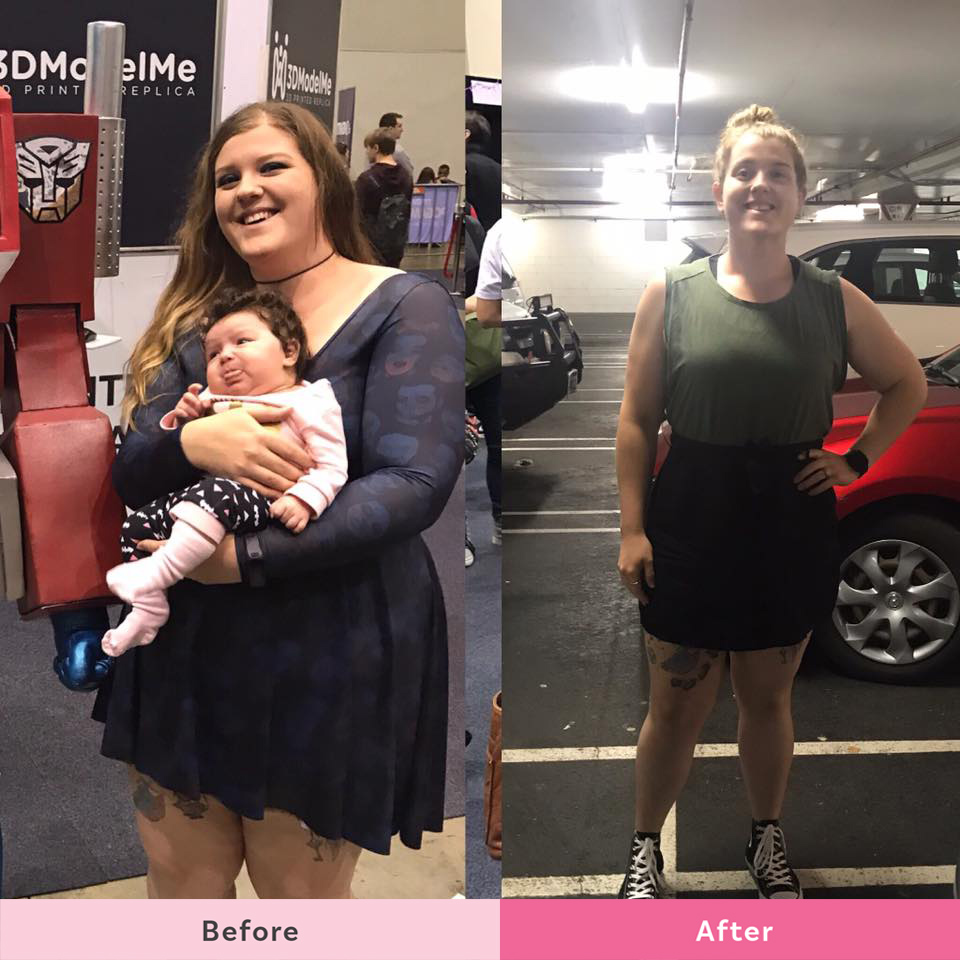 Jayde Victoria can't wait to see what 2019 brings after all she has achieved in 2018!
"What I've managed to accomplish in 2018 thanks to The Healthy Mummy
Cannot wait to see what 2019 brings 
Happy New Year everyone!"
Hannah has lost over 25kgs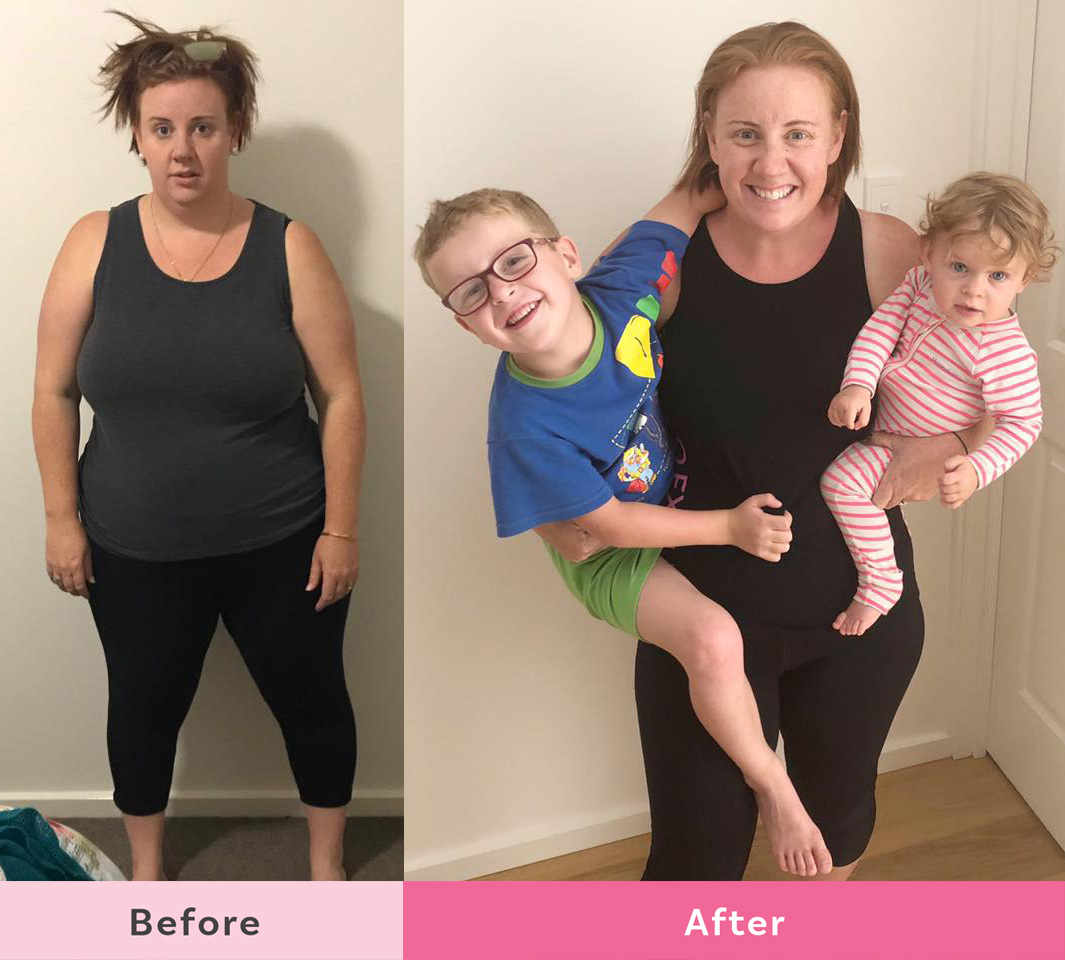 When mum Hannah Pech decided to reflect on the year that was she realised she has lost the equivalent of the two kids she is holding the above photo which got her excited for what 2019 brings.
"Time to reflect on the year…
To say The Healthy Mummy has transformed my life is an understatement. The photo on the left was taken at my heaviest in June this year. That was the day I started The Healthy Mummy and finally found something that worked!
It's adaptable, mum focused, love centred and most importantly has given me the tools to make me a stronger, happier and healthier person.
25+kg gone…that's equal to the two children I'm holding
Size 20-12
I'm excited to launch into a new year with my lifestyle change and smash so many more goals!"
Dominique has lost 25kgs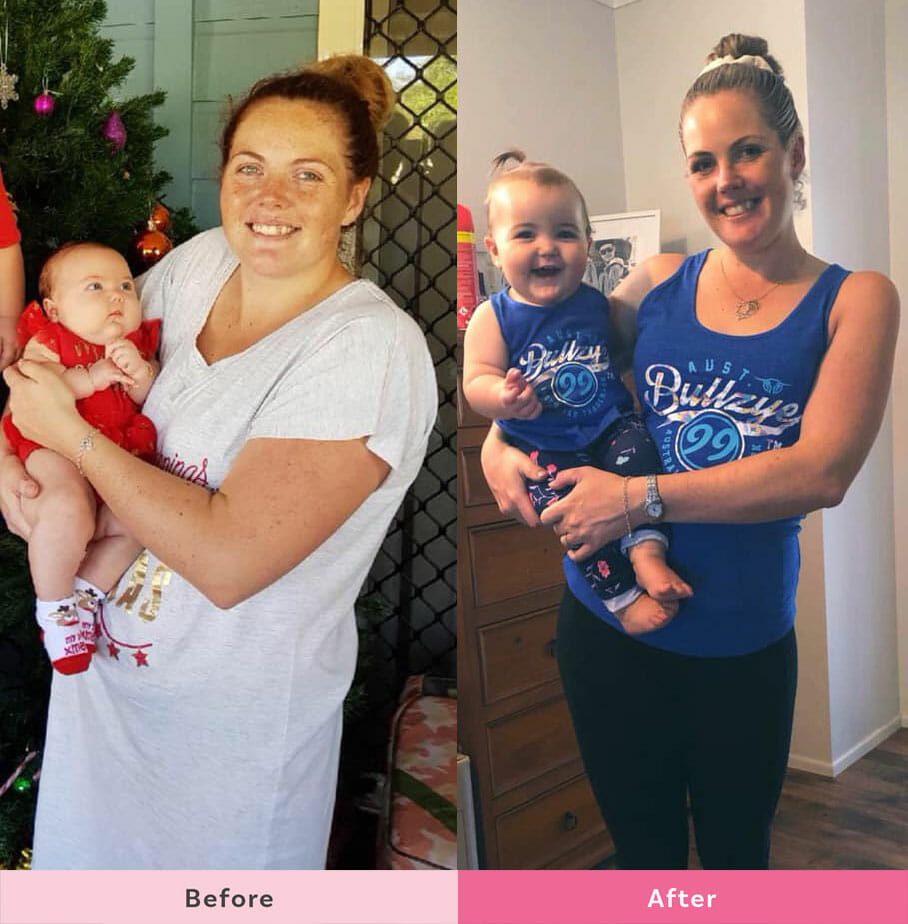 Dominique East has not only lost 25kg but she has dropped five dress sizes and 100cm and she is feeling happier and more confident in herself.
"14 months of using The Healthy Mummy and the 28 Day Weight Loss Challenges. In that 14 months, I learnt a lot about myself and what I am capable of mentally and physically. I pushed myself at times I wanted to give up and learnt that any excuse I have is only going to set me back and stop me from reaching my goals.
The Healthy Mummy allowed me to gain self confidence I have lacked my whole life even as a young girl, as I have always been chubby and bullied because of it.
I have gained friendships I will cherish forever but most of all I have gained love.
The Healthy Mummy allowed me to lose the weight, the centimetres and dress sizes to feel beautiful and loved by myself! For the first time, I didn't need someone telling me I'm beautiful in order to feel it. And that is my biggest achievement.
25kgs down, five dress sizes and over 100cm gone forever. 93kgs down to 68kgs and size 18 down to size 8/10.
I by no means am perfect when it comes to exercise nor eating but I know my limits and I know my portions and I know when I need to cleanse my body if I have taken a detour from my daily routine.
It's about how much you want to be happy and feel confident within yourself."
Carly has lost 15kg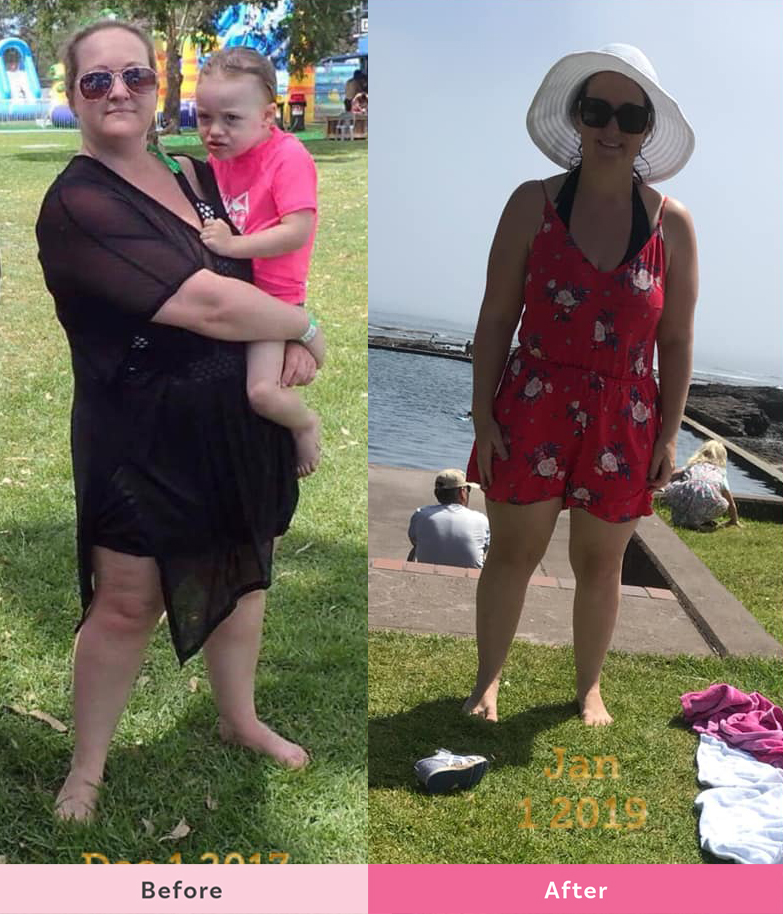 On her one year anniversary with The Healthy Mummy Carly Jade reflected on how far she has come and the goals she has accomplished which included running several 5km events and spending time in the water with her kids this summer.
Carly has lost 18kg using Healthy Mummy Smoothies, recipes and exercise.
"Today marks my 1 year anniversary from starting The Healthy Mummy lifestyle change and what a year it has been!
I have accomplished so many goals which include running in several 5km events.
This summer holidays I made a promise that I would spend it in the water with my daughter and every day we have been to the beach in the morning and pools in the evening. I feel like a new person and can't wait to smash out more goals in 2019!
Officially 15kg down and size 16/18 to a 12 (wearing a size 10 jumpsuit today in that photo)."
We are so proud of all the accomplishments you ladies (and all the mums in our community) have achieved and can't wait to see you continue kicking goals into the future!
Join these mums and thousands more on the 28 Day Weight Loss Challenge.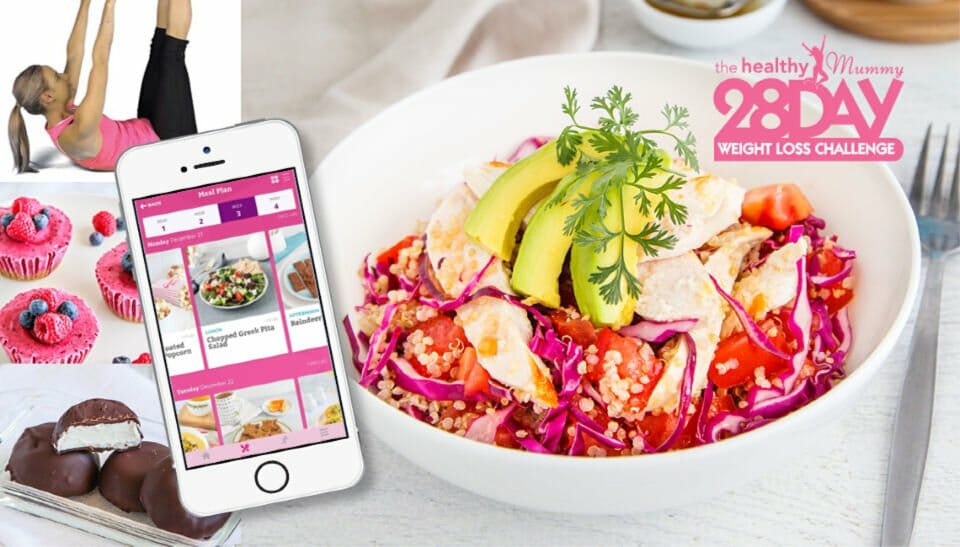 If you are interested in kickstarting your weight loss and want to improve your energy – not to mention – improve your overall health and wellbeing – our 28 Day Weight Loss Challenge is an awesome program to check out. 
Our 28 Day Weight Loss Challenge includes:
28 days of at home exercise routines (no gym needed) – with video instruction
Customisable and breastfeeding friendly meal plans (including a 7 day cleanse)
Time-efficient exercises for busy mums – under 30 mins
Challenge combines Pilates exercises with interval and circuit training (HIIT)
Suitable for basic to advanced fitness levels
Home to thousands of EASY-TO-MAKE recipes!
To learn more about our 28 DAY WEIGHT LOSS CHALLENGE CLICK HERE or PURCHASE SMOOTHIES HERE.