Mums share their stunning weight loss success for 2021
WOWSERS! Check out these incredible mammas and their amazing transformations!
These 10 women have shared their stunning weight loss achievements after signing up to the 28 Day Weight Loss Challenge.
They all say they're feeling healthier and better mentally after jumping on the healthy bandwagon.
We are so thrilled for these mums who have shared their weight loss journeys this week and helped inspire us all.
Way to go, ladies!
Amazing success stories from our mums in 2021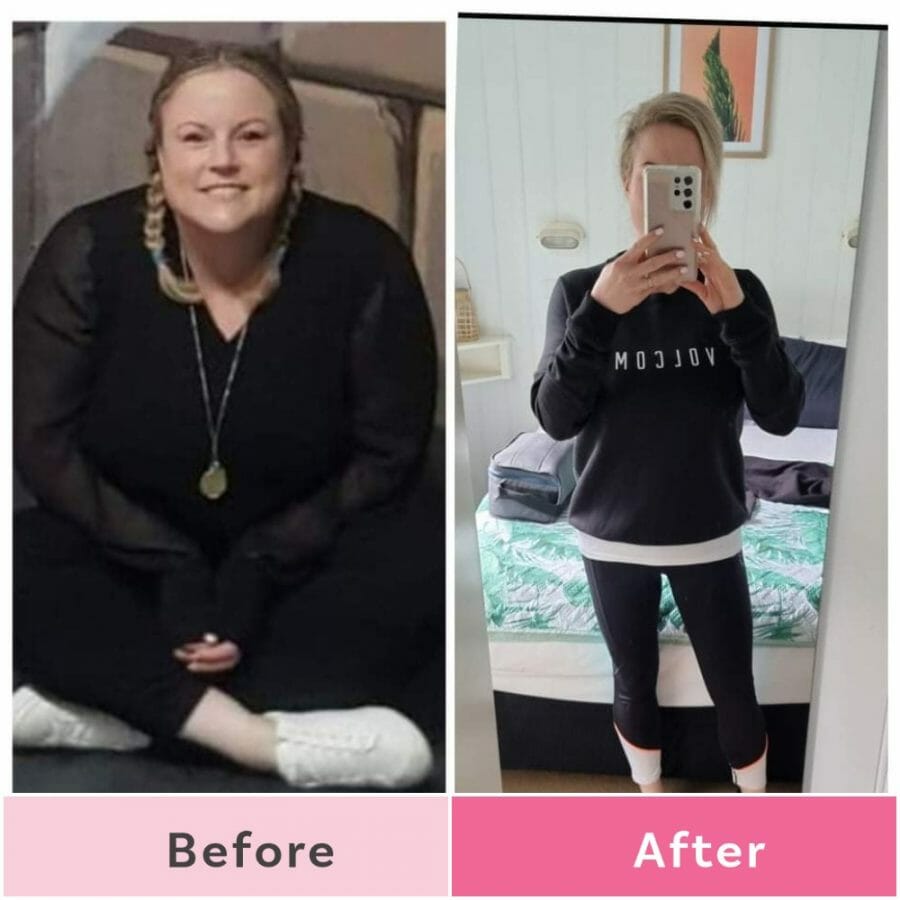 She's also dropped down ress sizes, she was between a 16-20. Now she a comfortable 8-10. 
The mum-of-two began her journey in January 2021 as she wanted to feel better have more energy, improve her health and wellbeing.
"I started introducing snacks, then moved on to meals. I followed the set meal plans and learned how to customise to suit our family so we could all eat the same healthy meal," she says.
"I have seen such an improvement in my physical and mental health. I wanted to focus on better health and wanted to improve my wellbeing.
"Long term illness, steroids, chemotherapies and medical complications all contributed to an unhealthy spiral. I was stuck in a cycle of not looking after myself and I was always exhausted and in pain."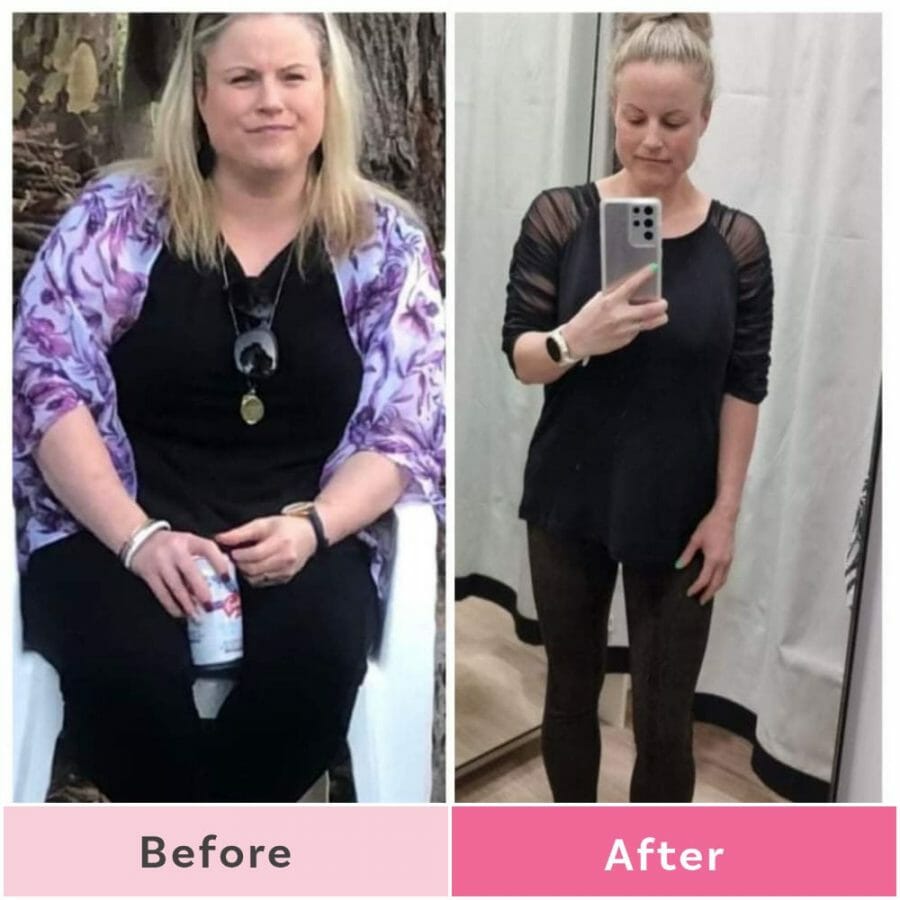 Erin's top Healthy Mummy recipes 
San choy bow

Peanut and sesame noodles

Hidden veggie sausage rolls

Vietnamese chicken salad

Flourless chocolate cake

Peanut bubble crunch

Apricot and almond bliss balls
"One Healthy change a day makes such a huge difference over time," she days.
"Don't get overwhelmed trying to do everything all at once, just pick one thing to focus on each day. Achieve that one goal and be proud of yourself
"The last year has been about giving myself permission to take time for me! Realising its not selfish to prioritise my health and wellbeing, and this actually supports me to be a better mother and partner."
Brooke Baker has lost 34kg in 2021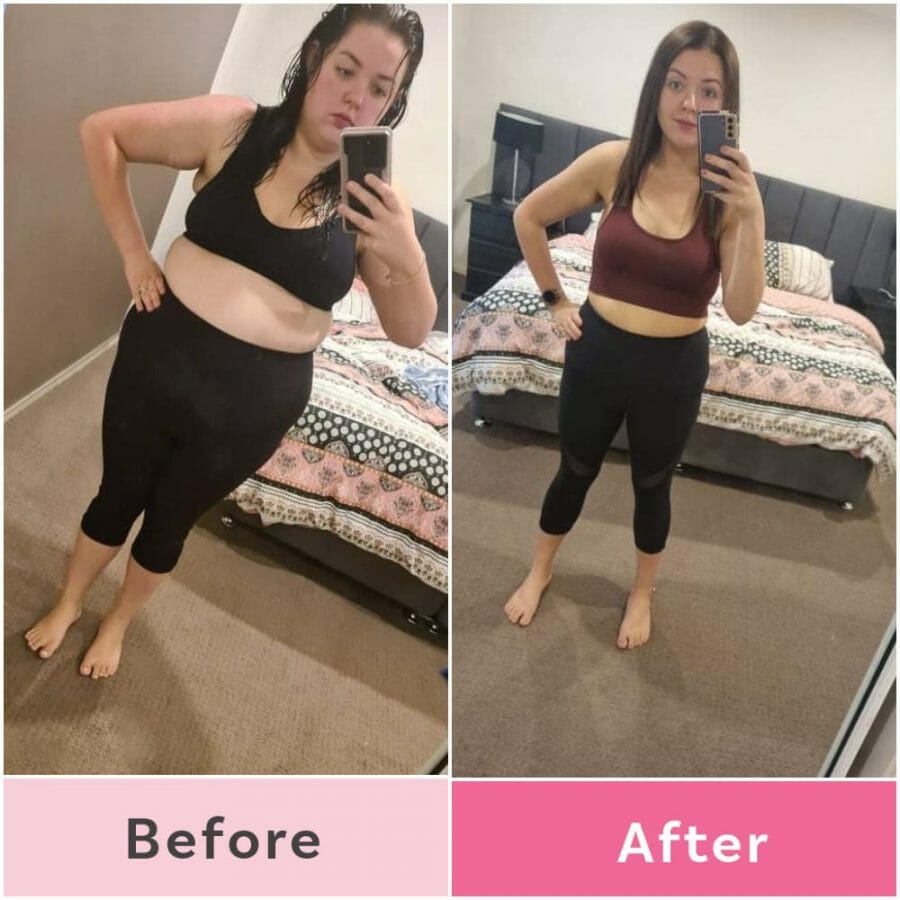 Mum-of-two Brooke began her journey in January 2021 and she began her journey by replacing two meals a day with Healthy Mummy smoothies, prepping snacks and increasing her water in take, as well as walking every day.
She has amazingly dropped SIX dress sizes, going from a size 22 to a 10.
"I had spent a lot of my life being overweight, I knew it was time to make a change," she says.
"I was constantly tired, feeling run down absolutely no energy to chase after my children and I wasn't giving them all that I should have been able to. My family were my biggest motivators."
Now, Brooke says she is physically in the best shape she's ever been. Her digestive system is so much better.
"Before starting the Healthy Mummy, I was bloated and uncomfortable a lot of the time," she admits.
"My energy levels are so much better, My fitness and strength is getting better everyday.
"My biggest goal when loosing weight was to feel confident within my own skin and The Healthy Mummy has given me the tools to achieve that."
Brooke's favourite recipes
Easy chicken nachos 

Stovetop lasagne

One pan sun-dried tomato chicken

Chicken curry potato bake 

Pumpkin and sweet potato soup

Egg and Bacon cups 

Caramel oat slice 

Choc coconut brownies 

Choc chip banana bread

Apricot oat Bliss Balls

Cookies and cream truffles 
Brooke's top tips for those starting out
Make sustainable changes, remember this is a lifestyle not a crash diet 

Snack prep

Plan your meals

Find your type of exercise- you want enjoy it so you don't dread doing it 

Join the community support groups 
Elizabeth Roberts has lost 29kg this year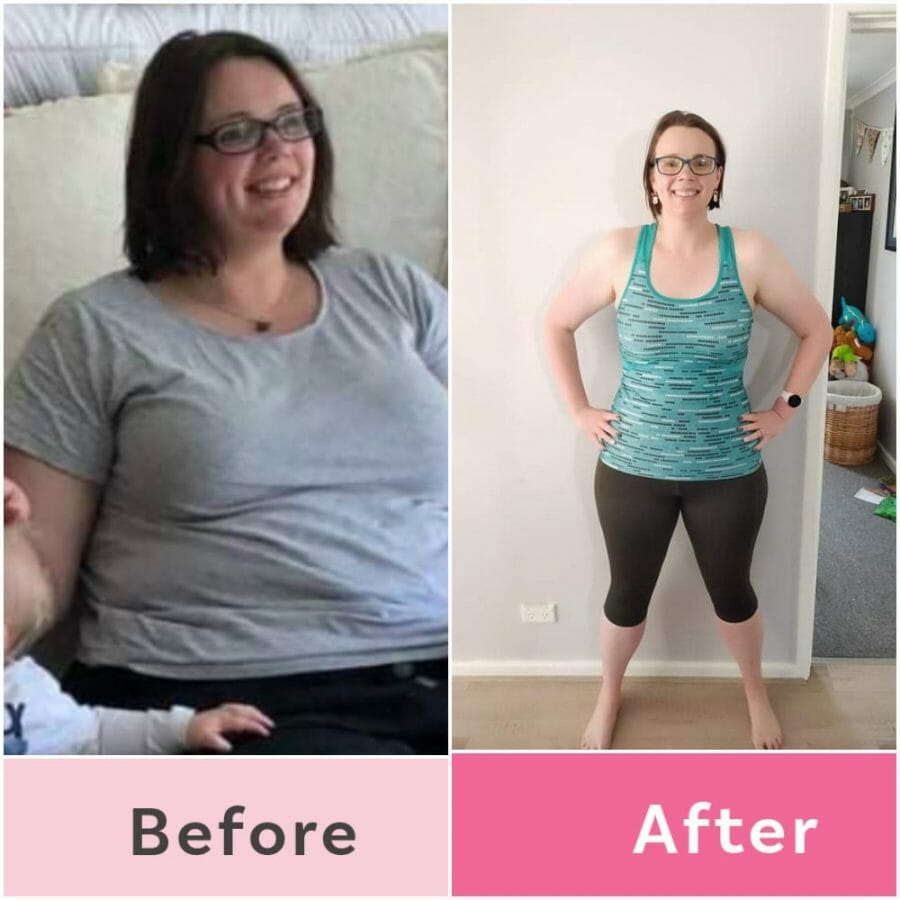 Elizabeth began her journey after seeing a snap of herself and was able to go from a size 22 down to a size 14.
"I started this journey to be healthier, it now changes to be a better influence for my children, to motivate others and to keep up with my growing boys," she says.
"I started slowly, changing one thing at a time. First, I increased my water intake, logged food logging, then meal planned."
Elizabeth's top tips for those starting out
Start slow and make it a lifestyle change

Find your motivation and make it visible everywhere to keep it in your mind

Take photos and measurements to show progress!
"This year has been life changing. It's been an eye opening journey in which I found joy again and I understand me so much better, I am important and I deserve to feel good!"
Manda O Shannessy has lost 25kg and gone from a size 20 to a 12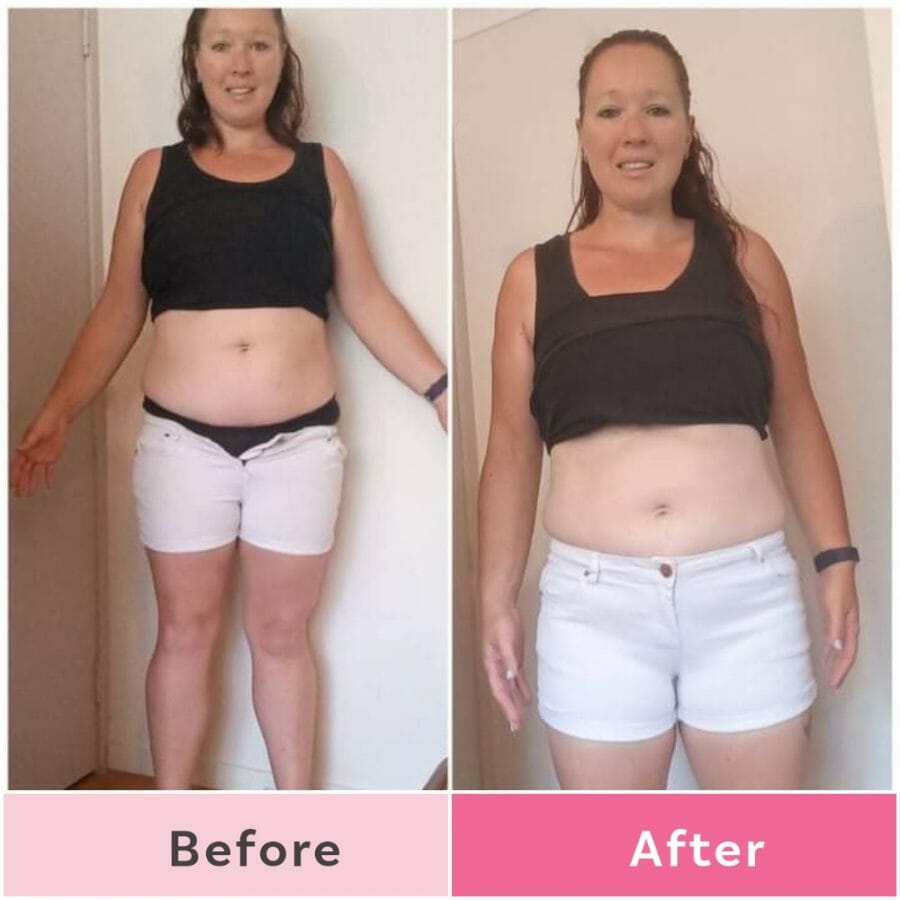 Manda decided to make a change and she's glad she did, as she's more confident and active with her kids.
"I can manage my anxiety and depression better too, my slumps don't last as long as I can more easily recognise when I'm in one or entering one," she says.
"The app is the key to my success. The meal planning, recipe access and shopping list makes being organised a breeze."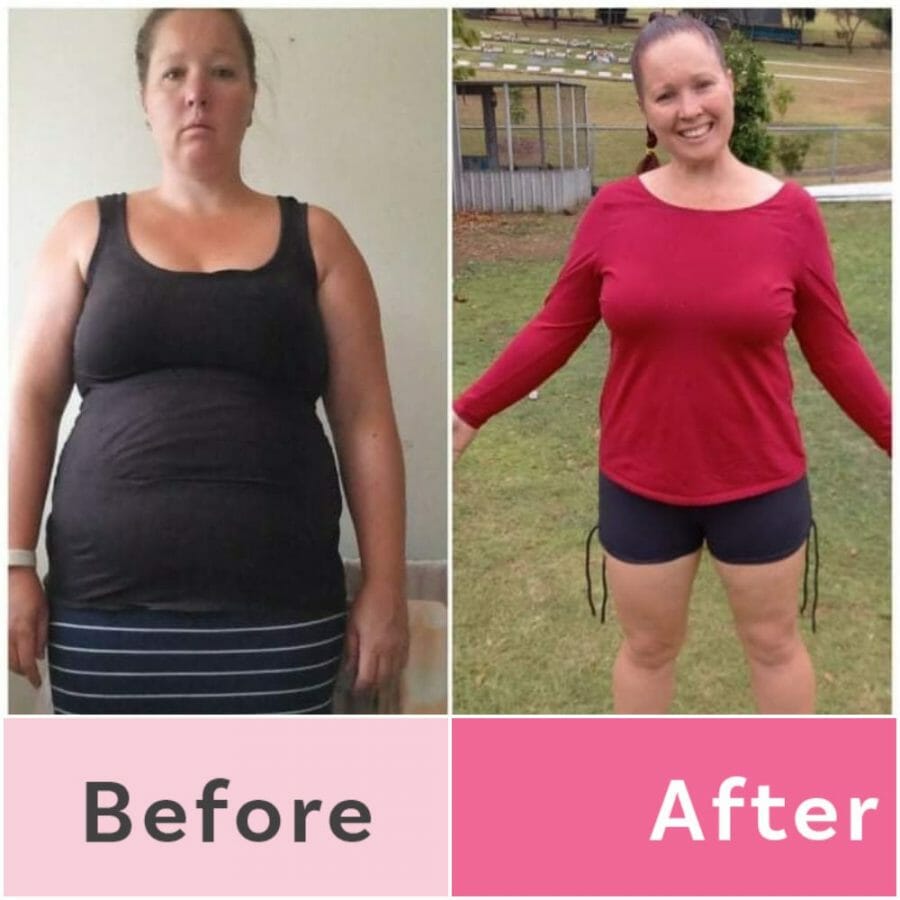 Manda's top tips for success
Relax… stressing over calories and the occasional treat adds stress. 
If you eat well 90% of the time and move some you will most likely succeed. I try to look at foods and ask myself 'will this help me reach my goal?' if the answer is no I'll either leave it there or only have a small amount, you have to have your head in the game.
"For me this year has been a roller coaster but my health and nutrition has been constantly improving," she says.
"It has been the 1 thing I've been able to control and although I haven't been perfect I've made enough steps in the right direction."
Ashleigh Williams has lost 13kg in 10 months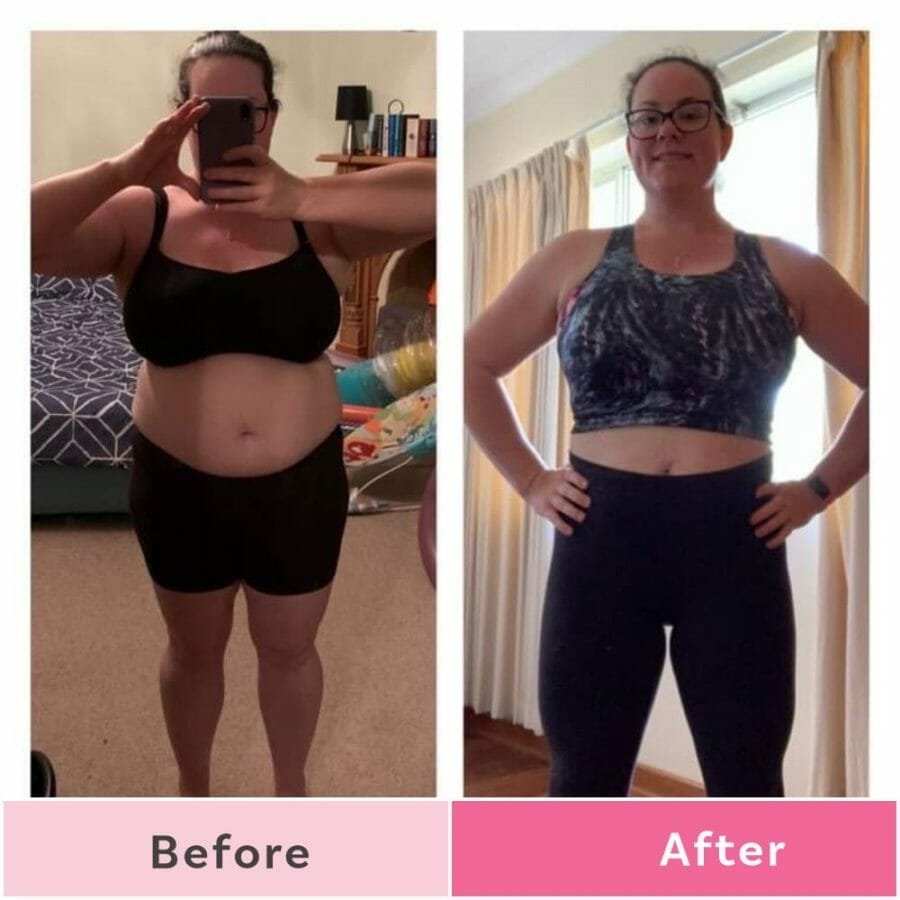 WA-based Ashleigh says she could no longer fit in her clothes and wanted to make a change.
"I started by making Healthy Mummy dinners and having them as leftovers for lunch," she says. "I tried a few snacks but quickly worked out that I would just eat them all in one day so I stopped doing that.
"I also started working through some app exercises and going for a walk most days."
"I lost 13kgs in 10 months  3 dress sizes. I am fitter with a lot more energy. I love having my meals planned out which means one less thing to think about at witching hour."
Ashleigh's top tips for starting out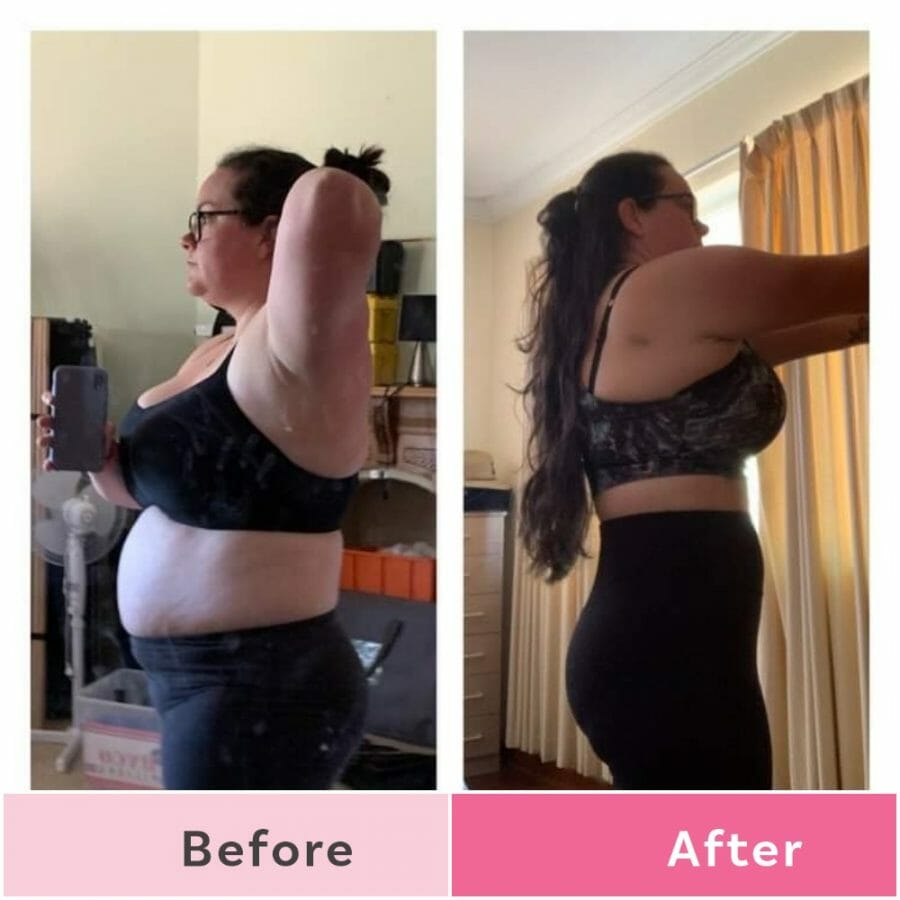 Start slow just changing one or two things at a time so it doesn't feel overwhelming.
Take heaps and heap of photos and hold onto your clothes that are too big so you can compare them later.
"This year has been a massive step in my journey back to finding myself and being more than just mum."
Sophie Jane has lost 15.2kg in 9 months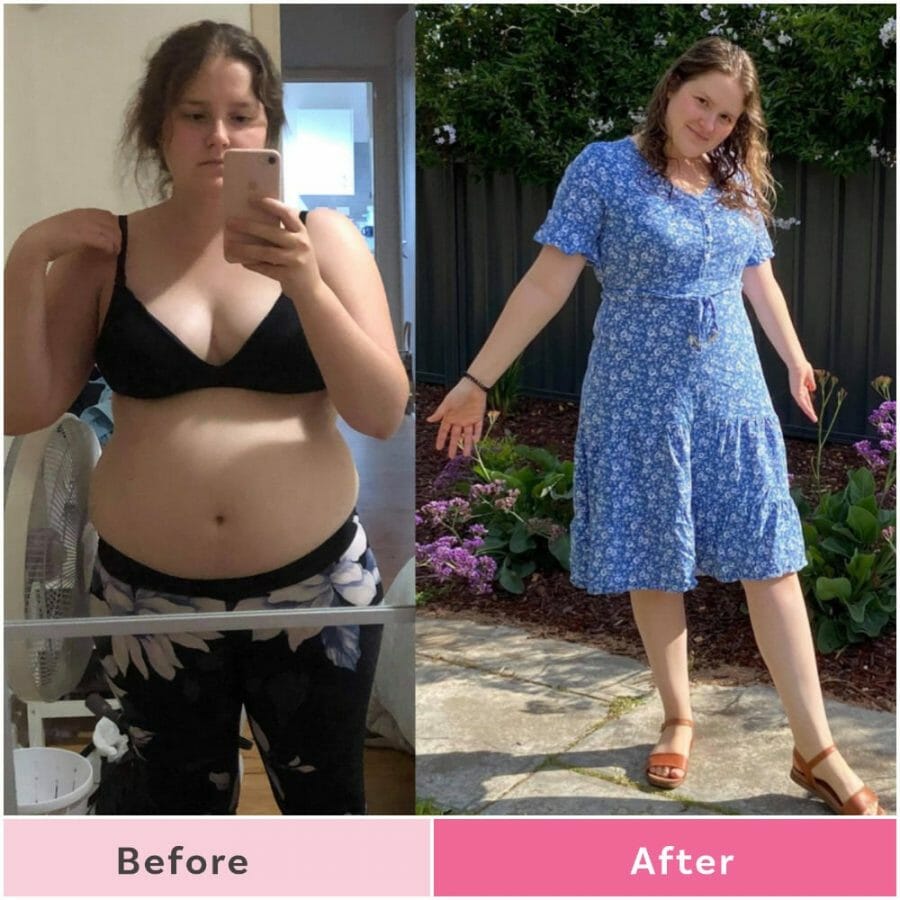 27-year-old Sophie Jane was following the 28 Day Weight Loss Challenge prior to having her son and wanted to get back in shape.
"I suffered with postnatal anxiety and depression and The Healthy Mummy was one way I was able to make changes. I started for myself and my family," she says.
"I focused on my water intake and exercise daily from the app. Then focused on my steps," she says.
"I have improved physically just over all with just generally feeling better within myself.
"But my main improvement is my mental health. I have come so far with it and now am an even better version of myself. My resilience has been improved and my overall wellbeing."
"2021 has definitely had some ups and down but I definitely have no regrets for taking care of myself."
Jo Boniface has lost 17kg and 48cm this year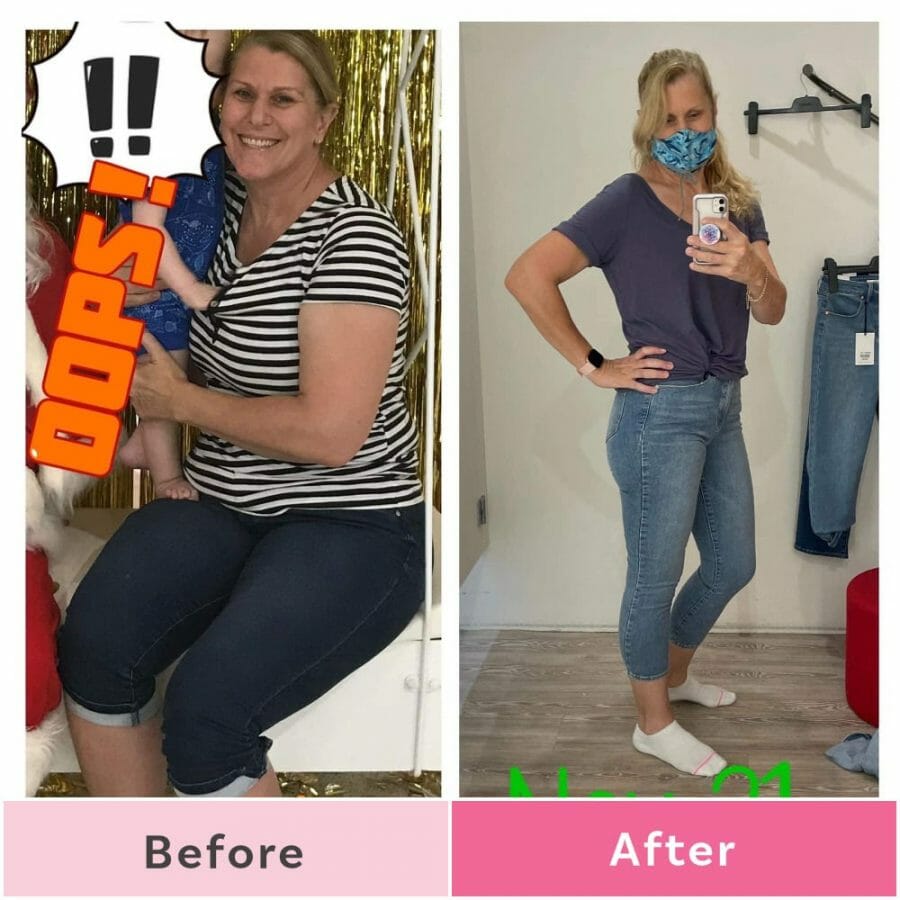 Brisbane-based Jo wanted more energy for her son.
"I needed more energy to keep up with Noah and I don't want to look like an 'old mum'," she says. 
"The kickstarter was when I saw a photo of myself looking all puffy faced and thought I can't look like that when I turn 50, which was August this year!
"I initially used the meal planner to find some healthier meal ideas especially for lunch and snacks. I've found some really yummy snacks and meals that are now staples for us."
Jo's top Healthy Mummy recipes
Weetbix Slice

Mars Bar Slice

Raw Peanut Butter Bars

Creamy Chicken and Mushroom Pasta

One pot spaghetti 

Chai and strawberry Oats, but I've changed to to be a hot porridge so my son will eat it, rather than the cold overnight style. 
Jo's top tips for new mums starting out
Just get started. Throw your hat over the fence, and just go get it.

Starting in small stages worked for me. 

Calculate your calories so you know what to aim for. Look at your meals and plan then to meet your calories.

Get to know the App, ask questions on the groups, the Admins and moderators are a great help on how tos, as are other members. 

Increase your activity, even just incidental movement helps. I step/jog on the spot when folding the laundry. 

Then gradually increase your time and intensity of exercise. 

Find a few App classes you like and even just rotate them. 

"I'm really proud of the work I've put in and reaching my goal, and really thankful of The Healthy Mummy process – it's what most of us already know but being guided and supported through it makes it achievable."
Melissa McGlone has lost 12kg in 2021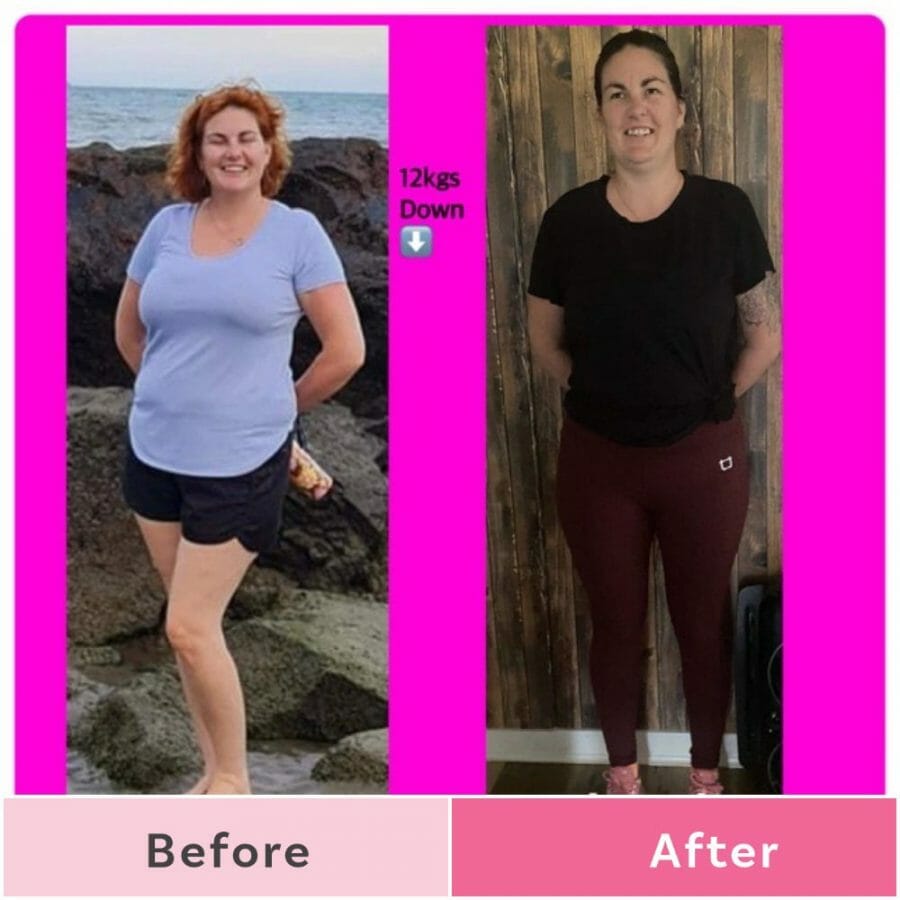 Melissa is a mum-of-three and she says she wanted to tone up and lose weight.
"My first steps into getting started was purchasing Platinum membership and using the Healthy Mummy app," she says.
"I have seen many benefits both physically and mentally. Physically I can go further,I am fitter,I can walk longer distances. I am more keen to do outside activities with my kids. I can carry more groceries bags at once."
"I have also lowered my blood pressure. I feel more confident in myself. I have learnt so much.I follow meal plans. It takes the mental stress off of food planning."
Laura West has lost 15kg and has been maintaining since February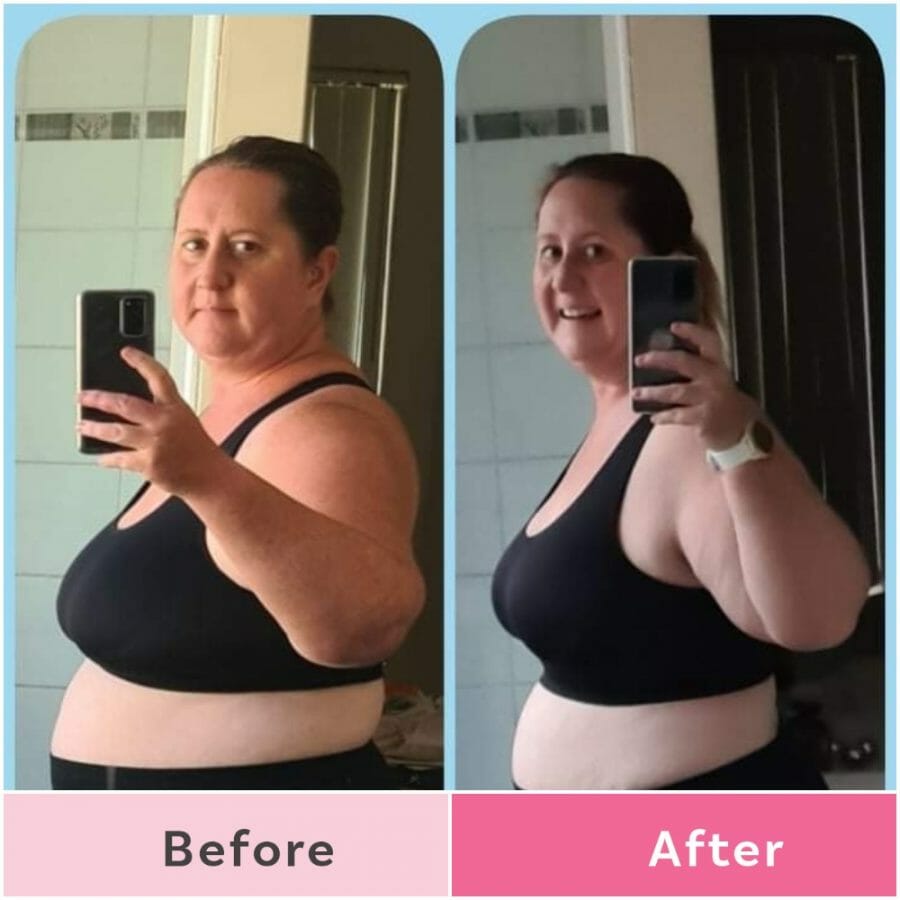 Laura says she's feeling better than she ever did after signing up to the 28 Day Weight Loss Challenge.
"I feel so much fitter, I get less headaches as I'm hydrated, my skin is growing from eating healthy and being hydrated," she says.
"My mental benefits are that I can cope better with daily activities which helps me feel less overwhelmed and anxious."
"The last 12 months have been amazing, giving me my life back and helping me be the better version of myself that I am today."
Laura Kukulovski has lost 31kg in six months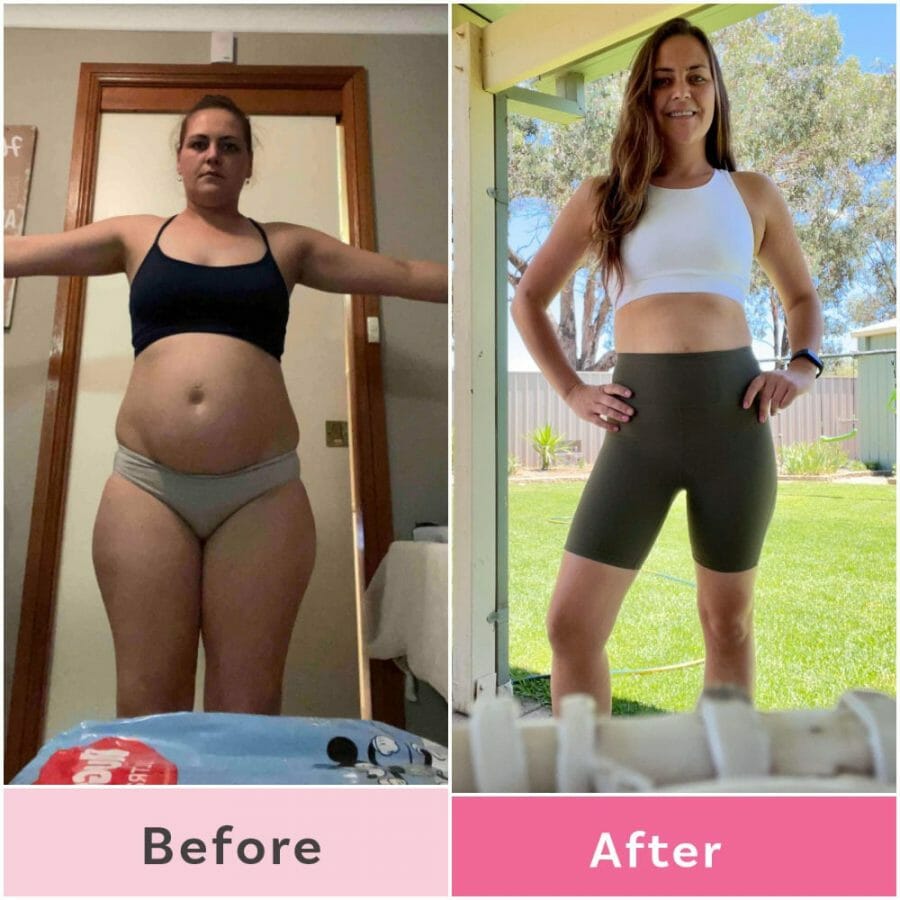 Laura wanted to lose weight and start living a healthier, happier life.
"This last year has been life changing, it's been a crazy whirlwind of a journey but I have loved every minute of creating a healthier life for myself and my family," she says.
 Laura's first steps for starting
I started out by swapping out my main cooking staples for healthier alternatives and by adding in some exercise to my day only 15 minutes to start off with . 
I have recently started using The Healthy Mummy smoothies, it has been a huge help with curbing those hunger pangs early in the morning or during the day .
I have also used the Control X throughout my journey I love it I used to eat such big portions of food so having this before meals has really helped me reduce how much I need to eat to feel full. 
Make 2022 your year!
Join the 28 Day Weight Loss Challenge TODAY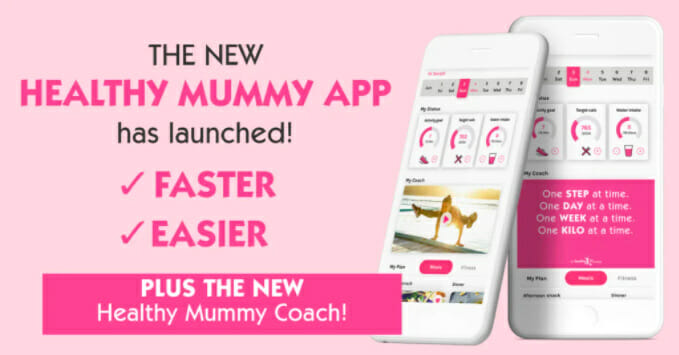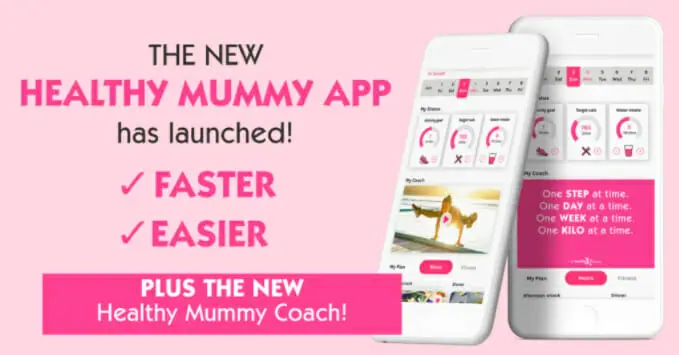 Want to shift your baby weight but feel like you have NO TIME in your day to exercise and eat healthily? That's where the Healthy Mummy's 28 Day Weight Loss Challenge can help.
Our Challenge entails: 
Fully Guided Daily Fitness Program with over 500 Workout Videos – NO equipment needed on 80% of workouts

Over 500 workout AT HOME videos. Chose from Boxing, HIIT, Tabata, Yoga, Dance, Post Baby, Weights, Baby Wearing, Strength, Advanced Fitness, No equipment AND MORE!

Weekly nutritionist developed, fully customisable, family friendly meal plans

Over 5,000 easy and budget friendly recipes at your fingertips

Daily motivation and support from MyCoach and MindPower features

24/7 support from our private support groups

NEW Wellbeing section with Self Care videos, Mental Wellbeing Videos, Meditations and Podcasts