Weight loss is more than just the number on the scales. It's the non-scale victories that are just as rewarding.
Just ask these four mums from the Healthy Mummy community who together have lost over 150kg. But what's making them smile today, hasn't got anything to do with the number on the scales.
Want to know more? Read below.  And don't miss the last one – it's a hoot!
1. Alicia Whitbread's non-scale victory – "my husband calling me stunning"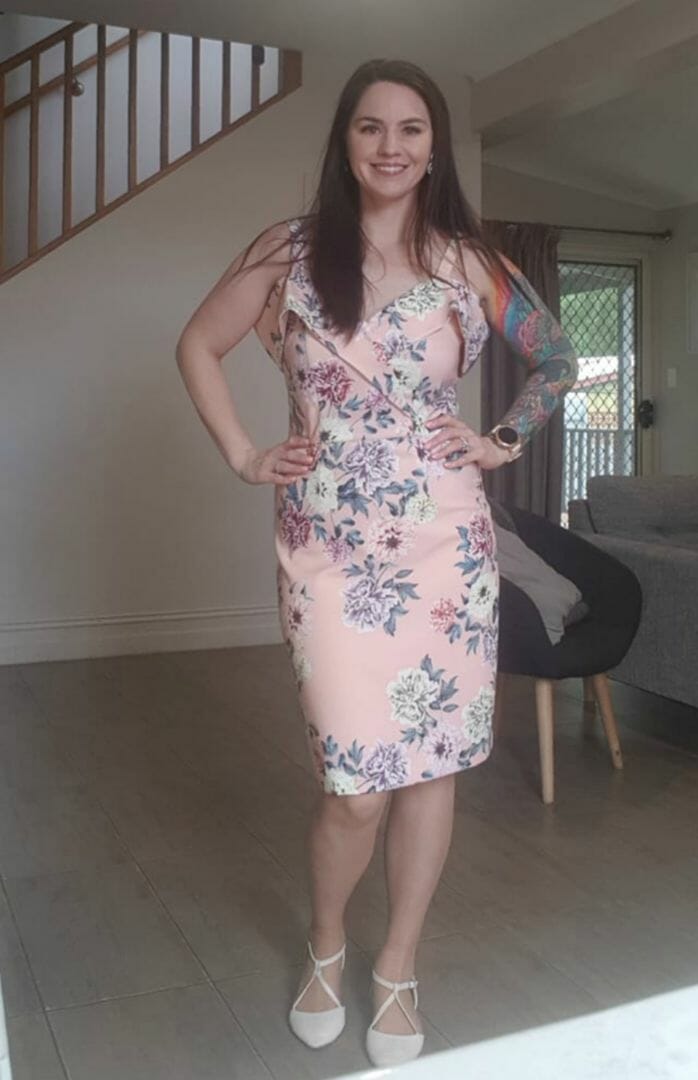 Alicia says "To me, non scale victories are just as important as the ones the scales show.
I'm ready for a wedding today and my husband who very rarely gives compliments said 'Wow, I never see you like this. You look stunning!'.
I can tell you his compliment made me feel FABULOUS. Now I'm off to a wedding feeling on top of the world!".
The Healthy Mummy team have to agree with Alicia's husband. You are one HOT mama Alicia and you certainly do look stunning in that dress.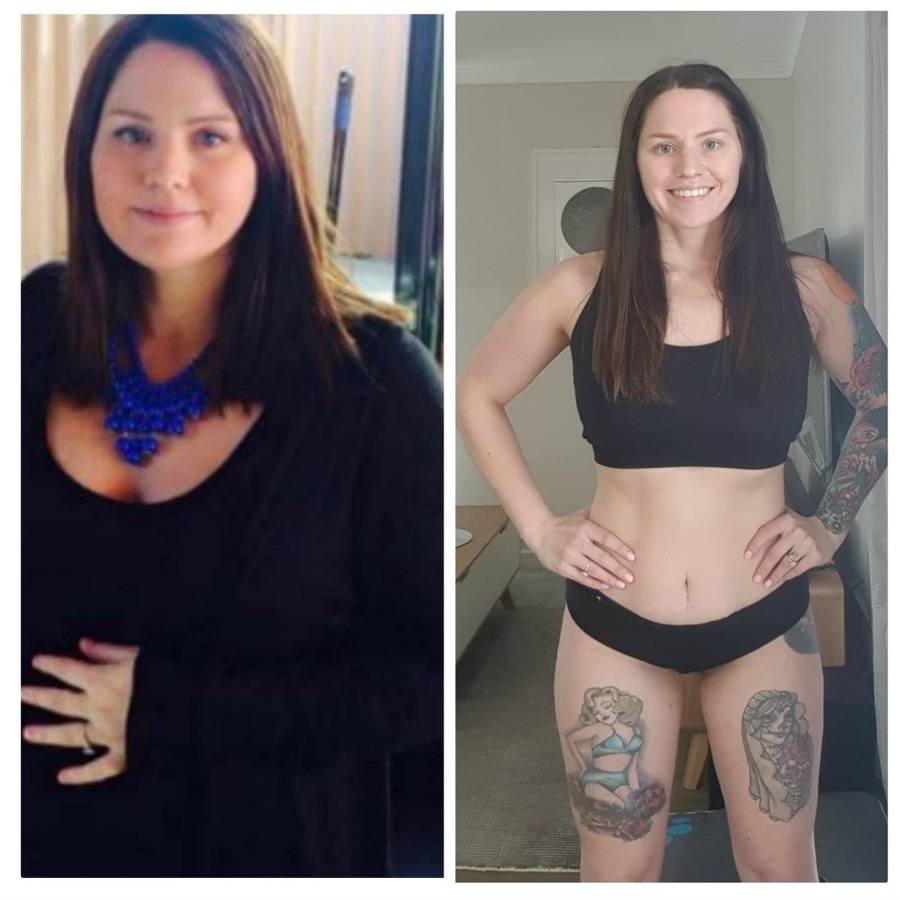 Weight Loss: 32kg
2. Julie Banham's non-scale victory: "taking my top off at the gym"
Julie says "Today I took my top off at the gym and just wore my Healthy Mummy crop and tights.
Never have I ever been brave enough to do that.
I go to a Crossfit gym where there are no mirrors. No muscle men hanging around on machines.
I attend the 9.30 class that's usually made up of women just like me with an awesome free creche.
There's no judgement just a positive, caring, uplifting environment where there's no comparisons to each others ability.
My coach Yonni is totally inspiring and wants to see us all be the best version of ourselves possible.
Today she took some photos during class then sent them to us after.
I'm super proud of how far I've come physically and mentally since I made the life changing decision and became a Healthy Mummy.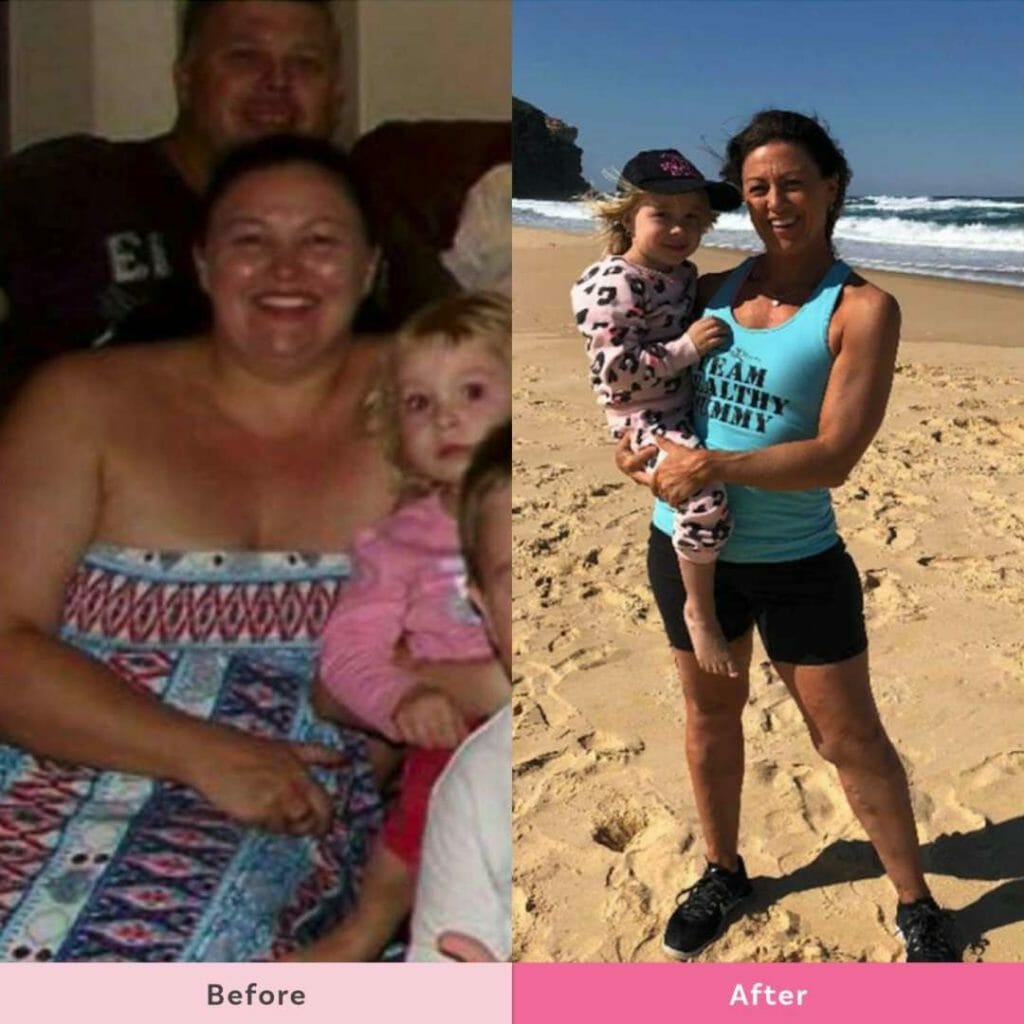 Weight Loss: 49 kilos
What an amazing transformation Julie. You have worked hard for your incredible body and should never feel the need to cover up.
3.  Lauren Gobbey's non-scale victory – "feeling good in strappy sandals"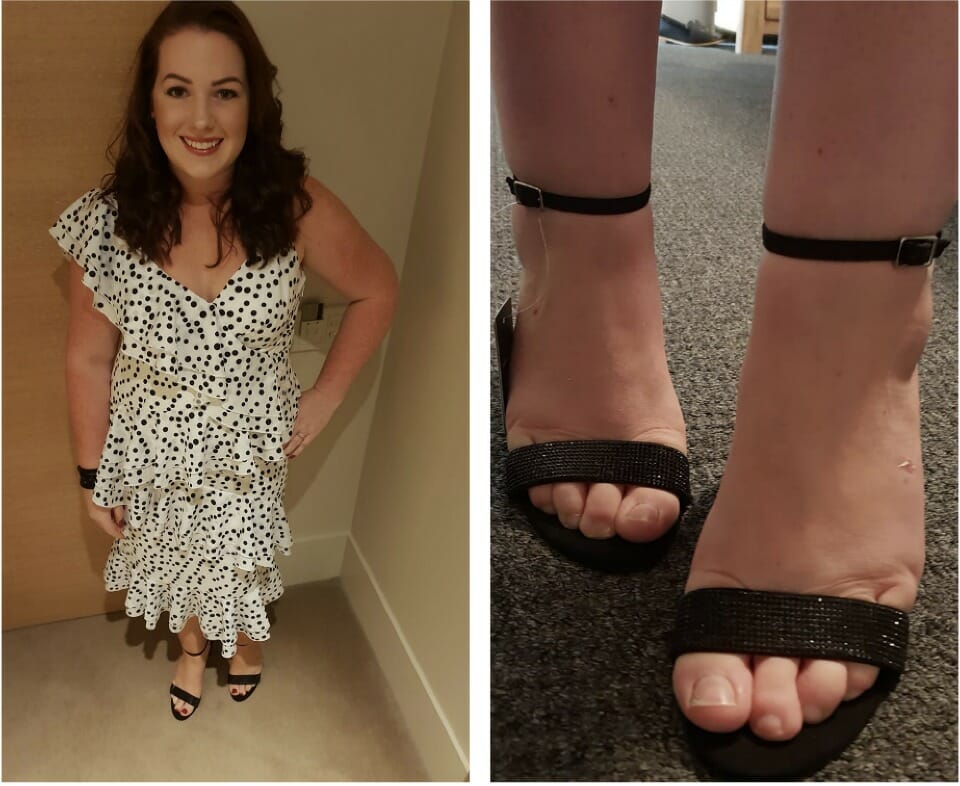 Lauren says "My husband has a fancy work dinner in Melbourne this weekend, we get flown to Melbourne and put up at the Crown.
We started The Healthy Mummy on 1 January 2019. He has lost 14kg and I have lost 8.5kg.
I have always stayed away from these types of shoes because I would either never be able to do the strap up, or my legs would swell over and look horrible.
But I think these ones look alright and can't wait to get dolled up Saturday night".
Weight Loss: 8.5kg
The Healthy Mummy team think Lauren looks incredible and should be wearing strappy sandals everywhere now!
4. Nic Marnell's non-scale victory – "being able to break into my own home!"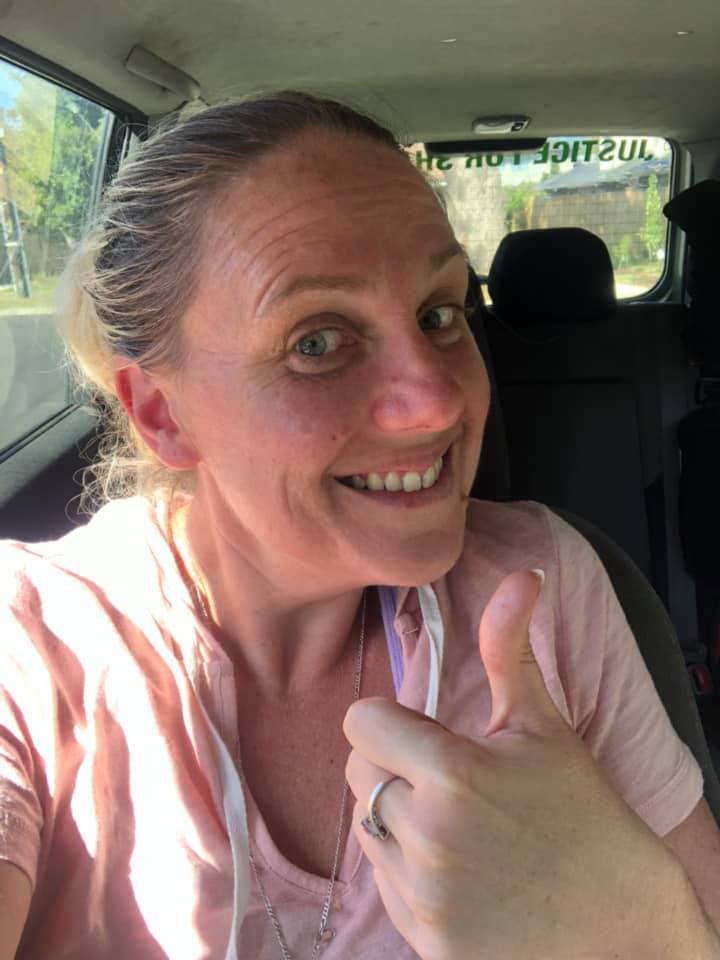 Nic says "Here's an NSV that will give you a giggle.
Picture it, you've been up since 3.30 to go to the gym, you didn't go to bed til after 11 the night before.
You have spent all day taking your MIL shopping. You sit down for half an hour before you have to get the kids and fall asleep. Wake up with a fright to go get the kids, run around like a headless chook, run out the door…
Keys…… omg they are inside. You've locked the door. No one else is home.
Find a window unlocked. Get a chair to climb up. Too short, get a little glass table to climb on, it could work, it's old let's hope I don't break it. Crap! Bed has been moved to cover half the window.
If you were 146kgs there is no way you could stand on the table, pull yourself up and fit through that tiny gap.
BUT…. you are now fitter, stronger, weigh 60kgs less and half your size.
I stood on that table and it didn't break and I pulled myself up and through that gap and got those keys. I'm now sitting here waiting for my kids.
I call that a HUGE win ladies".
Well Nic, we bet you didn't have a goal of being able to break into your house when you embarked on your Healthy Mummy journey! But nonetheless, we love that you were able to successfully retrieve your keys and get yourself out of a sticky situation. Your story certainly made us laugh!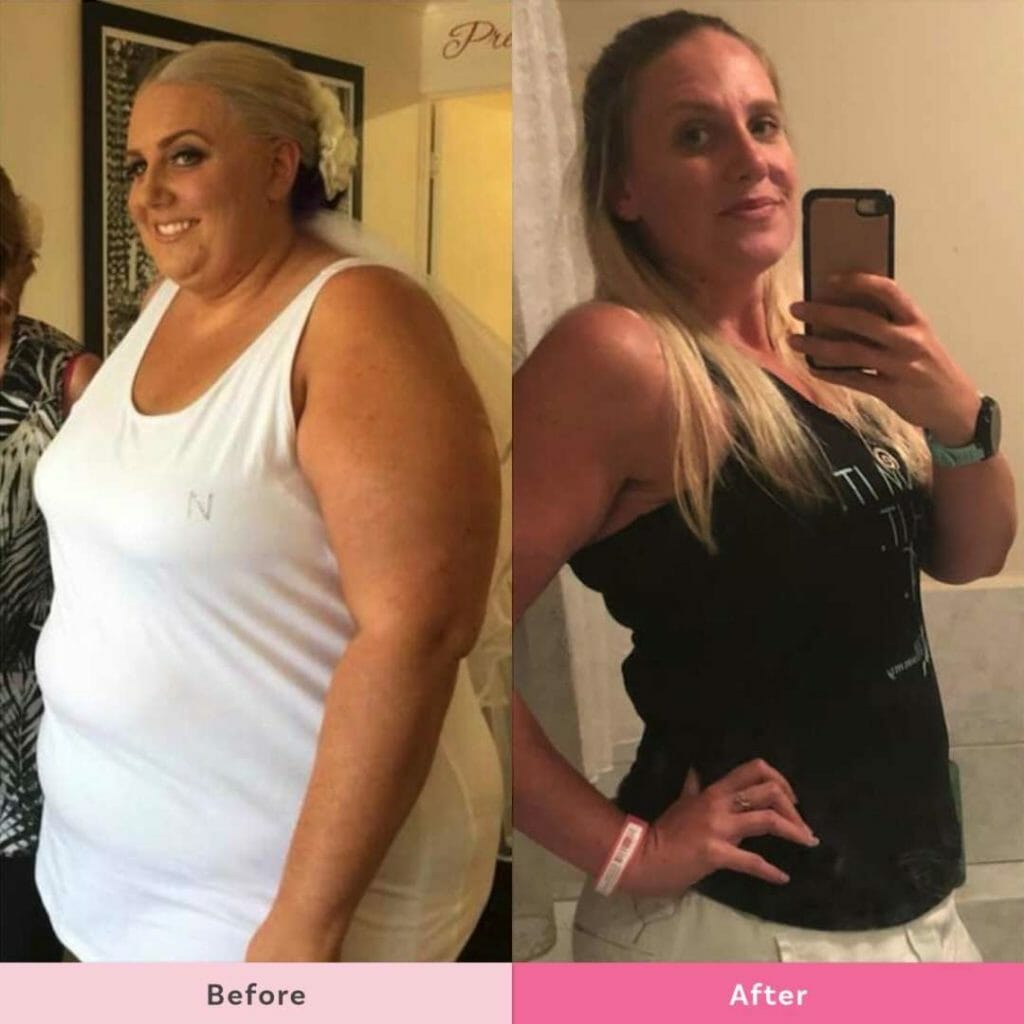 Weight Loss: 60kg
The Healthy Mummy team would like to thank these incredible ladies for sharing their non-scale-victories with us.
Join the 28 Day Weight Loss Challenge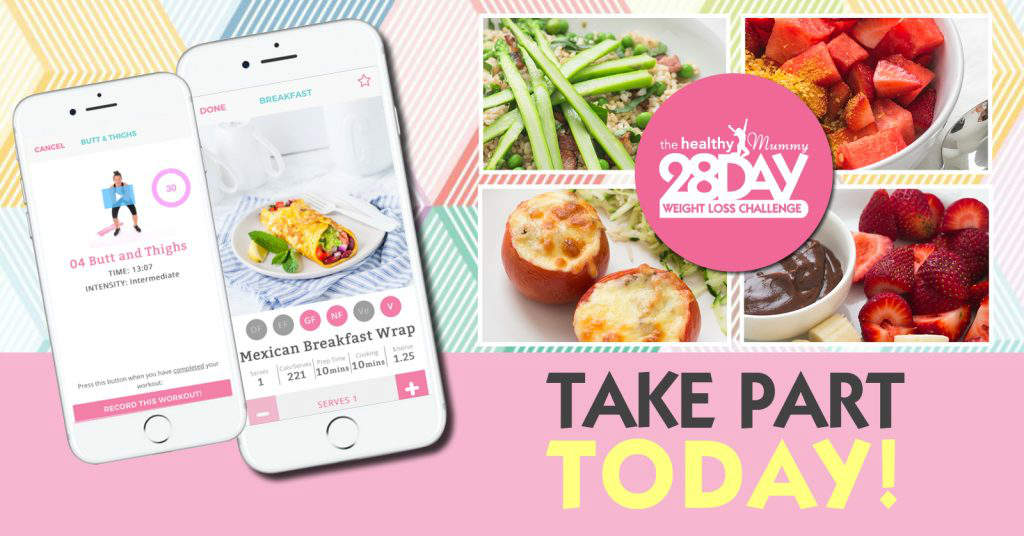 The Healthy Mummy has been helping busy mums shift the baby weight and boost energy for eight years, and we are CONFIDENT that we can help you too.
Did you know the 28 Day Weight Loss Challenge is designed to help mums lose 4-5 kilograms a month WITHOUT avoiding whole food groups, going hungry and rigorous gym workouts?
The 28 Day Weight Loss Challenge is home to 4,000 recipes, 4 weekly meal plans, 350 exercises, workout videos plus 24/7 support.
The 28 Day Weight Loss Challenge is not only a sustainable way to lose weight but is family-friendly, breastfeeding-friendly and can be customised to suit all dietary requirements (for example, gluten-free, vegan, vegetarian etc).