Mum Shelley has not only lost 17 kilos, she's also got her thyroid under control!
Mum of four Shelley has not only lost 17 kilos, her thyroid condition is under control for the first time in 12 years!
When Shelley Hedley's kids came home from school complaining they had been bullied on the bus because of their mum's weight, she knew something had to change.
With her mental health as well as her physical health suffering, Shelley was determined to overhaul her lifestyle. She signed up for the 28 Day Weight Loss Challenge and has not only lost 17 kilos and 80 cms from her body, she's also got her thyroid condition under control and is feeling mentally so much stronger.
See how she did below.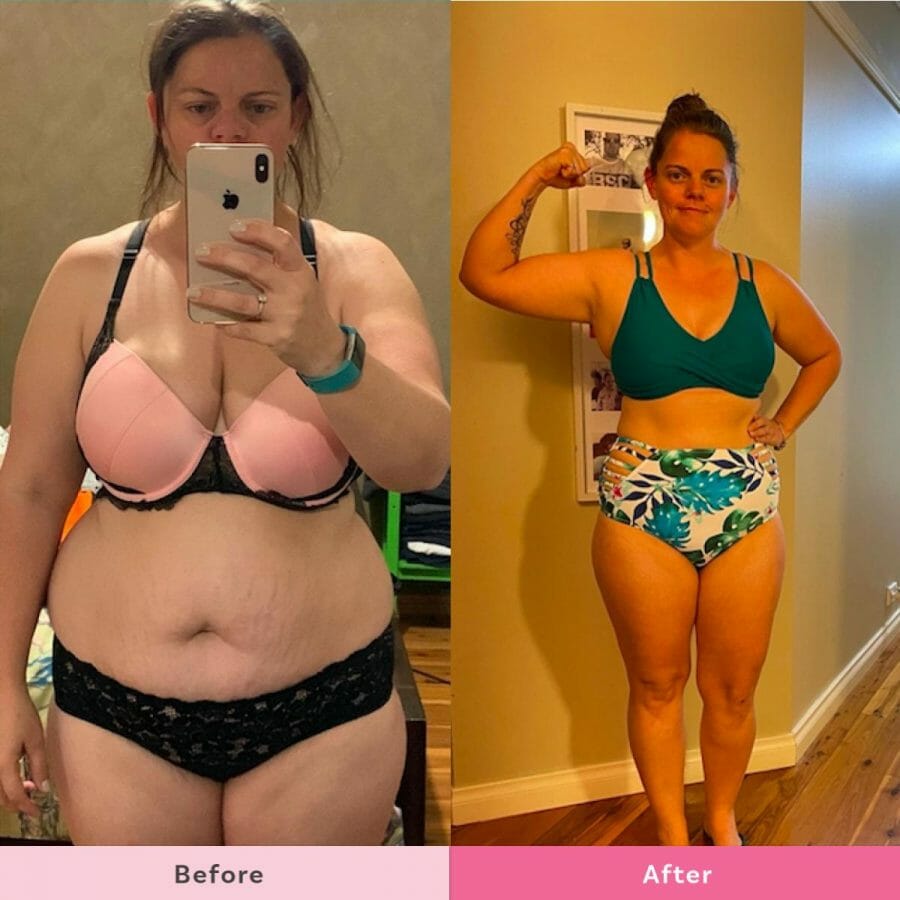 Shelley Hedley is 34 from Young in NSW with four kids aged 17, 15, 13 and 10.
Two years ago, weighing 91 kilos, she made the decision to change her life.
"My mental health was suffering & my thyroid was out of control. I had just not long started my job as an Aged Care Worker and I struggled to keep up with that too. Little things like doing up my shoelaces became difficult. I knew I had to do something about it."
17 Kilos, 80 cms and 4 dress sizes down
Two years on, after joining the 28 Day Weight Loss Challenge and using Healthy Mummy products, Shelley has lost a total of 17 kilos and 4 dress sizes. And she's not done yet! She's determined to lose another 9 kilos.
Loving the health benefits
Despite the obvious benefits that come with weight loss, Shelley is over the moon that an underlying health condition has also improved.
"One of my biggest health benefits is my Graves' disease ( thyroid ) since joining The Healthy Mummy I have finally for the first time in 12 years got my thyroid under control and I have nearly got my iron levels where they should be. 
"I've noticed so many changes within myself, I'm able to do things with my kids that I physically could not do before, I can run with them, play sports with them."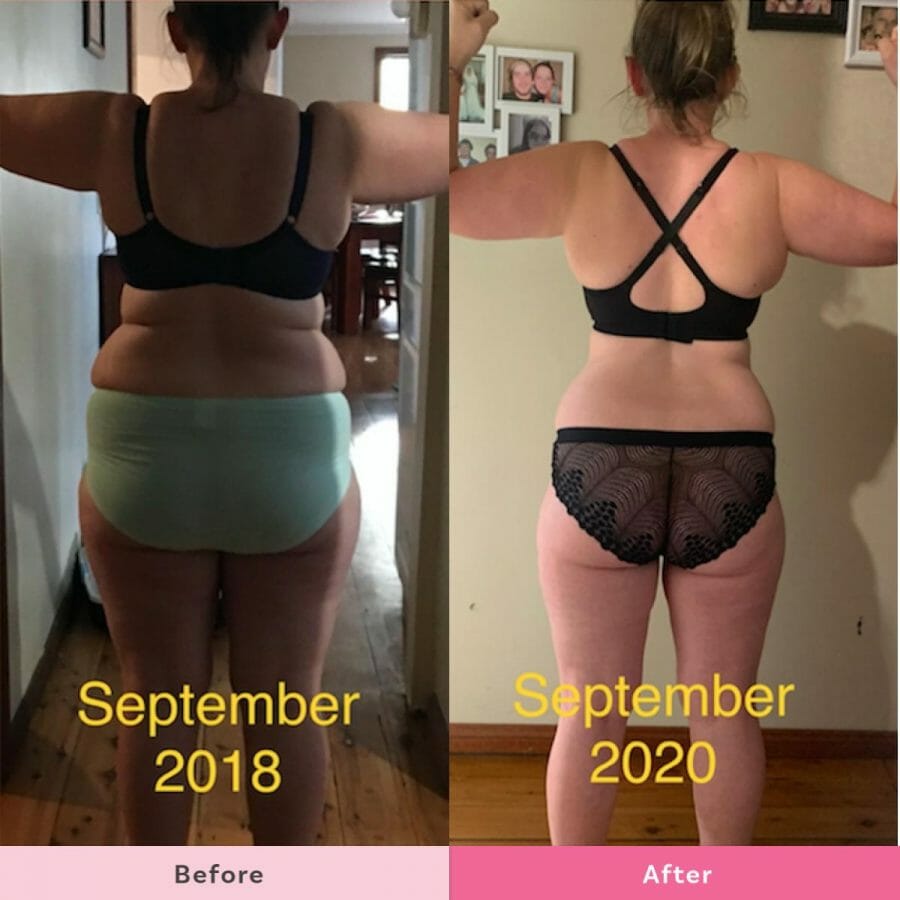 Not only that, Shelley has found her mental health and mindset have also improved. In fact, Shelley says one of the biggest things she's learnt is that a healthy mindset is such an important part of overall good health.
"The Healthy Mummy App has so many tools to help with this. My mindset is so much happier than it has ever been before.
I no longer struggle to breathe, which was something that bothered me so much when I had all the extra weight. I now pay close attention to mental health and what it needs.
The healthy mummy lifestyle has helped me and my family with our everyday lives."
Binge eating be gone
Shelley has found some key Healthy Mummy products a huge part of her weight loss success so far.
"I absolutely love the Healthy Mummy smoothies and smoothie recipes, I have 2 a day. The carb X and the control X have also been a huge game changer for me personally, I would struggle with binge eating and still do sometimes but these products really do help me control this."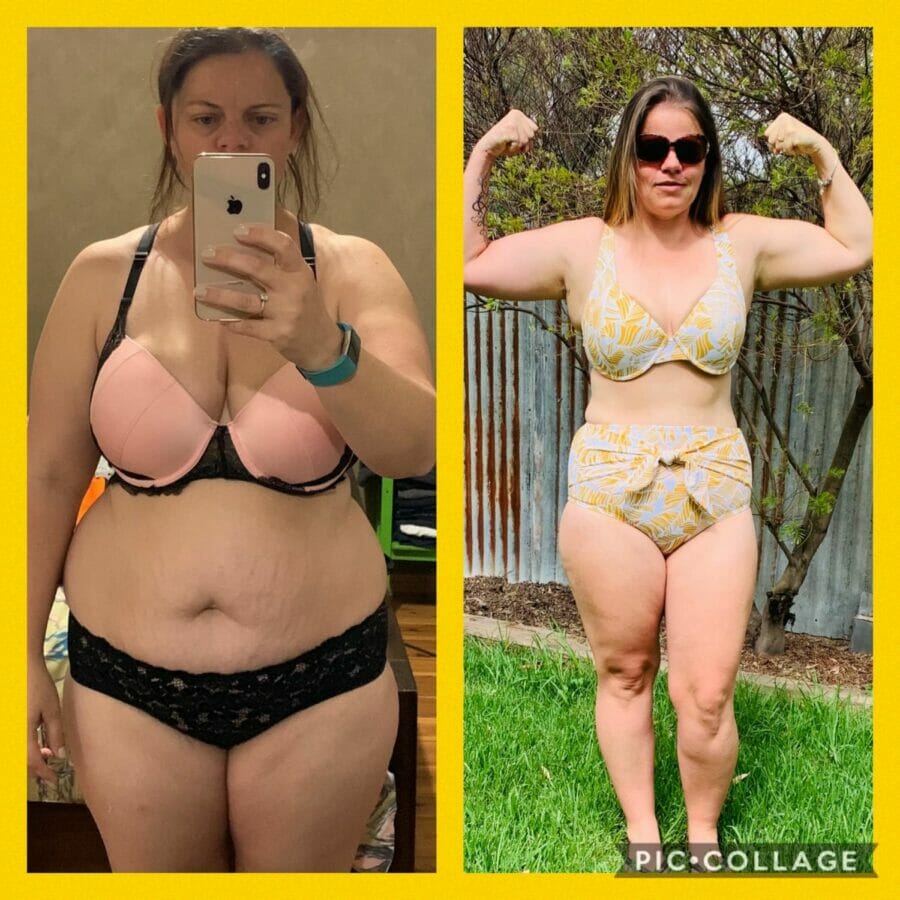 What Shelley eats every day
"I would usually have two smoothies every day and for dinner, I always have a Healthy Mummy meal for the whole family which I also do double servings so I can put some in the freezer, this is how I also meal prep as I am a full time working mum."
My snacks: I also like to pick Healthy Mummy things like orange almond loaf, choc chip banana bread, blueberry muffins and the zucchini breakfast muffins are a favourite.  My favourite dessert is the choc lava cake."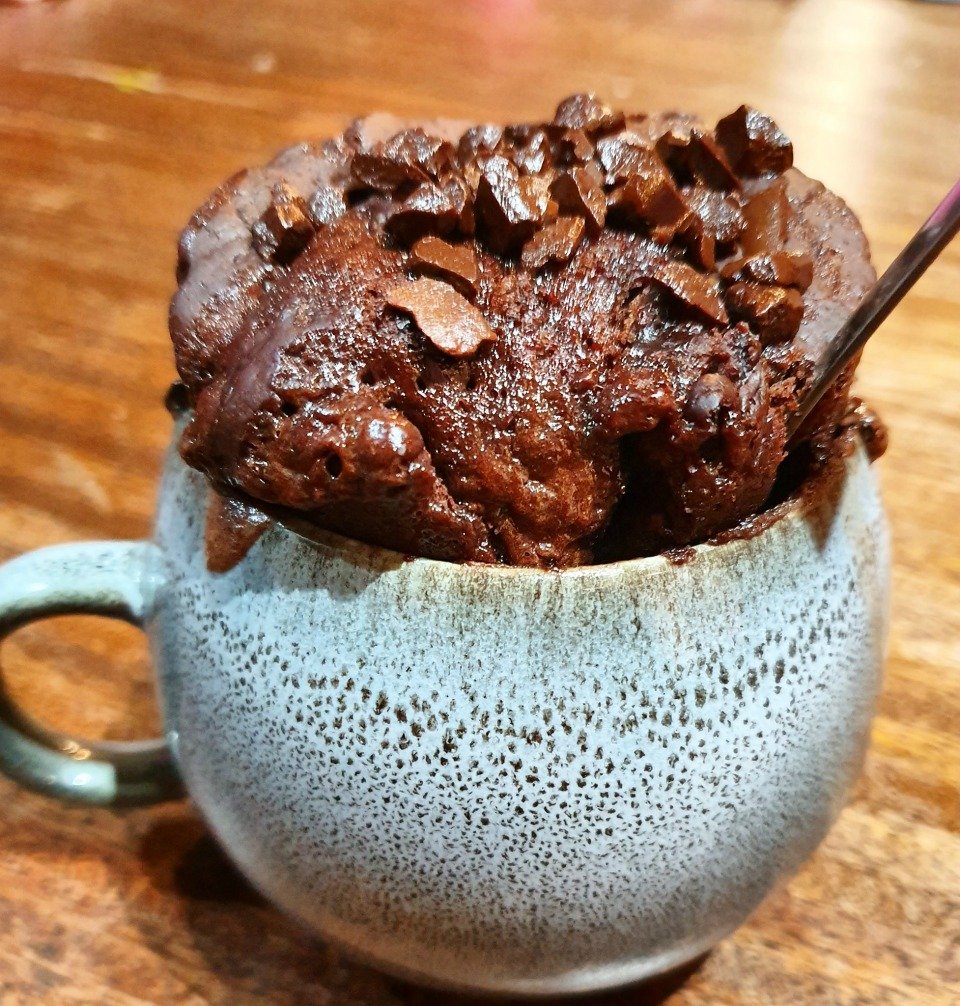 Shelley's 3 Tips for success
Being consistent
Dedication
Self love.
"My biggest advice is you didn't put the weight on overnight so it's not going to come off overnight, be kind to yourself and try not to put so much pressure on yourself. This is a lifestyle change not a race."
Amazing advice Shelley!!
Are you ready to be a Healthy Mummy?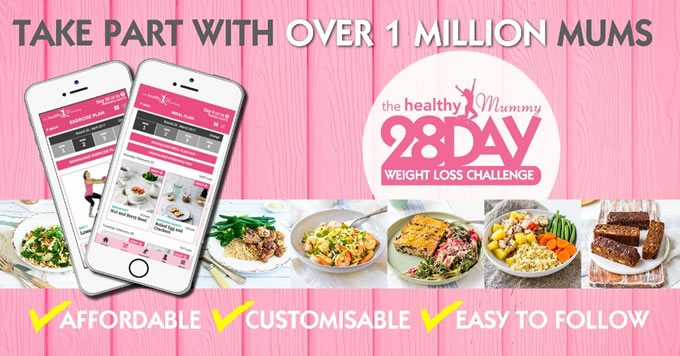 Want to shift your weight but feel like you have NO TIME in your day to exercise and eat healthily?

That's where the Healthy Mummy's 28 Day Weight Loss Challenge can help.

What do you get? You get access to:
28 days of at home exercise routines (no gym needed) – with video instruction
Customisable and breastfeeding friendly meal plans
Time-efficient exercises for busy mums – under 30 mins
Challenge combines Pilates exercises with interval and circuit training (HIIT)
Suitable for basic to advanced fitness levels.
Home to thousands of EASY-TO-MAKE recipes.
Find out more about joining the 28 Day Weight Loss Challenge.