These 10 mums have lost over 200kgs check out their amazing transformations
This Transformation Tuesday we are celebrating 10 mums who have lost over 200kgs combined with the help of The Healthy Mummy 28 Day Challenges, smoothies, recipes and community support. Go ladies!
We love to celebrate the transformations of our mums with weekly shoutouts like Transformation Tuesday and these 10 mums have transformations that are well worth celebrating.
Having lost over 200kgs combined these mums are all looking great, feeling amazing and loving life!

Kate Jacklin – 25kgs lost
"I used to love this top because it was just loose enough to hide my tummy roles. Now, it is so big I can't even wear it! Finding old clothing that you used to live in really reminds you of how far you have come.
The Healthy Mummy has helped me lose 25kg combined after having both of my kids, following the 28 Day Challenge, using the Healthy Mummy smoothies and other products.
I would not anything else"

Jennifer Nielsen – 18kgs lost
"122kg to 105kg
22 to 16
18kg lost forever
Over 40cm gone
This is the first time In my life I am actually really excited to be in swimwear this summer, I am excited I have been looking at what swimmers are out there I usually hide behind shorts and shirts!
Thank you Healthy Mummy for helping me find my confidence and also providing me with the tools to help me shed the weight while living a happy healthy fit lifestyle.
Thank you to all you gorgeous ladies for all your support, guidance, motivation everything! You have been my amazing support squad."

Steph Marriott – 19kgs lost
"Have you tried plenty of fad diets and failed every time?
Me too. You name them, I've tried it. Soup diets, fasting diets, 1200 calorie diets. I've FAILED them all.
Do you know why The Healthy Mummy works? Because you still get to enjoy all the tasty foods. Pizza, burgers, pasta, chocolate treats, muffins and cakes! You don't feel restricted, which means you don't have the urge to binge.
A healthy diet, a healthy life, healthy family, healthy kids."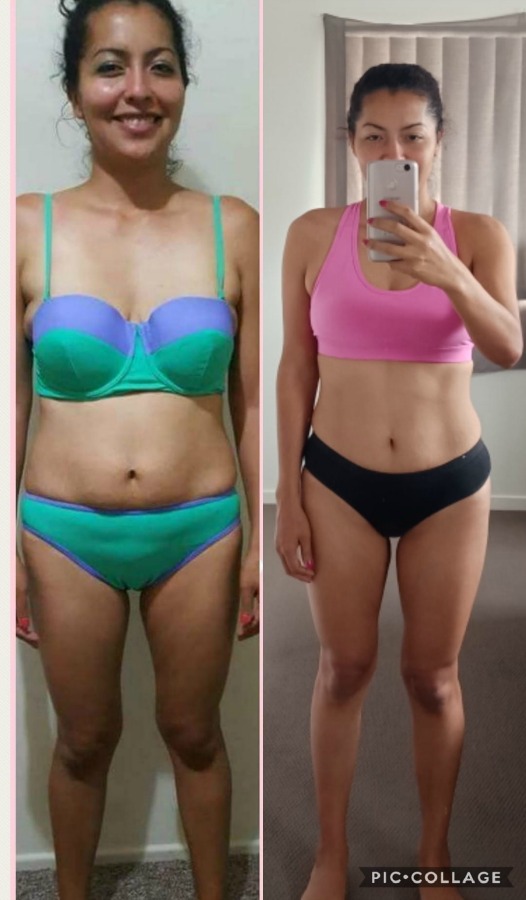 Tatiana HM Flores – 12kgs lost
"I cannot believe how much has changed since I started on my Healthy Mummy journey in 2015! Fast forward to today I feel happier, healthier and more energised!
I've lost over 12kgs and gained a better version of myself!! I did this with the help of The Healthy Mummy products and the 28 Day Challenges!
I love where I am at now and love that it's now my lifestyle!"

Megan Joy – 12kgs lost
"Hard work and determination always pay off.
Start now and you'll never regret it.
11 months
12kg gone
Getting more tone and strong every day"

Alicia Franklin – almost 30kgs lost
"The Healthy Mummy has given me the tools to become FIT and STRONG
The community and true Healthy Mummy spirit has taught me to focus on the POSITIVES and what I HAVE achieved, not what is yet to come.
Today when I look in the mirror I see a mum who is STRONG and PROUD.
I encourage you today to look in the mirror and speak kindly to yourself and find something that you love about yourself xxx
The 28 Day Weight Loss Challenge provides me with all the tools to maintain this and get even better!"

Bridget Flint-Chapman – 10kgs lost
"Over 120cms gone and maintained for a year! Over 45cms gone just from my belly. This is my WHY!!
Why I have followed Healthy Mummy challenges for nearly 3 years
Why I meal prep and plan using the Healthy Mummy app
Why I have Healthy Mummy smoothies every morning
Why I use the Healthy Mummy exercises"

Juzzy Louise – approx 50kgs lost
"If you ever feel like giving up! Don't!!!
Take inspiration from one of us that have seen huge successes!
It took me a long time to start but now I'm on a positive journey and loving it.
I've faced huge challenges but the positives definitely outweigh the negatives.
I still hear people talk negatively about me but I know the truth. I've seen the changes! I've seen the progress! I'm living this journey! I'm proud of who I'm becoming!
Old Juzzy is gone! New Healthy Mummy Juzzy is here! And I'm staying!
These results are from using the 28 day challenges, smoothies, supplements and being supported by Team Healthy Mummy!"

Nikki Myles – 30kgs lost
"Don't wait any longer to change your life like The Healthy Mummy has done for my family and myself!!
I am a 46 year old mother of 3 boys who was diagnosed with PCOS 15 years ago.
I have gained my health, confidence and happiness. The lady on the left was tired, unhappy and just struggling to get thru each day.
By following the 28 Day Weight Loss Challenge and having 1 or 2 smoothies a day have lost 30 kilos and I am maintaining a healthy weight which has not happened in such a long time."

Amelia Pearce – 20kgs lost
"20kg down, 9kg to goal, this has been a journey over about 2-3 years that has had many ups and downs but I have an end goal in sight and despite my many hiccups along the way, I will keep chipping away. The support and inspiration from The Healthy Mummy (the app and the support pages), the women here and the many wonderful people in my life are what inspire me to keep going 
Don't beat yourself up ladies, even when you fall off the wagon, it's never too late and it doesn't matter how long it takes. It's your journey and you are worth it, hang in there"
Well done ladies! We are loving your transformations.
Want to be featured? Join The Healthy Mummy private support group and post your transformations on Transformation Tuesday or Flashback Friday for your chance to be featured.
Are you inspired yet? Join these mums and more on the 28 Day Weight Loss Challenge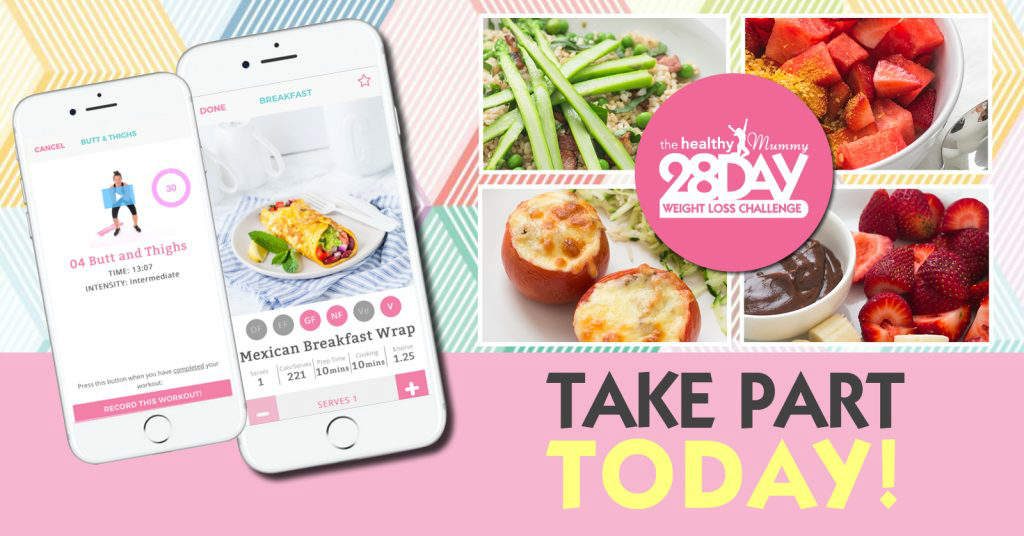 If you are inspired by these mums transformations and want to take charge of your own health and weight – then join our 28 Day Weight Loss Challenge TODAY.
With more than 4,000 delicious (and healthy) recipes, 350 exercises & 24/7 support – the 28 Day Weight Loss Challenge is designed (and proven) to help busy mums like you lose weight!