Weight Loss Mum Simone shares AMAZING 36 kilo body transformation!
After years of suffering from anxiety and depression, Mum of four Simone was just fed up of feeling sick, unfit and tired all the time.
With an eating disorder, poor diet, and a reliance on energy drinks, Simone knew she needed to make a change. That change was joining the Healthy Mummy 28 Day Weight Loss Challenge.
Fast forward eleven months and Simone has not only lost 36 kilos, she's transformed her lifestyle completely and is loving her newfound confidence.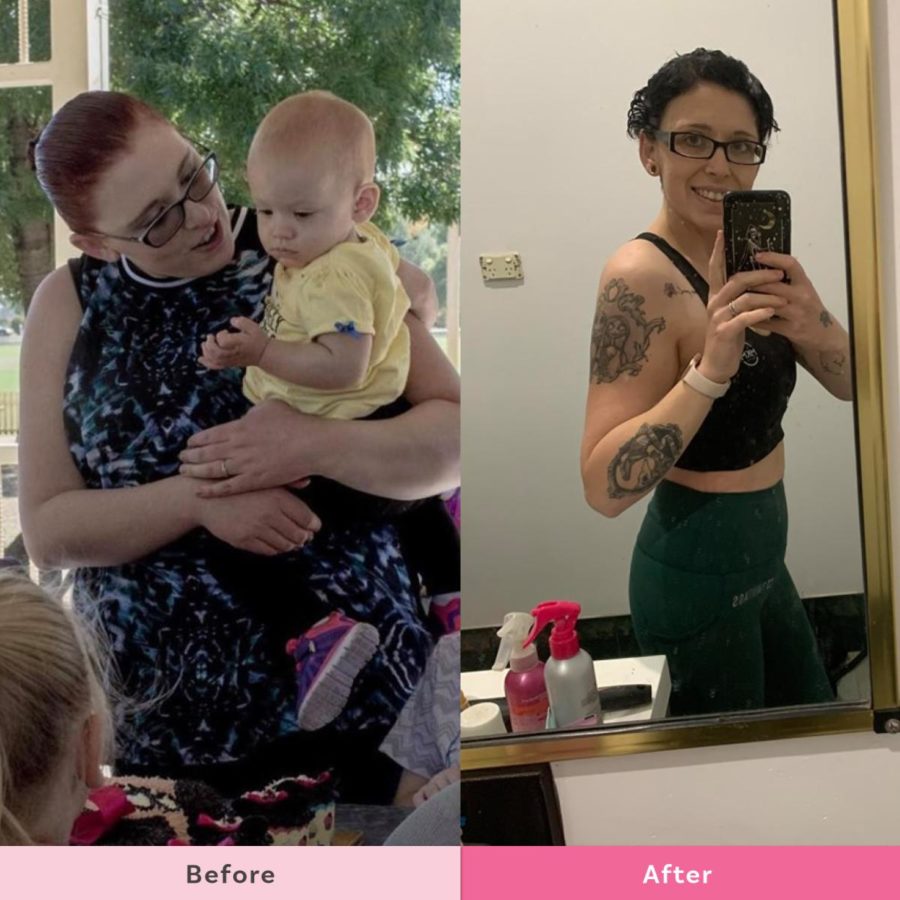 Simone's Weight Loss Story
Simone is a 28 year old mum to four girls aged 8, 5 and 18-month twins from Gunnedah, NSW.
Just under a year ago, Simone admits to not being in a great place mentally or physically. Her anxiety and depression were not helping with weight gain, if anything they were making it worse.
Simone shares, "I was so lazy,  loved junk food and made excuses not to do anything. I started diets and would always give up after a week or two."
Living off energy drinks, and skipping meals, Simone was tired all the time and desperate to make a proper lifestyle change. After stumbling across the Healthy Mummy Private Support group on Facebook and seeing everyone's amazing results, Simone joined on the spot.
"I joined the 28 Day Weight Loss Challenge to lose weight, but most of all to be healthy, I was sick of being sick and unfit."
Simone shifted her mindset to succeed. With the support of the Community and the Challenge programme, she felt she was on the right path to reach her goals. Taking every day at a time, she stayed positive telling herself to keep going. Eleven months later, she is reaping the rewards.
Simone's AMAZING Weight Loss results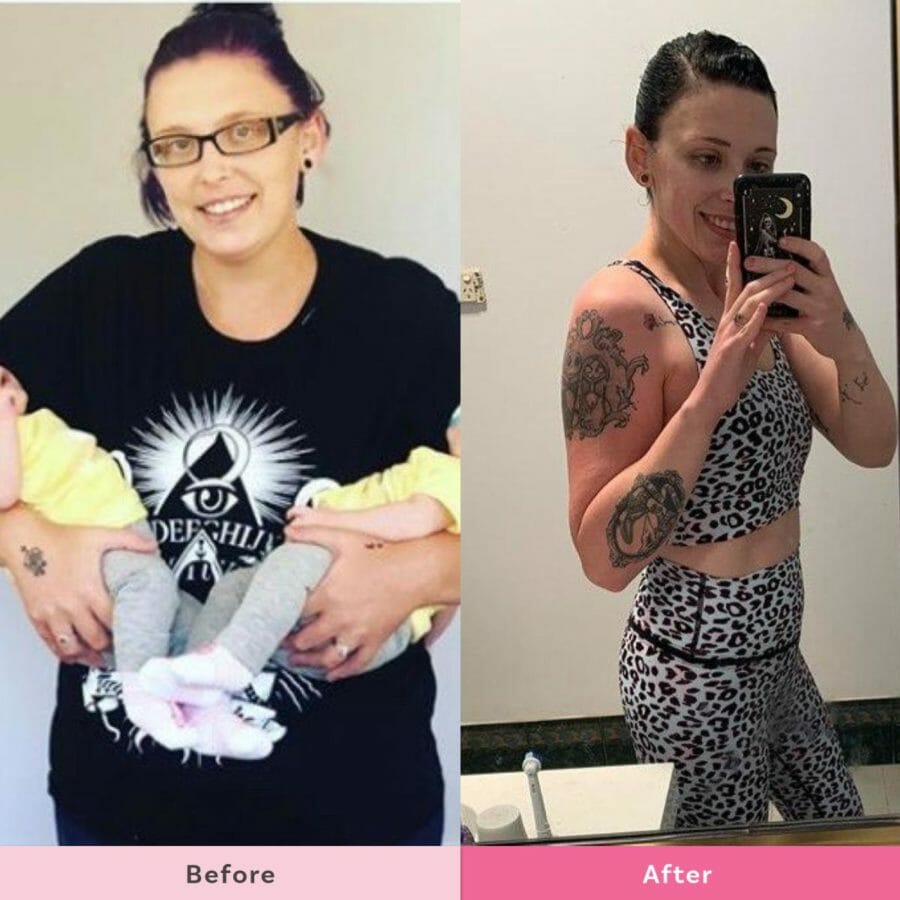 Simone says "I have lost of total of 36 kilos. I'm now weighing 60 kilos. It has taken me the last 10 months to lose 30 kilos."
Not only has the weight loss changed Simone physically, but her mental health has also improved.
"I have so much energy and am just so much happier."
"I actually got my eldest daughter to take my photo's today. And she was just smiling telling me how amazing I look and how proud she is of me."
"The Healthy Mummy didn't just change my life, but it changed my children's lives too'.
"As I always tell my daughters I'm not on a diet I have a healthier lifestyle now,  for them and most definitely me."
Weight Loss Lessons
Simone believes the biggest lesson she has learned on her weight loss journey is to take each day at a time.
"Listen to your body and don't be scared of food."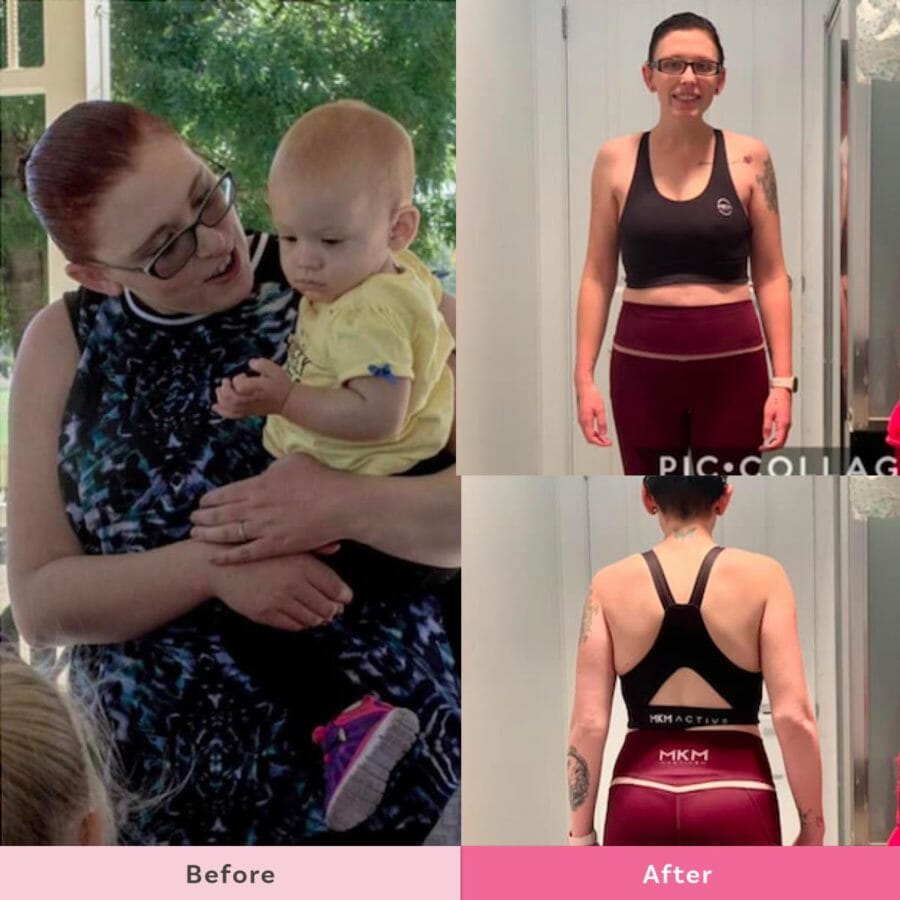 Eating the right amount of calories was initially an issue for Simone. Having suffered from an eating disorder for most of her life, making sure she ate the right types of food regularly was a challenge.
"I was so scared to eat so many calories and gain more weight but now, having learned so much about my health and my body, I'm not scared of food like I used to be."
Simone's Day on a Plate
Simone ensures she eats three meals and at least three snacks a day and incorporates Healthy Mummy Smoothies into her routine.
"Every morning and sometimes lunch I'll have a Healthy Mummy Smoothie".
"I don't skip meals, I eat constantly now."
"I love how many options of food and exercise I can choose from daily."
Simone works out five days a week and walks most evenings and weekends to stay active.
Simone's Three Tips for Success
Don't be too hard on yourself
Take everything day by day
Especially don't give up
"Everyone has bad days. It doesn't mean you failed, it just means you need to get back up and try again. We all have been there and it gets easier. All you have to do is try."
We want to thank Simone for sharing her story and say a big congratulations on your amazing results.
Are you ready to join Simone on the 28 Day Weight Loss Challenge?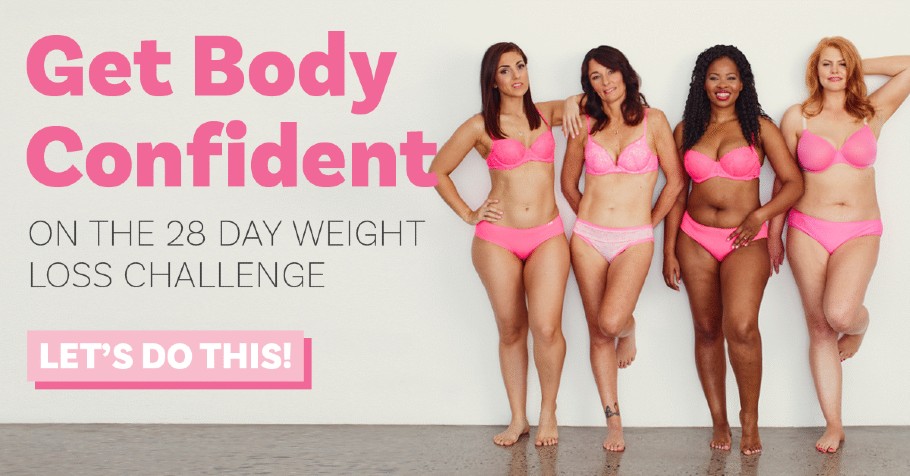 If you are wanting to lose weight and improve your energy – not to mention – help improve your overall health and wellbeing – our 28 Day Weight Loss Challenge is an awesome program to check out. 
Our 28 Day Weight Loss Challenge includes:
28 days of at home exercise routines (no gym needed) – with video instruction
Customisable and breastfeeding friendly meal plans
Time-efficient exercises for busy mums – under 30 mins
Challenge combines Pilates exercises with interval and circuit training (HIIT)
Suitable for basic to advanced fitness levels
Home to thousands of EASY-TO-MAKE recipes!
To learn more about our 28 DAY WEIGHT LOSS CHALLENGE CLICK HERE.