Mum who lost 32kg shares 6 of her FAVE booty-busting exercises
If you're part of this month's BUDGET BOOTY BUSTING 28 Day Weight Loss Challenge you'll know that we are focused on tightening and toning bums and thighs this September.
With that in mind, we've got some tips to share from the super inspiring Motivating Mum Sascha Farley.
Sascha has lost 32kg by following the 28 Day Weight Loss Challenge and credits the variety of recipes and workouts, as well as The Healthy Mummy Smoothies and the support from other mums for her stunning transformation.
Sascha has given us her six favourite butt toning exercises that you can do from the comfort of your own home.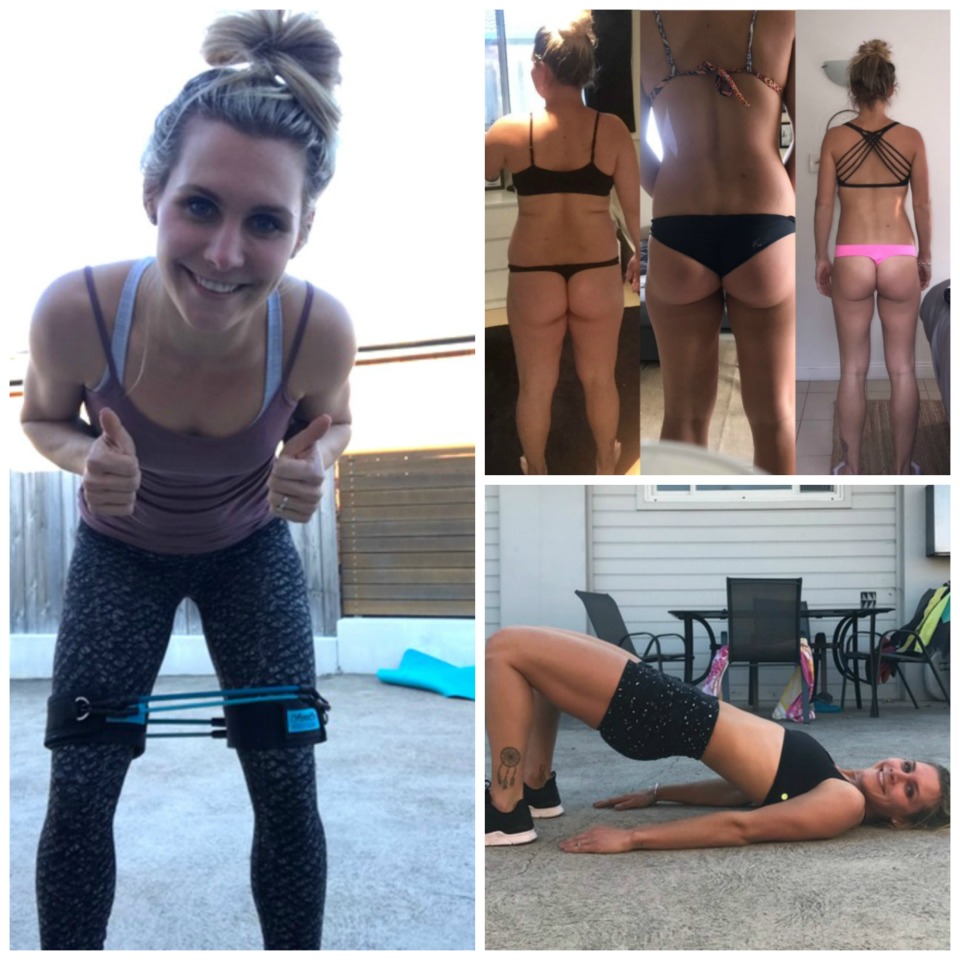 You don't need fancy equipment or a gym membership to get the butt of your dreams. Just set aside a little time each day (even if it's just 10 minutes, two or three times a day) to get a sweat on.
Sascha says, "I love lower body workouts! For me they are the most efficient as it's a bigger muscle group so I have to work harder which means I burn more."
We KNOW that as a busy mum you're time poor, tired and just plain busy. That's why we encourage you to exercise in bite sized chunks so that you can get your workout in no matter what the day throws at you.
"Lower body exercises also require your whole body to be stable and your core engaged – so, you're killing two birds with one stone," says Sascha.
We won't make you wait any longer, here are Sascha's TOP SIX butt busting exercises.
Sascha says, "As well as these six favourites, I also love using my booty bands as they help with proper muscle activation and give you resistance!"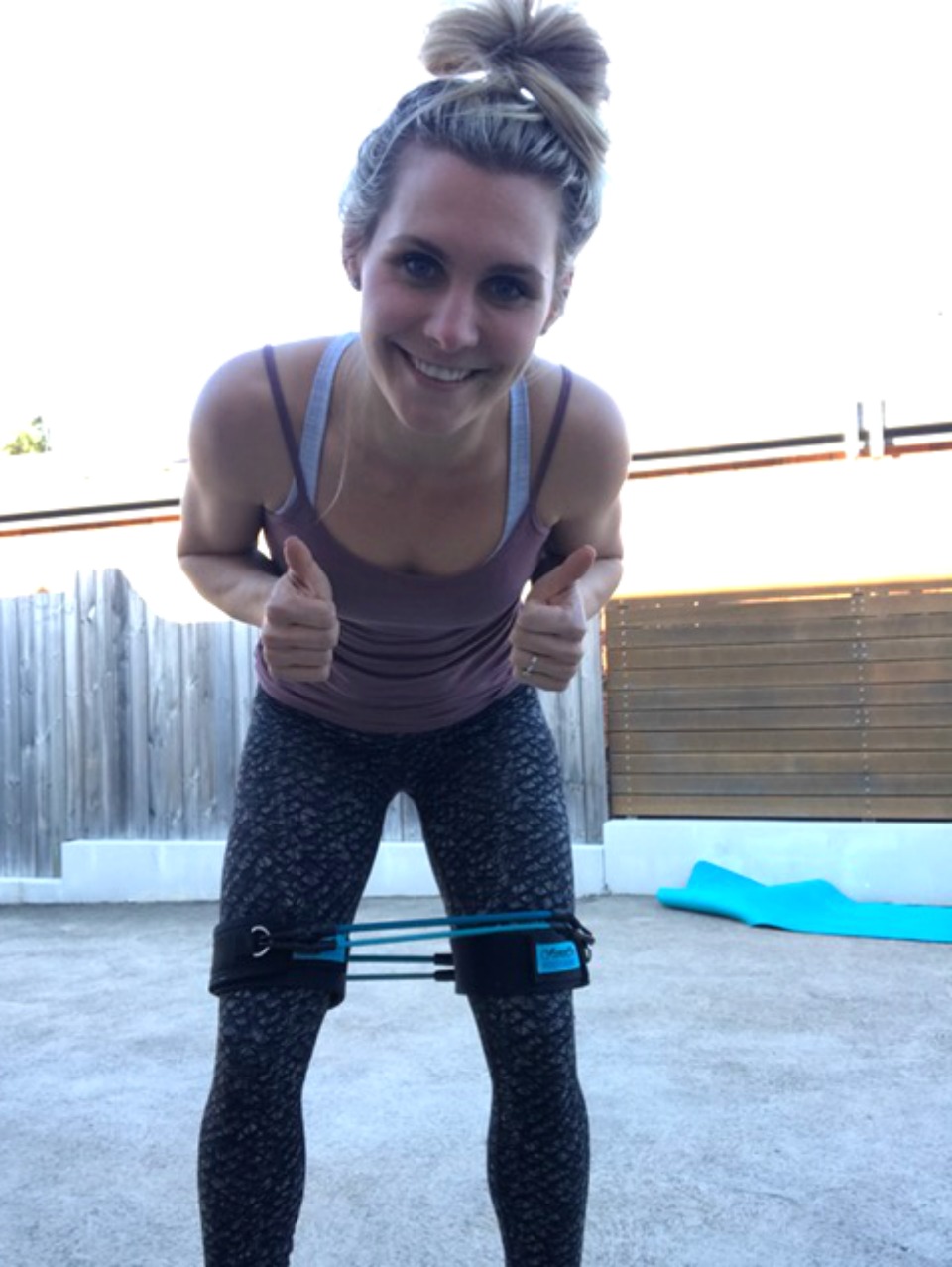 Sascha's 6 booty-busting exercises
1. Squat pumps
Stand in a neutral position, hips shoulder width apart. Arms are by your side and toes are pointing forward.
Slowly extend your arms out in front of you, exhale and push your hips backward (imagine you are sitting down on a chair) into a squat position.
Keep your back flat, head up and knees in line with toes. Lower your body until your thighs are parallel to the ground. Hold the squat position for 1-2 seconds, then tighten your glutes and slightly straighten your legs to create a pumping motion.
Breathe continuously through the movement. Exhale as you engage your core and push off your heels to standing.
2. Squat jumps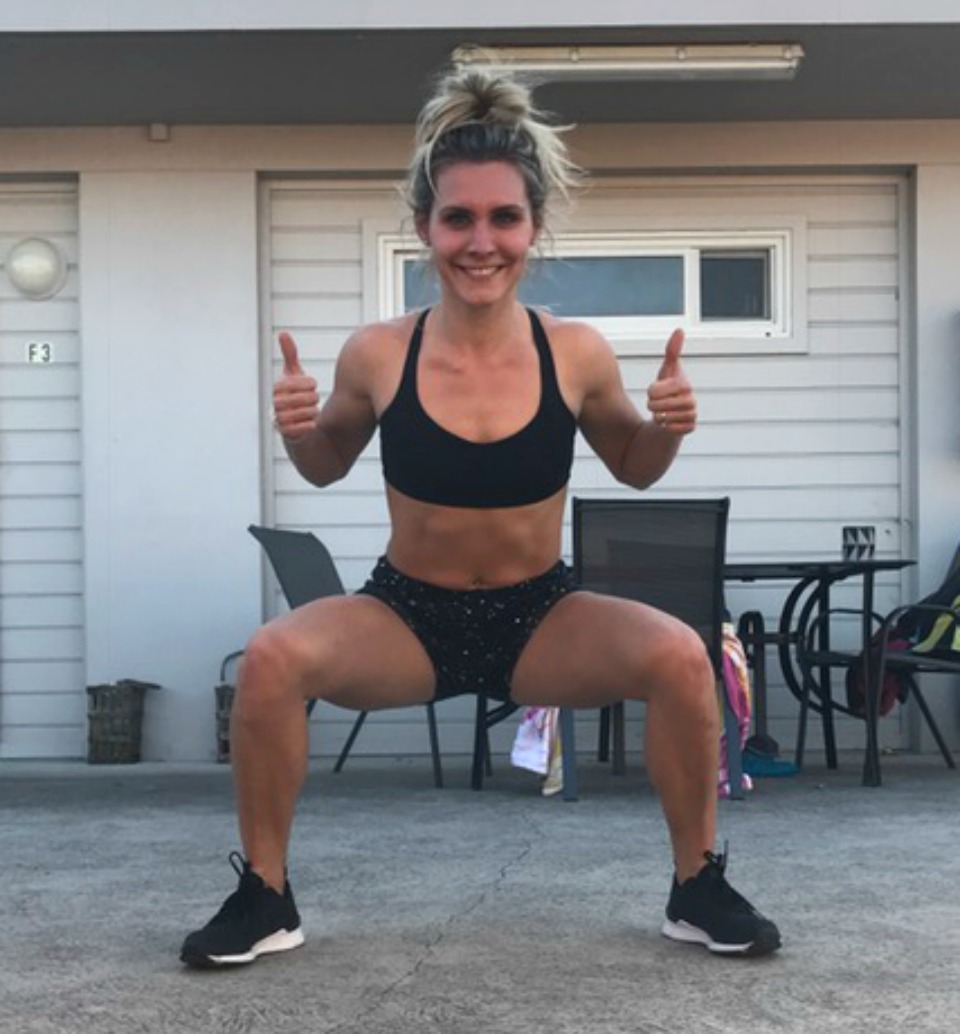 Stand with your feet shoulder width apart placing your hands on your hips, engage your core by tucking your belly button in towards your spine and prepare to squat down.
Begin to squat by bending your knees, keeping your back straight and pushing your hips slightly back as if sitting on a chair.
When your knees reach a point no greater than 90 degrees transfer your body weight from your heels to the balls of your feet and push up through your legs to perform a small vertical leap making sure to land flat on both feet.
Now repeat beginning with a squat.
Tip from Sascha – "I'm not one to go for a jog so this really helps with the cardio side of things."
3. Glute swing
Kneel on a mat on all fours with your knees hip width apart and fingers facing forward. Ensure your back is flat and belly button pulled in toward your spine.
Keeping a neutral spine, exhale as you lift and extend your right leg, until it is parallel to the floor.
Keep your hips facing down, back straight and core engaged through the movement. Inhale as you slowly bring your knee down and forward toward your chest.
Inhale and slowly extend your leg again and repeat exercise. Alternate legs after 30 seconds.
4. Bridge glut raise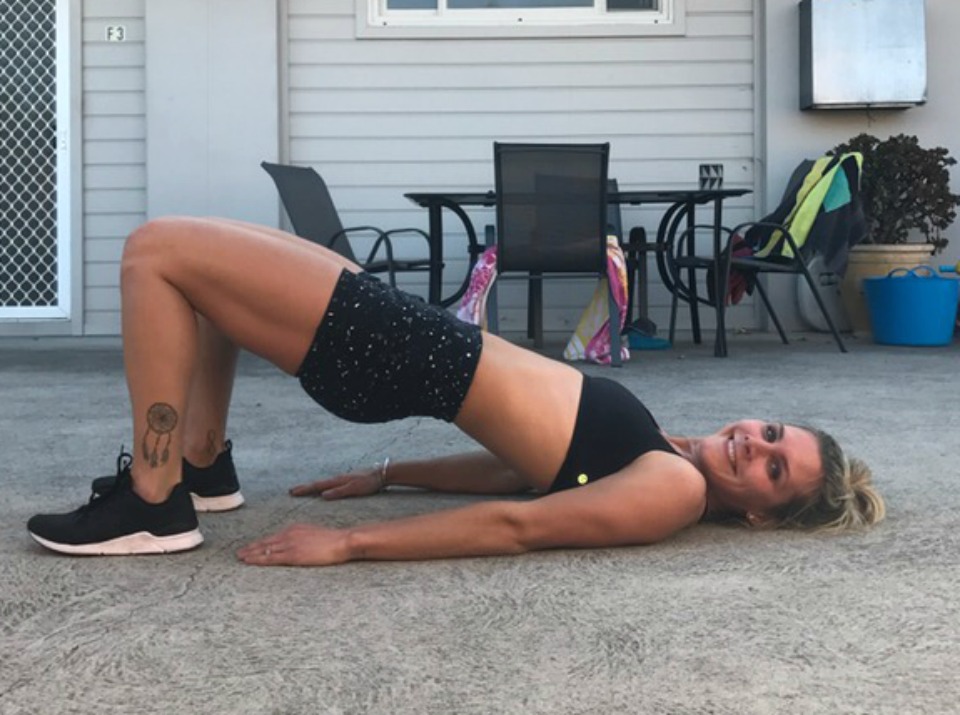 Lie flat on your back on the floor, bend your knees and place your feet flat on the floor, shoulder width apart and a few inches away from your torso. Contract your glutes and tighten your core.
Exhale and lift your hips off the floor, keeping your back straight. Hold at the top for one breath and slowly roll down through each vetebrae as you return to the starting position. Repeat exercise.
5. Box jumps
Stand in front of a sturdy box or large step that is at least 20cm off the ground. Place your feet flat on the floor, hip width apart.
Bend your knees and use your arms to propel you upwards, jumping onto the box. Jump down to the start position and begin the exercise again for one minute.
Sascha adds, 'Any lower body work with jumping is awesome as you get your heart rate up as well!'
6. Lunges 
Standing with your feet together, place your hands on your hips and switch on your core by tucking your belly button in towards your spine and prepare to lunge forward.
Take one step forwards with your leading leg making sure you land on your entire foot which should be facing forwards.
From this position lower the knee of your rear leg towards the floor and at the same time bend at the knee of your lead leg so that your entire body is being lowered towards the floor (ensure the knee of your leading leg knee is NOT in front of your foot).
Maintain an upright position by keeping your core switched on. Return to the starting position by straightening and pushing back through your lead leg. Repeat the movement and alternate legs.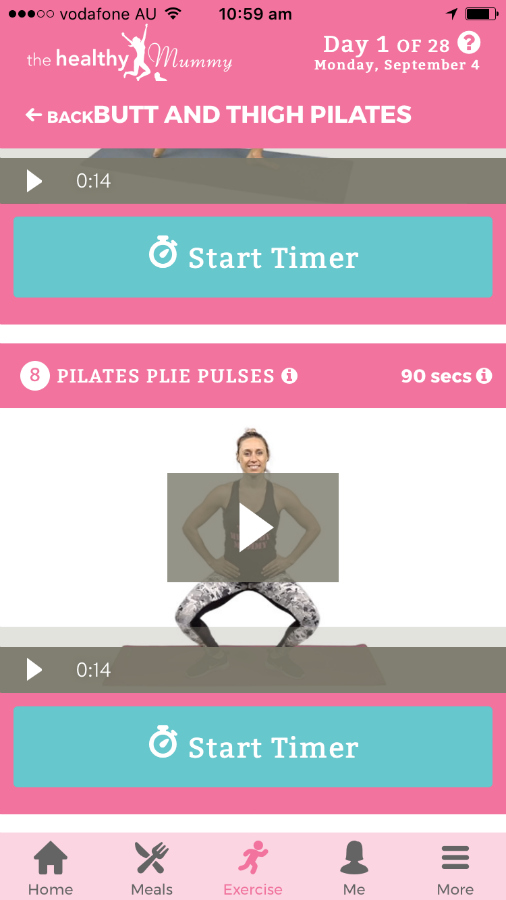 DID YOU KNOW: You can find a heap of booty (and thigh exercises) on our 28 Day Weight Loss Challenge exercise hub? What's more, we outline how you can perform these exercises CORRECTLY, and SAFELY while targeting those booty muscles. You can sign up to our Challenge here.
Three other mums who have boosted their booties
These three mums are defying gravity, thanks to the 28 Day Weight Loss Challenge and lots of hard work. Go girls!
1. Julia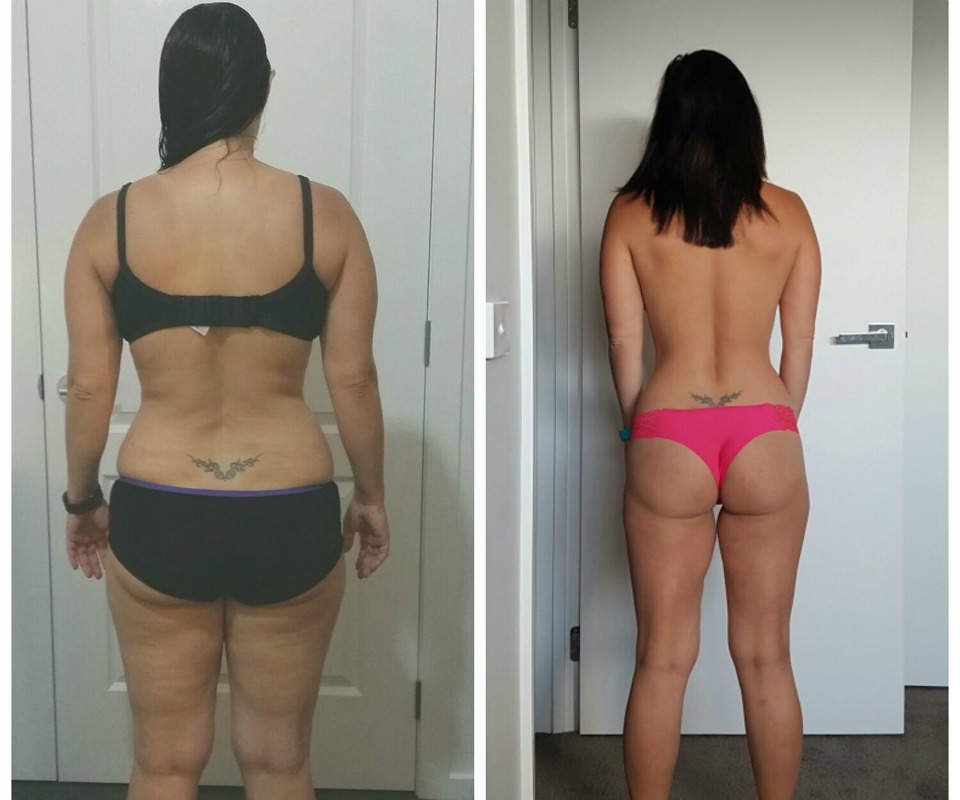 Julia says, "I never thought I would be happy and confident in my own skin this summer but thanks to the Healthy Mummy I totally am."
2. Jacinta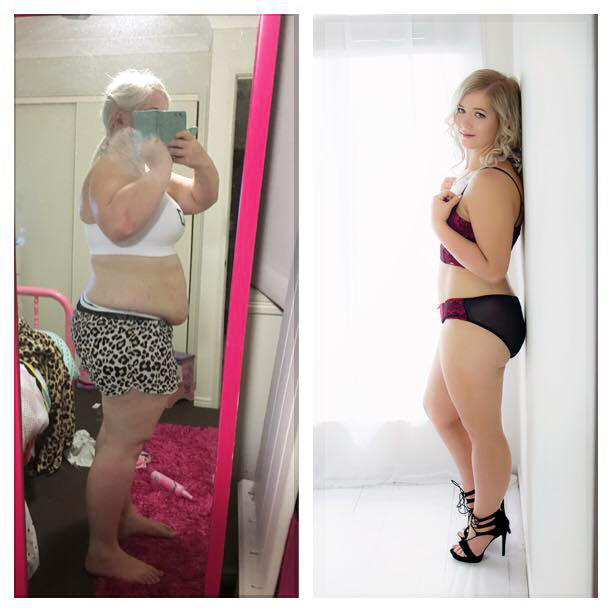 What a transformation! Jacinta says, "There is 9 months and 35kgs* difference between these photos and it was thanks to The Healthy Mummy that I managed to get this far!"
3. Rae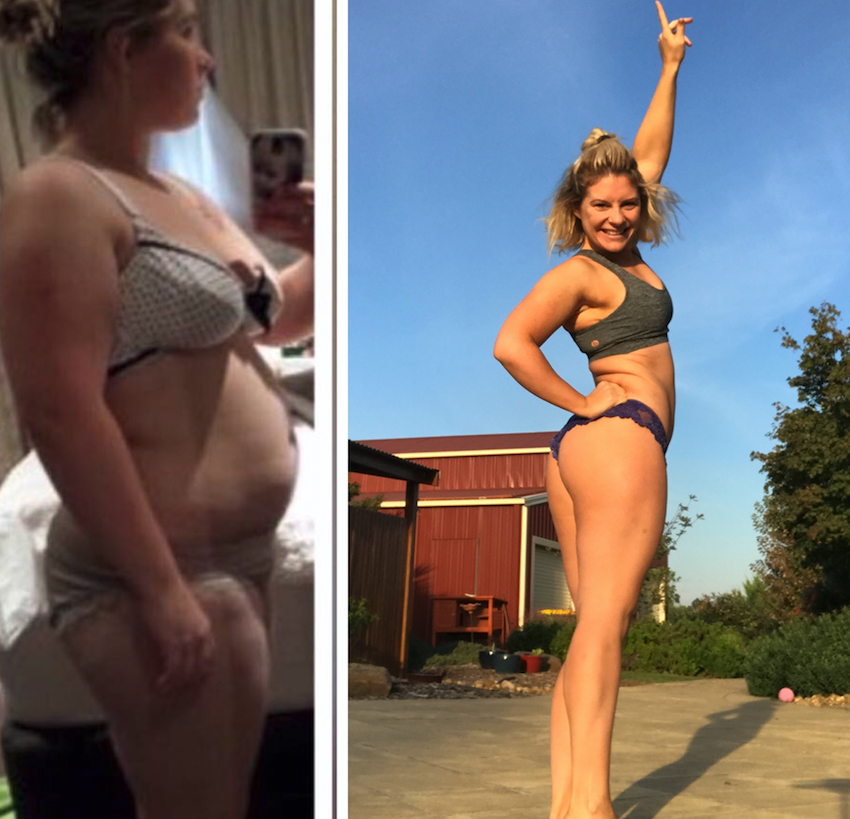 Rae has not only dropped 25 kgs* she's toned up her body too and is now proudly flaunting her INCREDIBLE booty! Rae says, "My main tush exercise at the minute is weighted squats. I use a bar with weight for 3 sets of 12-15 reps."
Are you ready to become a Healthy Mummy?
If you are wanting to tighten your booty and tine your thighs – not to mention – help improve your overall health and wellbeing – our 28 Day Weight Loss Challenge is an awesome program to check out. 
Our 28 Day Weight Loss Challenge includes:
28 days of at home exercise routines (no gym needed) – with video instruction
Customisable and breastfeeding friendly meal plans
Time-efficient exercises for busy mums – under 30 mins
Challenge combines Pilates exercises with interval and circuit training (HIIT)
Suitable for basic to advanced fitness levels
Home to thousands of EASY-TO-MAKE recipes!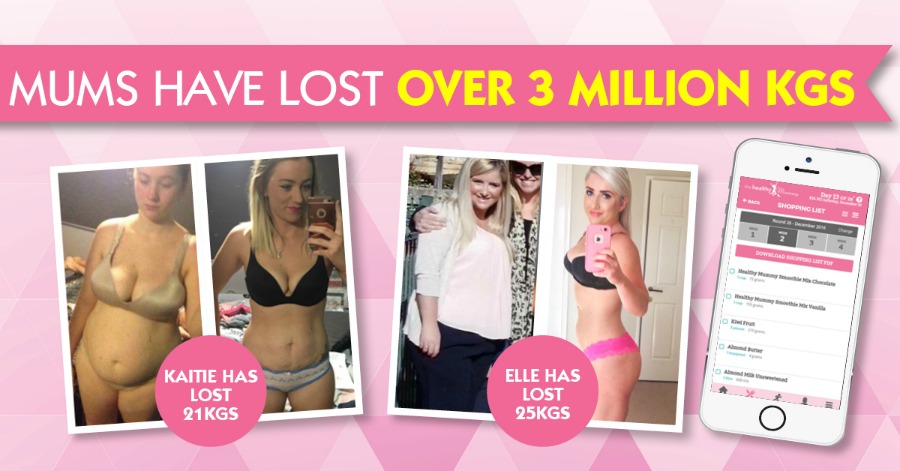 To learn more about our 28 DAY WEIGHT LOSS CHALLENGE CLICK HERE.