Baby wearing workouts to help new mums tighten and tone
Do you want access to baby wearing workouts to help you tighten and tone post pregnancy? Then, click here to find out more.
Good news healthy (and new) mummies! Our  Baby Wearing workout videos are here and ready to go. The best part?
All you have to do is sign into your Healthy Mummy Appand go to the Fitness Library. Hoorah!
Read on for more information about The Healthy Mummy's 28 Day Weight Loss Challenge Baby Wearing exercise workouts.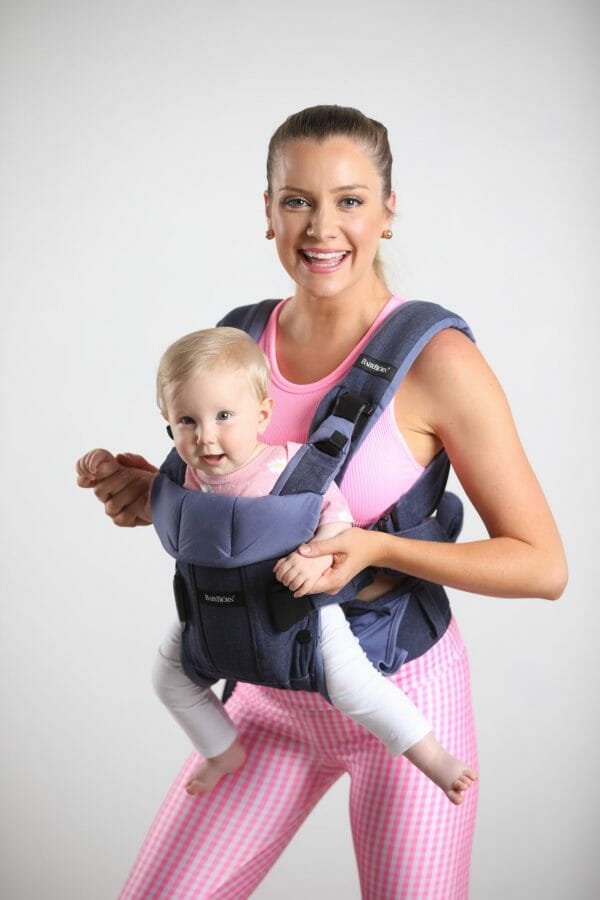 Baby wearing workouts to help new mums tighten and tone
The Baby Wearing Workouts focus on strengthening and toning all areas of the body. There are currently 5 basic baby wearing workouts available in the Healthy Mummy App. 
They are predominantly cardiovascular workouts with muscular endurance and strength. Focus in on the legs, bottom, core, arms and strength of the overall body. As your baby increases in age and weight, the body adapts to being stronger and exercising with increased weight.
However it is important to note that there are a few key guidelines to follow during these workouts!
Key guidelines to follow
Ensure you are at least 6 weeks postpartum with a clearance given by your caregiver/medical professional prior to taking part in such exercise 

Use a carrier that provides ample neck and head support for your baby

Do not face your baby outwards. This is deemed unsafe given the level of movement involved. 
Physical benefits of baby wearing
Physical benefits of baby wearing workouts include a healthier cardiovascular system, increased metabolic rate, and a decrease in body fat.
Emotional and mental health benefits include positive endorphins running throughout your body to make you feel well and energised.
Your baby may also benefit from these workouts. Babies can squeeze in a snooze while snuggling up to mum while other enjoy being slights rocked and bopped around.
These workouts provide extensive flexibility to Mums in a practical sense. You do not need to worry if your baby needs a sleep or if your baby will get bored in the pram while you workout on your own.
In these workouts, your baby gets to be with you the whole time, close to you in a carrier and the majority of babies are happy and content there.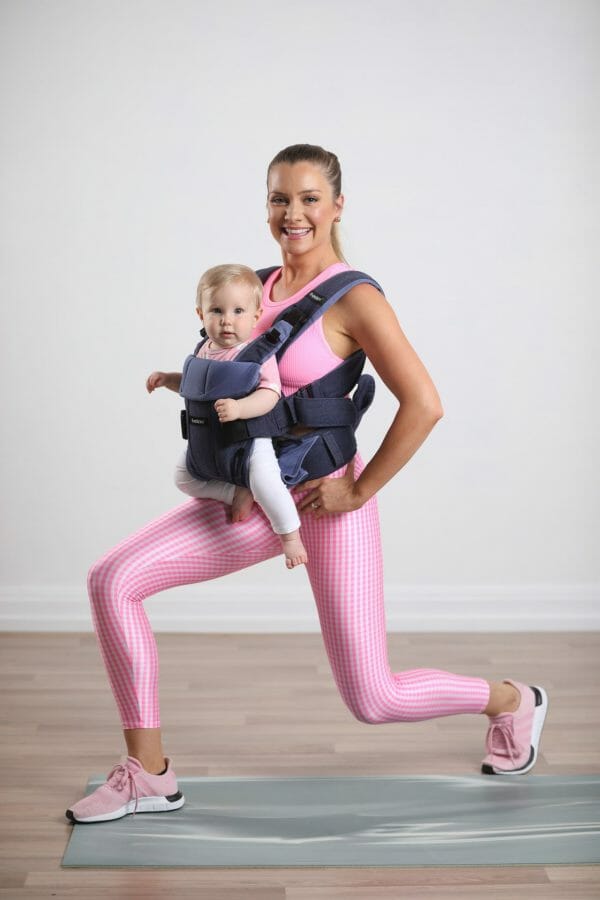 Safety precautions
Safety precautions include being confident with your carrier

Making sure your baby has ample head and neck support

Baby is tight and firm against your body

Their airway is clear and they don't slump once asleep in the carrier.

A baby carrier should place your baby into the "squat-spread M" position and give them a "C" shaped spine, not straight up a down.
Remember to work to your level and rest whenever needed. Be mindful of the weakened pelvic floor immediately after pregnancy and birth, making sure not to do any overly wide steps or squats.
If at any point you are leaning forward to perform an exercise move, always support your baby's head with one hand.
Do not ever cross the legs like a "grapevine" move as this is a tripping hazard. Do not use weights as this is a fall hazard. And use a wall/bar/chair for support whenever needed. Only perform exercises that you would perform if your baby was in your arms.
How often should you do these exercises
Try these workouts at least 3 times per week, with a rest day in between each.
Always start with a warm up and finish with a cool down. Before commencing any exercises or workout regime, we recommend you reach out to your General Practitioner and seek personal guidance for your individual needs.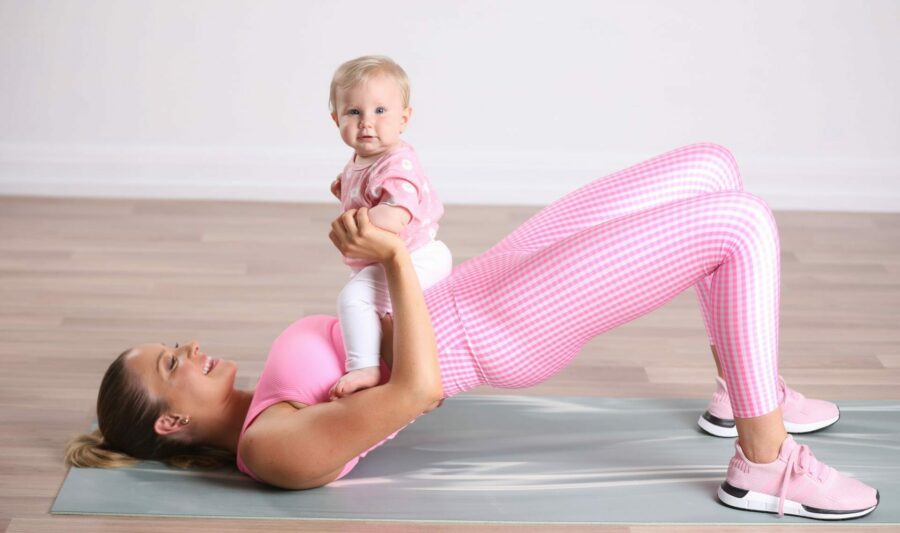 The Healthy Mummy 28 Day Weight Loss Challenge Baby Wearing Workouts are designed to make it easier for busy mums to get active with their babies.
Exercise should be fun, something you look forward to, and an activity you walk away from feeling energised and nourished. A happier mum makes for a happier bub!
If you are NOT already a 28 Day Weight Loss Challenge member, want to access these workouts along with 4,000 healthy recipes, customisable meal plans and other weight loss workout videos to help you tighten and tone after baby – you can learn more here about HOW to join the 28 Day Weight Loss Challenge here.