A father's day breakfast doesn't need to a fatty fry up. Healthy eating can be delicious, hearty, fun and scrummy. I am not implying you give Dad some muesli, as I am sure he wouldn't enjoy that especially, but below are some swap outs and some ideas how you can make father's day breaky interesting, healthier and most of all yummy!!!!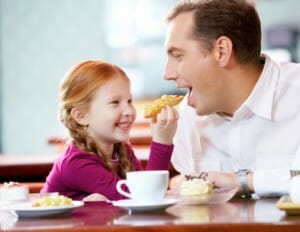 Eggs
You can't go past eggs.  Delicious, low in fat, high in protein. The biggest watch out is how you cook them. If you fry them, do so with a little veggie oil or better yet an oil spray to limit the fat. Same goes for your sides.
If you scramble them, don't add any cream. I prefer them scrambled just with eggs, but if you like to add something, try just milk. Add some herbs to dress it up. Or even at a dollop of some pesto for some green eggs.
Poaching is a fabulous healthier option for eggs on the weekend. I am pretty hopeless at making them though so I tend to stick to boiling them and having soldiers to dip.
The other biggest trap with an egg breakfast is the sides.
Why don't you try some of these for a healthier twist:
Swap bacon for some ham
Microwave some spinach with a hint of oil or butter
Pan fry the mushrooms with some herbs rather than dousing in butter
Grill tomatoes rather than pan fry
Bake some potatoes rather than hash browns
Omelette
Of course, the base of an omelette is eggs at it is almost really a frittata. Well, I cook my omelette the same as a frittata, just fewer eggs and different ingredients. Have a look for a simple and Delicious Frittata Recipe.
Some yummy, low-fat options for ingredients in an omelette are mushrooms, ham and spinach. Pan fry the ingredients with a little oil before putting the eggs in. A sprinkle of some parmesan on top. Hey presto, a gourmet healthy breaky for everybody! I use about 4-5 eggs for an omelette for my hubby.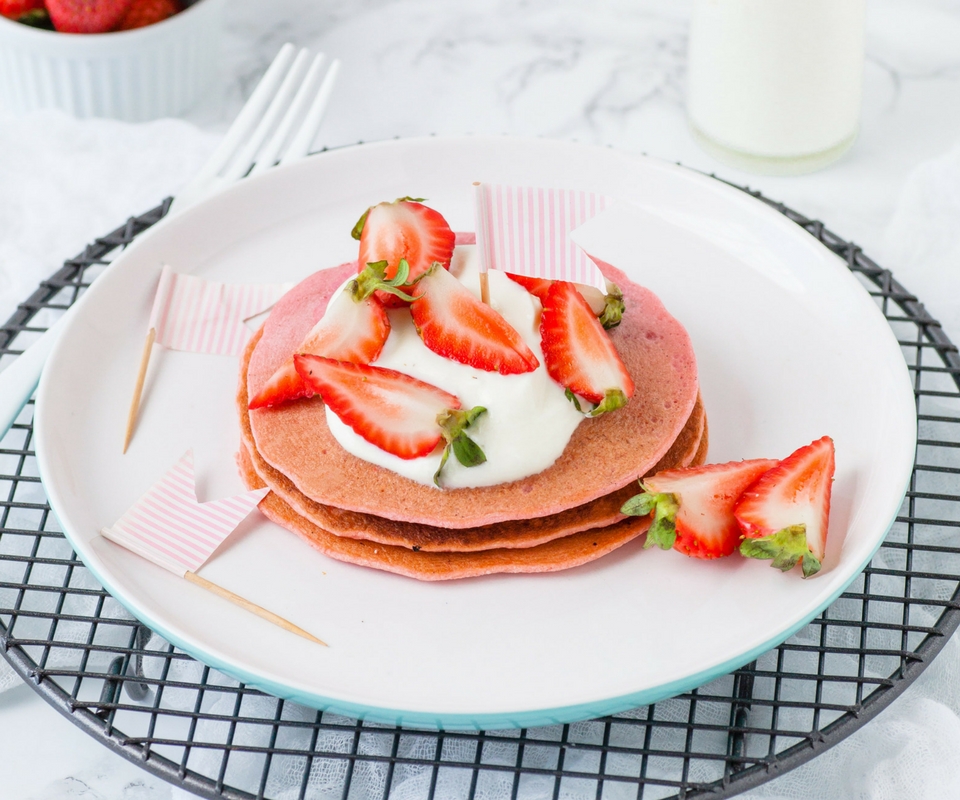 Pancakes
People always think pancakes are bad for you. Yes if you eat a 5 stack of them with maple syrup and ice cream, they are probably not the best option, especially if you are trying to lose a bit of weight. But if you keep your side options for the pancakes a bit healthier, I promise you they will be a winner health-wise and yummy-wise.
Try low-fat ricotta with some maple syrup or agave syrup stirred through
Top with the above mixture with some raspberries or strawberries
Grill some sliced up banana, try slicing it lengthways to make it look pretty
Place small coin slices of banana, or some berries on top the pancake while it is cooking before you flip it. When you flip and cook the other side it will caramelise the sugars in the banana or berries and it will taste amazing
Cook up some berries or banana with a little sugar, water and cinnamon on the stove and make some fruit topping to go on top of the pancakes
My failsafe pancake recipe is:
1 cup of flour (Self raising for thicker pancakes, plain flour for more crepe like pancakes)
½ cup of milk
1 egg
This makes enough for our little family of 2 adults and 1.5 kids. Double or triple your mixture depending how many you want.
Mix well together and let the mixture sit for 10 minutes before cooking.
Gourmet toast
Get some yummy fruit toast (I love the Burgen option, no preservatives, not too thick or sweet but actually has fruit in there)
Toast it
Top with some low fat ricotta (mixed with a little honey/maple syrup and some crushed nuts (pistachio is my favourite))
Sprinkle some berries and cinnamon
If it is for your hubby, maybe put a side of some grilled or pan fried bacon to tart it up nicely
Or maybe try some of this delicious low fat banana bread!
Or maybe if dinner is your thing for father's day, have a look at all our great healthy recipes here.
And don't forget our awesome offer this week of FREE express postage in Australia!
Happy Father's Day!
Mandy dos Santos (BSc. Food Science and Nutrition, Grad. Cert. Human Nutrition)
Don't forget to post me a question on Facebook about food or nutrition so you can read more about what you want to read!.