Complete guide to meal prep ebook FREE
This recipe book is loaded with tips, tricks, and information to help you meal prep like a pro. PLUS, it gives you 25+ of our favourite meal-prep and budget-friendly recipes.
Download your FREE Meal Prep eBook with 25 healthy meal prep ideas for weight loss in it below.
Why meal prep?
If you think of the time you spend in the kitchen each day or night preparing meals, it quickly adds up by the end of the week. And if there's one thing that we busy mamas don't have enough of – it's TIME.
This is where meal prep comes in. By spending some time once or twice per week (or whatever works for you and your family) chopping, cooking, and packaging up your meals and snacks, you can slice a TON of hours off your weekly meal prep and cooking schedule.
But you don't have to feel overwhelmed.
Meal prep can be made up of simple tasks like chopping ingredients and storing them in airtight containers, making a batch of healthy meal prep recipes from the 28 Day Weight Loss Challenge, or cooking a double batch of your favourite healthy meals ahead so that you can freeze some for another day.
Meal prep can help you stay healthy
Meal prep is the key to staying on track with healthy eating without a lot of work.
With simple prep each week, you can stock your fridge and freezer with homemade convenience meals that can help you follow a healthy eating plan and help you reach your overall weight loss goal.
If you're a busy mum (check) with a to-do list as long as your arm (check) who wants to eat well but hasn't got hours to spend in the kitchen (check check), this meal prep guide is for you.
The benefits of meal prepping
No more cooking in the kitchen every single day. By cooking in batches (for instance, you might make a double batch of spaghetti bolognese, one to use this week and one to freeze for another family meal next week).

Save money by buying your ingredients in bulk – it's often much cheaper if you buy 3kg of chicken breast instead of 500g. Same goes with ingredients like 2kg bags of potatoes, 1kg bags of rice etc. Every little bit of money saved is money in your pocket.

You'll have spare time to hang with the kids in the witching hour (when they just want to snuggle up and read a book or play a game), instead of having emotional kids pulling at your legs while you try to cook dinner.

Avoid the temptation to grab a takeaway when you're tired and hungry, knowing there is a healthy meal already made at home.

You use less electricity and water as you don't need to cook as often. You'll have less washing up as you'll make one BIG mess instead of a mess EVERY DAY!
We hope you LOVE it and you can download your FREE Meal Prep eBook With 25 Recipes in below.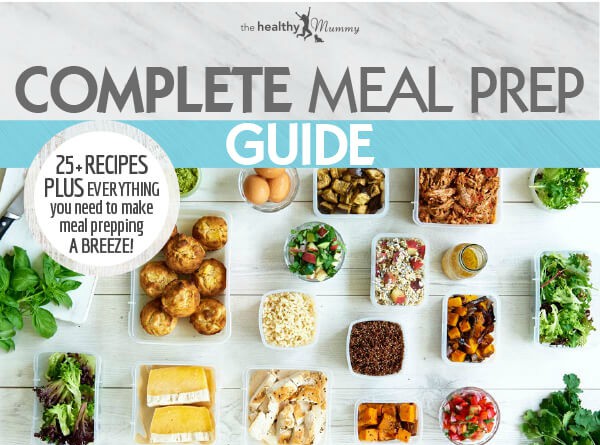 This Recipe Book is loaded with tips, tricks, information to help you meal prep like a pro.  PLUS, it gives you 25+ of our favourite meal-prep and budget-friendly recipes.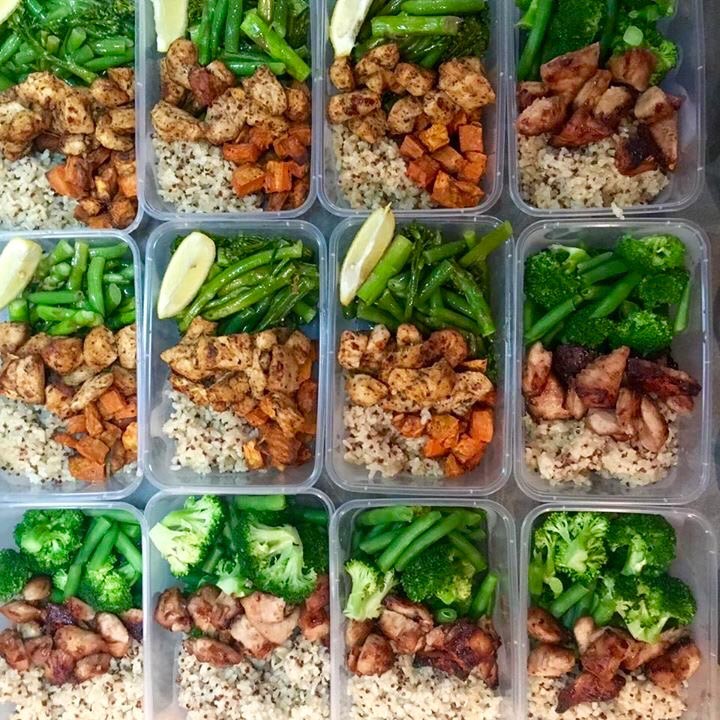 To download it NOW simply enter your details below and it will be emailed directly to your inbox.