Frozen Yoghurt Berry Slice
We LOVE healthy slice recipes at The Healthy Mummy – it is the foundation of our 28 Day Weight Loss Challenge so we are delighted with this yummy recipe from our Healthy Mummy community and customer Irey Van Eeden
And don't forget that the next round of the 28 Day Weight Loss Challenge is starting soon – check out the details here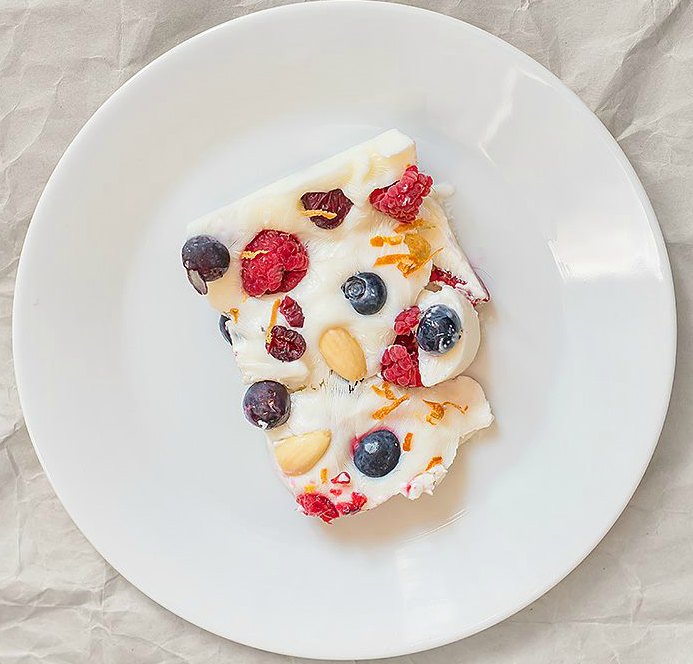 Ingredients
400g reduced fat Greek natural yoghurt
1 tbs Natvia
100g fresh or frozen raspberries
100g fresh or frozen blueberries
40g blanched almonds
20g dried cranberries
20g sultanas
1 tbs orange zest
Instructions
Line a sheet of baking paper in a small baking tray.
Divide the raspberries, blueberries and almonds in half.
In a bowl, combine the yoghurt, Natvia, half of the raspberries, half of the blueberries and half of the almonds.
Spread the mixture in the tray.
Sprinkle the rest of the ingredients on top of the mixture.
Freeze for an hour and cut into 6 pieces. 1 piece is 1 one serve.
Per Serve Calories 119 Carbs 13g Fat 5g Protein 6g Fibre 3g
And don't forget that the next round of the 28 Day Weight Loss Challenge is starting soon – check out the details here and do the Challenge with over 10,000 other mums