Get a sneak peek at our healthy pregnancy meal plan and exercise ebook
Congratulations on embarking on this amazing journey! We hope we can help you on your way!
Pregnancy is such an exciting time, and feeling your body bloom as your baby grows and develops is a truly joyous experience. 
With so much information out there, it can also be overwhelming and confusing at times to know what advice to follow.
The Healthy Pregnancy Eating and Exercise Plan eBook provides an easy how-to guide for your healthiest pregnancy, with diet and exercise advice, tips on what and how much to eat, and how to deal with some of the potential challenges of pregnancy.
This Sneak Peek edition shares 5 fabulous recipes, understanding weight gain in pregnancy, tips and information and covers frequently asked questions!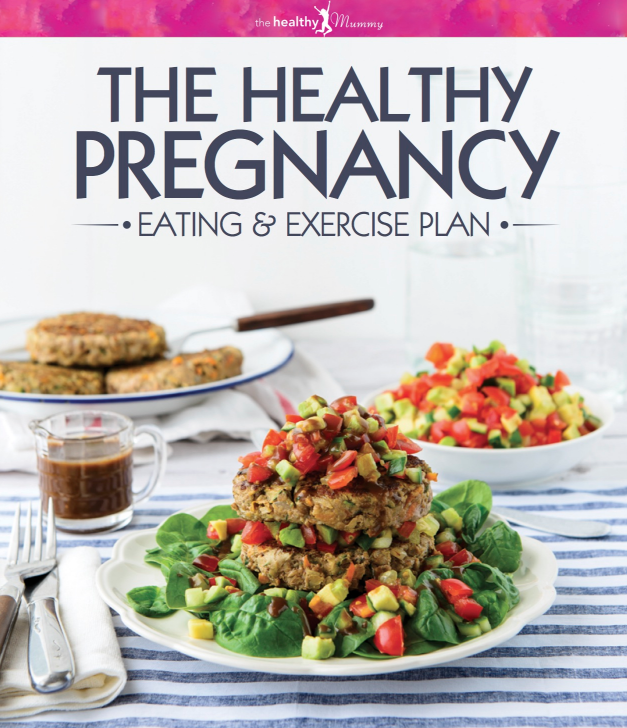 Having a healthy diet when you are expecting
The Healthy Mummy healthy daily meal plan for pregnancy with exercises is written by nutritionist experts and gives clear guidelines on how to stay in your best possible health.
In it, you'll learn: what to eat, how to move and how to tackle some of the challenges of pregnancy, such as cravings and nausea.
Healthy eating during pregnancy should be practised at all times to give the unborn child and mother proper nourishment.
In the first trimester, a woman will gain one to two kilos and about half a kilo for every succeeding week up to the third trimester. 
A healthy diet is very important because this will ensure that the woman is getting the appropriate weight gain during the time of pregnancy and it will also result in a successful birth to healthy babies.
There will be times when a mother will experience bouts of nausea or loss of appetite, making regular full meals hard to take. 
When this happens, small but frequent meals or snacks with healthy foods are recommended to make sure that both the mother and the baby are still getting the required amount of nutrients for the day.
Foods to eat during pregnancy
Pregnancy can be a scary time when it comes to knowing exactly how you should be looking after yourself and your baby.
There is also so much conflicting information out there. It can be a minefield trying to work out exactly which advice you should take and which advice you should ignore – but there are some foods that are proven to give you and your pregnancy a nutritional boost.
In The Healthy Pregnancy Eating & Exercise Plan eBook we'll help you navigate what you can eat and the foods you should also avoid.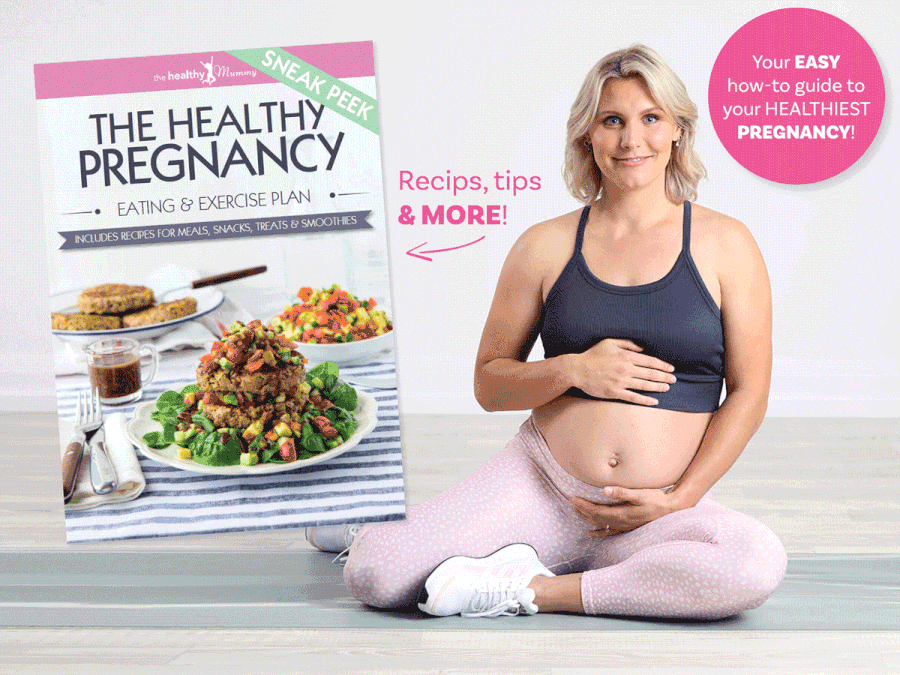 Why it's important to eat healthily during pregnancy
Gestational diabetes is diagnosed during pregnancy when your body cannot cope with the extra demand for insulin production, resulting in high blood glucose levels and occurs in 10 to 20% of pregnancies.
Women in their 40s and women with a BMI above 30 have higher chances of developing it.
The rate of gestational diabetes is on the rise in Australia. In fact, it has jumped up 60% in three years.
Get your FREE sneak peek of the book below 
P.S. – if you have trouble entering your email address – make sure you write your email – not copy and paste it – plus you can try leaving a space at the end.