FREE downloads to help with meal planning on a budget
You really can have a healthy diet and a healthy wallet! That's why we support meal planning on a budget!
A little bit of forethought and planning can make such a difference to your meal prep load and to your budget.
What's included when you download our tools for meal planning on a budget?
To help you, we want to give you  4 BUDGET and MEAL PLANNING TOOLS.
Weekly Planner
Grocery List Planner
Meal Planner
Budget and Weight Loss Planner
These tools will HELP you organise your weekly schedule so that you can have a SIMPLIFIED and BUDGET FRIENDLY plan for your weight loss and meal planning.
How meal planning helps keep down your weekly shop
When you've got a plan, you can stick to your budget a lot more easily. 
You can choose healthy meals that include budget-friendly ingredients, and you can make sure you're always ready with something to eat before you're hungry. 
This means you're less likely to need to resort to takeout.
Meal planning will also help you lose weight
When you cook your own healthy meals from home, they're going to be fresher, more delicious, and much more budget-friendly. Even your fussy family will love eating them!
And once you get into a new, healthier routine, you'll find it doesn't take that much time to cook healthy meals if you plan ahead of time. 
Especially once you've got a collection of healthy recipes to follow and support from fellow healthy mums to keep on going.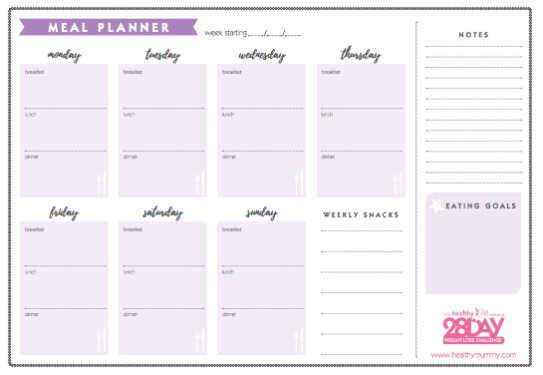 Enter your details below to download today