Mum celebrates 40kg+ weight loss with a tattoo that reflects her Healthy Mummy journey
Healthy Mummy, Amy, has always rewarded herself when she reached each 5 kg weight loss milestone.
When she reached 40 kg she decided it was time to celebrate with a special tattoo to mark her Healthy Mummy journey.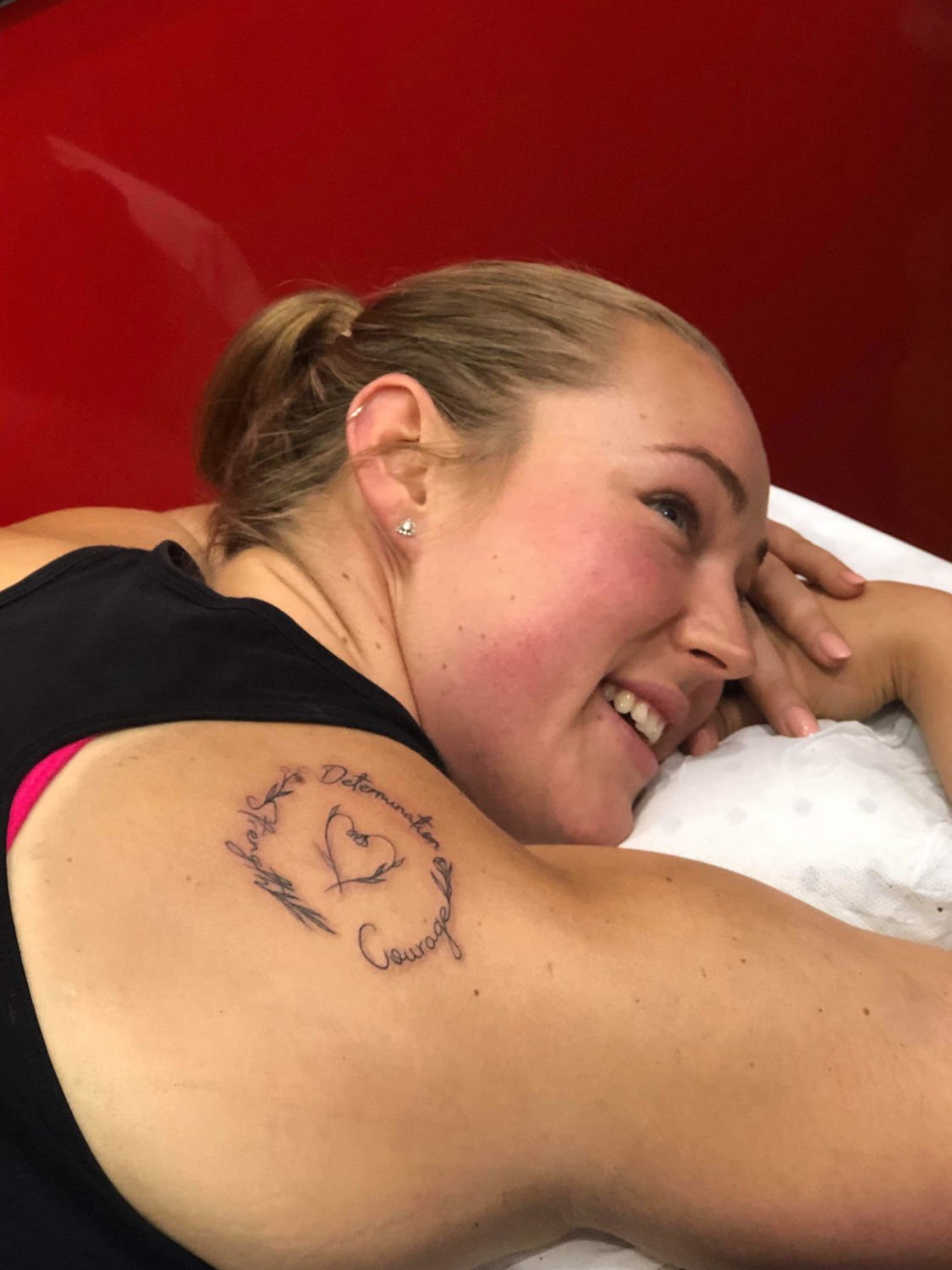 Mum celebrates 40kg+ weight loss with a tattoo
Amy Thomson, 27, from Braidwood NSW, is mum to a 7-year-old boy.
Amy has been following The Healthy Mummy 28 Day Weight Loss Challenge since April 2018 and has lost 43.5 kg.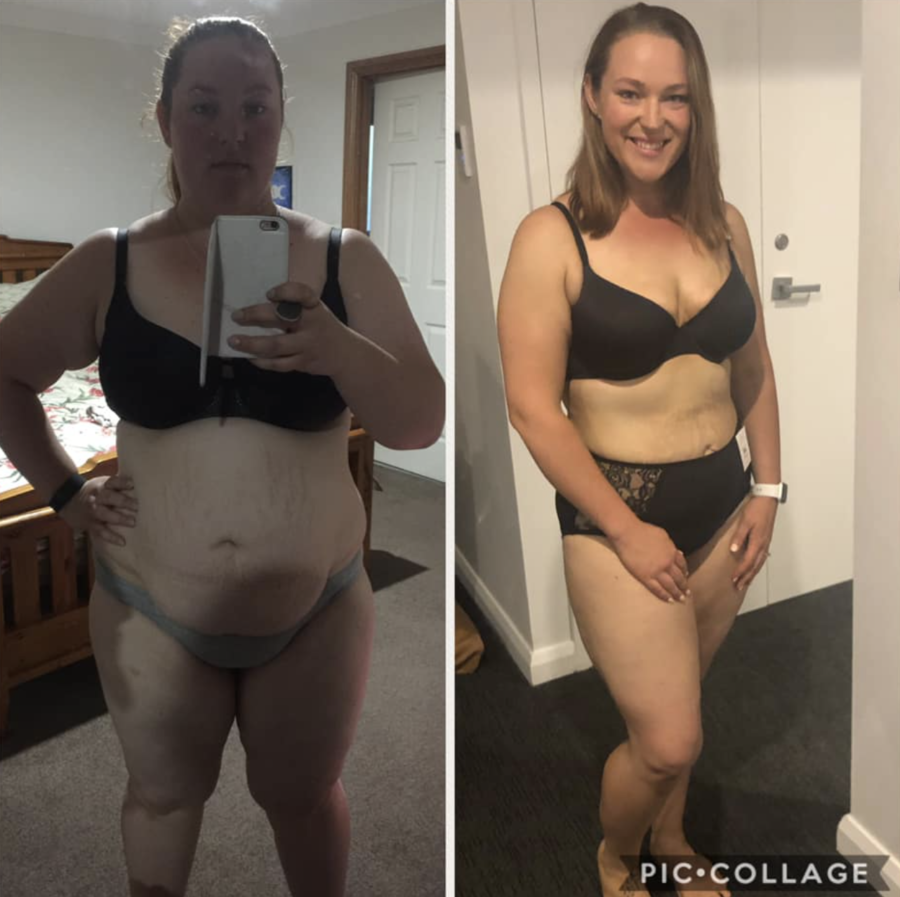 Amy shares, "When starting out at 120 kg, the thought of having to lose 50+ kilos was extremely daunting, so I broke it down into 5kg increments."
"At each 5kg loss, I have rewarded myself with non-food-related rewards. (I had to train myself to realise that food is a source of energy and not a reward)."
"At 5 kg I got my nails done. 10 kkg I had my hair done. 15 kg I bought new Healthy Mummy activewear. 20 kg I bought a new freezer for meal prep. 25 kg I bought myself a new outfit and for 30 kg I planned on getting a new tattoo!"
"Life got in the way with my tattoo reward, so I ended up getting it done after hitting my 40kg loss, and it was totally worth the wait!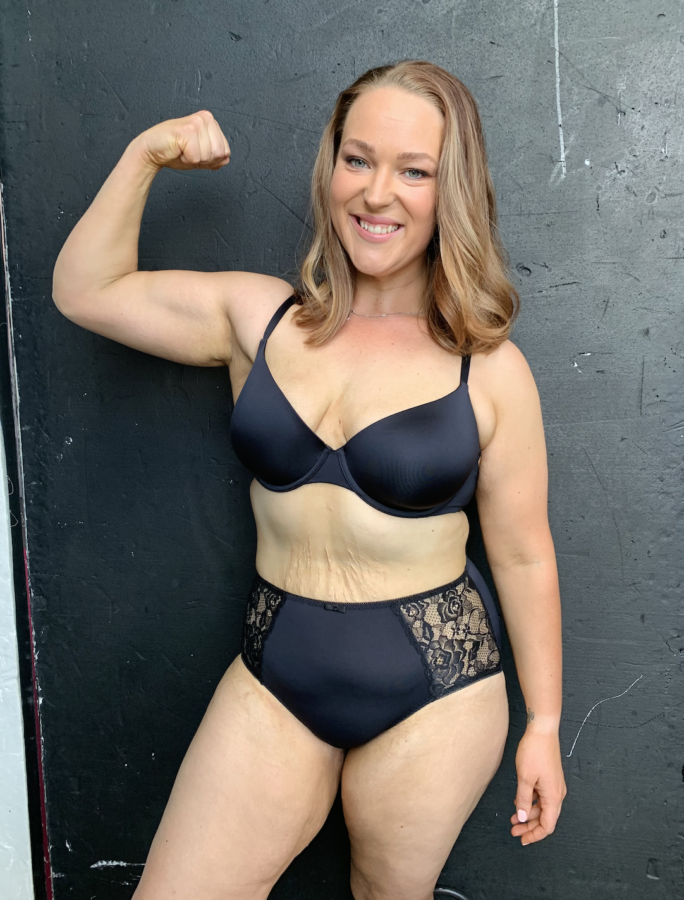 The special tattoo design reflects Amy's Healthy Mummy journey
"While planning my tattoo design, I wanted something that reflected my Healthy Mummy journey. What drove me to keep going? What helped me to succeed? And what was my number one goal?"
"It was this reflection time that inspired my tattoo design. I decided on the words 'Courage' 'Strength' 'Determination'."
Courage– "because it took bucket loads to jump out of my comfort zone and to realise my self-worth. It takes courage to start focusing on yourself, to realise you are worth the time and energy!"
Strength– "because this has been my ultimate goal. I never wanted to be skinny. I wanted to be strong! Not only on the outside but I had to build up my inner strength. The strength that would quiet the self-doubt and would drive me to succeed."
Determination– "because that has driven me to where I am today! It has pushed me to challenge myself and has opened so many marvellous doors for me."
Amy adds, "I can't wait to proudly show off my new tattoo and to share with people its true meaning."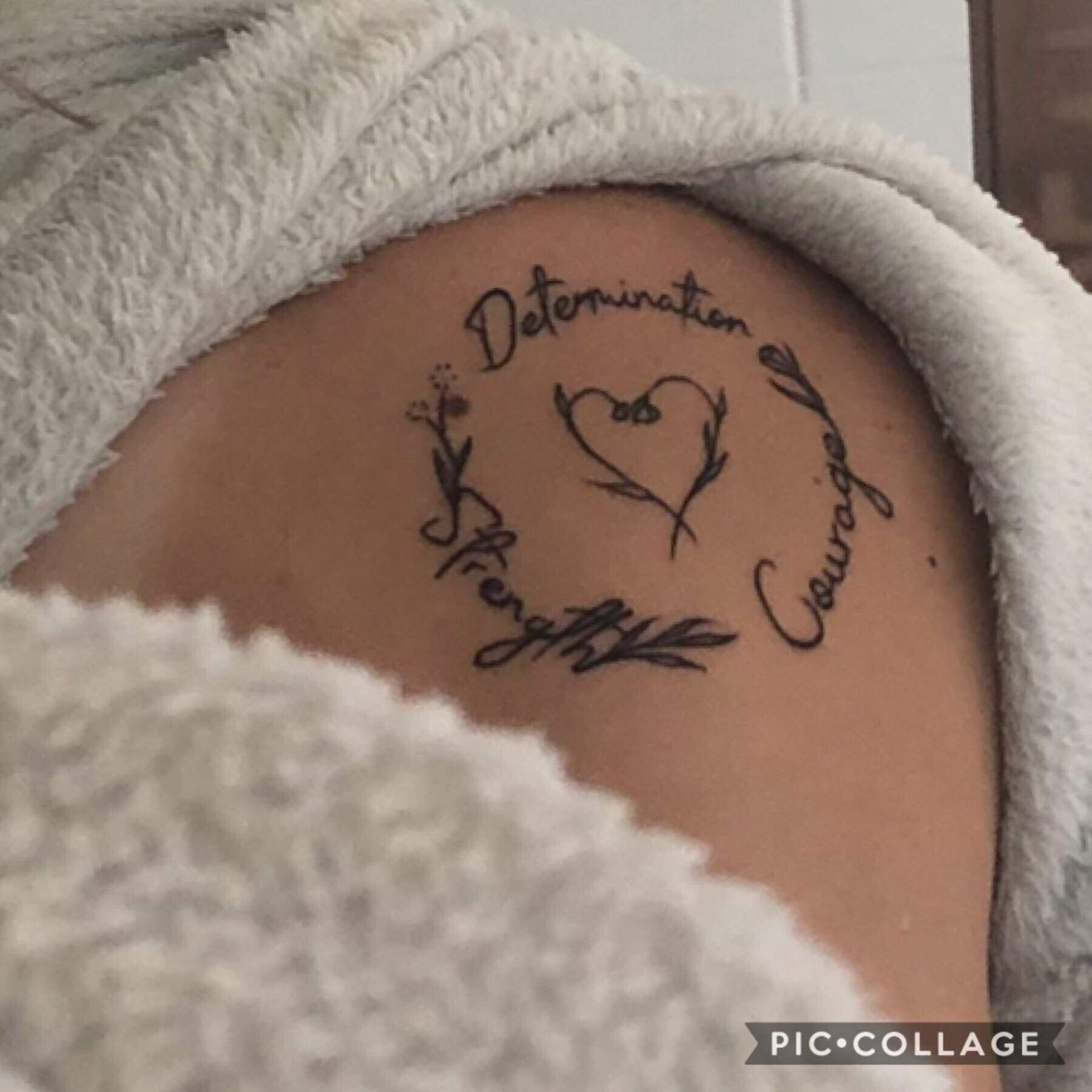 Amy's weight loss story
Amy shares that along with losing weight with the 28 Day Weight Loss Challenge and with the Healthy Mummy Smoothies (banana is her all-time favourite!) She has also cured her fatty liver disease and her PCOS and no longer has daily struggles with IBS symptoms.
"After losing 30 kg I went to see the doctor for a check-up. I had more blood tests and ultrasounds done and was told that because I had lost so much weight and therefore improved my health."
"I no longer have fatty liver disease and I don't qualify as having PCOS anymore (which was amazing news as I only have one ovary now!)."
"I used to struggle with major IBS symptoms that would impact my life daily! But since changing my diet to Healthy Mummy meals, I haven't had a flare-up in over a year!"
"The main thing I absolutely LOVE about The Healthy Mummy is how it teaches you how to lead a healthy lifestyle."
"There is no quick fix, but there is loads of wonderful information that not only will help educate yourself, but our children will all be picking it up and will hopefully follow in our healthy footsteps!"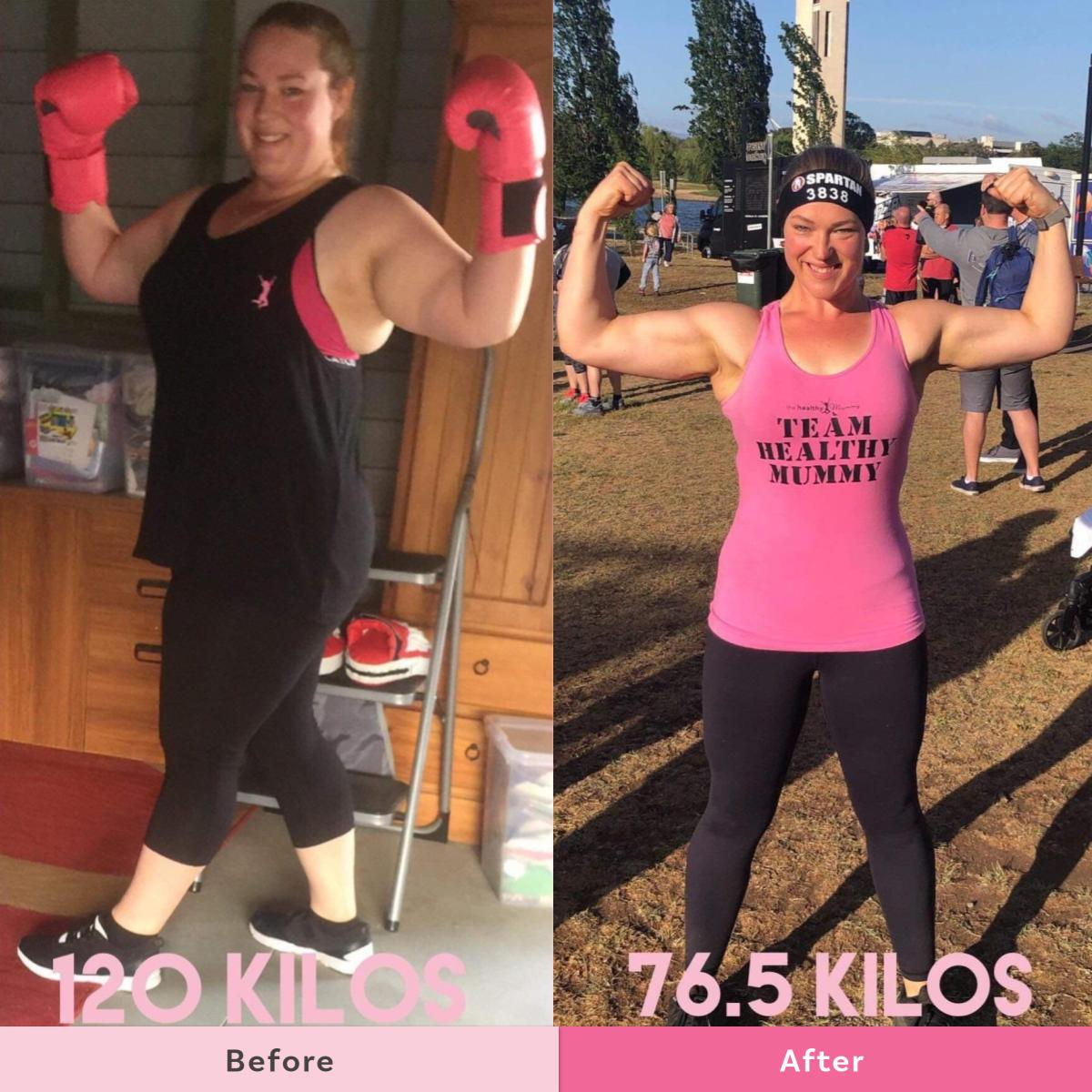 If you feel like giving up, STOP! BREATHE! And THINK.
Amy says it's important to remind yourself what made you start in the first place.
"If it is purely for someone else (your kids, your partner etc.), then stop. You need to do this for you. You are worth the time, the energy and money. You are important."
"If things have gotten on top of you, please take the time to reflect on what is happening. Have you been trying to change too much too soon? Is your plan working for your particular lifestyle? Do you need to break things up and try something new? Are you getting too focused on scale numbers? (This does my head in, so they tend to go on holidays to nanny's house each month)
"When planning my week, I look at everything I have going on. For example, if I'm working I will make sure I have freezer stash that night, rather than cooking because I'll be too tired. If I have kids sports or outings planned, then I would make sure I have easy grab-and-go snacks ready, like The Healthy Mummy Snack Bars!"
Amy adds, "You will get there. Just remember it takes time and don't forget to celebrate every win! A loss of 500g should be celebrated not considered a failure."

Want to make the change like Amy did? Join the 28 Day Weight Loss Challenge
The no.1 mums only health, fitness and weight loss program
It is like a PT, Coach, Nutritionist & Chef – ALL IN YOUR POCKET – with EASY-to-follow food & fitness plans
You get unrestricted access to:
Nutritionist & chef-designed weekly meal plans
Personal Trainer crafted At-home workouts- 28 minutes and under
Daily Motivation from My Coach
Personalised Shopping lists to make life easy
Thousands of healthy and delicious recipes at your fingertips
REAL TIME support from The Healthy Mummy Team and OVER 200,000 other mums