This mum never stopped setting goals and has now lost 35kg
Most of us notice our weight fluctuations. Tighter jeans, gaping bra.
This mum is certainly all too familiar with these feels. Kylie says she has always been up and down with her weight, but mostly up. She had lost weight a few times over the years through diet programs, but slowly gained it back.
After losing her dad and knowing how many health problems run in both sides of her family, Kylie knew she had to do something.
"I've got two young boys that need their mum around so I just signed up to the 28 Day Weight Loss Challenge and haven't looked back!" she says. 
She has lost 35kg and 102cm!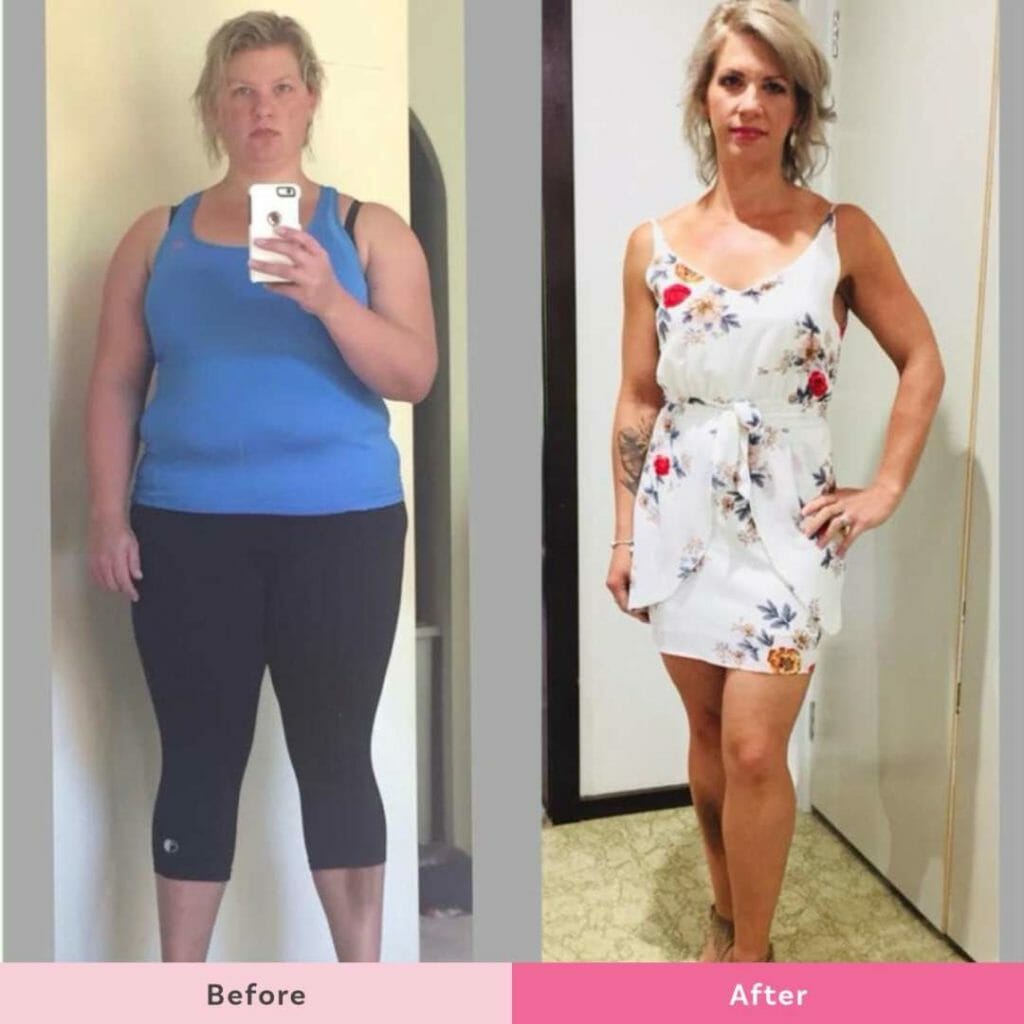 Setting goals
Kylie reached her goal weight of 60kg at the end of November and believes it helps if you set small goals.
"35kg sounds a lot when you think about in one big chunk, but if you break it down into smaller goals like 5-10kg it seems much more achievable," she says.
Kylie reveals she sets herself strength goals. 
She says, "I set myself a goal that at the end of the year I would be jumping off our boat and swimming with my boys, and I certainly achieved that!"
Continuing the journey
Kylie buys her food from markets and discount grocery places when she can and buys a lot more fresh produce instead of packaged food!
She also meal preps when making slices, bliss balls, lasagna, and slow cooked meals with her favourites being Zucchini and Bacon Slice (this recipe is available for members on the 28 Day Weight Loss Challenge via the recipe hub) and Snickers Slice.
A fan of boxing for exercise, Kylie says it's not been an easy road to success. 
"It was never 100% smooth sailing, there were a few plateaus and small injuries," she said. But having supportive family, friends and the help of a professional fitness trainer kept Kylie going.
Like Kylie, you to0 can hit your weight loss goals. All you need to do is dig deep, find your inner determination and make small goals. Following a program like The Healthy Mummy's 28 Day Weight Loss Challenge is also another great way to ensure you stay on weight loss track.
With more than 4,000 recipes, 24/7 support, customisable meal plans that are budget and family-friendly PLUS over 350 exercises you can access on your phone, tablet or computer – you have everything you need to lose weight and tone up in a healthy and sustainable way.
Learn more about the 28 Day Weight Loss Challenge.