How this mum uses her groceries to make money out of rewards systems
There are many ways to save money on your regular grocery shop and mum Deidre shares her tips on how you can use rewards point schemes to save or even make money.
There are many ways to save money on your regular grocery shop and mum Deidre Turner shares her tips on how you can use rewards point schemes to save or even make money.
Discount supermarket Aldi recently ran a marketing campaign announcing they don't do points or any sort of reward schemes but just had low prices. The ads implied that points or loyalty rewards programs weren't of any real value, which when taken on the surface the idea of earning 1 point for every $1 spent and 2,000 points being worth $10 isn't that appealing to a mum on a budget looking to find a great deal.
But don't discount rewards scheme just based on this information as it doesn't take into account the many offers of bonus points these schemes have. In fact if you remember to use your rewards card every time you shop these schemes will recognise products you buy regularly and not only offer you exclusive savings on these product but also bonus points offers.
If you want to learn how to maximise your rewards points and turn them into decent money, read on.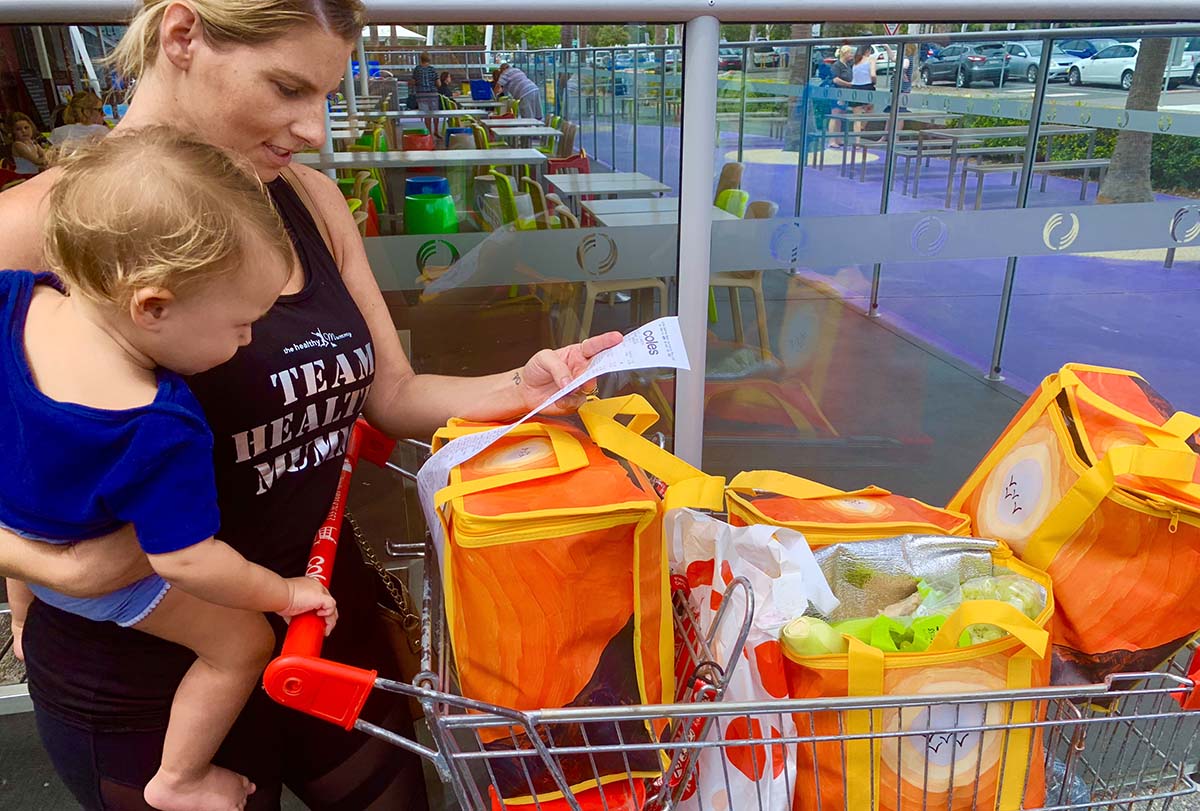 I want to start off by stating, that yes, Aldi is very cheap and if you shop there and are strict, it will save you a decent amount of money. I have a couple of issues with Aldi though including their lack of click and collect option (which is great for a mum on a budget, with young kids and who meal plans). Also the ever enticing special buys section can be hard to resist, but that's more to do with my lack of willpower. So, I don't do Aldi.
Anyway, I digress. Onto points.
The lowdown on points schemes
The two supermarkets I shop at are Coles and Woolworths, I nearly always shop Click and Collect as it's free and I find this much easier than shopping in store and saves me money (because aforementioned lack of willpower when shopping in store).
Both supermarkets have their own reward system, Coles has Flybuys and Woolworths has Woolworths Rewards which have the same $1 dollar spent = 1 point system. Unless you're living under a rock, you've probably heard of them, maybe you're even a member, but don't see many points accumulating.
Trying to build points up without any bonus points is slow going. Add a bit of tech in and it's much easier to quickly rack up the points money. Now lets dive into the individual schemes.
Flybuys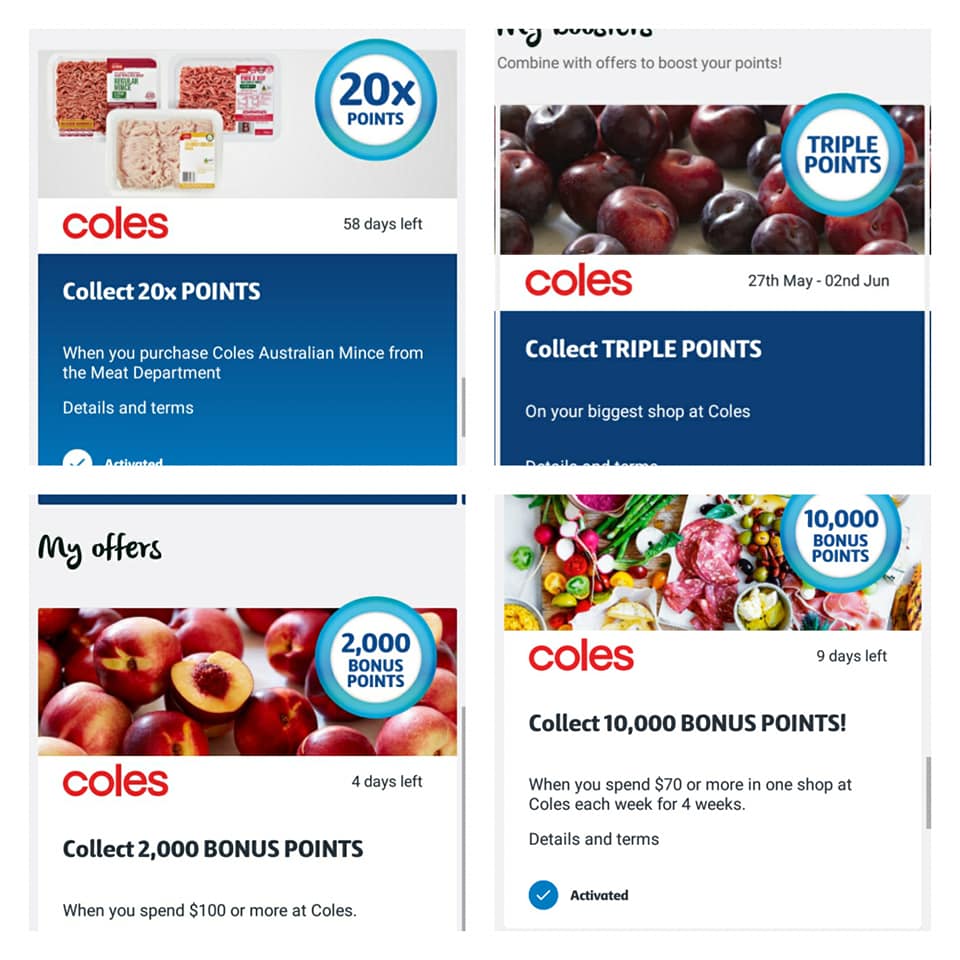 I absolutely love Flybuys as I find them very generous with bonus point offers.
What they offer:
Option to take $10 off your shop when you reach 2,000 points or save your points balance to be used any other time. (I opt to save my points up)
Points can be used to redeem for items online, shopping with Coles and select partner store, to buy gift cards from Coles and a range of retailers plus much more
Can access points balance, bonus offers and other information via the Flybuys app
Bonus point offers come on individual items, single spend amounts, four week spend amount and more
Point booster offers sent out throughout the year including point swaps with Virgin Velocity with bonus points
Has partnership with Virgin Velocity where you can transfer points from one scheme to the other. This means you can use Flybuys points to save on flights or holidays or just boost your Flybuys points balance with unused Velocity points.
An example of how a bonus points offer/s can help you boost your points:
A single spend 6,000 point offer might be sent out at the same time as a triple point booster and a 400 bonus point offer on a single item, eg. mince. Just say I spend $200 in this shop. This is 600+6,000+400= 7000 points ($35). So I made $35 in one shop, just buying the things I ordinarily buy and activating offers.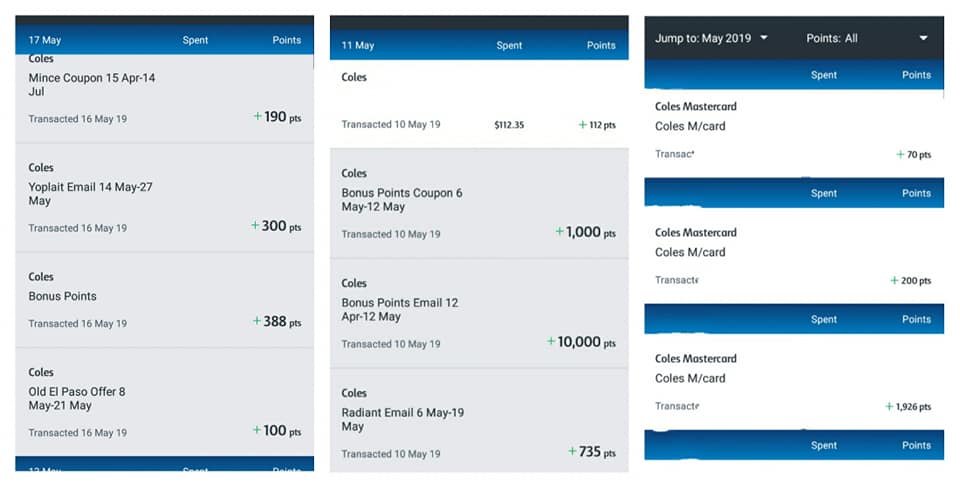 Top Tip:
Bonus points offers are randomly distributed, so some people tend to do better out of them than others, but there are ways to improve your offers.
Here is the best tip I learned for maximising points. Flybuys allow each person to get their own account, there is no limit per household. I have a card with my husband as a secondary cardholder, and he has a card with me as a secondary cardholder.
This way, if my account isn't getting any offers, his account is; so I can just switch between Flybuys accounts depending on which account has a good offer.
Another major benefit of switching between accounts is that it keeps the spend amount down. Bonus point offers always have a minimum spend amount, this amount is based off your usual spend.
Flybuys tends to go with the higher amounts you have spent, so if you regularly do big $300 grocery shops, your offers will be for $300. By switching between accounts, you lower the spend amount.
Recently, both of our accounts had good offers, we were both sent 50,000 points bonus offers for a 4 week spend. The spend amounts were low enough, so I split my grocery shop into two and picked up both 10,000 point offers, that's $100 easy money.
Splitting my shop also prevents me getting bonus point offers for higher amounts, which means I can utilise the lower amount offers more often, and prevents my future spend amounts on offers from being high.
The higher bonus point single-spend bonus offers don't come out all the time, so when they do I tend to take advantage of them to stockpile long life items and things I use often, like nappies, wipes and laundry detergent.
Woolworths Rewards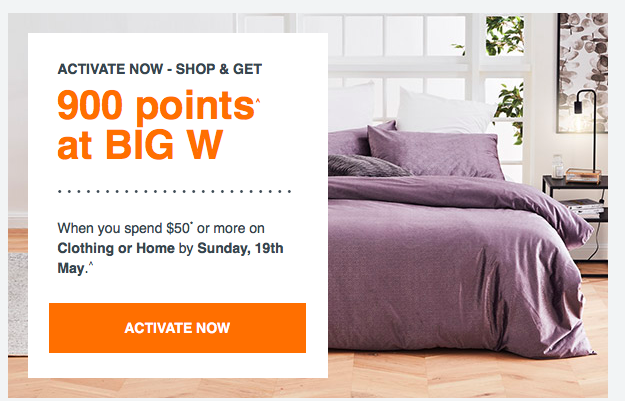 There are similarities and differences between Woolworths Rewards and Flybuys.
What you get:
Option of $10 off every 2,000 points or banking your points for Christmas. (I bank for Christmas.)

The money becomes available around the start of December; however, you can change your setup to money off shop at any time.

Woolworths Rewards does not have an app like Flybuys do, their offers come via email.
They offer bonus points on certain products, four week spends and single spend bonuses. Personally, I don't get anywhere near as many offers from Woolworths Rewards as I do from Flybuys, but every now and then there is a really good offer. One great offer I got a couple of months ago was a four week spend worth 15,000 points ($75).
Each person in a household can have their own card, however I only have one account with Woolworths Rewards.
One thing Woolworths Rewards does which Flybuys doesn't is offer bonus points for cumulative spends in a week. So you can get bonus points if you spend a certain amount in as many shops as you like for a week, instead of having to spend it in one shop. I find this great as we often do quick mid-week trips to the supermarket for top-ups such as more bread/milk/fruit. This way the points from small shops count towards the weekly spend amount.
If you're wanting money off your shop at Woolworths, sign up to Cash Rewards, where you can buy Wish eGift cards at 5% off to use at Woolworths and affiliates. I use eGift cards for the 5% discount off groceries, alcohol (at BWS) and fuel.
Don't spend extra just for points
One caveat I will add; it's important not to get sucked into buying things just for points. I don't buy anything I wouldn't ordinarily buy just to get the bonus points.
If a single spend bonus points offer is sent to me just after I've shopped and I'm not due to shop again, I activate it but don't use it. I stick within a grocery budget on all spends, I don't ever go over that budget for points. I'm not loyal to a particular supermarket, I shop where the best offers are and switch it up.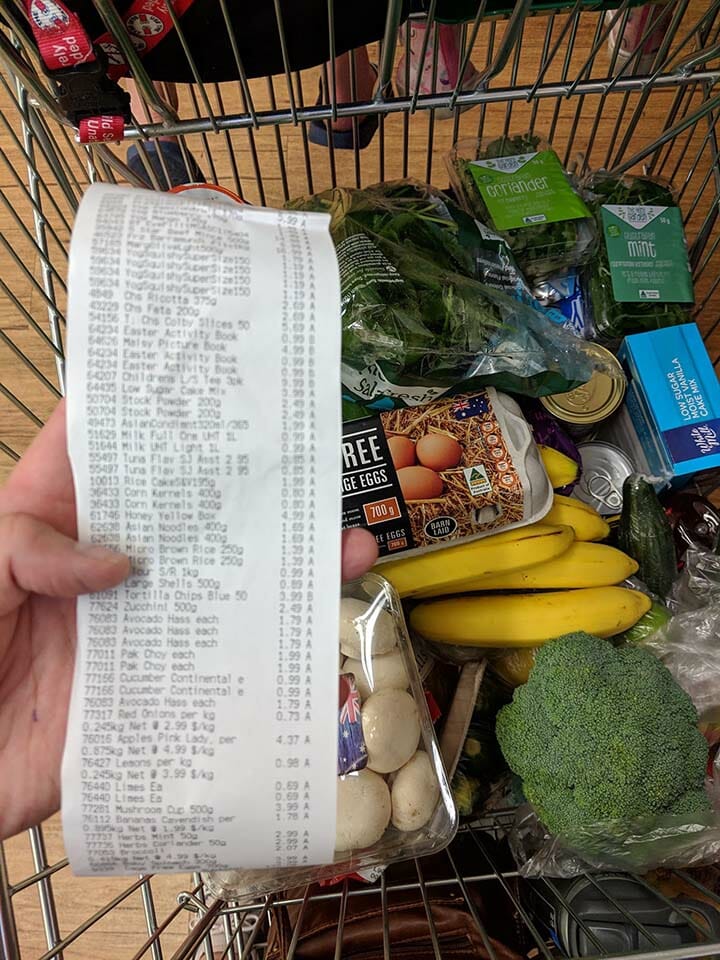 Happy shopping and enjoy your points
With a bit of savvy activating of bonus point offers and doing your regular shopping, you can turn your standard shop into a good little money-earner.
Although it's only part way through the year, I have a good chunk of rewards money banked for Christmas. While you can't get your rewards money out as cash, you can use it to pay for your December groceries and take your usual money out as cash.
Shopping for a family and activating rewards, you can end up with hundreds, sometimes even over a thousand dollars' worth of points after a year of banking points.
Not so pointless for just doing your regular shop and spending nothing extra!
This blog was edited from a blog post by one of our Healthy Mummy community members Deidre Turner on her blog Aussiemum Unleashed, go check it out!
Are you ready to become a Healthy Mummy?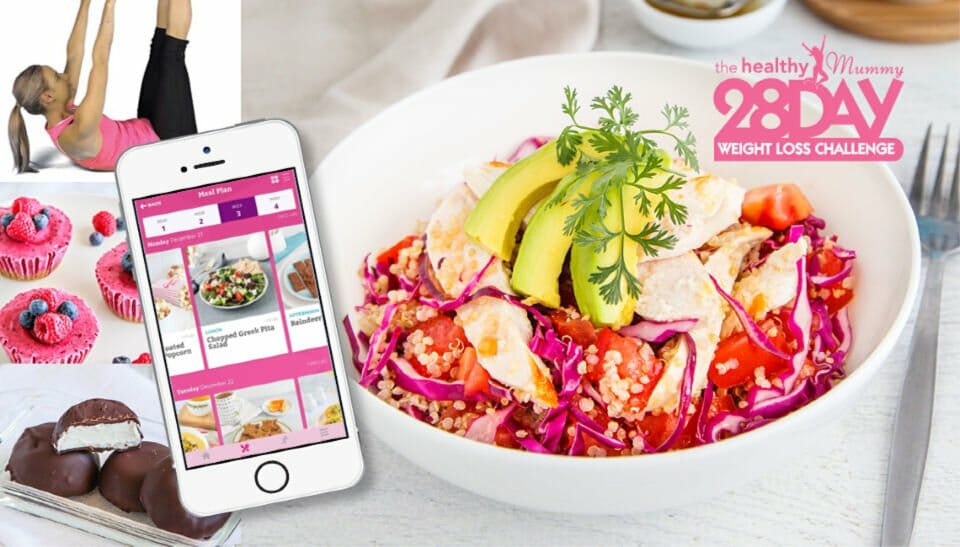 If you are wanting to lose weight and improve your energy – not to mention – help improve your overall health and wellbeing – our 28 Day Weight Loss Challenge is an awesome program to check out.
Our 28 Day Weight Loss Challenge includes:
28 days of at home exercise routines (no gym needed) – with video instruction
Customisable and breastfeeding friendly meal plans (including 7 Day Cleanse)
Time-efficient exercises for busy mums – under 30 mins
Challenge combines Pilates exercises with interval and circuit training (HIIT)
Suitable for basic to advanced fitness levels
Home to thousands of EASY-TO-MAKE recipes!
To learn more about our 28 DAY WEIGHT LOSS CHALLENGE CLICK HERE or purchase our Smoothies.