Surrogate Mum shares AMAZING tips for losing weight with The Healthy Mummy after dropping 23 kilos
Mum Sonia had a very specific motivation to lose weight. With the opportunity to become a surrogate mother for a friend, at 115 kilos she needed to lose weight to do so. After finding The Healthy Mummy, not only did Sonia go on to become a surrogate she lost 23 kilo's and has no intention of stopping there.
"I often say that being a surrogate saved my life – if not for being a surrogate, I might not have had the motivation to find The Healthy Mummy. If not for The Healthy Mummy, I might never have gotten off the couch, and might never have improved my health."
Sonia shares her incredible story along with 10 AMAZING TIPS and tricks to get you started on The 28 Day Weight Loss Challenge and stay motivated.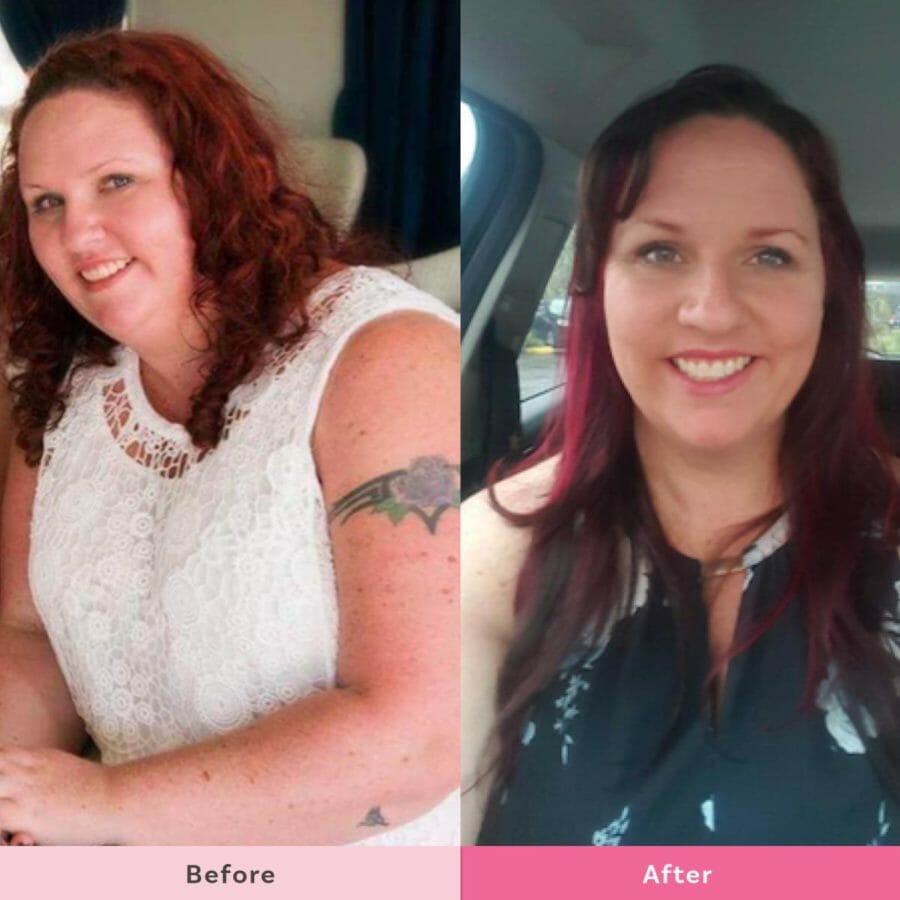 Sonia's Weight Loss Story
Mum Sonia Bailey from Weston in NSW has two children aged 14 and 11 and was a surrogate for friends boy who is 16 months old.
It was the surrogacy that prompted Sonia to start her weight loss journey and make some serious lifestyle changes.
She shares "The Healthy Mummy was the only meal plan I could find that didn't require whole food groups be omitted, and was safe to follow through pregnancy and beyond".
Sonia's Results – 23 Kilos and Counting!
In eighteen months Sonia has so far lost 23 kilos and is half way to her goal weight loss of 45 kilos.
"The first few kilos were the hardest. It took 6 months for the scales to move at all, but in that time I got fitter, stronger, and my asthma improved."
"The fitter I got, the better I felt. The better I felt, the healthier I became, both physically and mentally. I was able to go off certain medications and saw myself happy for the first time in a long time.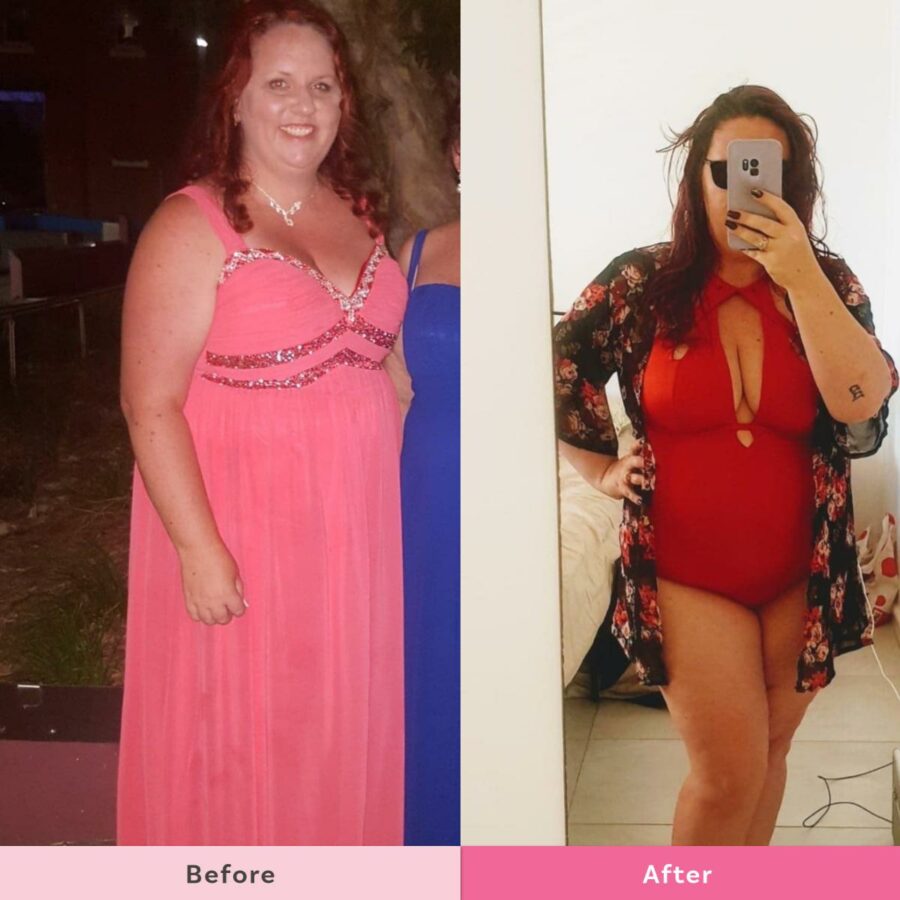 "I often say that being a surrogate saved my life – if not for being a surrogate, I might not have had the motivation to find The Healthy Mummy. If not for The Healthy Mummy, I might never have gotten off the couch, and might never have improved my health."
Sonia was determined that changes to her lifestyle were life long and not just a quick fix to lose a few kilos. With The 28 Day Weight Loss Challenge App she has found everything she needs to make the changes that the whole family can embrace.
She says "The Healthy Mummy app is an absolute game-changer for busy mums who want to improve their health and fitness. Not only can you customise your meal plan, you can use the shopping list right on your mobile device at the grocery store, and check off the ingredients as you add them to the trolley!
"It makes this journey so much easier. Want pizza? There's a Healthy mummy recipe for it. Want creamy carbonara or comforting curry? There's Healthy Mummy recipes for those too!
Sonia' favourite Healthy Mummy Recipes are the ever so popular Mexican Lasagne, The Easy Loaded Chicken Bake and the Beauty Bliss Balls (available in the Challenge Recipe Hub). She also LOVES the Healthy Mummy Smoothies, particularly the Caramel Smoothie.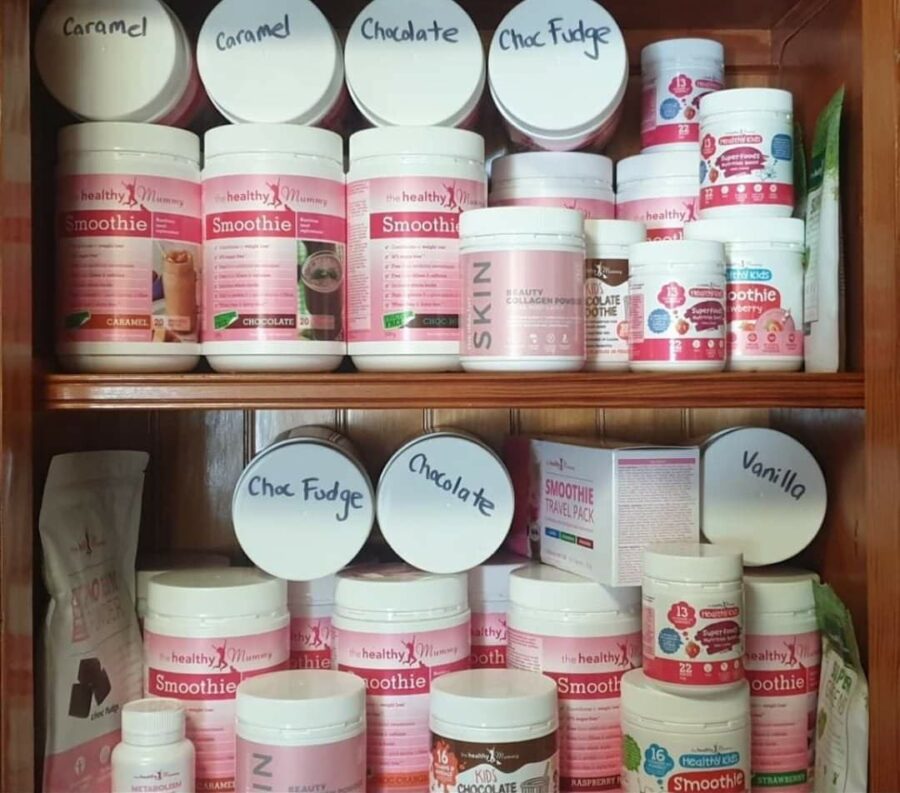 "My use of the smoothies changes throughout the year, but my FAVOURITE is The One and Only Caramel Smoothie. Add a shot of espresso, serve it warm, or add extra oats and chia seeds for Overnight Oats."
Having had such great weight loss success so far, and with still more weight to lose, Sonia is keen to share some invaluable and insightful tips for how she uses the 28 Day Weight Loss Challenge and admits they are there to help keep her on track too!
Sonia's TOP TEN Tips and Tricks for using The Healthy Mummy APP
1. INVOLVE THE FAMILY
Tell hubby and the kids that you want each of your family to be healthier, so you can play with them more often.
2. FAMILY GETS TO CHOOSE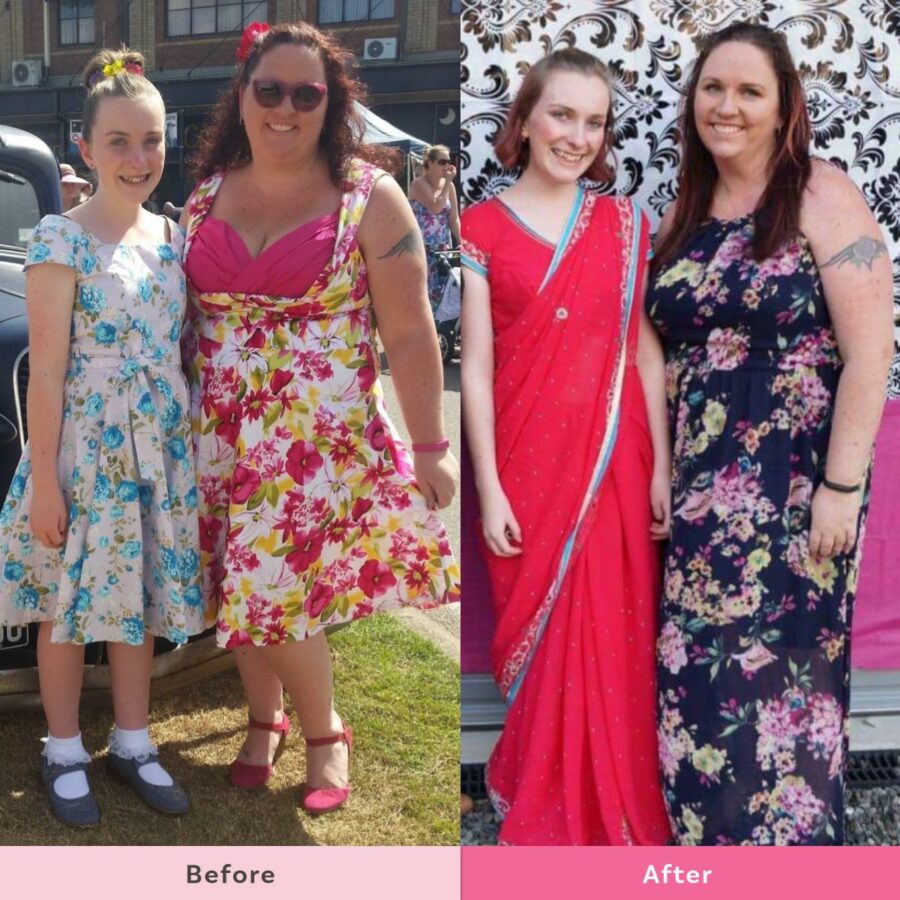 Include your family members in choosing meals for your meal plan, and when that meal rolls around – the person who chose it gets to help you make it (they're more likely to eat it that way). Realise that, at some point, you're going to have to try something you don't like. But remember that it's better for you than eating/doing only the things you do like. Your results only change if your habits change.
3.SWAPPING OUT INGREDIENTS
Your first Healthy Mummy Meal Plan grocery shop will be a little more expensive than your ongoing grocery purchases. This is because you will be swapping out a few of your pantry staples for healthier ingredients. After that, your costs should be equal to or less than what you currently spend.
4. PLAN AHEAD
Plan your meals, plan your grocery shop, and plan to get caught out of the house at mealtime. A ziplock bag of mixed nuts and an apple can save the day!
5. BUDGET
Consider how much money you spend each week on food and drink that you haven't prepared at home. Really look at it. You'd be surprised how easy it is to spend money outside of the house, without even purchasing takeaway food!
6.TIPS FOR SNACKERS – WATER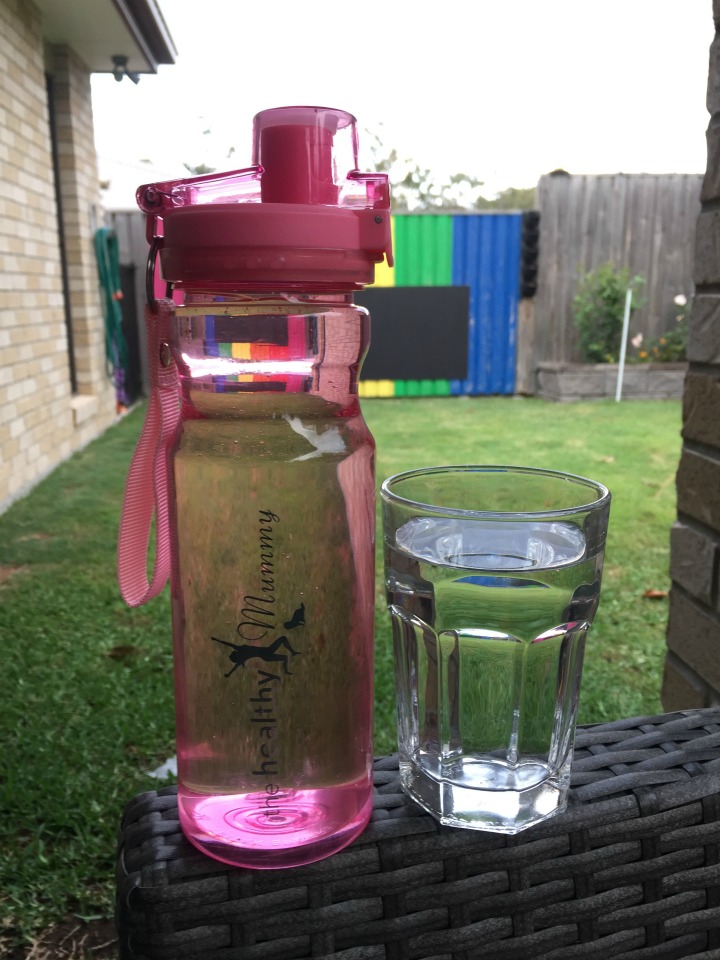 If you're a chronic snacker, when the urges hit, look at your meal plan. If you're close to a mealtime, eat that meal a little early. If not . . . Get a glass of cold water. Open the fridge, and look around slowly. For each thing you look at and might want to nibble, take a sip of water. Close the fridge, and open the pantry. Look around slowly. For each thing you look at and might want to nibble, take a sip of water.
Close the pantry, and walk away. Find something to do. Within a week or so, you won't crave snacks between meals any more.
7. CUSTOMISE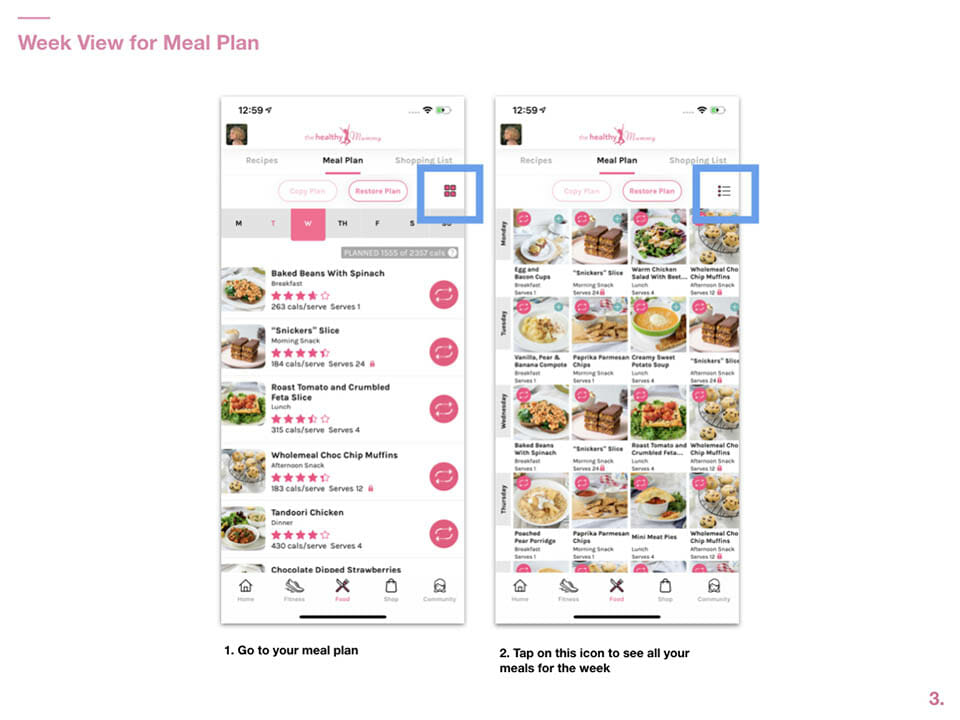 When the Meal Plan goes live on a Wednesday, look it over. Swap out any meals that you really can't eat, and look at the upcoming events you have. Work or Birthday Party? Look up the venues' menu and decide before you go – what you can eat from the menu, and do you need to take a sneaky snack or salad in your handbag.
8. KNOW YOUR FAVOURITES
Swap out the meals on the Meal Plan for your Favourites, or repeat the same meal a couple of times for ease of prepping. So that I don't choose the exact same meals every week, I go through my Favorites (which are sorted alphabetically) and select in order from those.
9.MEAL PREP!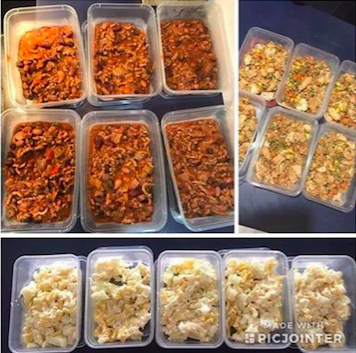 Until Meal Prepping becomes a weekly habit, create your Meal Plan to repeat similar ingredients. ie Mexican Lasagne + Oven Baked Sweet Potato with Bolognese + Beef and Sweet Potato Lasagne + Hidden Vege Bolognese + Sweet Potato Nachos = one big cook up on the weekend! I make it easier on myself, and put ALL of the ingredients into one big batch – all the mince, passata, beans, veges etc. Then divide the mince mixture between the number of meals for that week, and freeze. Each afternoon, look at your meal plan. Defrost one batch of mince in the microwave, while you bake or slice the sweet potato, get out the wraps, make up zoodles, etc. This greatly reduces your meal prep time, both on the weekend and through the week.
10.KEEP IT SIMPLE
Keep lunches simple – usually salads. These can either be prepped on the weekends or each night for the next day. Baked Sweet potato cubes, baby spinach, and seasoned pan-cooked chicken breast are my salad staples.
BONUS TIP!
Sonia says, "Love yourself. Even if your steps are little, you're still moving forward!"
Amazing Tips Sonia – The Healthy Mummy Team would like to thank you so much for sharing!
Join Sonia on our next 28 Day Weight Loss Challenge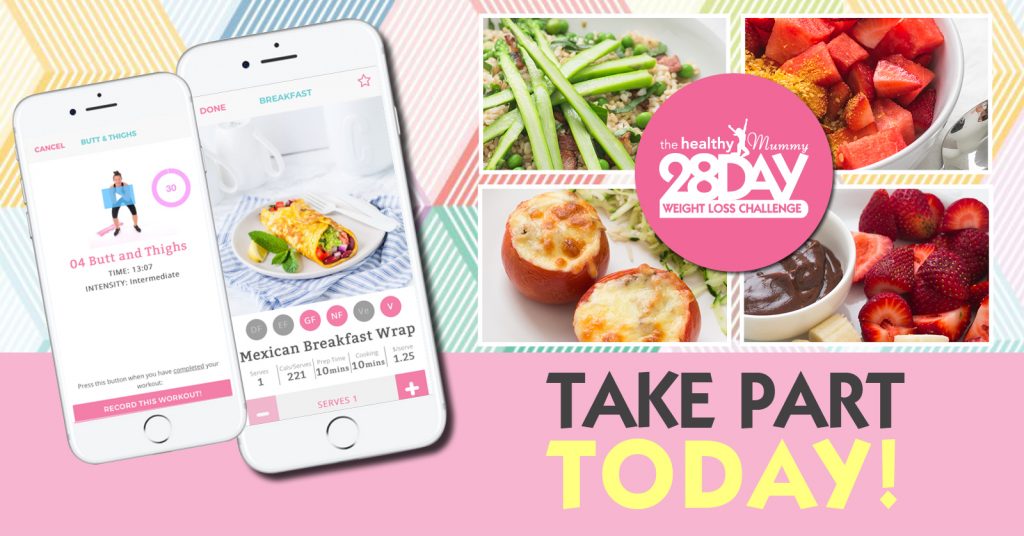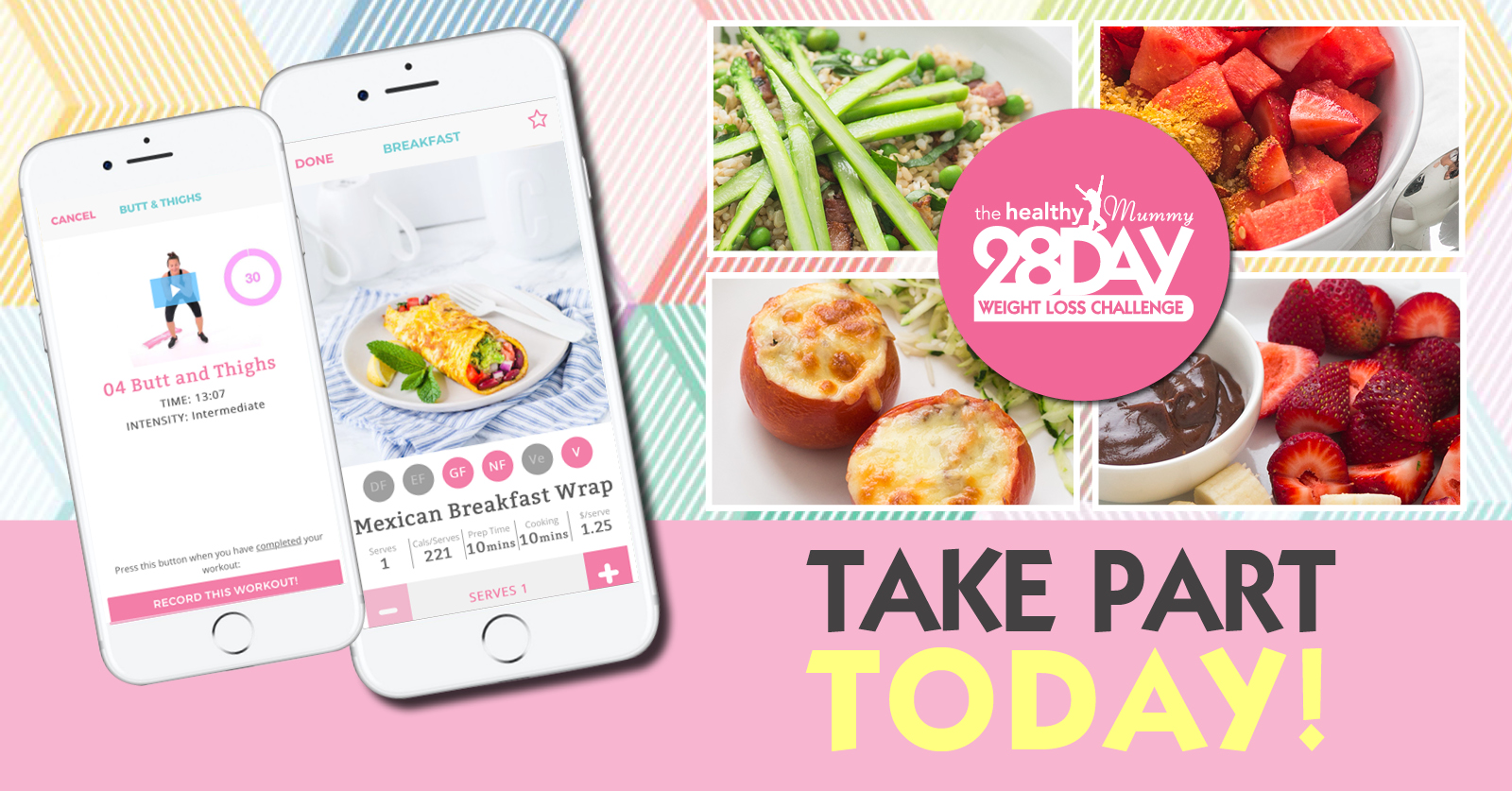 The Healthy Mummy exists to help tired, busy mums like you SHIFT THE BABY WEIGHT and REACH YOUR GOAL WEIGHT.

Join the 28 Day Weight Loss Challenge and have 4,000 recipes at your disposal!

The 28 Day Weight Loss Challenge is an affordable, breastfeeding-friendly and realistic program that helps mums tackle their diet and improve their overall health through weekly (and customisable) meal plans, at-home exercises and 24/7 social support.

Our Challenge entails:
28 days of at home exercise routines (no gym needed) – with video instruction
Customisable and breastfeeding friendly meal plans
Time-efficient exercises for busy mums – under 30 mins
Challenge combines Pilates exercises with interval and circuit training (HIIT)
Suitable for basic to advanced fitness levels
Home to thousands of EASY-TO-MAKE recipes!
JOIN THE 28 DAY WEIGHT LOSS CHALLENGE HERE!