5 mums who have lost over 50kgs each thanks to The Healthy Mummy
These five mums have lost over 50kgs each all thanks to The Healthy Mummy 28 Day Weight Loss Challenge and the support from other mums in the Private Support Group.
These five mums have lost over 50kgs each all thanks to The Healthy Mummy 28 Day Weight Loss Challenge and the support from other mums in the Private Support Group.
5 mums lost over 50kgs each with the help of The Healthy Mummy
Cicily Goodwin has lost 53kgs
Cicily admits she used to binge on junk food, but over the last two years, she has changed her eating habits (and totally transformed her life as a result).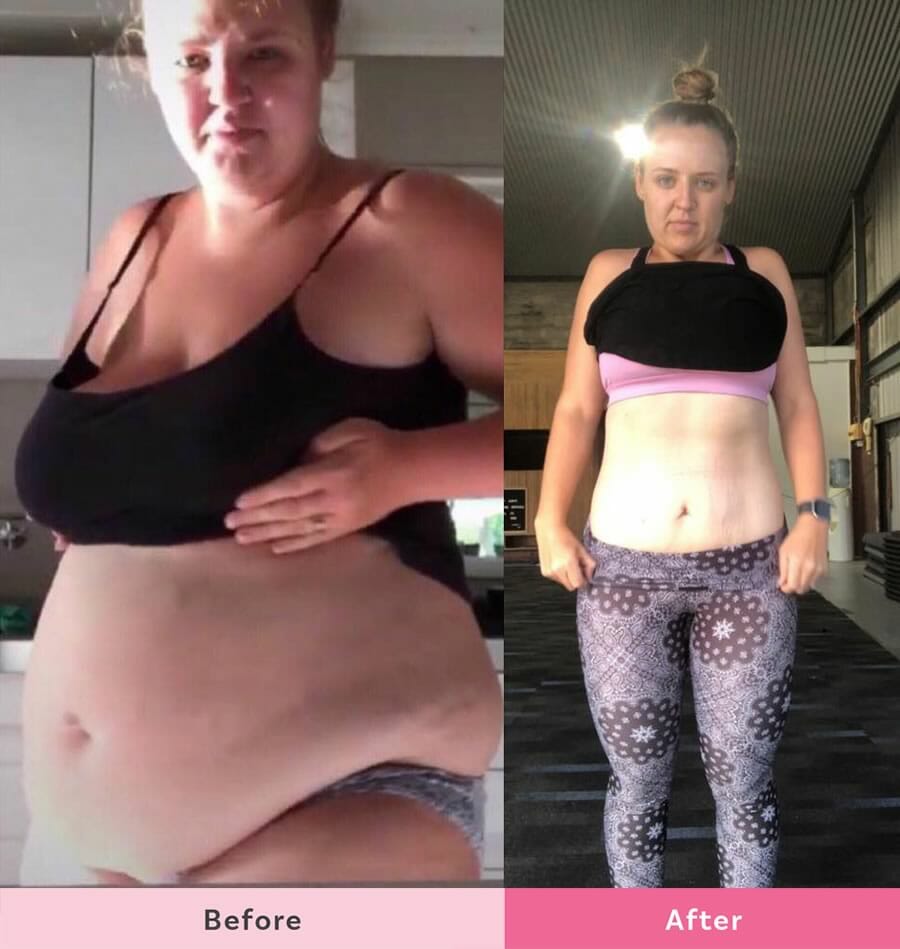 Some quick facts about Cicily's weight loss journey with The Healthy Mummy:
"53kgs lost
Six dress sizes gone
No weight loss surgery or skin removal surgery
Eating over 2,000 calories a day
Still going out for dinner every week and getting that burger
No "fat shredding" miracle diet supplements
Two Healthy Mummy Smoothies a day (with fruit, oats etc. and water), one 28 Day Weight Loss Challenge mains recipe, two 28 Day Weight Loss Challenge snack recipes, two rows of Lindt chocolate for dinner. One cheat day a week where I went over my calories
15-18 months to lose the weight, two years seven months in total on my journey
I do have loose skin, but it's easily hidden and doesn't affect my everyday clothing. I kind of love it anyway because it shows how far I've come. Don't be afraid of getting loose skin. It's better than excess fat in my opinion
No exercise whilst losing the majority of weight – except a 5km walk weekly SOMETIMES. – After I'd lost 40kgs I started walking four days a week 10kms because I enjoyed it. Now I work as a fitness trainer so exercise five times a week burning about or over 3,500 calories a day
No cutting food groups – I still ate the bread! Although I love swapping pasta with Konjac noodles!
Drinking coffee the whole time
Not really drinking much alcohol just because I didn't
Having A LOT of "off days" but making up for them for being totally on point the rest of the time"
As a final piece of advice for any mums considering this journey Cicily said:
"YOU CAN DO IT! Find what works for you. Meal prep, Healthy Mummy Smoothies, slow cooker, walking, gym, Healthy Mummy Snack Bars, Healthy Mummy Super Greens. FIND YOUR JAM. And make it happen."
Melanie Bell has lost over 52kg
Melanie is a single mum of nine, yes NINE, children ranging from ages 2 to 23 years old. After suffering multiple strokes and battling other medical issues Melanie was put on medication that caused her to put on weight.
"As a result of all this medication and the weight I hadn't lost from my pregnancy, I saw my weight hit a massive 119kg. I knew that I had to make changes and value myself once more as important."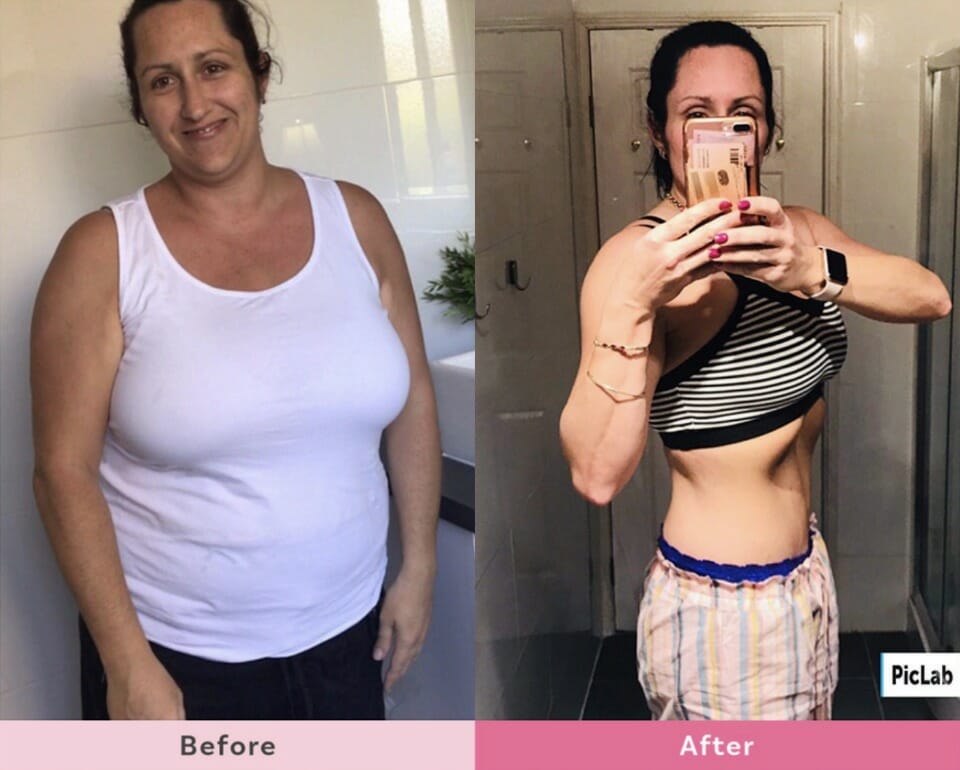 In the beginning, Melanie says she found it hard to get moving on her weight loss journey. She states, "suffering from extreme depression, I found it extremely hard to get started on my weight loss journey. One day I was surfing my Facebook and came across The Healthy Mummy page. This page was my light switch moment I had been searching for." 
This was exactly what inspired Melanie to embark on The Healthy Mummy 28 Day Weight Loss Challenge journey. "There were thousands of other beautiful and important mothers out there also in the same situation as myself. There was a hub of information at my fingers and most important of all fantastic support not only by The Healthy Mummy Team but by other mothers trying to become healthy and empowered." Melanie says.
"I made a pledge to myself and my family to become a better me, to find myself that I lost a long time ago. As a busy working mum of nine, I knew I had found the support I needed to achieve my goals," she says.
"As I sat and started planning my meals, I couldn't believe how simple The Healthy Mummy 28 Day Weight Loss Challenge made making healthy choices."
She says she got up each morning feeling empowered that she could achieve her goals.
"As weeks went on and I saw the weight coming off I knew I had hit the gold mind of diets. There were setbacks from time to time but I just kept pushing and ensuring that I referred back to my healthy eating plan," she says.
Sarah Maynard has lost over 56kg
Having now lost a MASSIVE 56.6kg with The Healthy Mummy 28 Day Weight Loss Challenges and Smoothies Sarah is finding joy in the simple things that she couldn't do before.
"I'm happy that I can do the things I couldn't do before, like going on a walk or even a run with my son.
Now I'm so happy I can do all the things I want to do with my family.
To reach my goals with The Healthy Mummy I had one smoothie for breakfast then one smoothie at about 3pm when I would get ultra hungry.
I would enjoy the meals from the Healthy Mummy 28 Day Weight Loss Challengemeal plan in between.
The Healthy Mummy has changed the way I think and look at food and exercise."
"Having the amazing community of every single lady to help me with questions, advice and support really got me through the hard days. 
Yes, there are hard days but The Healthy Mummy community is here ask questions so use it to your advantage."  Join the Healthy Mummy Private Support Group. 
The Healthy Mummy really changed my life for the better so I thank Rhian and the amazing team for all the hard work they do to help all of us with our life-changing journey."
Nadia Jameson has lost 55kg
Mum Nadia has not only lost 55kg and gone from a size 26 to a 12 (without surgery) she has quite possibly saved her own life in the process.
Mums have many different reasons for wanting to lose weight and get stronger but for mum Nadia, a serious health scare prompted her to make a permanent change.
She said "I knew I was big – just no idea how huge! It gets that way when you've been overweight for so long!
I wish I could say one day it just clicked, but a serious health scare is what it took."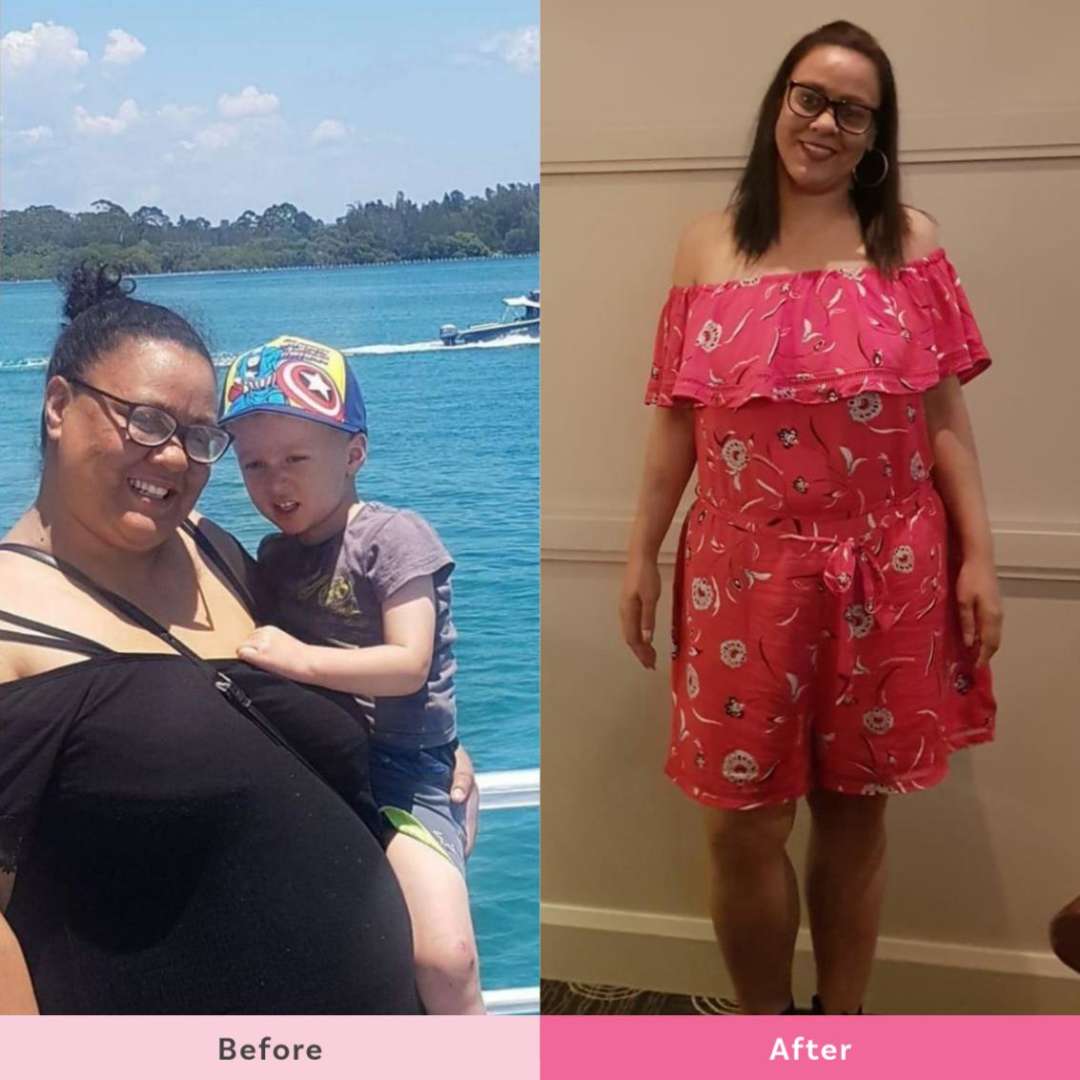 "I remember the day in February clearly where I was having a panic attack in emergency and cried to my sister that my irresponsible food consumption would be the reason I died and left my kids behind.
It's been a hard and weird transition. For the first 6 months, people would compliment me and it felt strange. 
They would say 'good work on not eating foods that might kill you and the subsequent weight loss'. I always downplayed it with 'oh I'd love to take credit but it's my allergies'.
My main allergy (anaphylaxis) is to dairy and soy but I cannot have gluten either. Doesn't leave much to be tempted by, let me tell you!
So damn it, I'm taking the credit!
My diet isn't very exciting these days – proteins, veggies and fruits… but I feel better than I have physically in a long, long time and I've also stopped settling for less in other areas of my life."
Tawhai Duffy has lost 52kg
Tawhai Duffy has been overweight for most of her adult life. It was not until she found The Healthy Mummy 28 Day Weight Loss Challenge that things started to really change for her and her life made a complete turnaround.
"It was the best thing I could've done for myself and my family," she says.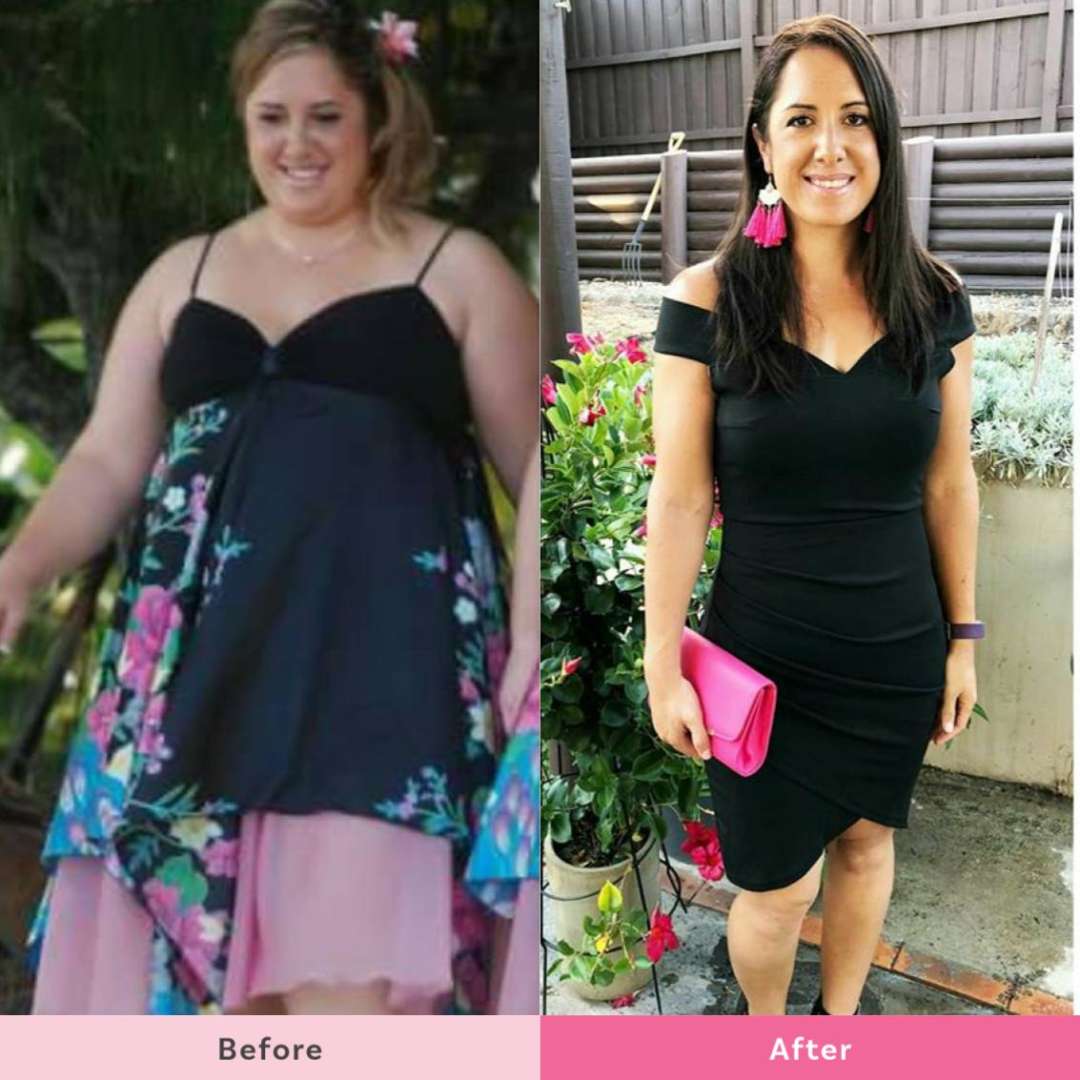 "I didn't know if I had the determination to lose big numbers with two little girls to look after – one with special needs, major sleep deprivation and a husband that works long hours," she admits.
"As soon as I read what the 28 Day Weight Loss Challenges were, I signed up straight away.
It wasn't some quick weight loss scheme but good nutritious food, smoothies, and exercise.
I was so excited and nervous to get started and try all the delicious recipes and also become fitter and stronger with the exercises.
I started with a Healthy Mummy Smoothie for breakfast because I would usually skip it and followed the menu for the other meals and snacks.
Being able to customise the meal plans for the 28 Day Weight Loss Challenges to suit my family is all starting to pay off. It's not been easy but so worth it to be a healthy role model for my girls."
Join our community TODAY!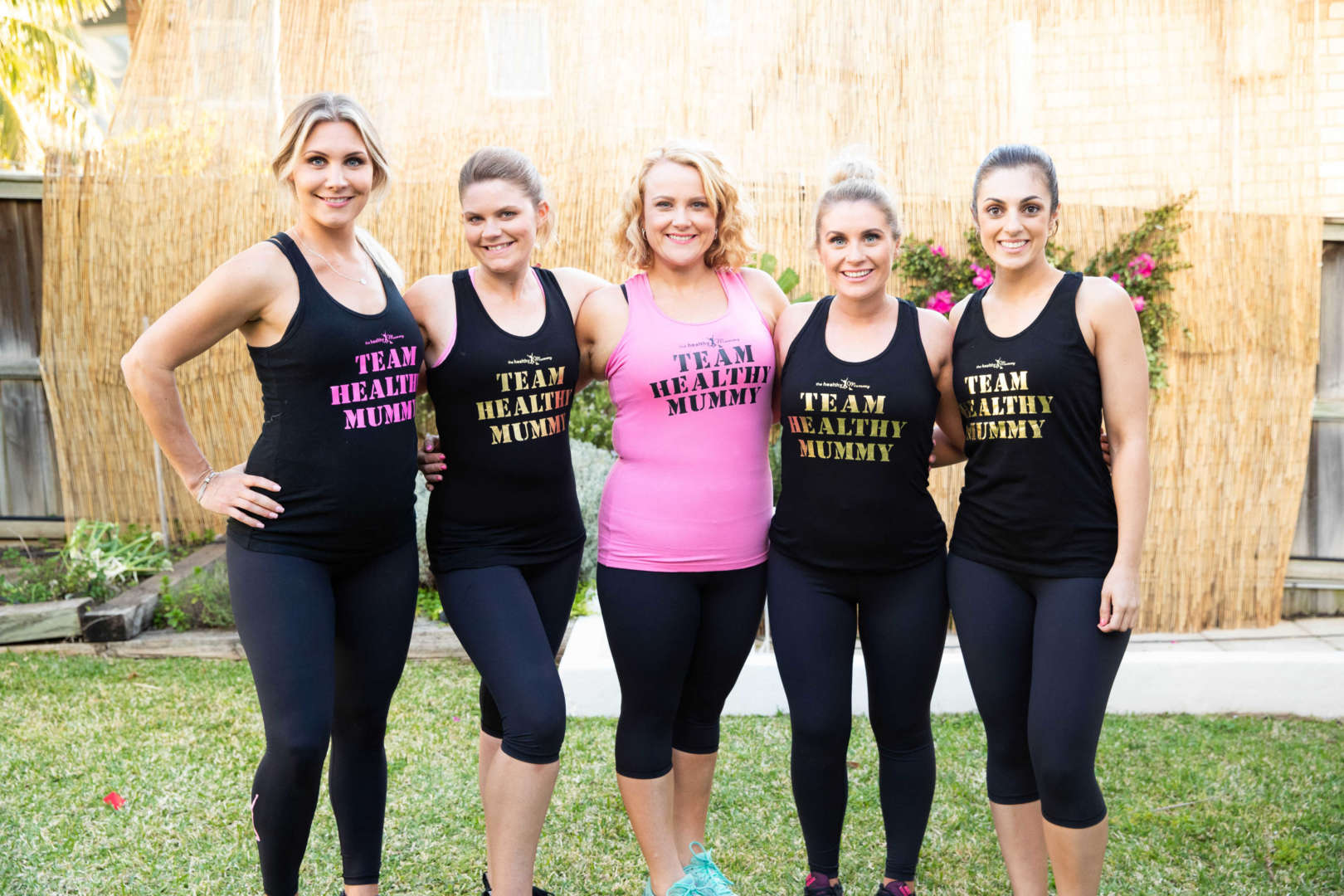 With hundreds of thousands of mums from all over Australia all with the same goals, the same concerns and the same struggles our community is there support you through it all.