Nikki lost 30kg in 13 months and has been maintaining it for over 3 years
We've been following Nikki Myles' incredible transformation for some time now and just WOW WOW WOW! She looks incredible!!!
WOWSERS! We've been following Nikki Myles' incredible transformation for some time now and just WOW WOW WOW! She looks incredible!!!
The 49-year-old from Melbourne, who is mum to three boys, lost 30kg in 13 months by following the 28 Day Weight Loss Challenge and has been maintaining that weight loss for nearly three and a half years!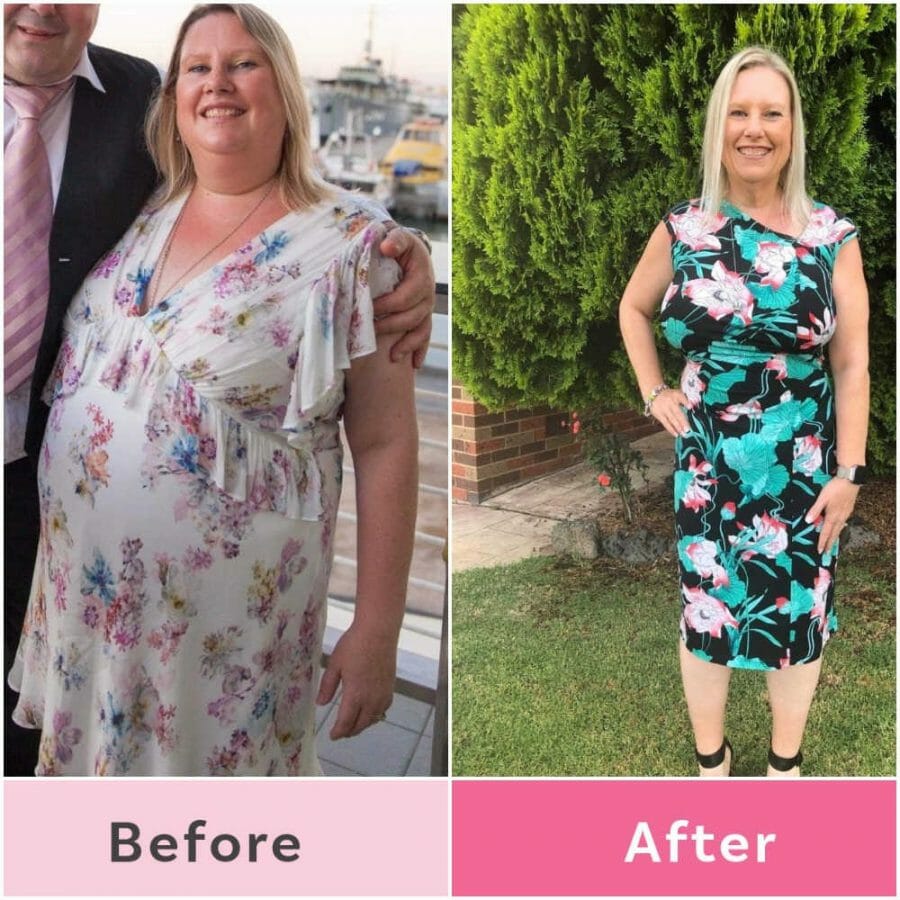 How Nikki lost 30kg in 13 months
However, it's not always smooth sailing, Nikki reveals. She has to work at keeping herself in shape.
"My weight does fluctuate now probably due to my hormone levels changing. I don't let this get me down I just change up my food and exercise and I find I can be back in control again," she says.
"This is exactly the reason why I tell people not to rely on scales measurements and photos tell the true story.
"I feel like a new woman now with a new zest for life since joining The Healthy Mummy. I am so much happier and energetic. I am sure that's because I eat food to fuel my body and not living on processed food all the time."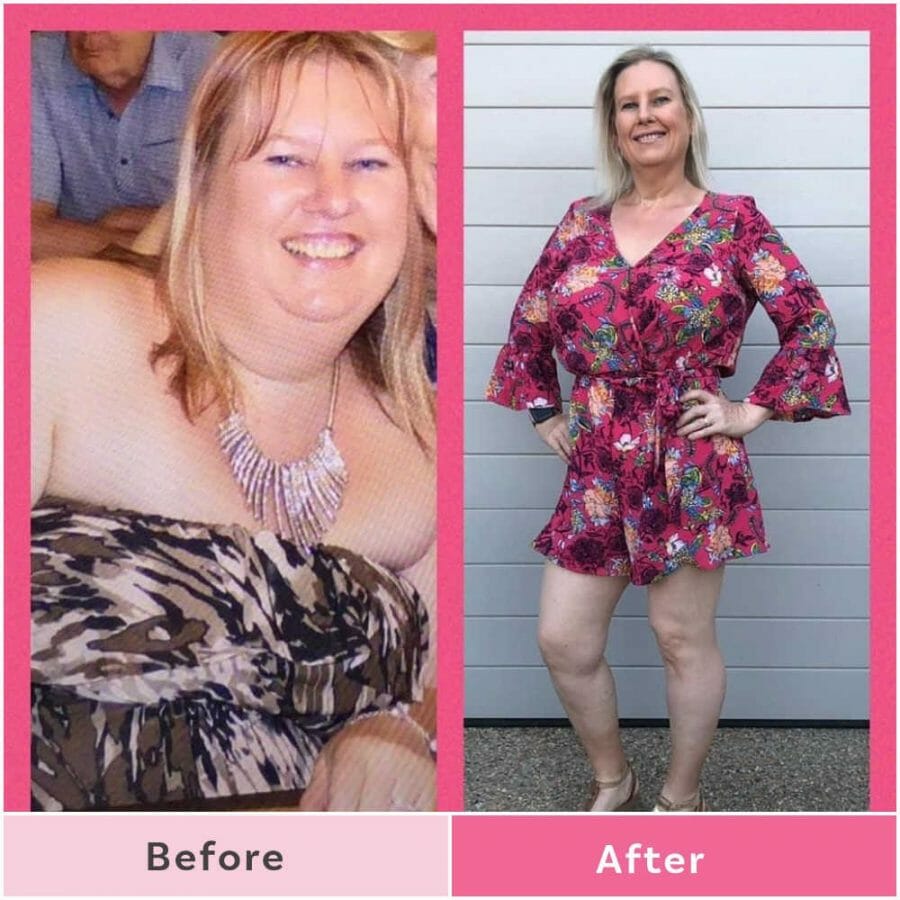 How Nikki got through lockdowns
It seems the pandemic had a huge impact on Niki's usual routine.
"I have had to rely on my own motivation and the amazing motivation from the healthy mummy pages to keep going and not gym classes to keep me motivated each day," she says.
My  3 top tips for success are:
Never give up
Use the community for support
Don't starve yourself because dieting just doesn't work
"I use The Healthy Mummy app every single day to keep me on track and stay motivated.I never get bored because they are over 5000 recipes to choose from and over 500 workouts to do from the app," she says.
"My number one tip for never giving up is to remember why you started. Healthy feels so good and I never want to be that unhappy couch potato mum and wife ever again!"
Nikki still has dessert – she just has healthier versions
In November 2016, Nikki made the big decision to join the 28 Day Weight Loss Challenge which changed her and her family's lives!
"I'm constantly eating, who doesn't want to do that and lose weight? You're under this myth that you have to eat 1200 calories a day and you've got to starve your body and it's not like that," she says.
"My kids eat exactly what I eat, and I have one of each smoothie flavour open all the time!"
In fact, Nikki also suffers from polycystic ovarian syndrome (PCOS) which doctors have said can play a major role in weight loss, but this mum hasn't had any problems.
"I can eat any food groups I want, I don't cut anything out."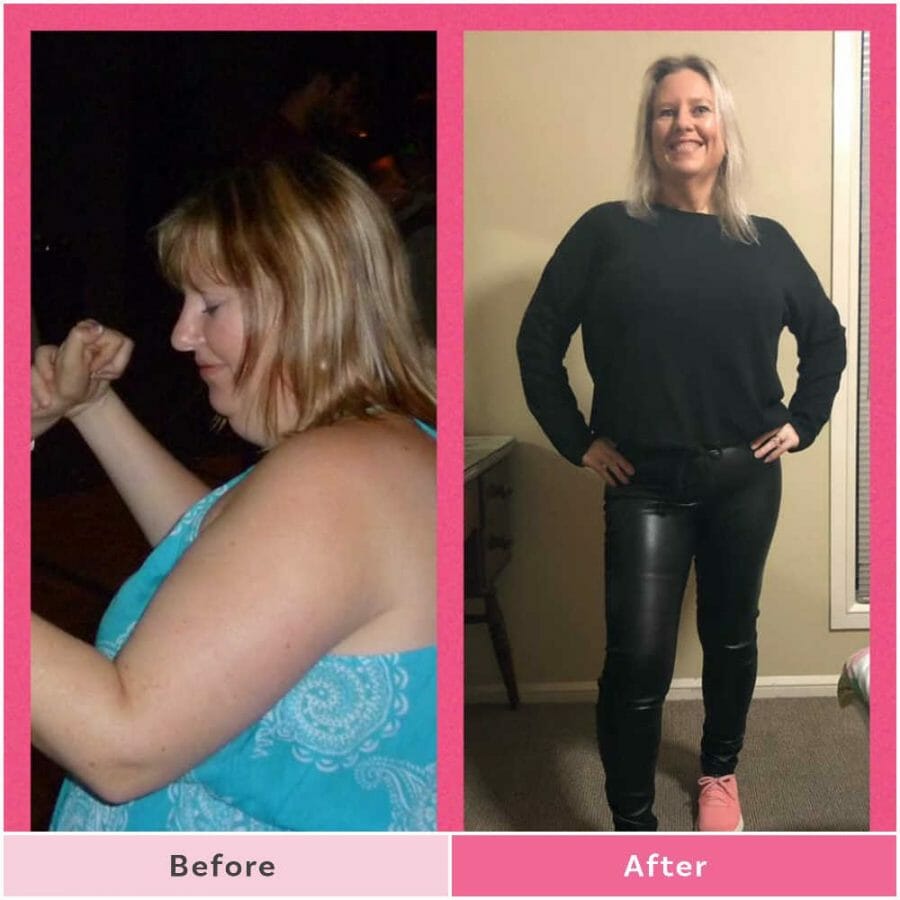 Nikki's typical day on a plate:
Breakfast: Warm Apple Vanilla Bircher from the 28 Day Weight Loss Challenge is a favourite of Nikki's.
Morning tea: Cheese and Walnut Muffin.
Lunch: Always a Healthy Mummy Smoothie.
Afternoon tea: Veggie sticks and hummus.
Dinner: Always a meal from the challenge, Peanut Butter Curry is so quick and a favourite in Nikki's house.
Dessert: Something sweet like the Choc Lava Microwave Mug Cake.
"I walk every day and follow simple exercises that I can do in the comfort of my own home. I am now a different, energetic person," she adds.
"I look forward to eating delicious food that my body loves. I enjoy moving my body and love spending quality time with my family. I have found a new found confidence I have never seen before!" 
This amazing mum-of-three knows it is not about going on a diet, but instead changing the way you look at food.
"The Healthy Mummy just made it happen for me- no judgement, just amazing support. Do something for yourselves ladies! Stop watching and start your journey to a happier and healthy version of you!!"
Join the 28 Day Weight Loss Challenge TODAY!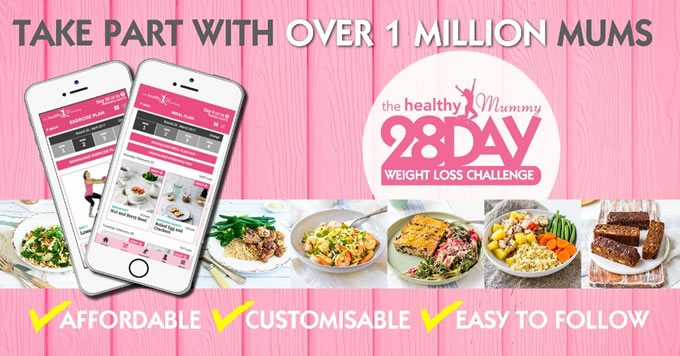 Want to shift your weight but feel like you have NO TIME in your day to exercise and eat healthily?
That's where the Healthy Mummy's 28 Day Weight Loss Challenge can help.
What do you get? You get access to:
28 days of at home exercise routines (no gym needed) – with video instruction
Customisable and breastfeeding friendly meal plans
Time-efficient exercises for busy mums – under 30 mins
Challenge combines Pilates exercises with interval and circuit training (HIIT)
Suitable for basic to advanced fitness levels.
Home to thousands of EASY-TO-MAKE recipes.
Find out more about joining the 28 Day Weight Loss Challenge.