See the photo that changed this mums life: "It was the eye opening moment I needed to see how overweight and unhealthy I was"
It was a photo of herself on holiday that sparked Dominique joined the 28 Day Weight Loss Challenge and lose 27 kilos and 4 dress sizes
It was a photo taken on holiday when her first child was just 6 months old that sparked Dominique to embark on a life-changing journey to better health.
Fast forward 4 years and two more babies and this mum has lost a whopping 27 kilos and 4 dress sizes with the 28 Day Weight Loss Challenge.
In the last month alone, focusing on weight training and also cardio circuit training, she has lost 4 kilos and lost 3 cms off her waist, 6 cms off her thighs and bust and over 2 cms off her arms!
Way to go Dominique!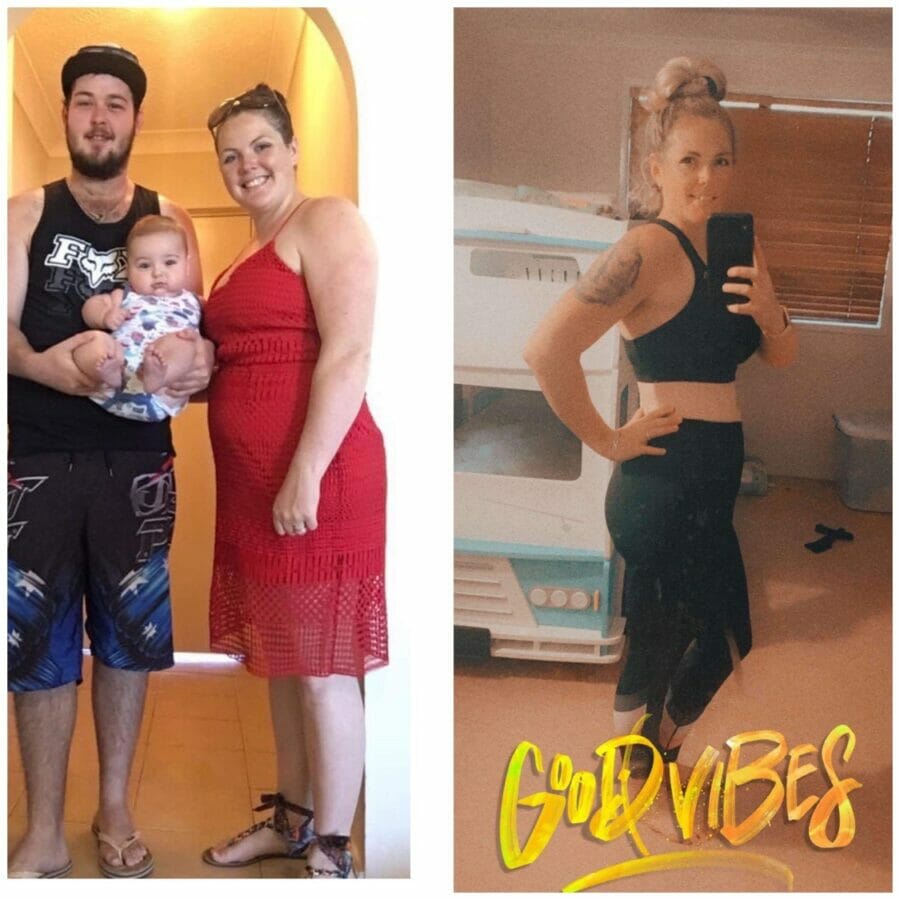 Dominique East is a 26 year old mum from Macky Qlds with three young children aged 4,3 and 1 year.
Dominique admits that she was in denial about her health and being overweight until she saw a photo of herself in a red lacey dress with her husband while they were on holiday four years ago. She knew she needed to change her lifestyle and health.
It was this photo that changed everything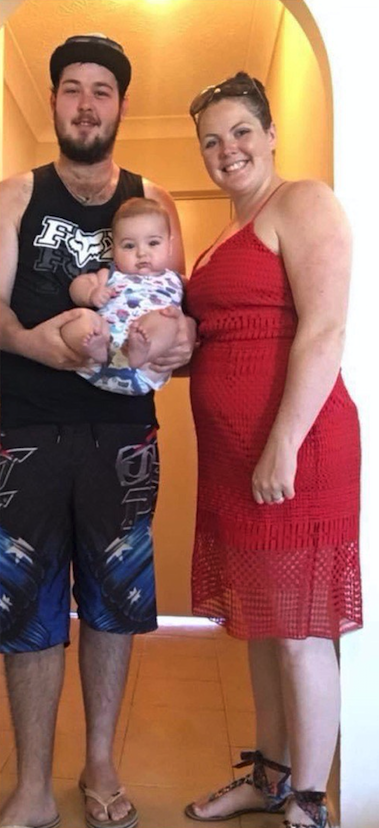 "It was the eye opening moment I needed to see how overweight and unhealthy I was so I am forever grateful for this photo."
Weight Loss Results
With the help of the Healthy Mummys 28 Day Weight Loss Challenge, Dominique has gone on to lose 27 kilos.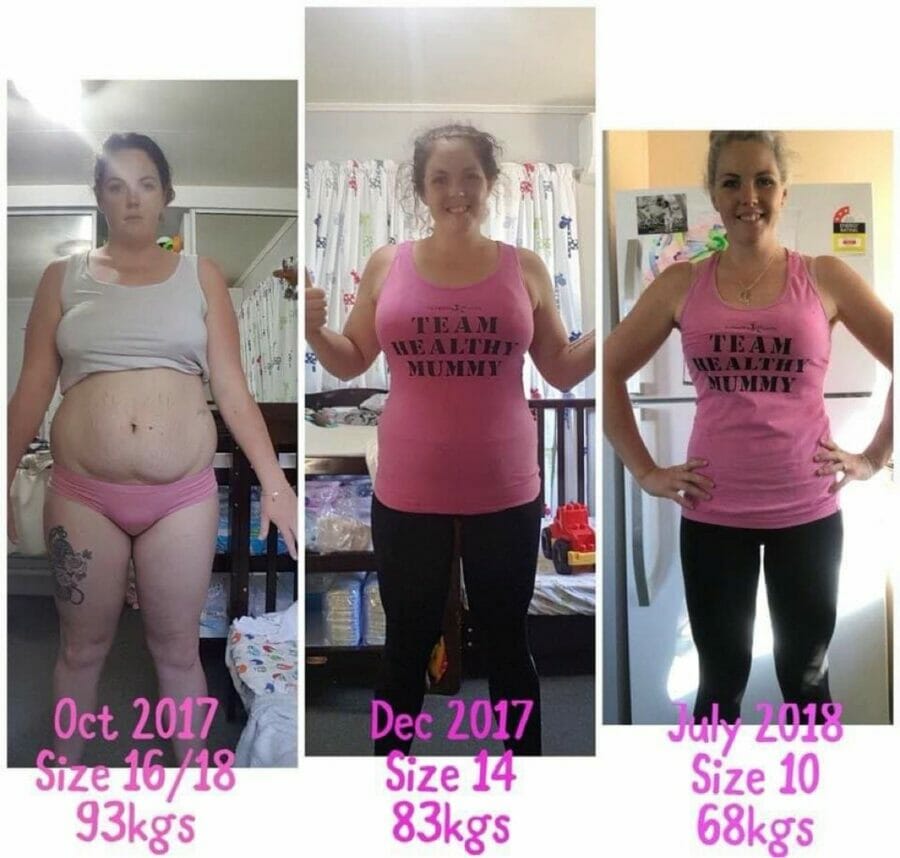 "I lost an amazing 12kgs after having my first baby before falling pregnant with baby #2. After baby number 2 in late 2017, I lost 27kgs and countless cms off my whole body within 7 months of using the healthy mummy.
I have been using the healthy mummy program through my whole third pregnancy and also after I gave birth to baby #3 in 2019. So far since baby #3 I have lost 20kgs with a goal to lose another 5-6kgs of fat and gain that in muscle to tone."
Last months results
In the last four weeks, Dominque has stepped up her exercises in a bid to improve her muscle tone. She has also focused on her nutrition following the Healthy Mummy meal plans strictly and has lost 4 kilos.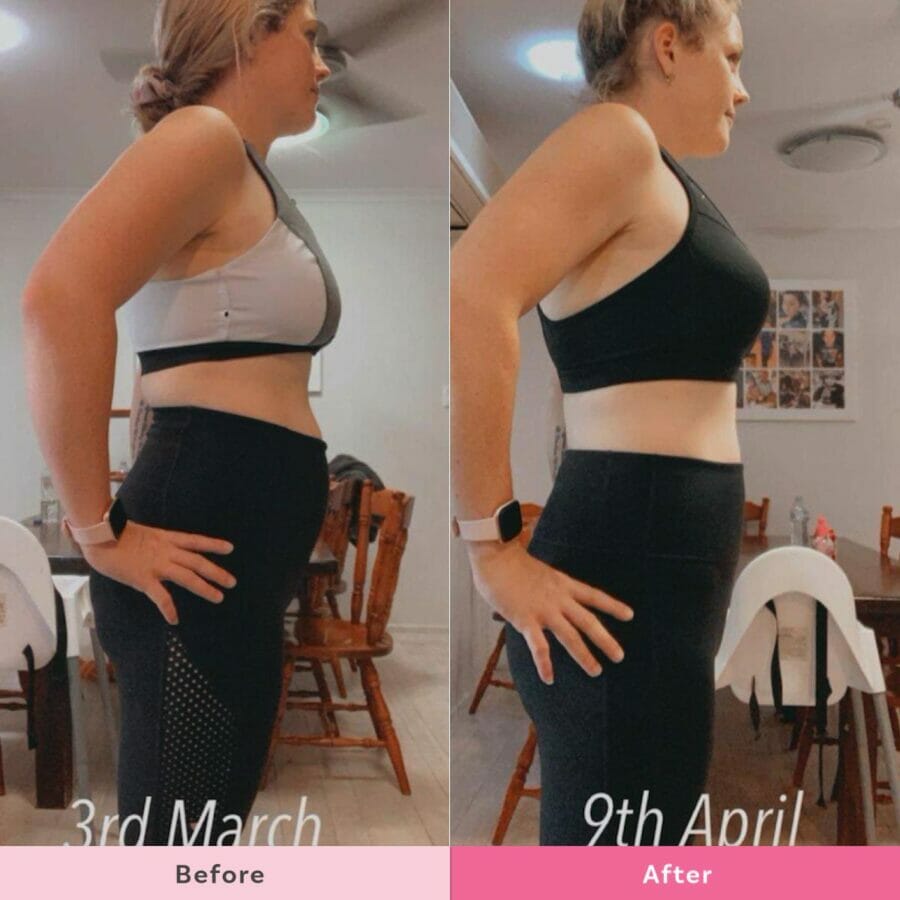 "I have seen a massive health change even in the last month alone. I have so much more energy to play with my kids and also I have noticed my endurance whilst working out has increased. I also love how I don't feel bloated or struggle with indigestion as much as I did before focusing on my health and nutrition.
I am seeing so many physical changes from my waist slimming, my stomach isn't as bloated, my back is slimming down and also my arms are toning. I mentally feel great each day and also feel like I want to exercise each day which is something I never used to even consider."
Healthy Mummy Smoothies
Dominique also uses Healthy Mummy Smoothies and protein powder to help with her weight loss goals.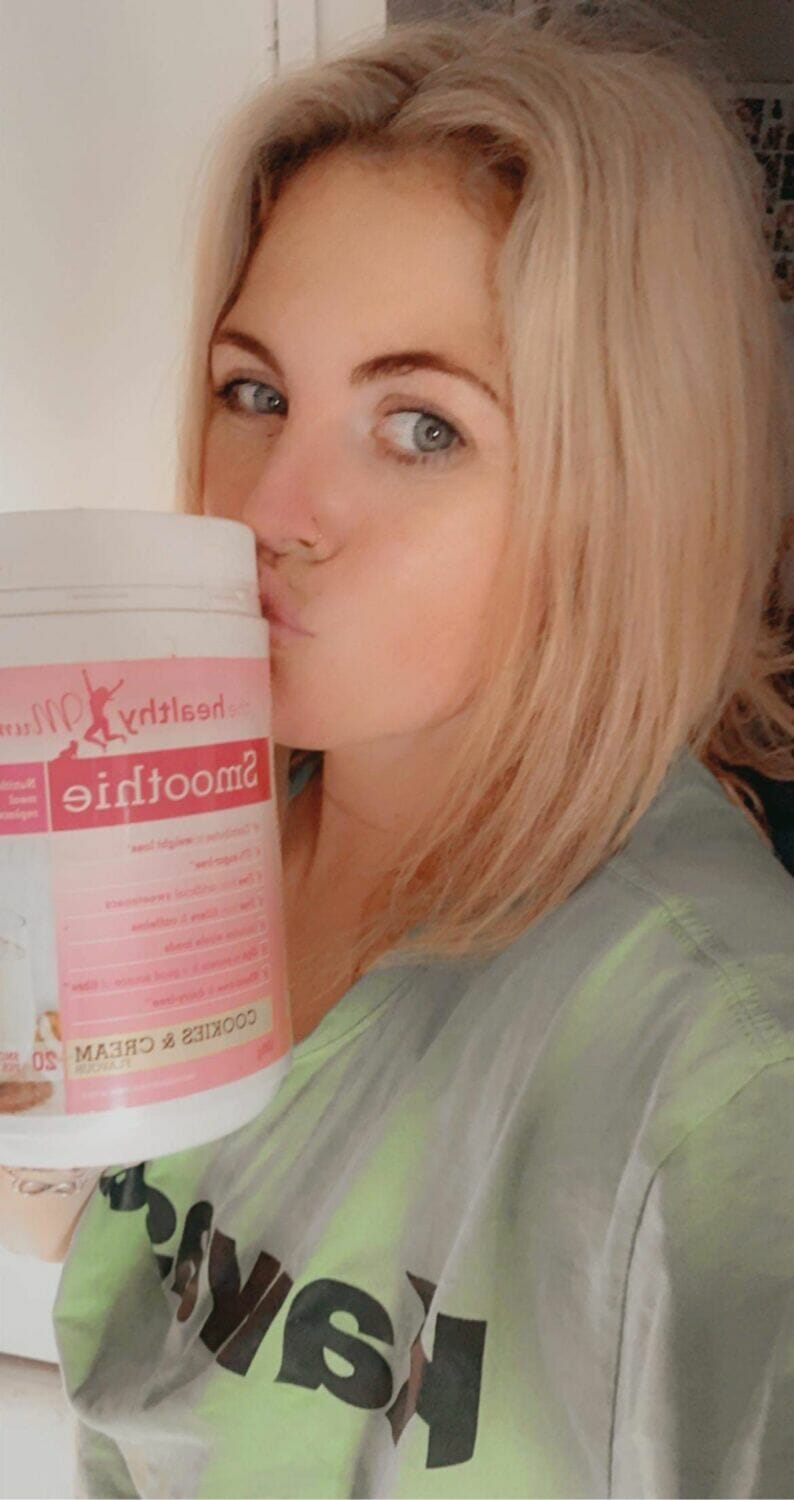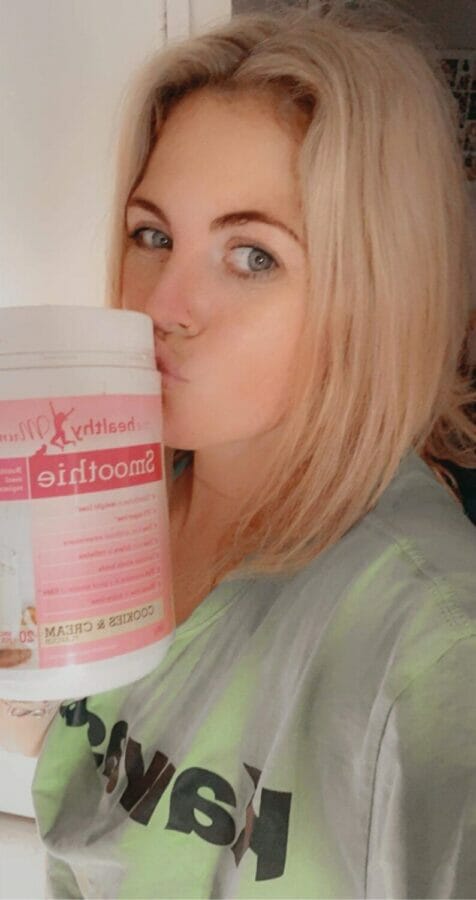 "I'm a plain kind of girl so my favourite will always be vanilla. You can do so much with the vanilla shake powder from baking and also amazing smoothie combos. My favourite is putting banana and blueberries in with the vanilla smoothie mix with honey and oats or chia seeds."
Dominique's day on a plate
While admitting that her daily plate changes each day because she loves the variety of food in the app, she does has her favourites.
Breakfast:  Blueberry/ banana smoothie
Lunch:  Either salad wrap or veggie stir fry
Dinner: My all-time favourite meal would have to be the Beef Stroganoff, I slow cook the recipe so it's amazing!! And the whole house loves it.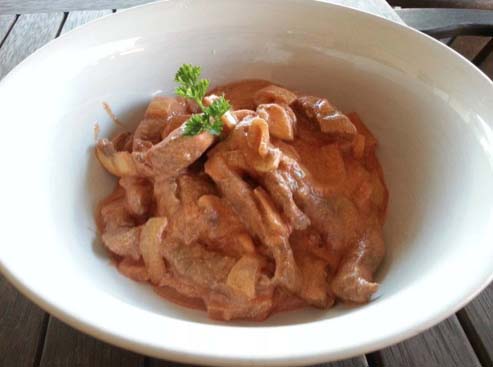 Snacks – I am a snack girl I snack all day!! I love the protein peanut butter bars, choc chip muffins, weetbix slice or simply dark chocolate. I am a sweets lover so I have not given up my sweets I have just made them better choices. So chocolate is dark chocolate, muffins are wholemeal and made with no artificial sugars etc 
Favourite App Workouts
"My favourite app workout would be Intense HIIT because I love a high-intensity workout to get the heart pumping and sweat pouring."
Dominiques Three Tips for success
1. Dedication. Be dedicated to yourself and always remember to put your choices for yourself first.
2. If you love sweets – get rid of the artificial sugars and sweets in your home and replace them with natural sugars or coconut sugar. Make sure you prep sweet snacks each week to grab when you want that sweet snack. This will allow you to avoid binge eating the wrong foods. If you love chocolate I recommend the chocolate slice or choc chop banana bread.
3. Food prep – it's a must for me. If I don't meal prep my snacks and at least lunches for the beginning of each week I will find myself wanting to eat my children's food or binge eat. By having dedicated meals for myself it helped me stay on track.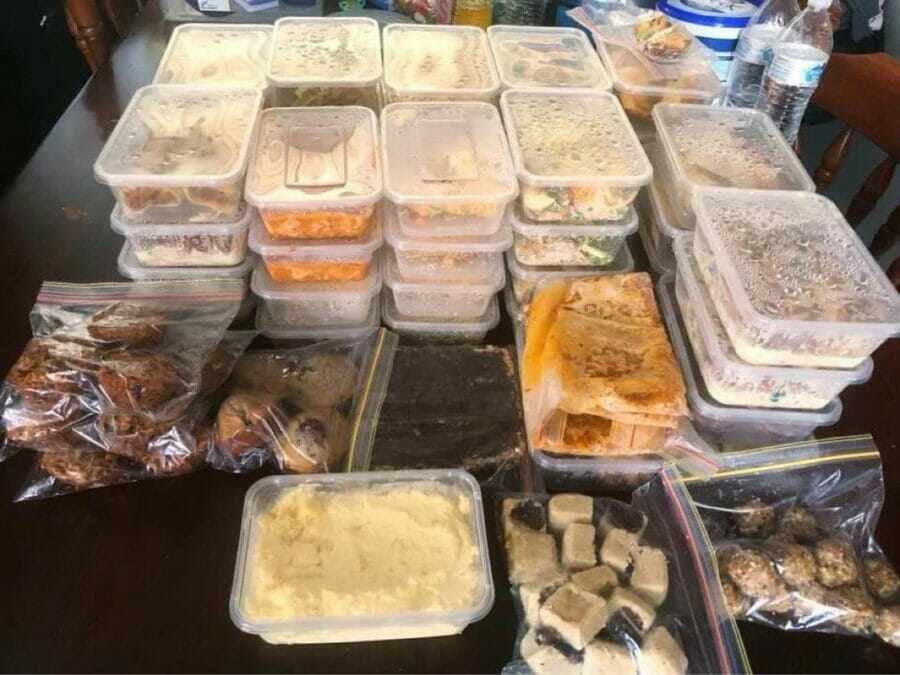 Dominqiue has some great advice for others trying to lose weight.
"It's a journey, not a race. Don't compare your health and weight loss journey to anyone! Everyone loses weight differently and also in different places differently. I found when I started in 2016 I would compare my journey to everyone and it would sabotage my motivation. Take each day one step at a time and remember every good choice you make is one step closer to your goals."
Are you ready to kick-start your weight loss?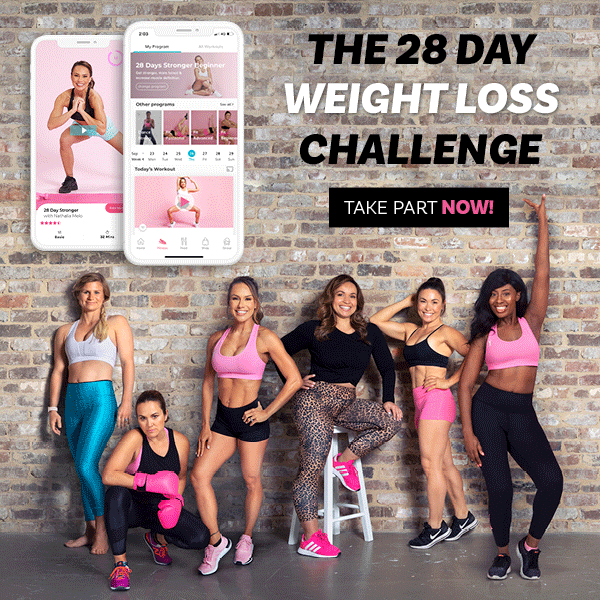 Want to shift your weight but feel like you have NO TIME in your day to exercise and eat healthily?

That's where the Healthy Mummy's 28 Day Weight Loss Challenge can help.

What do you get? You get access to:
28 days of at home exercise routines (no gym needed) – with video instruction
Customisable and breastfeeding friendly meal plans
Time-efficient exercises for busy mums – under 30 mins
Challenge combines Pilates exercises with interval and circuit training (HIIT)
Suitable for basic to advanced fitness levels.
Home to thousands of EASY-TO-MAKE recipes.
Find out more about joining the 28 Day Weight Loss Challenge.