Get to know 3 Mums who will keep you on track for the 12 Week Challenge!
Meet three amazing women who share their own weight loss stories and give invaluable advice to help you smash your goals in the 12 Week Challenge!
The countdown to the 12 Week Challenge is on! Starting on 3rd May 2021, this new 12 Week Challenge is for mums who want that extra bit of motivation and accountability and are ready to SMASH YOUR GOALS!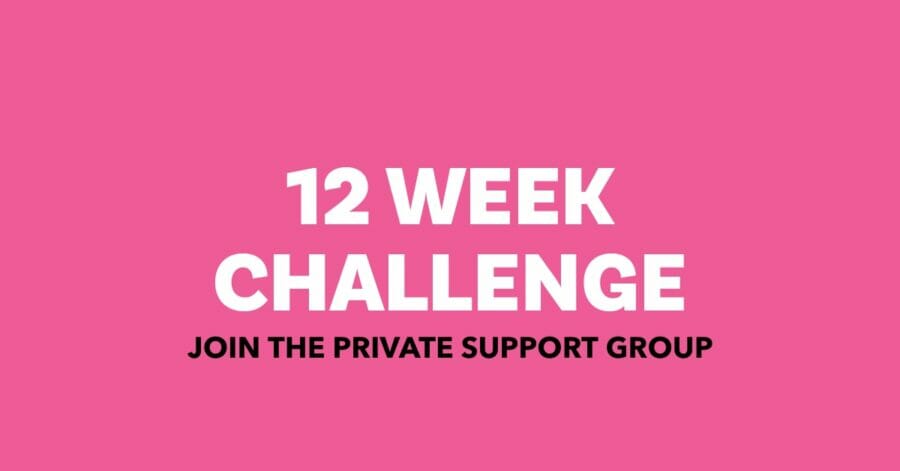 Three months is a great time frame to make real changes and get real results. Along with your Pledge, Took Kit, competitions and prizes, you will also have access to the Private 12 Week Support Group on Facebook along with other mums taking part in the 12 Week Challenge
In that group, will also be your 12 Week Challenge Motivating Mums!  These incredible mum will be sharing their tips and advice and will be with you with support and motivation every step of the way.
Here are three of these amazing women who share their own weight loss stories and give invaluable advice to help you smash your goals in the 12 Week Challenge!

Meet Nic Taitua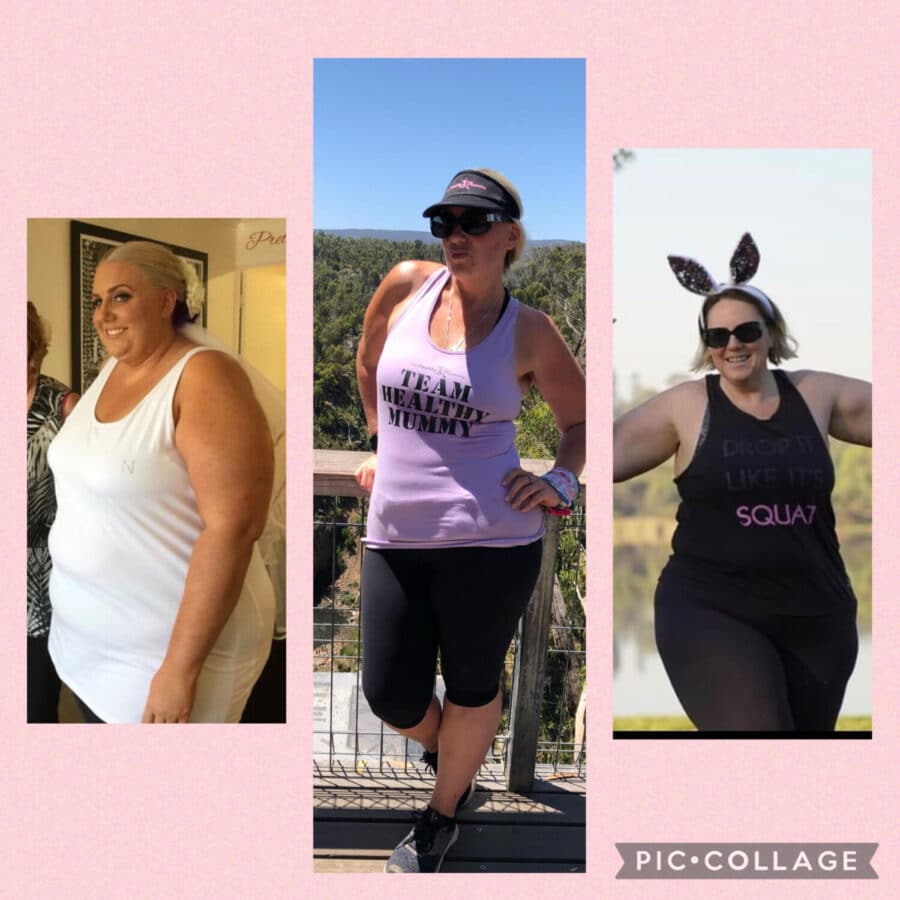 Mum of three Nic is 39 from Melbourne and previously lost 60 kilos in 18 months with the Healthy Mummy's 28 Day Weight Loss Challenge. After Covid hit, Nic admits to losing herself and regained 30 kilos. But now, she is more than ready to get rid of that weight again.
Nic's Goals for the first month
Get back into a great mindset.
Follow my meal plan
Book in my classes and attend.
Water water water. With the cold weather upon us, I struggle to get my intake so will be a huge focus. It's a huge factor in my losing weight.
Get my head back into my running.
This first month is all about mindset for me. Anything that follows that is a bonus.
"I have been following the Healthy Mummy for just over 3 years now, I've been a challenge member for 2.5 years. 
"I lost 60kgs but I found myself, gained a love for myself I never knew I could have. I learned how important it is to look after me and that it's not selfish to put me first. This is something I have lost recently and these 12 weeks is going to get me back to loving myself like I deserve and spending time on me. I'm a better mum and wife also.
I've also gone from barely been able to walk to running a marathon. Yep, I found a love for running, who would have thought. I was running regularly at events and on my own, 5km, 10km, 21km, 42km I've done it all. And can't wait to get back into it again."

Nic's Reason Why
"It's simple. It's yummy. It's family friendly. It keeps me accountable and most importantly it works.
My personal reasons are because I'm not getting any younger and I need to be healthy for my kids and myself.

Healthy Mummy Smoothies and Nic's 28 Day Challenge Faves
"I have a smoothie for breakfast every day. My fav atm would have to be the premium vanilla. Great to mix with all the things or just shake and go."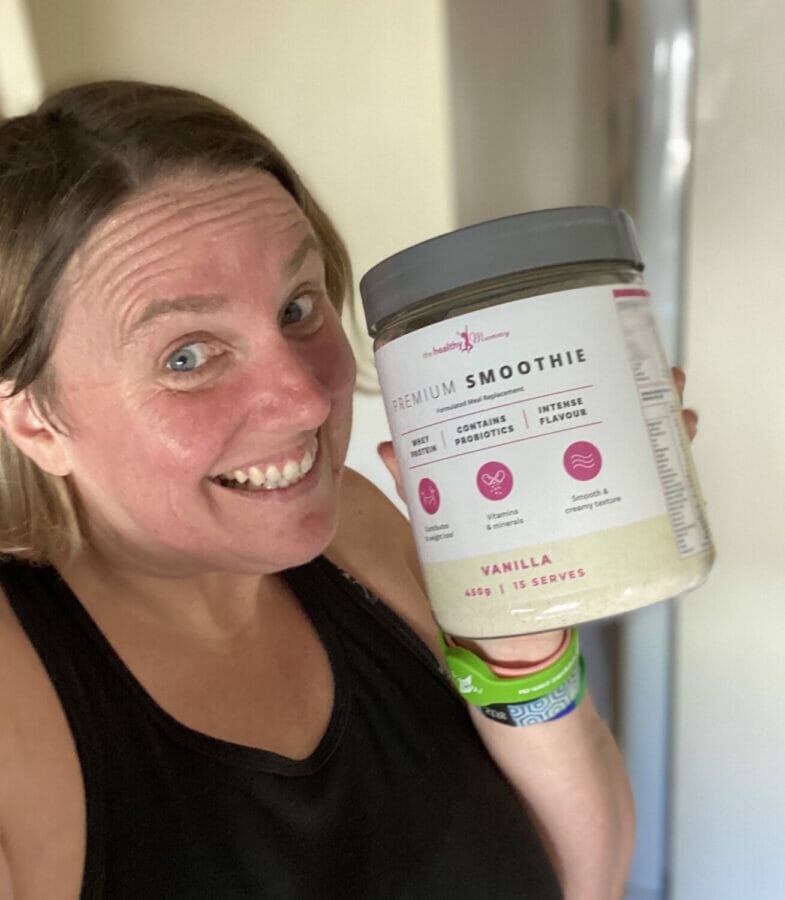 "I have so many fav meals it's hard to say really. The family fav is the Mexican lasagna. I'm loving all the nice warm comfort food at the moment with the cooler weather.
Peanut bubble crunch does not last long in this house and not just from me, the whole family. Someone once suggested putting it in the freezer. Well it's even better that way.
One of my ultimate fav snacks is a free recipe. Choc zucchini cake."
Nic's 3 Tips for getting started and staying on track
Start small. If you go big too quick then you will not keep at it. Small goals, small changes. You don't need to stop everything at once. It's hard, be easy on yourself.
If you feel like giving up, remind yourself why you're doing it. Go back to the basics. If you feel you have had a no so good day, just move on. Don't dwell on it, you can't change what has happened but you can change what you do next.
We all come into this journey with a number in mind, a purpose of weight loss. Little do we realise how huge the mental part of this journey is and how much it can affect what we do. Take the time to work on that also. Being healthy is not just physically.
"Remind yourself often how amazing you are. A motivation board is a great tool. Look at it every morning as you start your day."
Meet Emily  Veles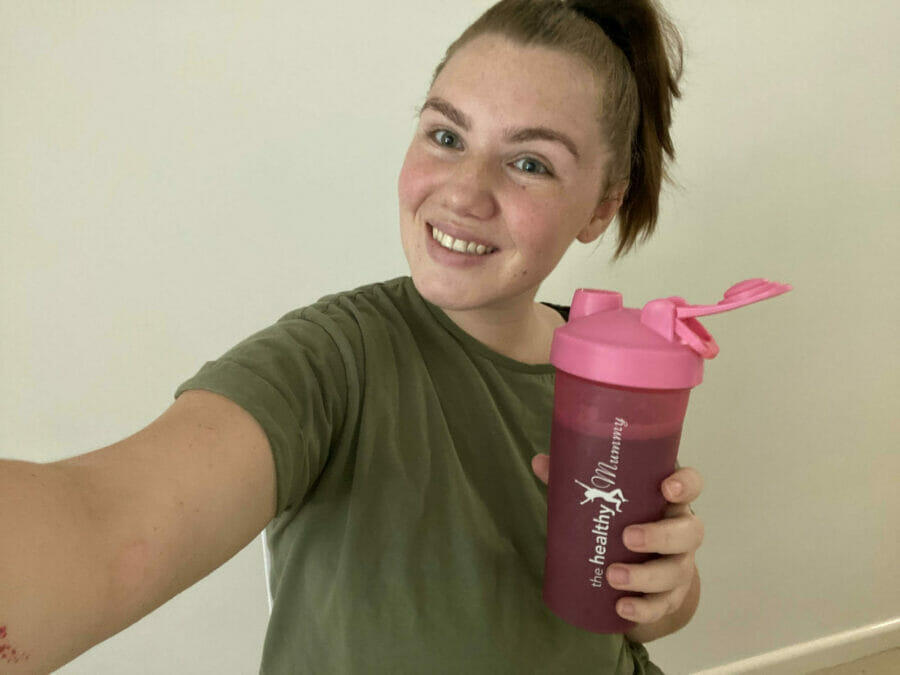 Even though Mum of 2 Emily from Darwin had already lost 11 kilos, she felt she needed more help so signed up for The Healthy Mummy. Since joining 7 months ago, she has lost 25 kgs and more than 68 cm from all over her body!
Emily shares  "It's not just about what you lose but what you GAIN! I've gained my confidence, self respect and best of all the ability to keep up with my little boy!"
Emily's motivation
"My biggest motivation for my journey is my family, I want to be around for a long time and I want to be able to keep up with them, and the path I was heading down and my unhealthy relationship with food was not helping."

Using Healthy Mummy Smoothies
"I am a HUGE fan of the Healthy Mummy Smoothies! My fave flavours are Cookies and Cream and Chocolate. I have a smoothie typically two meals a day (breakfast and lunch) and it's so handy to have so that I actually have time to eat Breakfast and Lunch as a busy mum."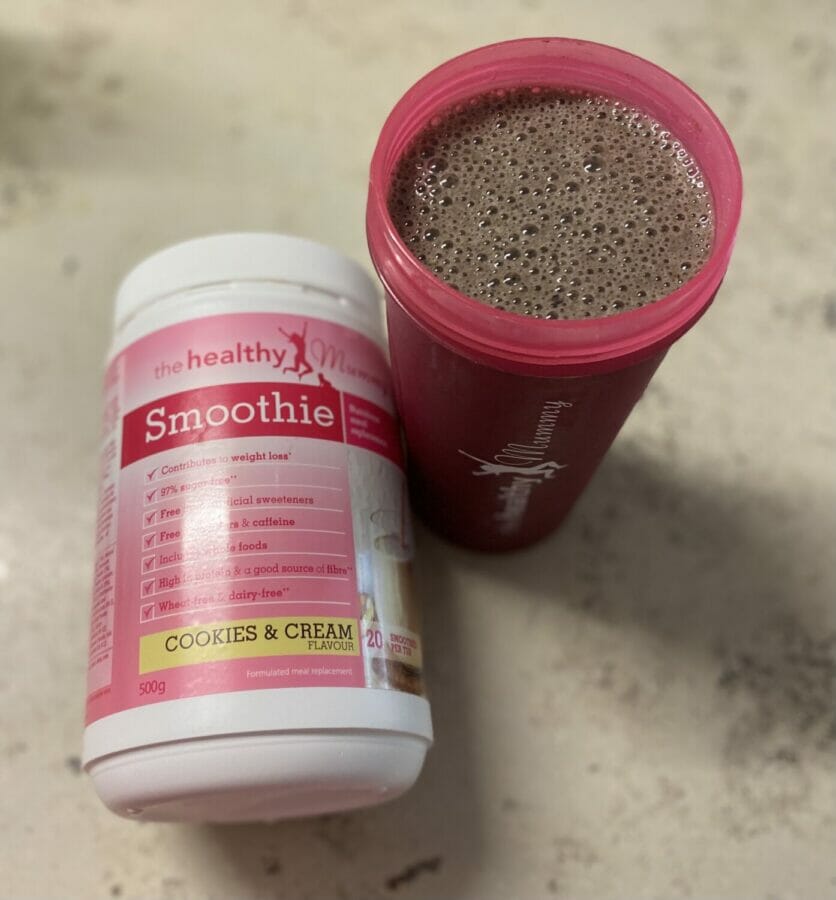 My smoothies also contain:
250mls cold water
1 frozen banana
1/2 cup frozen blueberries
1/2 Tablespoon Honey
6 shakes of ground cinnamon
1/2 Tablespoon of Cocoa Powder
250mls Unsweetened Almond Milk
Emily's 3 tips for success
PREP YOUR SNACKS! I know that snacking is my weakness and it's a slippery slope to old habits. Having some yummy but HEALTHY Healthy Mummy snacks around is key. My fave snack recipe is the Hidden Veggie Sausage Rolls – they're great to make in bulk and they're full of veggies!
CREATE YOUR MEAL PLAN AND STICK TO IT! Having a meal plan leaves no wiggle room for mistakes! It's the best way to prevent falling off the wagon! My fave Healthy Mummy meal is the Creamy Bacon and Mushroom Ravioli with the mushrooms substituted with peas – it's a family fave!
REMEMBER YOU'RE ONLY HUMAN! No one is on that wagon 100% of their journey! As MUMS we have bad days, we get exhausted, so when you opt for a naughty meal or a good nap instead of exercise remember that it's OKAY. Mistakes happen, and you just need to move past them and hit refresh the next day. Your CHOICE to realise it's okay to make these mistakes but to keep going is what will get you back on the wagon!
Meet Randa Jaide
Mum of three Miranda (aka Randa Jaide) is 39 from Brisbane in Queensland. In two years since joining the Healthy Mummy she has lost 35 kilos and dropped 5 dress sizes!
Randa's story
"I have been with the Healthy Mummy since June 2019, almost 2 years! I started when my youngest was 6 weeks old. Before I fell pregnant I was at my all-time unhealthiest and the biggest I had ever been, while I was pregnant I lost 12kg, leaving me at 104kg after I had bub. I needed to continue to lose weight and keep getting healthy for myself and my family, but how??? That's when I stumbled across The Healthy Mummy, I ordered the vanilla smoothie to start me off and I can honestly say I have had one almost every day since."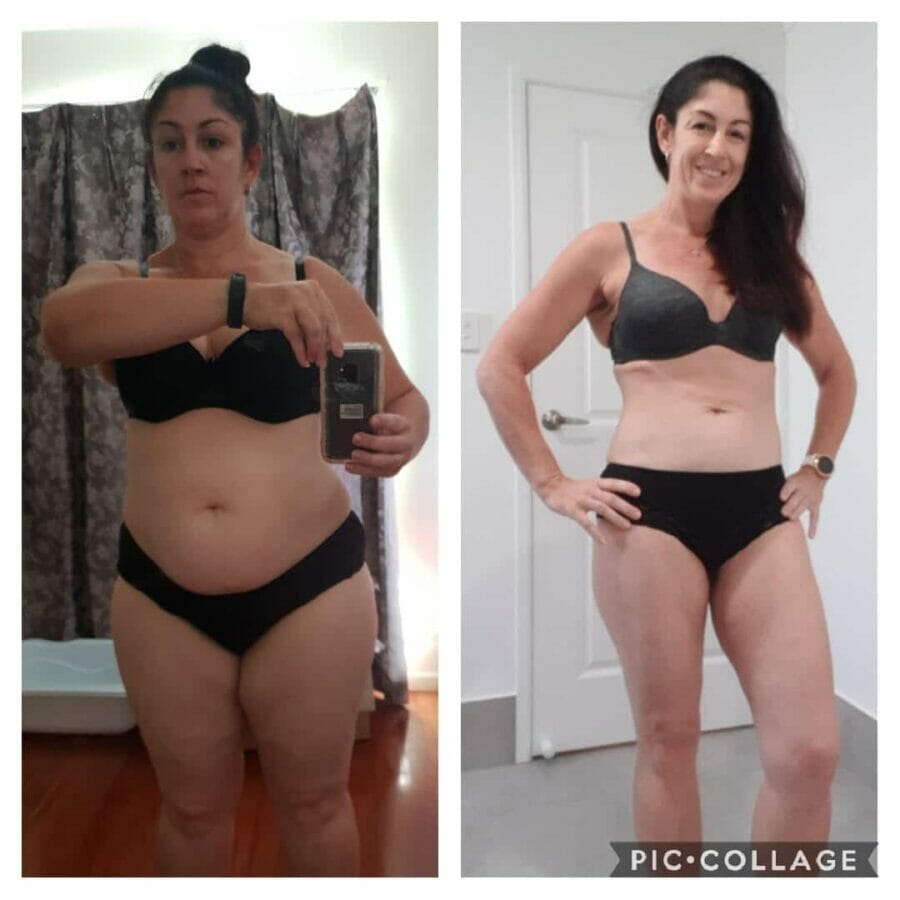 "In the first 12 months I lost 25kg and was happy with that, but over the last 12 months as my fitness has improved immensely and I workout harder, I have lost another 10kg and am toning up, the cms that I have lost over the last 2years is insane and I've gone from a size 22 to a size 10 – 12."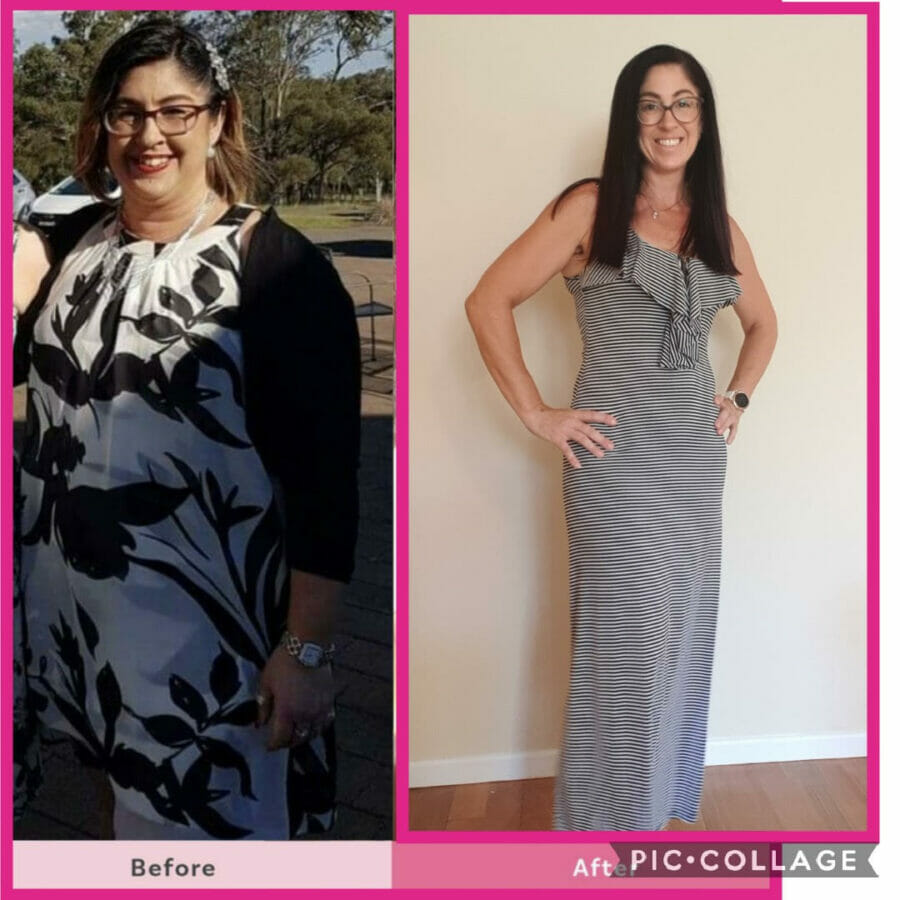 "I did not have a goal weight in mind, I just wanted to be fit and healthy, this has helped me immensely as I never felt like I've failed because I didn't reach a certain number, and as I continued to get fitter and healthier, the happier I was within myself. I also managed to get off blood pressure medication and now require very few psych appointments."
"I love the recipes in the app and the fact that they cater for everyone. I tend to go with more family friendly quick and easy meals, such as Devilled sausages, San Choy bow, Peanut butter chicken curry, and Hidden veg sausage rolls just to name a few"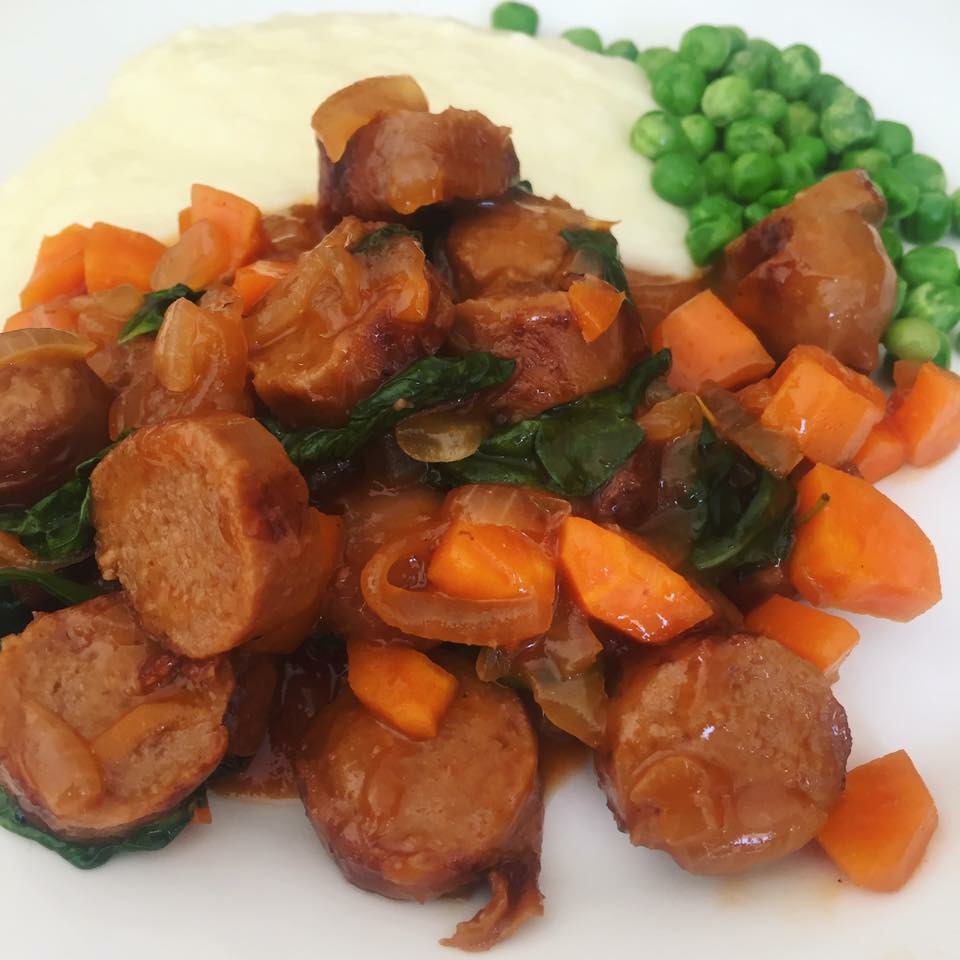 Randa's 3 Tips for anyone starting a weight loss journey
Start with small achievable goals
Only change a few things at a time, making too many changes to your lifestyle all at once can become overwhelming
Reach out for help, support can go a long way and keep you accountable
"Remember you are doing this for life, and it's not a race."
"Let's smash May and the beginning of the 12 week challenge together"
Great Tips Ladies!!
Join Nic, Emily and Randa on the 12 Week Challenge Today!

NON Healthy Mummy members
If you are NOT a Healthy Mummy App Member go HERE to take part
CURRENT Healthy Mummy members
If you ARE a current Healthy Mummy App member go HERE to take part.
Click the Black Join Now button on this page and use the code VIPMEMBER to join for FREE!