5 fun and healthy Halloween treats the kids will love
It's hard to avoid the kids eating too many lollies on Halloween but these healthy and SCARY treats might just steer them away.
Eeeek! It is nearly Halloween and every shop seems to be jammed full of lollies, chocolate and not-so-healthy foods.
We bet your kids are probably saying, "Mum can I get one of those please?" We know ours are!
It can be tough – especially as Halloween is such a fun time of year with so many families now celebrating it.  As mums, we end up saying NO all the time and feel a bit like the fun police.
But not this year!
We have some super fun recipes that get into the Halloween spirit but also show our kids how fun can be healthy too.
5 healthy Halloween treats
1. Halloween Spider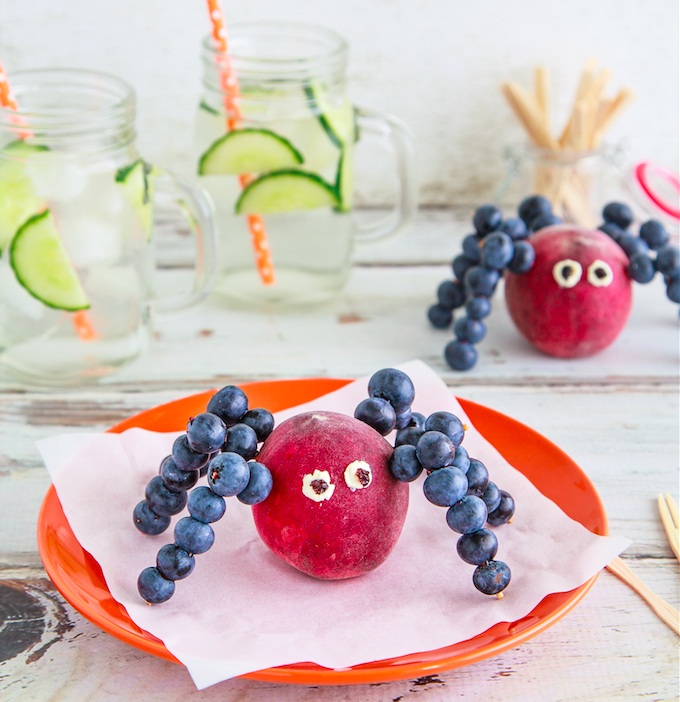 Ingredients:
1 large peach per spider being made
Small cup of  blueberries
Some Toothpicks for the legs
A tsp of cream cheese and a few raisins for the eyes
Directions:
Create four holes on each side of the peach. Insert blueberries onto the toothpicks. Pop one of the tooth picks into the peach and a second toothpick into the last blueberry of the previous toothpick.
Repeat for the rest of the seven legs.
Then dot some cream cheese on the peach for the eyes and pop a raisin in each blob of cream cheese
Make sure you supervise young children due to the toothpicks in this recipe
2. Scary Monster Teeth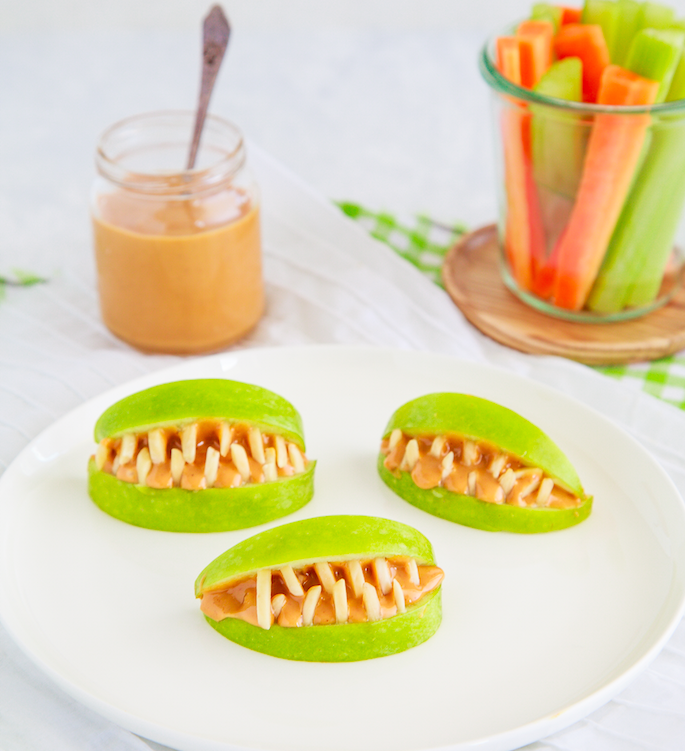 Ingredients:
2 large apples
Nuts of choice – we used slivered almonds
1 pot of peanut butter ( you can also use almond butter)
Method
Cut apples into slices, then spread peanut butter onto the apple slices to join the apples together to form the mouth
Insert the nuts to act as scary teeth
3. Web Pizza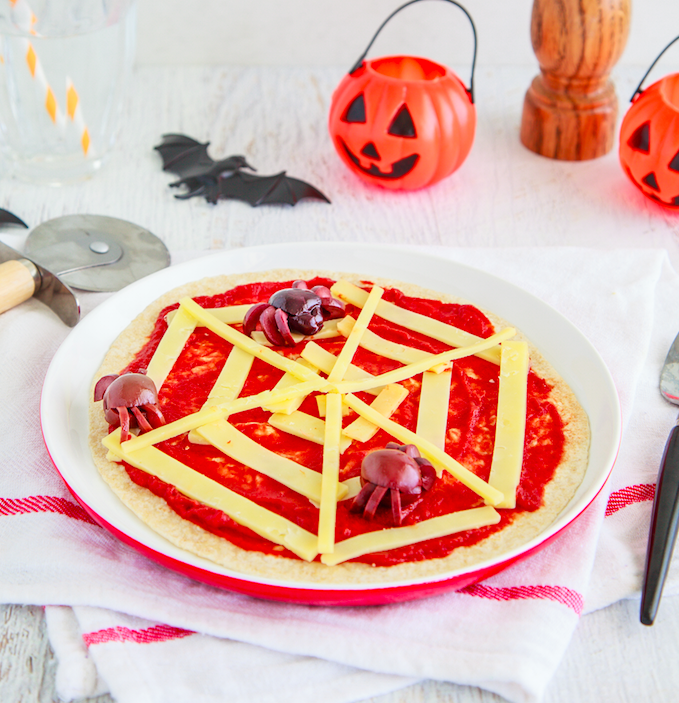 Ingredients:
Method
Spread the tomato sauce over the pizza base. Separate or cut cheese into smaller strips for the spiders web. Place in a cobweb pattern on the pizza. Bake for 10-12 minutes in a hot oven until the cheese is melted.
Get creative and use olive halves and slices to create scary spiders
4. Pumpkin & Ghosts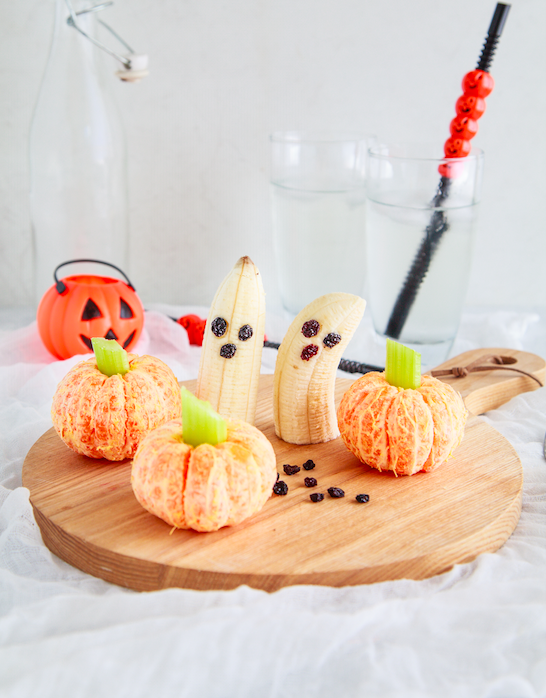 Ingredients:
Clementines
Bananas
Celery
Rasins
Method
Peel the clementines and remove the core. Slice celery into skinny strips, and insert into the middle of the clementine.
Peel and cut the bananas in half. Push two raisins into the banana for eyes and one for the mouth.
5. Capsicum lanterns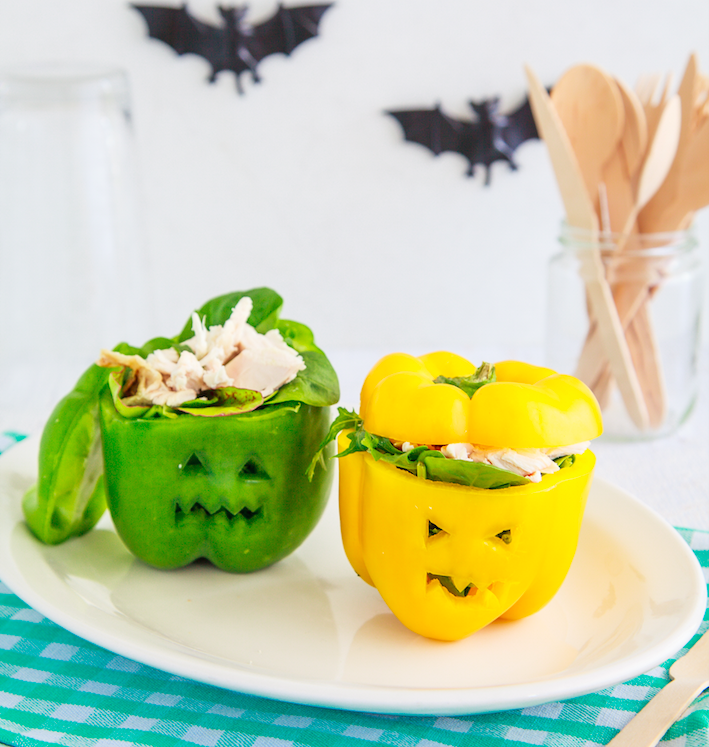 Ingredients:
Capsicums
Mixed salad
Shredded cooked chicken
Method:
Cut faces into the side of the capsicum as you would a pumpkin using a small sharp knife. Cut the lids off the capsicum. Remove the seeds inside. Stuff pepper with salad mix and top with the shredded chicken.
If you love pumpkins, her are 5 delicious healthy snacks you can make for Halloween with pumpkin.