Hoping to fit back into your pre-baby clothes but feel like it is an impossible goal? Well, we are here to tell you it is not.
Check out these five Healthy Mummy mums who have far surpassed their goal of wearing pre-baby clothes. They are fitting into clothes previously worn decades ago and prior to several kids!
They discuss their shock and joy of achieving what they never thought possible.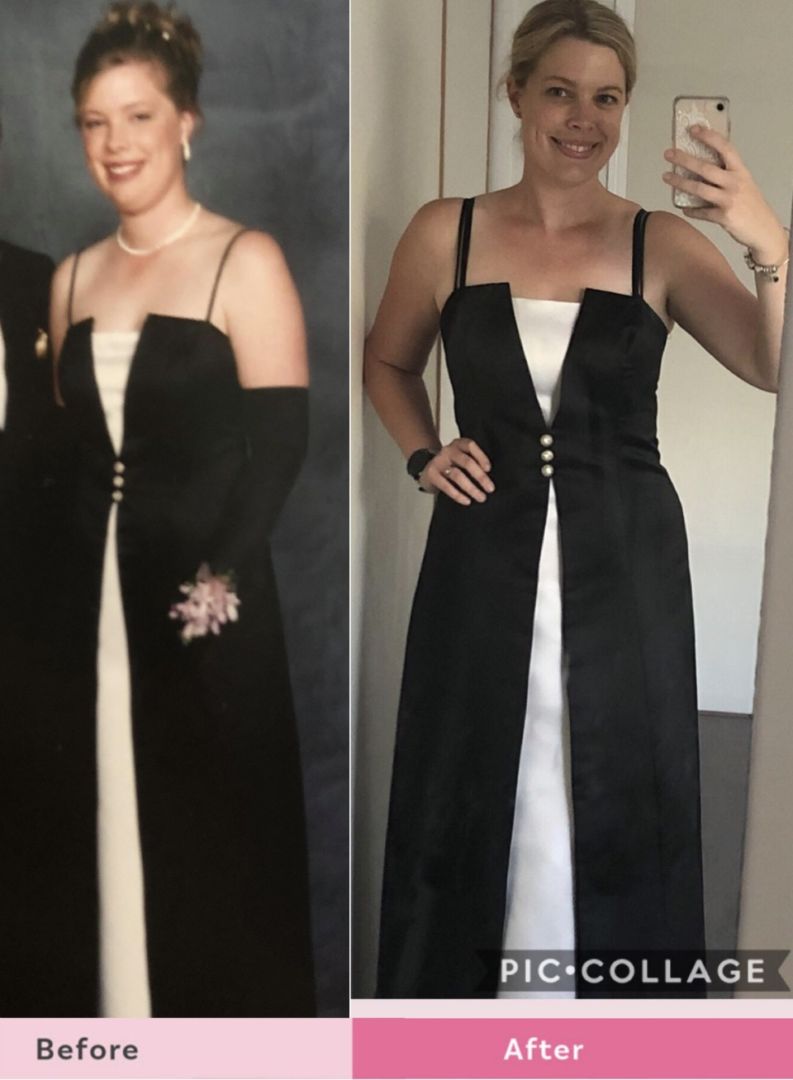 1. Dani Stormont – fitting into teeny tiny jumpsuit originally worn 16 years prior and pre-kids.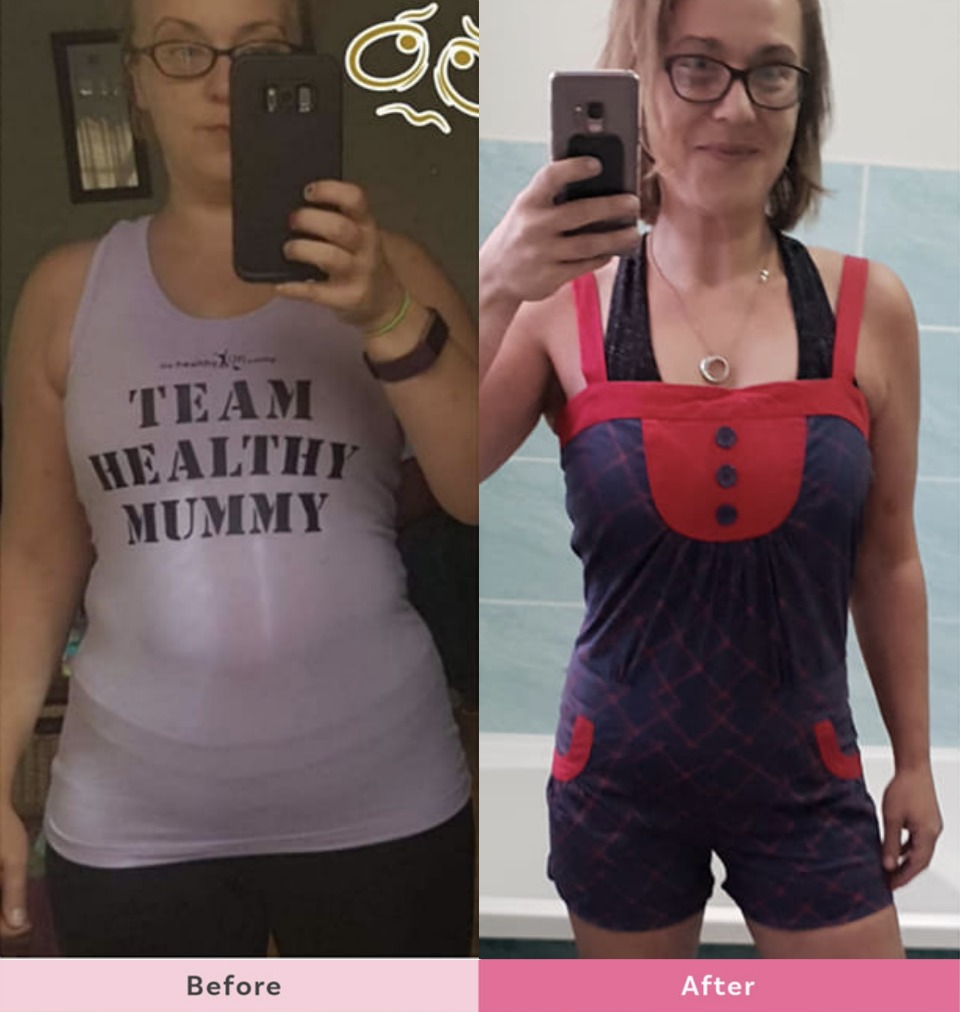 Dani says "Messy hair….. really don't care!
Something MASSIVE has happened!
This little jumpsuit I am wearing in my after photo…. I have had this since I was 24. I am turning 40 in July.
I haven't fit into it since pre baby days (12 years ago). IT FITS!
Shocked is an understatement! Give me a couple of months and it will look better on me then it did pre pregnancies hahaha! The Healthy Mummy 28 Day Weight Loss Challenges work!
This has just given me that bit of extra motivation!".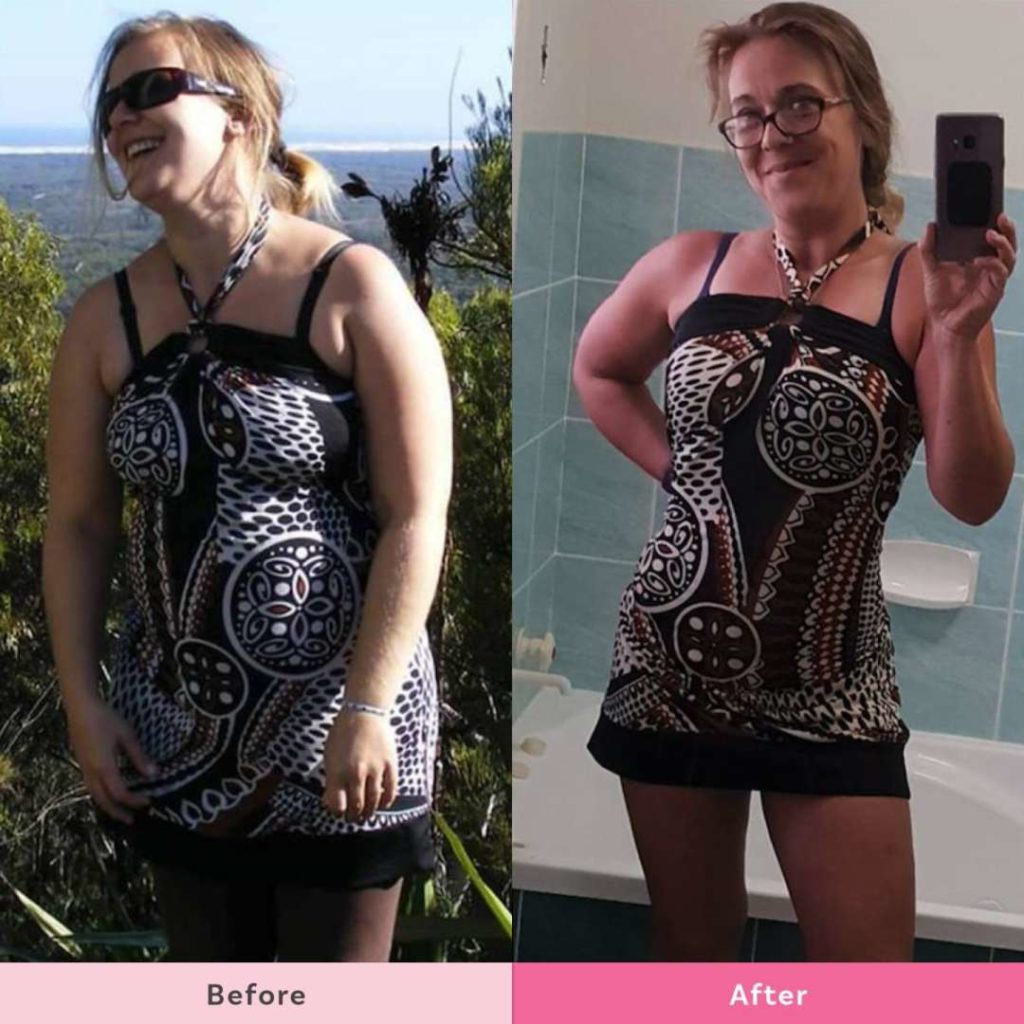 Weight loss – 24kg. 
Read more about Dani's weight loss journey here.
2. Kerrie O-Brien – wearing same dress, 2 kids and 18 years later. Now it is too big!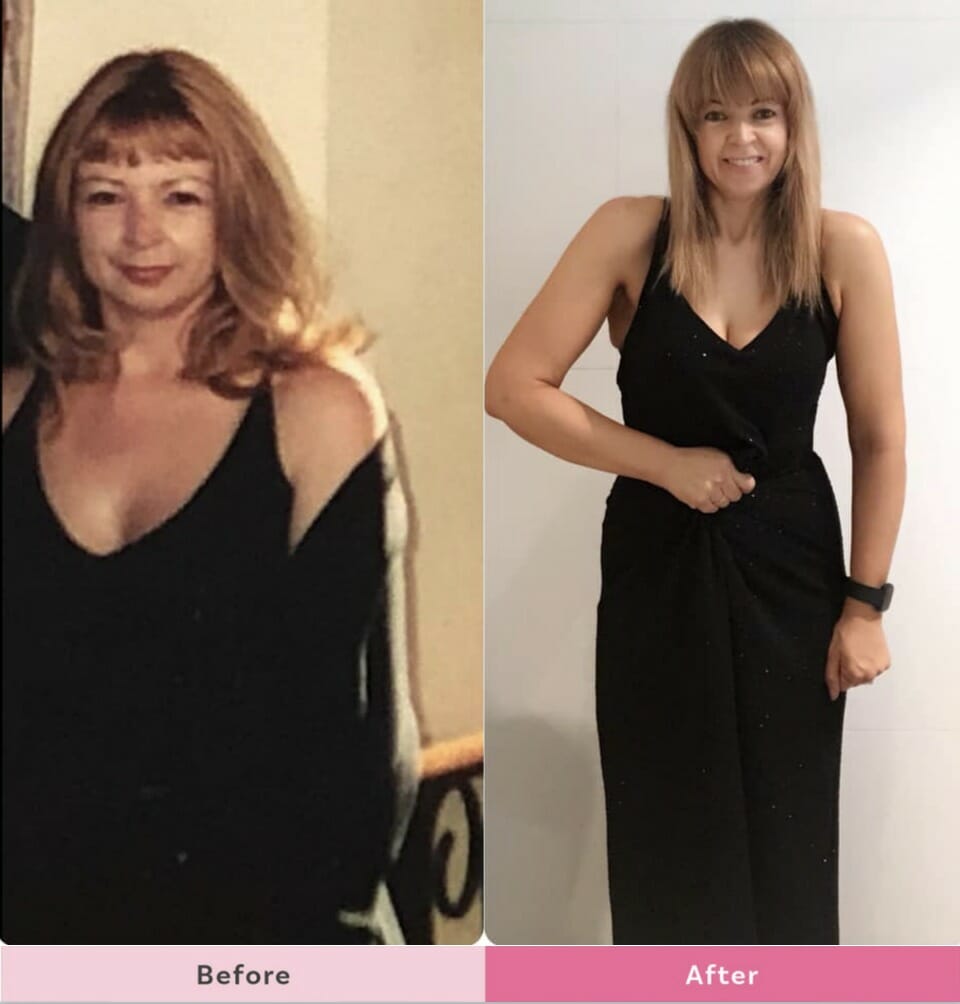 Kerrie says "Wow! Age 31 VS 49. 18 years ago at the age of 31, I was wearing this dress the night I met my husband.
I was a size 10/12 back then and the dress is a size 10.
All these years I kept it hanging in the wardrobe in the hope that one day it would again finally fit. And now it not only fits but it's WAY TOO BIG and I can grab half of the dress bunched up in my fist!
I never ever thought I would be able to fit in it again, let alone it be too big!
After we got married at age 34, I had 2 babies at 37 & 39 and I gained 30kgs going from size 10-12 to a size 18 at my biggest afterwards with resulting different health issues.
I struggled to lose all the excess weight throughout my 40's until I found The Healthy Mummy 2 years ago.
19.5kgs gone, from size 14-16 size 6-8 in 24 months… and a whole lot of health, happiness and confidence gained.
I had hoped one day for my pre baby body back, but thanks to Healthy Mummy I think I've got a better body than pre baby. And better hair now too!".
Weight Loss – 19.5kg
3. Julie Meadows – wearing same dress,  2 kids and 10 years later.
Julie says "Left is 2010, age 25, a year and a half before I had kids. Right is today, age 34 turning 35 next month, my youngest is 3.
Weight Loss 11kg.
Read more about Julia's weight loss journey here.
4. Shanyn Gray – fitting into school formal dress originally worn 16 years prior and pre 2 kids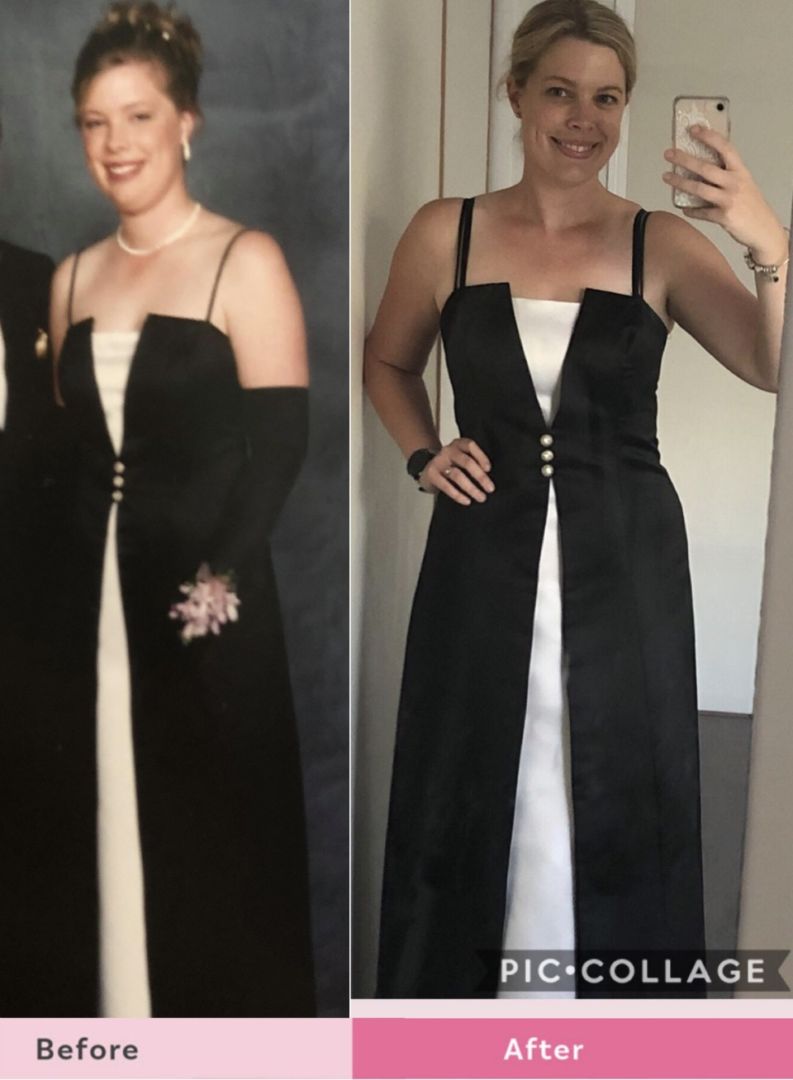 Shanyn says "Formal dress from when I was 17 (I am 33 now) and I have lost 35kg on The Healthy Mummy.
I've got a 5 and 3 year old. Full time teacher.
I'm pretty impressed that I can fit into the dress, although I doubt I'll wear it again. It's nice to know I could if I wanted!"
Weight loss 35kg.
Read more about Shanyn's weight loss journey here.
5. Bec Jackson – wearing silver dress bought 9 years prior on honeymoon and pre 3 kids.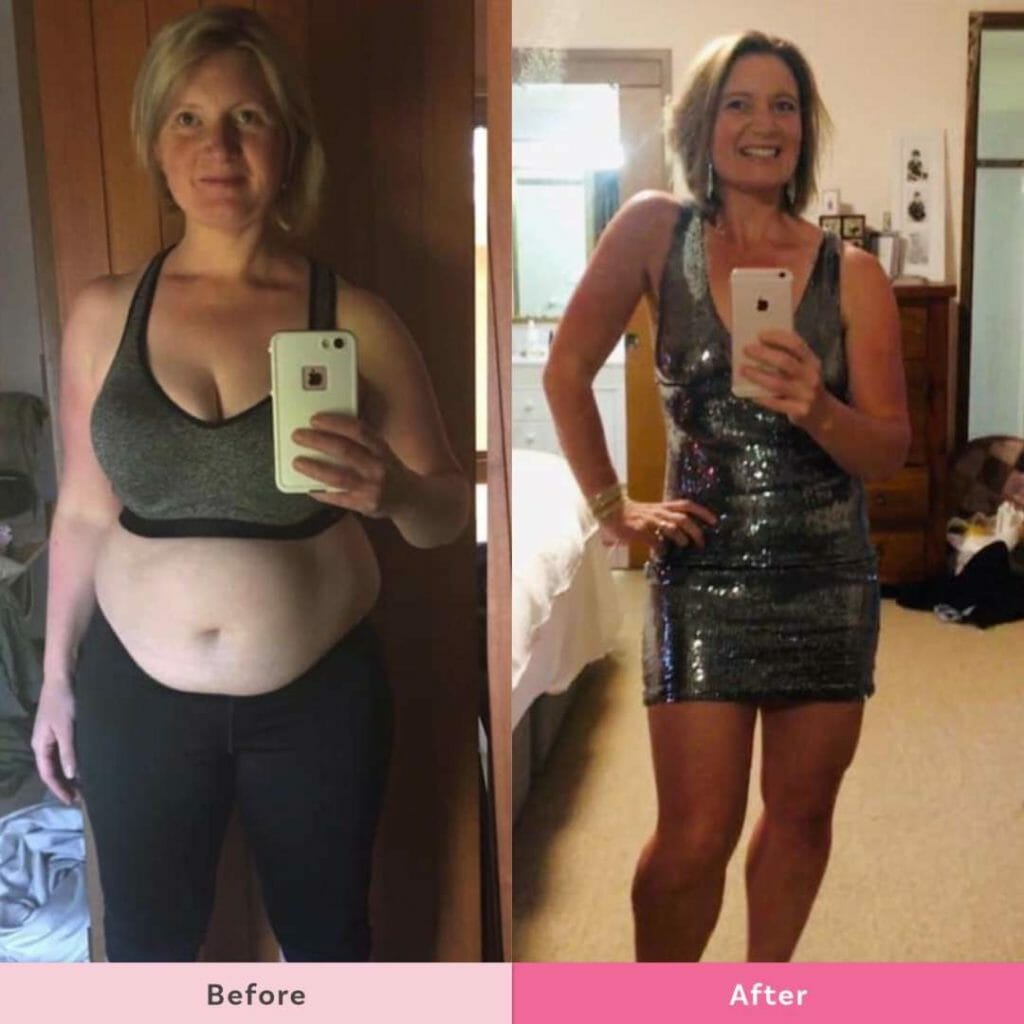 Bec says "Silver dress I bought on my honeymoon when at my slimmest. I was 31 (9 years ago) and have had 3 kids since.
I have lost 27kgs with The Healthy Mummy in last 18 months and 170cms from body. Going from a size 14/16 to 6/8.
At the time I bought this outfit I was my lightest weight but with The Healthy Mummy I am my fittest and most toned. It looks better now than when I bought it.
Although I was fit when I bought it, I never wore it because I didn't have body confidence.
Now I have body confidence thanks to The Healthy Mummy!".
Weight Loss 27kg.
Read more about Bec's weight loss journey here.
Wow ladies, you looking AMAZING and are certainly are rocking those outfits from your pre-kids days.
Congratulations on your weight loss success with The Healthy Mummy 28 Day Weight Loss Challenges and Smoothies.
Take part in the affordable, realistic and easy-to-follow Mums-only Challenge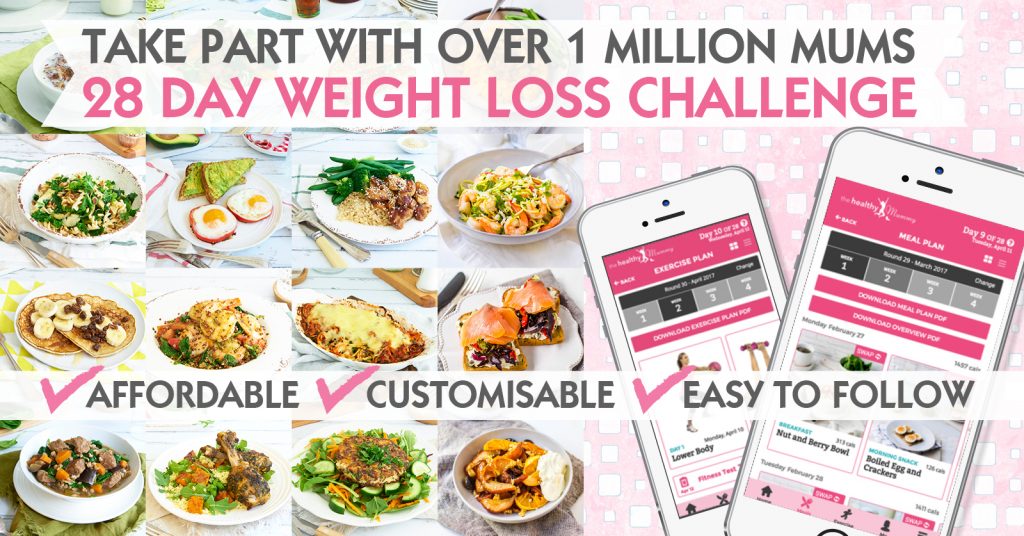 Think of the 28 Day Weight Loss Challenge as the best value personal trainer, dietitian, meal planner, chef and motivational coach with DAILY support – that you have access to every day – without the high cost and all created JUST FOR MUMS.
Each month is DIFFERENT on the 28 Day Weight Loss Challenge. EVERY MONTH you receive NEW 28 Days of FAMILY FRIENDLY customisable meal plans, daily exercise plans with videos and daily support. It's also breastfeeding friendly.
The 28 Day Weight Loss Challenge has been able to help thousands of mums lose more than three million kilograms (combined).