The Brand New SKIN Superfood Serum with INSTANT anti-aging benefits!
The Brand New SKIN Superfood Serum to the Healthy Mummy Skin range is a fantastic product packed with SUPERFOOD ingredients for more youthful skin INSTANTLY!
If you're looking for that one miracle skincare product that's going to have maximum impact on your skin reversing the signs of aging – then this is it!!
Introducing the Brand New Superfood Serum to the Healthy Mummy Skin range.
This fantastic new product is packed with key SUPERFOOD ingredients that will make your skin more youthful INSTANTLY!
Find out how it works here!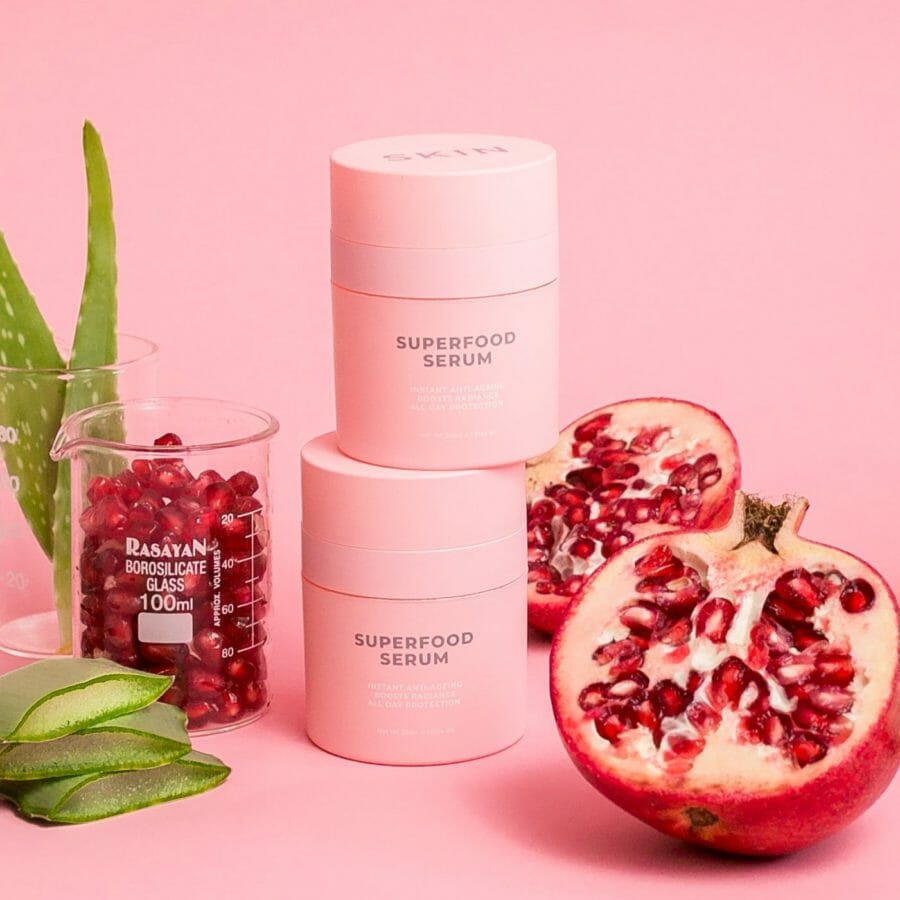 SKIN Superfood Serum – Turn back the clock on your skin!
The benefits of eating superfoods for overall health are well known, and they can also play a big part in the health and vitality of our skin.
Along with familiar superfoods like Pomegranate juice, Coffee seed oil and Chia Seeds, our Superfood Serum also contains less well-known ingredients like Argireline, Dragons Blood and Australian Kakadu Plum. Combined, these ingredients will boost the skin's radiance, enhance its barrier function and provide instant anti-ageing benefits.
This serum can literally turn the clock back on your skin. And it's all about those key Superfood ingredients.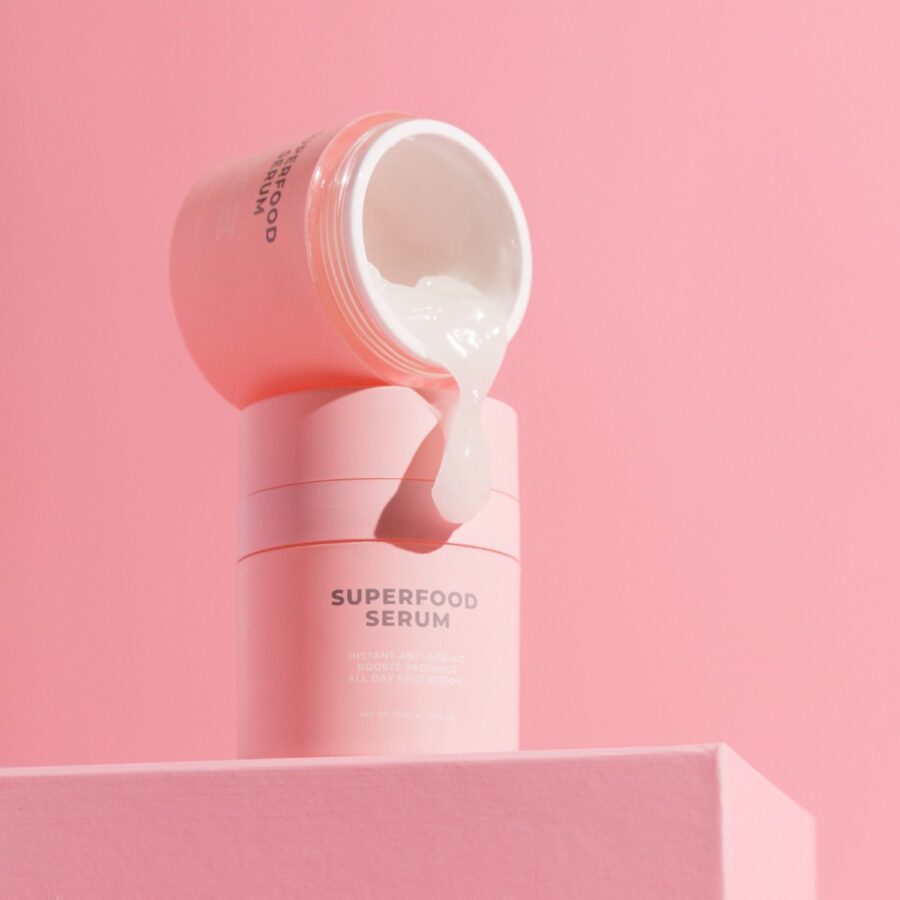 Superfood ingredients
Argireline – 'Like Botox without the needle'
This is the key ingredient that makes the Superfood Serum instantly anti-aging. Some dermatologists claim that Argireline performs just like botox by preventing muscle movement that leads to wrinkle formation. Argireline also promotes collagen production and optimises the function of collagen, which both fight fine lines and improve moisture levels in the skin, to help visibly smooth wrinkles and fine lines.
Argireline relaxes muscles by temporarily limiting the overproduction and release of neurotransmitters that initiate and control the intensity of facial muscle contractions. When the muscles relax, the skin flattens, reducing the appearance of wrinkles.
No needles required here!
Dragons Blood – 'Slow down signs of aging'
No, not the actual blood from a dragon. Dragons Blood extract is an oil extracted from an Amazonian Croton Lechleri tree, commonly referred to as the dragon tree, which is a dark red colour similar to that of blood. When used topically as in our Superfood Serum, it is known to soothe and moisturise, slowing down the visible signs of aging.
Australian Kakadu plum – 'more Vitamin C than 100 oranges!'
One of the oldest foods on earth, this native superfood has been used for centuries and contains around five times the amount of antioxidants found in blueberries. Plus the Kakadu plus contains the highest level of natural Vitamin C Content in the world – more than 100 times that of oranges! But what does that mean for your skin? It energises, brightens and smooths wrinkles for radiant, youthful-looking skin. It's known to reduce the appearance of skin redness.

Coffee Seed Oil – 'stimulates the skin'
Unsurprisingly, the oil from cold-pressed coffee beans is rich in caffeine which, like the drink itself, uplifts, energises and stimulates the skin. Coffee is rich in antioxidants and phytonutrients that help to maintain the skin in optimum condition.
Pomegranate Juice – 'nourishes the skin'
A well-known superfood of recent years, the pomegranate is not just colourful and delicious in salads, it is known to lower inflamation and improve overall health. The juice is is rich in Vitamin C, Vitamin B5, potassium and polyphenols. It nourishes the skin and has anti-ageing properties too.
Chia Seeds – 'the key to healthy happy skin'
There are more ways to reap the benefits of chia seeds other than including them in your snacks and meals. Used in our Superfood Serum, Chia seed provides the skin with deep conditioning and repairs the skin's barrier  – the key to healthy and happy skin.
Aloe Vera – 'soothes and cools'
Known as a popular anti-inflamatory with healing powers for the skin, Aloe Vera will reduce irritations and sooth and cool the skin.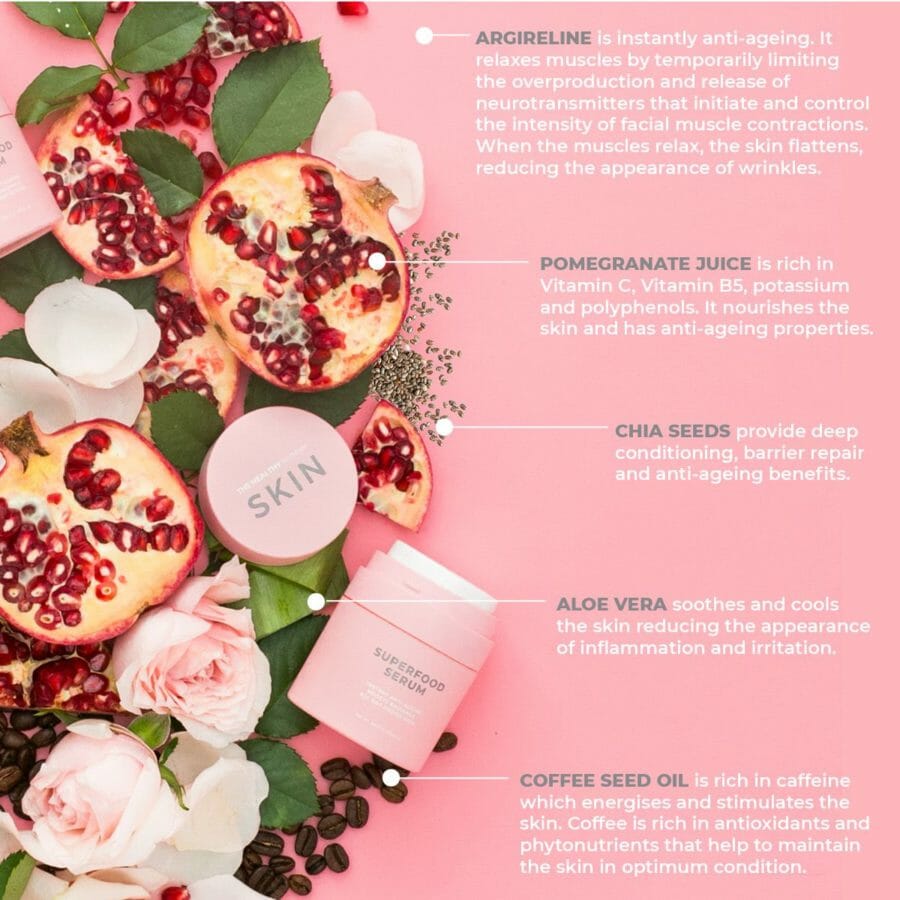 How to use the Superfood Serum
For beautiful radiant skin, use the Superfood Serum every day in the morning. Although you can use it at night, we recommend that you use our Night Cream as this is specifically formulated for night time use. It's suitable for all skin types and you should start to see real results in just 30 days.
Your skin will be smooth, radiant and protected. And MORE YOUTHFUL!!!
REASONS TO LOVE THE SUPERFOOD SERUM
Instant anti-ageing benefits – reduces fine lines and wrinkles, plus relaxes muscles for instantly reduced wrinkles
Boosts radiance – Energises and brightens for more radiant looking skin
Enhances barrier function and provides all day protection
Deeply moisturises to protect from dehydration
Superfood Ingredients: Contains incredible superfood ingredients such as Chia Seeds, Kakadu Plum, Coffee Seed Oil, Dragons Blood and Pomegranate!
Good for you and the planet: Vegan friendly, paraben free, not tested on animals and Australian owned
Ready to try for yourself?
Get the SKIN Superfood Serum HERE!!!