Join then 12 Week Challenge today for amazing results, it's easy!
There are so many different schools of thought about how long you should give yourself to start seeing and feeling like you've lost weight, how you should measure your weight loss and also if you should even measure your progress at all!
For most of us progress on the scales, the looseness of our clothes or just feeling more energised are the main milestones that keep us on track …….. as well as the compliments you receive when people start to notice!
There is research to support the idea that 12 weeks is the optimal duration for weight loss. A study in the research journal Obesity found that participants who lost 10% of their body weight over 12 weeks were more likely to keep the weight off for at least one year than those who lost less weight or lost weight more quickly.

The real mums of The Healthy Mummy tell us that the 12 Week Challenge is one of the most rewarding challenges as it gives you the time to settle in and familiarise yourself with the program and all it has to offer. With the app at your fingertips you can:
Customise your food, your recipes and meal planning,
Choose the exercise and workouts that you enjoy and for your fitness level
Get 3 meal plan themes with a new one every 28 days
Give yourself time to set yourself realistic goals (to reset and remove bad habits and create healthy ones), and
Become a part of the community and find real support and motivation from other real mums who are just like you (even if you want to just follow the community support or become active and share your story)
Losing weight and a positive mindset are just some of the amazing by-products of healthy eating and exercise but it's not just about the number on the scales, it's also about the Non Scale Victory ( NSV) here at The Healthy Mummy.
The NSV is that amazing feeling that is just as important as the number on the scales dropping! It's about fitting into those jeans you love, running that marathon, being more patient with the kids, getting yourself on track when you are hit with adversity (that's all part of life) and feeling in control (most of the time).
Check out these amazing mums and their NSV's!
Amy Melillo has turned her life around using the 12 Week Challenges and has lost 20kg in the process. She continues to take on our challenges to maintain but also to challenge herself to stay on track, and it's obviously working.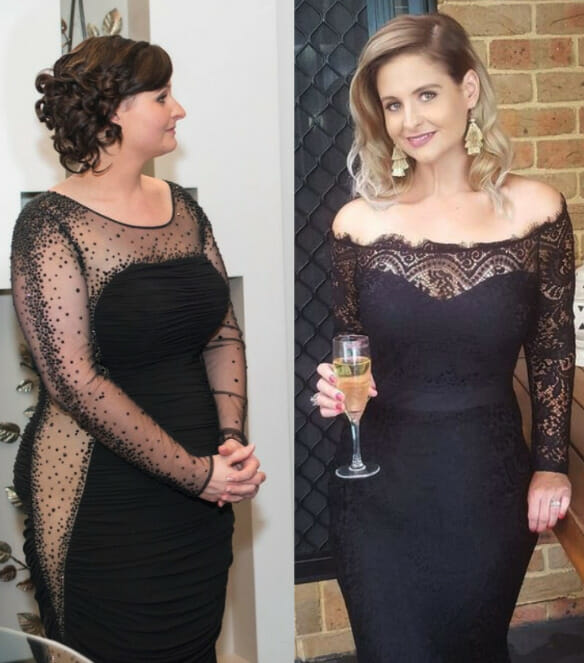 Mum of two, Amy wanted to get into a healthy and active lifestyle for herself and her family. She is so pleased with her weight loss but she loves all the NSV's goals that she has achieved, " I truly enjoy life. I love running around with my kids, going shopping and getting new clothes. I have more confidence in myself".
You are amazing Amy!
Amy loves that the challenges have made her prioritise her health, pushed her to establish a routine, taught her about nutrition and the real mums of the community provide support, accountability, and encouragement and she enjoys sharing my progress with other ladies.
Tara, mum of 4 busy boys, has lost 10kg in 12 Weeks
"This program has really been great to follow, and is a good source of information and of course an amazing support network." Tara told us.
Tara's story is similar to so many mums, "I realised that I needed to make changes and look after myself. So in 2023 I started doing the 12 Week Challenges and I'm really happy with my results so far!"
Tara loves the 10kg loss on the scales, but she recognises the value of other forms of measuring your progress, "I feel I am achieving this goal, which it's important, but to look for NSV's but also and the importance of her mindset," and for her the challenges are also about a mind transformation.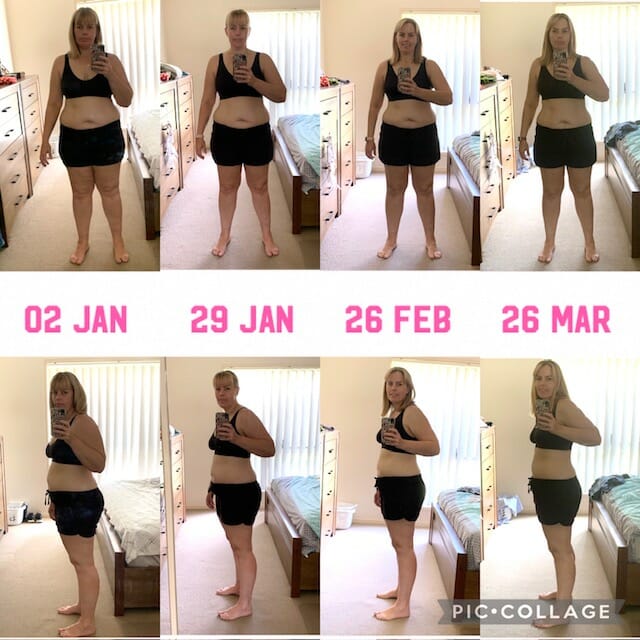 Tara says, "this is about a lifestyle change not a fad or diet, that can be incorporated into my every day life, whatever that may look like."
Not only is she feeling great about her weight loss, she also loves shopping now! She was out shopping recently and she brought some new jeans, same style because a girl always has a favourite pair of jeans, and she thought she had picked up a size down from my current pair but it was 2 sizes down when she got them home, and they fitted perfectly. Big NSV to Tara!!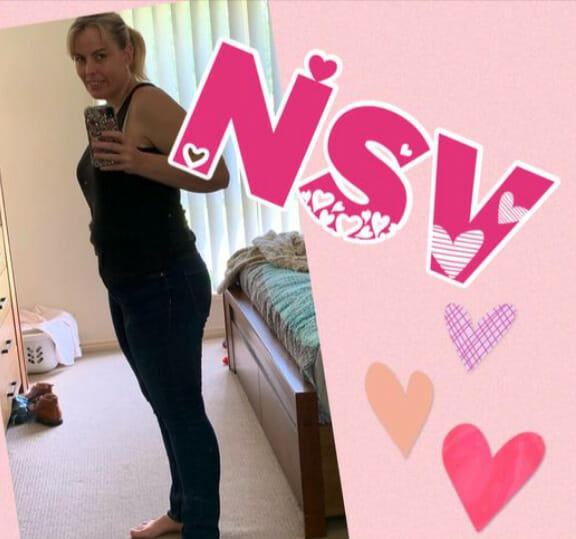 Nicole is achieving her goals
Nicole Harris is a mum of one who has been part of the The Healthy Mummy community for a few years and is back and loving the 12 Week Challenges now she has got herself into the right headspace and achieving her goals.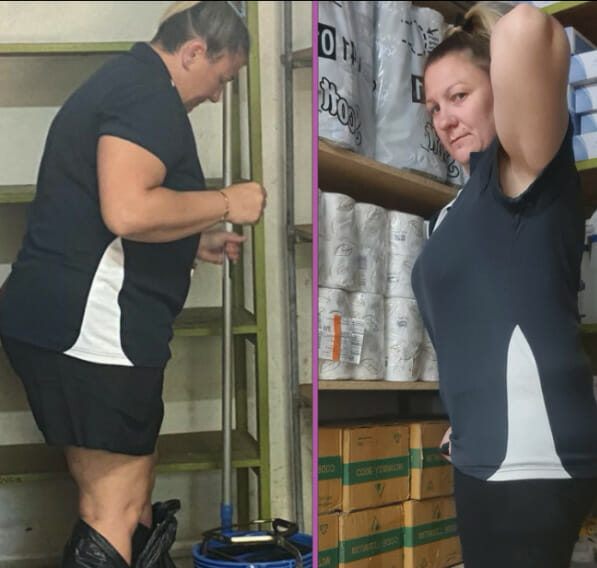 Nicole's tells us how she operates, "I don't only use scales to see how I'm doing (as they mess with my head too much), but when I'm being consistent with moving my body everyday and walking an hour each day, drinking water and concentrating on my portion control, I know I'm doing well."
I still have a way to go but I am happy to have lost weight and I'm feeling a lot better in myself and know I can do whatever I set my mind to.
My friend took this photo of me at work and that was the moment I knew that I wasn't happy with the person I was looking at in that picture – so I did something about it. I did a comparison of it today and I have lost 17kg! I feel so much healthier and I'm happy
# I now walk up and down 515 stairs a day
# I do round 25k to 30k steps a day
# I portion my food
Big shout out to all the mums who have smashed their weight loss goals, achieved unexpected non-scale-victories and are feeling positive and motivated for the next 12 Week Challenge.
Jess, a busy mum of 6, is loving being back in her jeans!!
Following the birth of her sixth child, (her 4th Healthy Mummy pregnancy) and when her baby was 5 months old Jess knew it was time to focus on her health and fitness and decided to take on the 12 Week Challenge.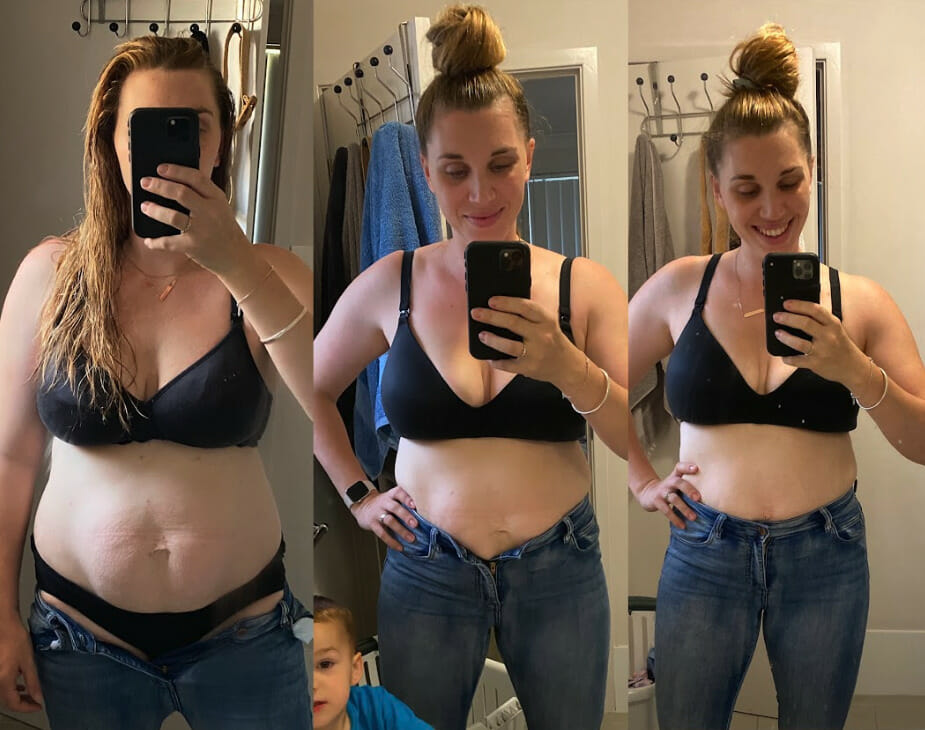 Jess lost 6kg on the 12 Week Challenge and is fitter and stronger and this is such a great achievement when you consider that she is breastfeeding needs a lot of calories to keep up her milk supply and give her the energy to run around after all of her kids!
"I am happy with my weight loss as I am still breastfeeding and running after my other kids so need more calories to survive, and I still lost weight and feel fitter and stronger, and can fit into my jeans!!"
More amazing 12 Week Challenge Results!
Danni Connolly has lost 14kg over the 12 weeks

Mish Brooks has lost 7.2kg over the 12 weeks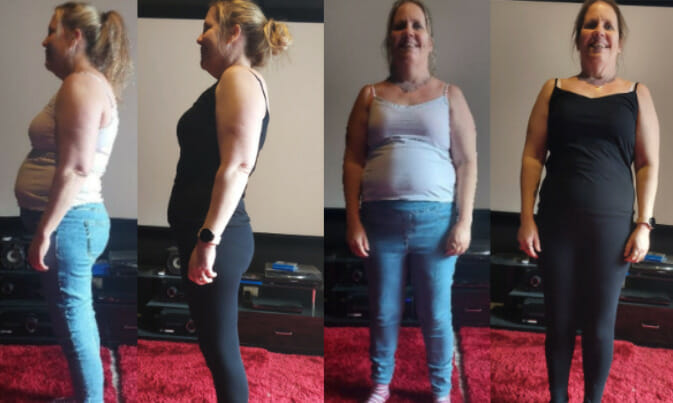 Celeste Jones lost 9.1kg on the 12 Week Challenge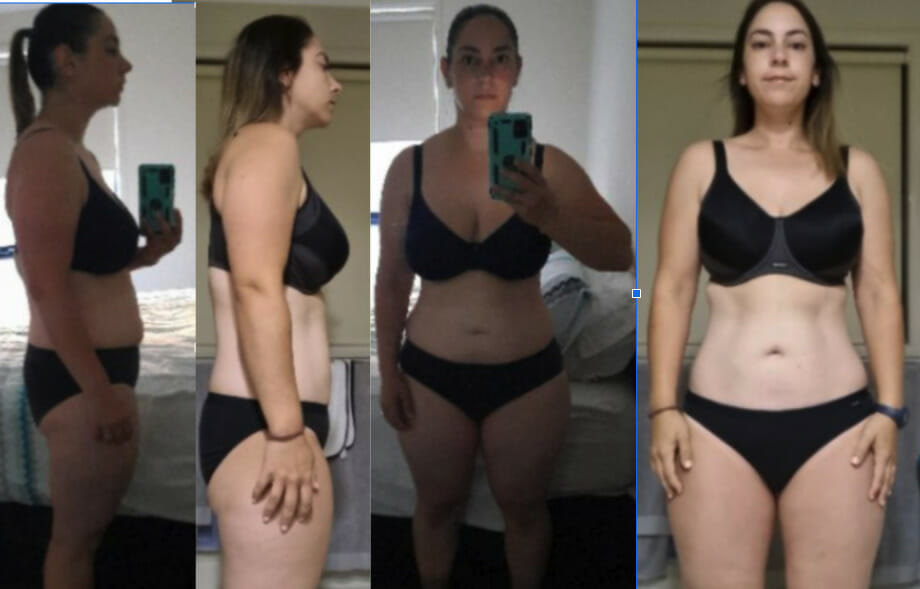 Get the results you want on the 12 week challenge
If you're looking to lose weight and keep it off for good, the 12 Week Challenge is the perfect option to reach and sustain your new lifestyle. Find out more here: The Healthy Mummy 12 Week Challenge.
Remember, this is all about YOU being YOU in your goal to become the healthiest, happiest version of yourself for YOU and your family and we are here to support you on that journey.