Mum is down 7 dress sizes after MASSIVE weight loss. Her shorts prove it!
Kerrie's weight loss success means she has gone down a SPECTACULAR 7 dress sizes in just 2 years. She shows ever pair of shorts she has worn from size 16-6.
Mum of two Kerrie O'Brien has gone down an ASTOUNDING 7 dress sizes in just 2 years by following The Healthy Mummy 28 Day Weight Loss Challenges and Healthy Mummy Smoothies. And the proof is in her denim shorts – all 8 pairs of them.
She reminds mums that while scales are important, they don't tell the whole story when it comes to weight loss.
It's important to celebrate the non-scale victories (NSV's). In Kerrie's case, going from a size 16 to a size 6 denim short. Wow!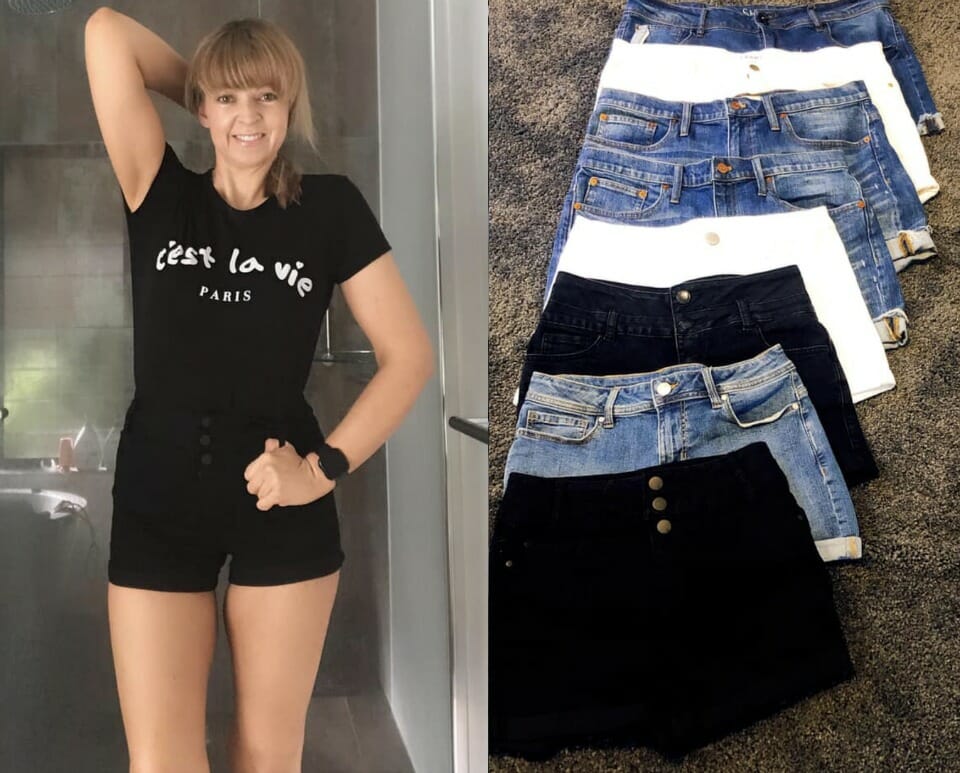 If you are trying to lose weight the thrill of going down one dress size is beyond exciting.
So imagine you have gone down 7 dress sizes.
This truly remarkable achievement has been made by Healthy Mummy mum Kerrie O'Brien.
Kerrie's weight loss journey
Kerrie's acknowledges that her body has been through a lot the past 13 years.
She says "I had a fibroid tumour removed through my stomach at age 36.
Then I carried two large 9 pound babies at age 37 & 39  and put on an extra 30kgs during pregnancy.
I carried an extra 26kgs around for years with health problems and strain on my body.
I lost a small amount on my own but I was still searching for something that would work for me, and found The Healthy Mummy at age 47″.
Read more about Kerrie's weight loss journey here.
How Kerrie achieved weight loss success
There has been nothing quick-fix about Kerrie's weight loss. Instead she has been doing all the right things.
Making healthy food from the Healthy Mummy 28 Day Weight Loss Challenge meals plans, averaging 1 Healthy Mummy Smoothie a day and doing regular exercises from the Healthy Mummy App.
Check out Kerrie's Cook, Bake and Make meal prep method.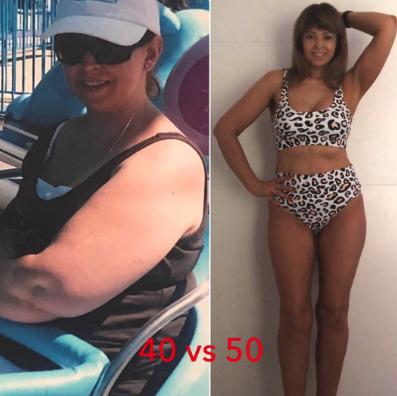 She says "My progress has been slow and at times seemed at a standstill, but when I compare my photos I'm so proud.
My body is still a work in progress, and it still shows the evidence of what it went through but I'm a heck of a long way from where I was just 2 years ago.
Thanks to Healthy Mummy I am where I never ever thought I could even be at age 49.  
You don't have to go fast…. you just have to make a start, keep going, don't stop and don't ever give up!".
Weight Loss Results
Although the numbers are important Kerrie says the change in her body is just as important.
She is down 7 dress sizes! (from 16 to a 6). From Size 16 to 14, 13, 12, 11 , 10, and then size 8 to now size 6.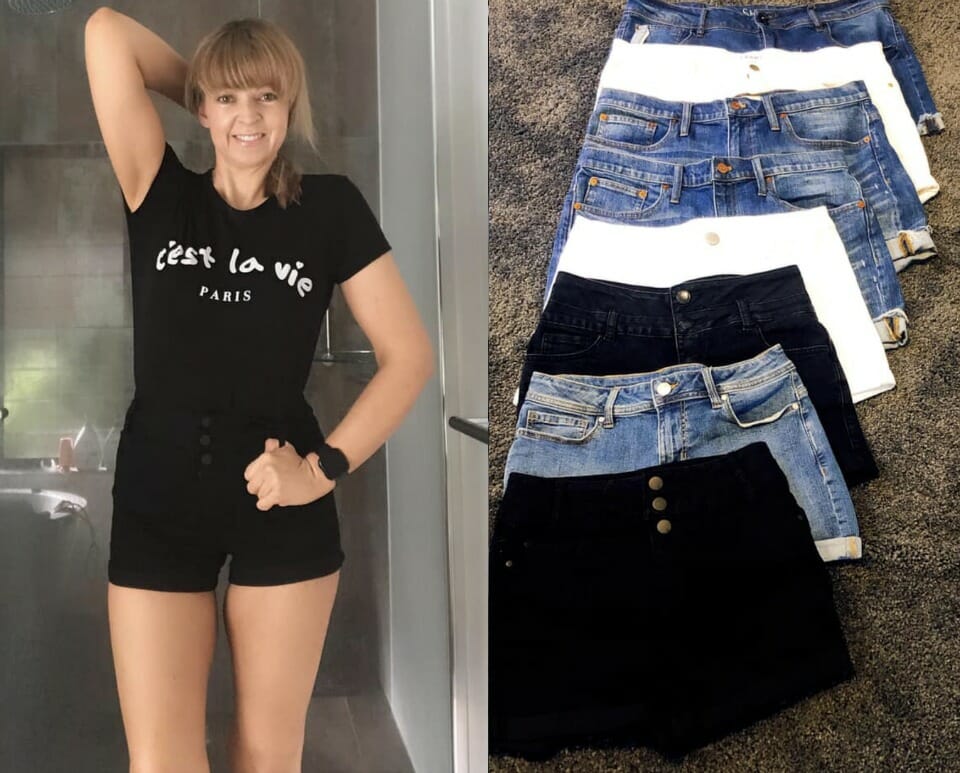 Kerrie says "When I posted a transformation last week someone asked if I had pictures of my sizes moving down and I hadn't done one in a while so here it is.
From Size 16 blue denim shorts when I started to my latest purchase of Size 6 High Waisted black denim shorts.
7 sizes in denim shorts over 2 years.  Thanks to The Healthy Mummy I've been able to transform my body and my wardrobe".
Non-scale victory
"After years of hiding my stomach to being able to now wear tight high waisted shorts with a t-shirt tucked in is a definite non-scale victory.  
In fact, many of these shorts purchases were NSV's because a lot of the time when I went down a size in these shorts I was also in a plateau where the scales weren't moving, but my body still was changing shape.
Even now with these newest shorts the scales haven't moved more than 1 kg the past 3 months but I'm buying smaller sizes at the same time".
Kerrie's advice to mums
Don't rely on the scales to tell you the whole story because they won't.
Don't let the scales make you feel you're not making progress because you still are.
Don't wait for the scales to move to a certain number to celebrate your progress.
Celebrate of all those NSV's … whether they are related to clothes, fitness, a change in your mindset, whatever they are be proud of yourself every step of the way ladies!".
Congratulations Kerrie. The Healthy Mummy team would like to thank you for sharing your non-scale victory with us.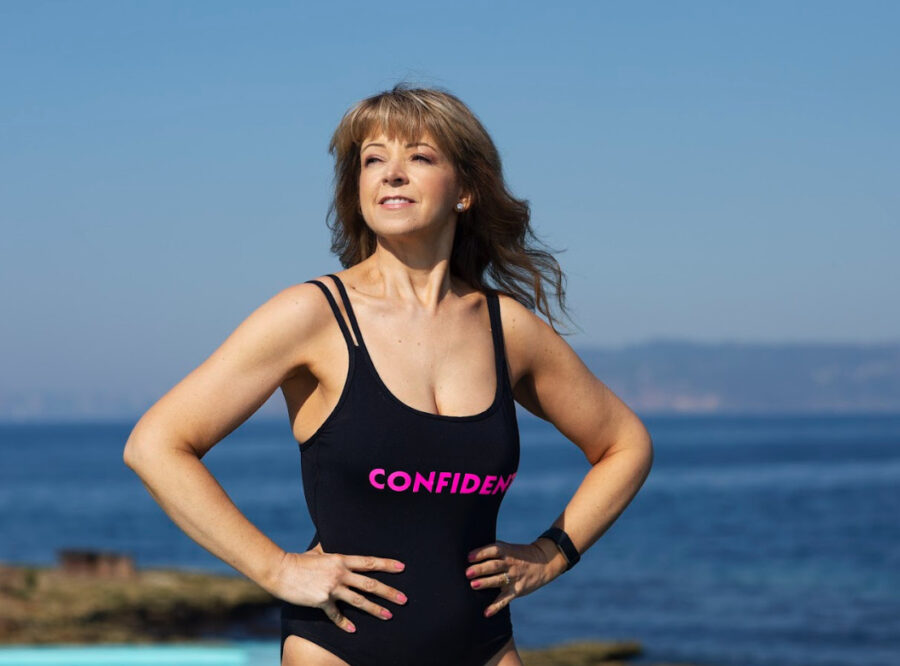 Want more? Read Non-scale victories celebrated by 4 mums who together lost over 150kg.
Are you ready to become a Healthy Mummy?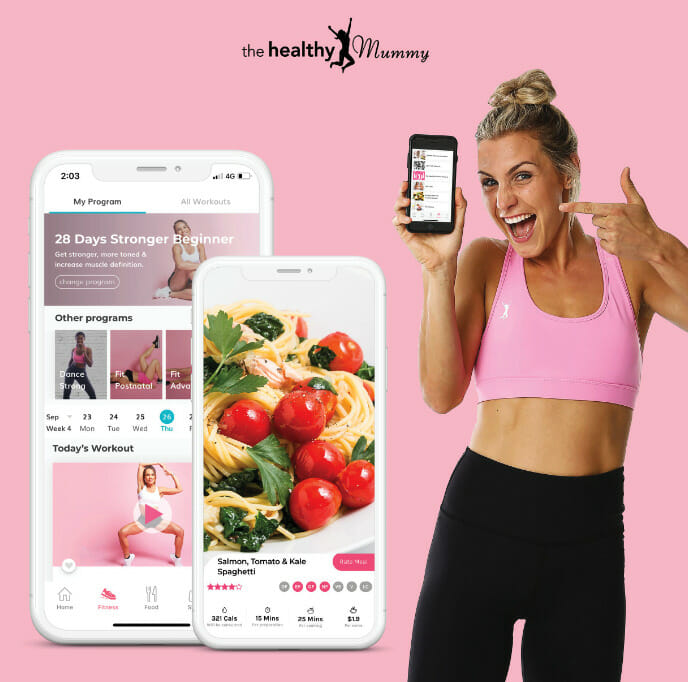 Are you ready to become a Healthy Mummy?