How to keep the motivation to workout when it's 30 degrees outside
Any physical activity or workout is an integral part of a healthy lifestyle, no matter which season we are in or the current climate. Here are some tips from our trainer Wendy on how to keep the motivation up when it's too hot outside.
Any physical activity or workout is an integral part of a healthy lifestyle, no matter which season we are in or the current climate.
Yes, even on those scolding hot days it can be beneficial to get your activity in, but in a safe and acclimatised way.
Our Healthy Mummy trainer, Wendy is revealing how to get MOTIVATED to workout in those 'too hot' days!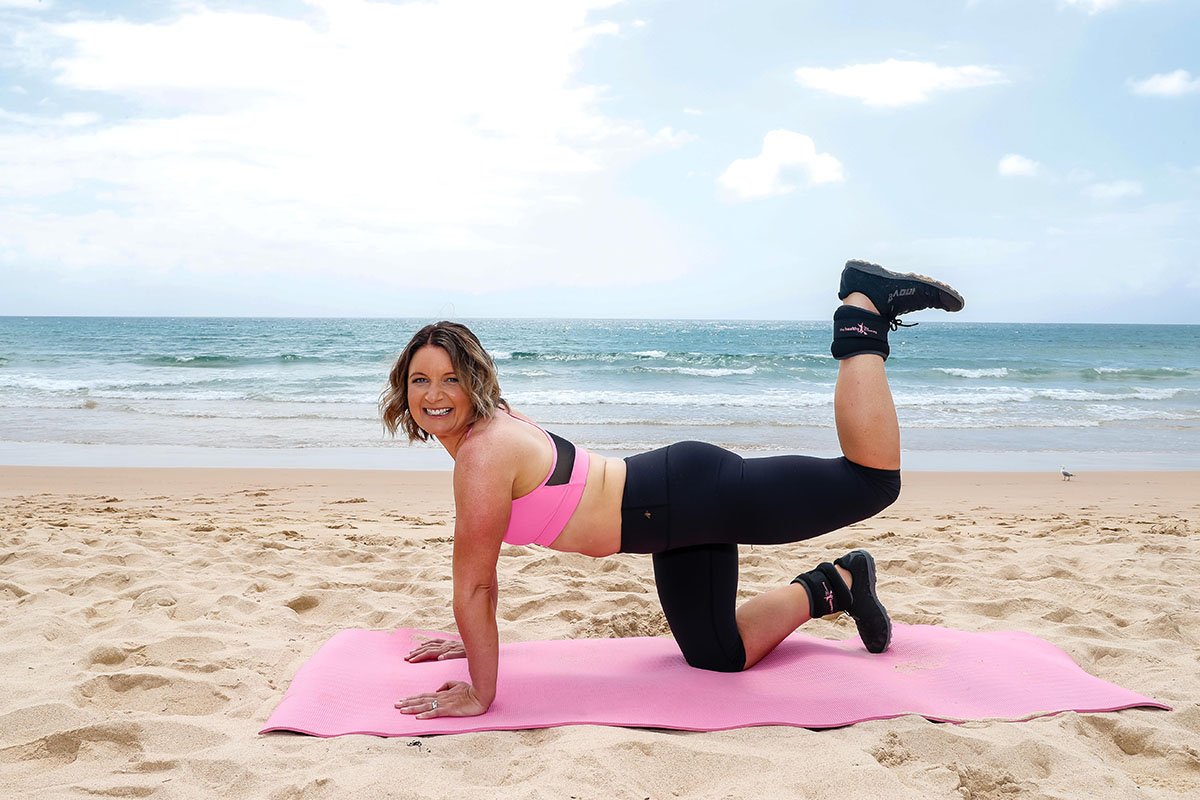 Use The Healthy Mummy app as your guide to exercise
From indoor workouts to outdoor, The Healthy Mummy APP is your best friend here! Choose exercises that are easy, successful and your favourites, so you can enjoy the new lifestyle no matter what the temperature outside.
Wendy says to try things like, "if it is too hot, train in an air-conditioned environment or if it is too cold, train with an extra layer of clothes.
Try to choose a shorter training program or workout every second day or have breaks between each exercise to allow the body to acclimatise and begin to enjoy the routine."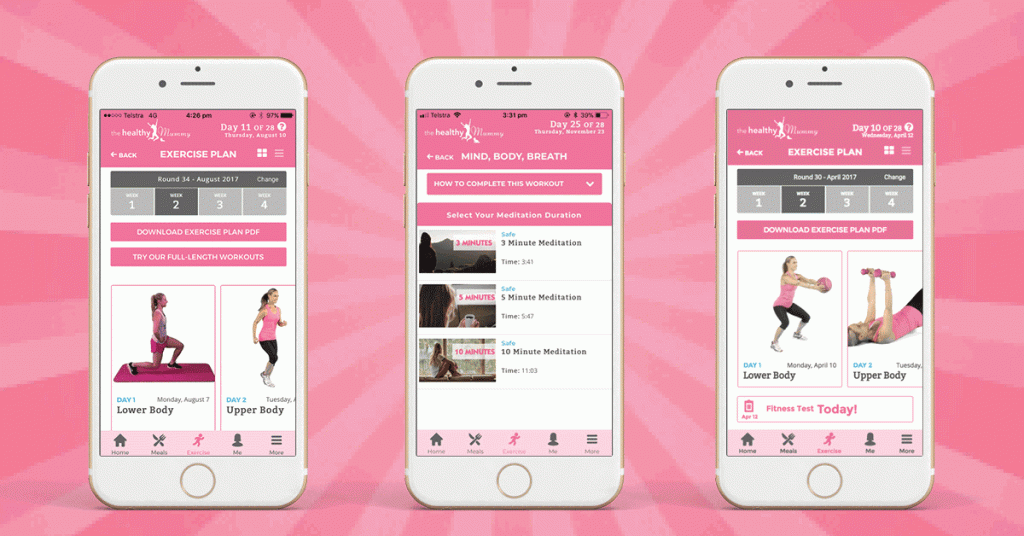 Having fun is the number ONE thing when it comes to exercise and sticking to it long term. If you enjoy what you're doing, then you're more likely to sustain what you're doing!
"Trust me. Everything you do will start to get easier. Your inner voice is NOT your FRIEND, try to NOT listen to it. Have fun and keep workouts shorter and more frequent to create a healthy lifestyle habit," Wendy says.
Wendy's indoor workouts ideas
The Healthy Mummy APP's 5 min workouts in the shade or at the beach (train in less time, short sharp bursts, HIIT).
Use The Healthy Mummy APP workouts indoors and close blinds, close doors and have a fan on or air-conditioning on full.
Train in the basement, garage or somewhere low and shady.
Go to an indoor pool.
Train in a local community centre, church community hall, council halls.
Train in an indoor pool that has a kids play area.
Train indoors in an air-conditioned gym.
Yoga or pilates and stretch with more gentle movements.
Aqua aerobic classes.
Indoor cycle or put your bike indoors on a stand or use an indoor bike which is in front of a fan.
Indoor rowing machine which has a fan power that creates a breeze on your face as you row.
Install a fan that points onto your face when on a treadmill.
21 tips to get motivated to exercise
Find activities in appropriate environments.

Drink plenty of additional cold water, have more rests or breaks, and do lower intensity exercises.

Try to find water activities or activities close to water like the beach, lakes or dams.

Try to enjoy the heat, feel that your sweat is sparkling and glowing or imagine you're in Fiji!

Train with a friend, another mother, your family, your kids or other people to help you be accountable no matter what climate excuse appears.

Feel the heat as a muscle burn which will, in turn, torch more calories and achieve your goals quicker.

Begin a healthy lifestyle routine no matter what the daily temperature is.

Create options of where to train to provide an easy alternative if the weather is unpredictable.

Imagine training to be a soldier with full clothes, a 30kg backpack, extreme dessert and no option, this training is much easier.

Compare the pain to childbirth and it becomes so much easier psychologically.

Know that the quicker you start, then the quicker it is over and have a cool shower or a relaxing swim after.

Celebrate the environment around you when the sun is out, try to enjoy the smell of fresh air, the solar power and the energy the sun will give you, enjoy the green trees, different plants, the bright environment around you or count every workout repetition so the time speeds up.

Gratitude is always a great start. Appreciate that we can breathe without assistance, we have arms and legs to exercise, we have a baby/child/children, we can train because we are not sick, so make the most of what we have.

Take extra water with ice in the bottle, defrost a water bottle as you train, get your cold salad with protein ready to eat after or prepare The Healthy Mummy frozen yoghurt or some frozen grapes after.

Prepare a wet small towel for your face and neck, flick the towel on the ground to cool it down again then put it back onto the back of your neck.

Purchase a $3 water pump sprayer from Big W, Target or Bunnings and fill it up with icy water to spray your face while you are working out – I LOVE THIS OPTION or spray cool eucalyptus spray in the air after it has been in the fridge.

Wear sunscreen that lets your skin breath, a large brimmed hat, sunglasses and sun protective cool clothes to ensure you are comfortable.

Eat an ice cube before training and splash cold water on your face and hair to cool you down before the hot temperature hits.

Make sure you train early before 7am or later after 5pm when the weather is not so hot. Remember if you train, it gets easier and you will sleep better and have more energy for the next day!

Remember your longer-term goal and this short-term pain is worth 100 times more because it is adding to your long-term goal being achieved. 

When you're exercising in the heat, you are not alone, everyone else in your district is experiencing the same climate! Everyone who is training that day around you is experiencing the same discomfort. 
Get into your healthy summer exercise routine!
Get your hands on thousands and thousands of recipes, exercise tips and support when you join the 28 Day Weight Loss Challenge!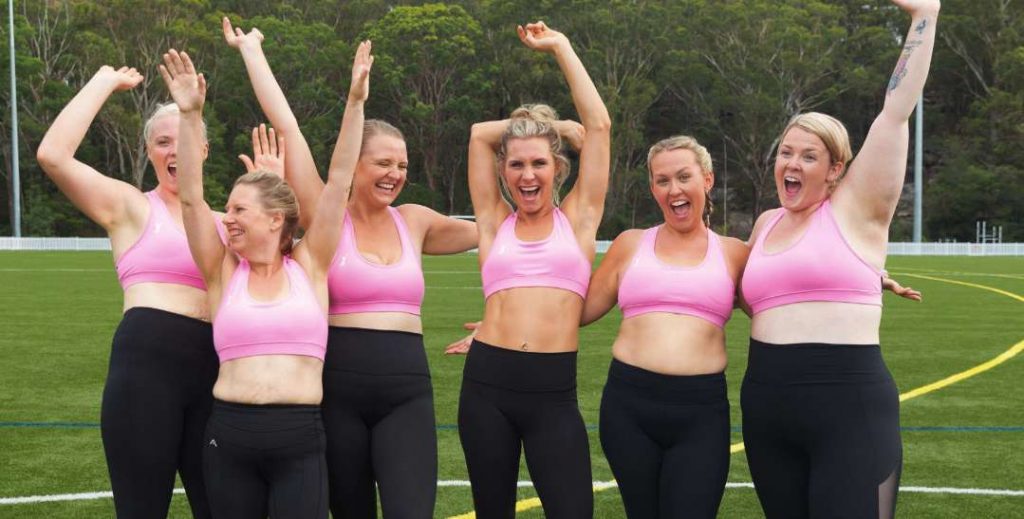 The 28 Day Weight Loss Challenge has over 300 workout videos for you to choose from. The videos are made for BUSY mums and are designed to be done in 10 minutes or less and in the comfort of your own home!