Is Lack Of Sleep Killing Your Motivation?
Feeling exhausted is something that mums know about all too well, so it's no surprise that a lack of sleep can truly kill all motivation.
Eating healthily and exercising can be really tough at times and with so many mums not getting enough sleep it can be even tougher. But here are some top tips to help you through!


Six Tips That May Help When You Are Sleep Deprived Or Lacking Motivation
Take things slowly for a few days.

If you're really exhausted, choose light exercise over something really strenuous. And when it comes to food, if you can, pre-prepare a few meals and keep them your freezer so you don't have to do lots of cooking. Here are eight healthy meals to freeze for some inspiration!

If you fall off the "wagon" don't stress about it

Stressing is the easiest way to lose motivation as you'll dwell on what you haven't done when it comes to exercise or the incorrect food choices you may have made. Always remember that tomorrow is a new day.

Have you made big AND small goals?

If you have, get them out and read through them again. Tick off the ones you've already achieved – great work! And look at how much closer you are to getting to the big goals. Every little bit counts so ensure you have plenty of small goals to achieve e.g. "walk for 20 minutes every day" as these will add up to getting you closer to your bigger goals.

Customisable meal plans

With these, you can really make the 28 Day Weight Loss Challenge as easy or involved as you like when it comes to meal prep. So on those days when you've been up all night with the kids, choose more simple meals to prepare. Customise with five ingredients or less or use leftovers to make a healthy and easy meal.

The Healthy Mummy Smoothies

Our smoothies which come in five delicious flavours are perfect for those really busy or exhausting days. Not only are they full of nutrients and breastfeeding-friendly, but we have some amazing recipes that you can check out here!

Remember you are only human

Not feeling like a cheerleader every day is completely normal. Take things slowly when you're having a bad day and your motivation will soon return – you'll feel great that you haven't just given up totally.
Get support, advice and tips from The Healthy Mummy Motivating team and community in our private support group.
BELIEVE in yourself. You have totally got this. You CAN do it!
Become A Healthy Mummy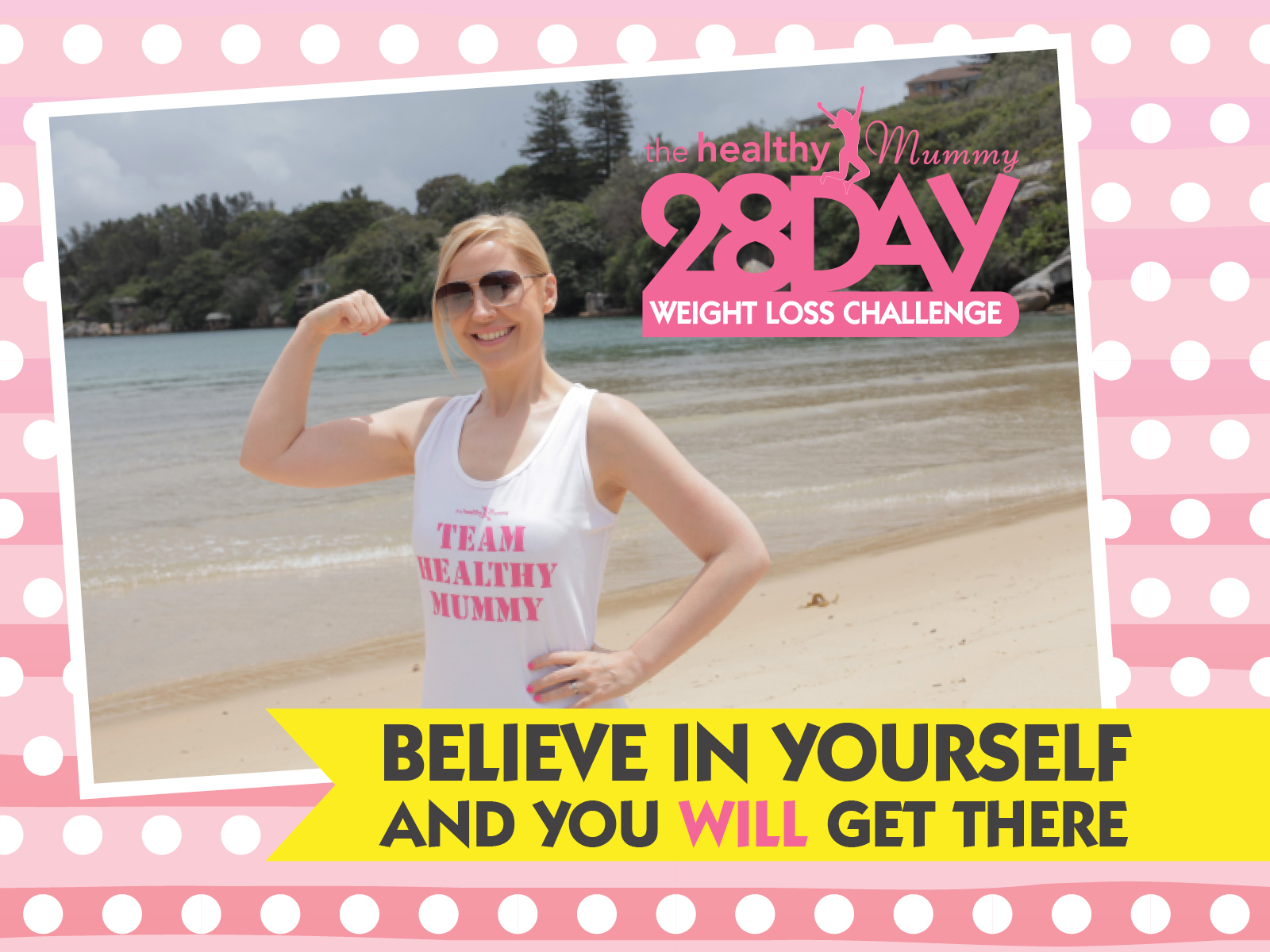 If you want to tackle your own weight, health and fitness…then be sure to sign up to our 28 Day Weight Loss Challenge.
Think of the challenge as the best value personal trainer, dietitian, meal planner, chef and motivational coach that you have access to every day – without the high cost and all created JUST FOR MUMS.
Our Challenge is home to: 
Customisable meal plans & personalised shopping list
Over 100 NEW recipes are added into the Challenge every month so you'll never be bored
Full nutritional & calorie breakdown on each meal
Realistic menus – no food groups cut out
Budget-friendly food – option to increase number of serves for each meal and is breastfeeding friendly.
To learn MORE about our challenge, access a FREE MENU SAMPLE or to sign up CLICK HERE.