Here's How You Can Lose Weight By Ditching Bottled Pasta Sauce
Most kids, even fussy eaters, will happily devour pasta. So it's no wonder that there are so many varieties of pasta sauce available at the supermarket.
But turn those bottles over and have a look at the ingredients list and the nutrition panel – you might be surprised (or horrified) by what you find.
The Sauce-y Reality
Many sauces that seem quite simple or plain (think tomato and onion) can contain 8-10 teaspoons of sugar per family sized jar.
A popular brand of creamy pasta bake style sauce for a family contained over 500 calories, 35g of fat and a whopping 2831mg of sodium.
Some of the pesto-style stir through sauces contain vegetable oil (whereas homemade would use olive oil). They also use a lot less nuts, herbs and vegetables (such as baby spinach) than you would tend to use in a homemade version.
Today we have three great reasons to leave those bottles of pasta sauce on the shelf. This is especially important if you want to lose weight and get healthy.
They are simple recipes that don't take too much effort. You will be rewarded with a healthy meal, loaded with veggies, that you know doesn't have anything 'nasty' added that you don't need.
1. Classic Tomato Pasta Sauce  

When you see ripe red tomatoes on sale – grab them. Use them to make a big batch of your very own tomato pasta sauce that you can keep on hand.
All you need to do is slice 12 large tomatoes in half and place them cut-side down on a lined baking tray. Then peel and quarter two red or brown onions and add that to the tray, along with 3 peeled and halved garlic cloves.
Drizzle with olive oil, season to taste, and roast in the oven for about 45 minutes or until the tomatoes have started to collapse.
Place everything in a large stock pot and whiz with a stick blender (or use a food processor, in batches). To store it, simply freeze in ice cube trays or in single cup portions. To use it, just defrost in the microwave or defrost in the fridge overnight.  Another delicious pesto pasta Recipe!
2. Spinach and Ricotta Pasta Bake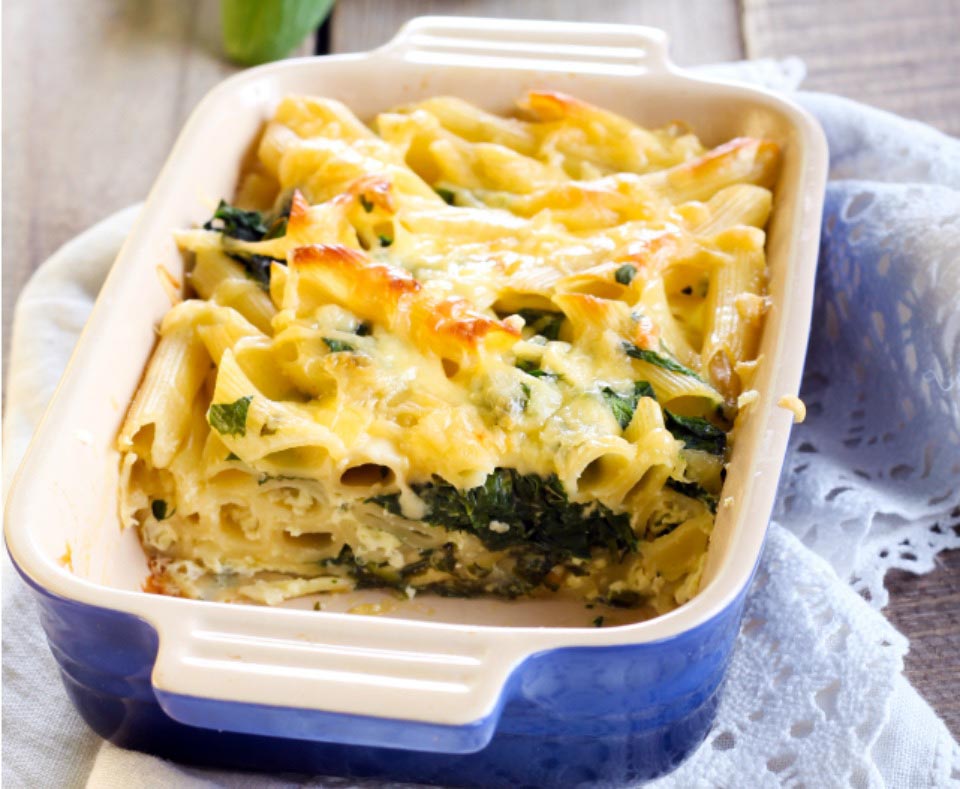 You might think that you need a bottle of pasta sauce to make your very own healthy pasta bake – but it's not the case. This recipe is so easy and delivers on creaminess and flavour. Check out the recipe here.
3. Creamy Garlic Parmesan Pasta Sauce  

Sometimes the creaminess in a bottled sauce is what tips the calories way over the recommended amount. Plus they normally add sugar too which you would never do in a homemade version. But the good news is, you can achieve the same creamy texture without any actual cream (or sugar) at all.
All you need to do is heat a frying pan up, add a tablespoon of olive oil, and cook two peeled and sliced garlic cloves with 300g of sliced mushrooms for around four to five minutes. Pour into a bowl and set aside.
Then heat another tablespoon of oil in the pan and add 2/3 cup plain wholemeal flour. Stir for 30 seconds before slowly whisking in two cups of milk. Add the garlic and mushrooms back to the pan, and a handful of chopped baby spinach. Top with two tablespoons of parmesan and add the cooked pasta to serve four people.
If you loved these healthy recipes we have thousands more on our 28 Day Weight Loss Challenge.
Ditch The Sugar With The 28 Day Weight Loss Challenge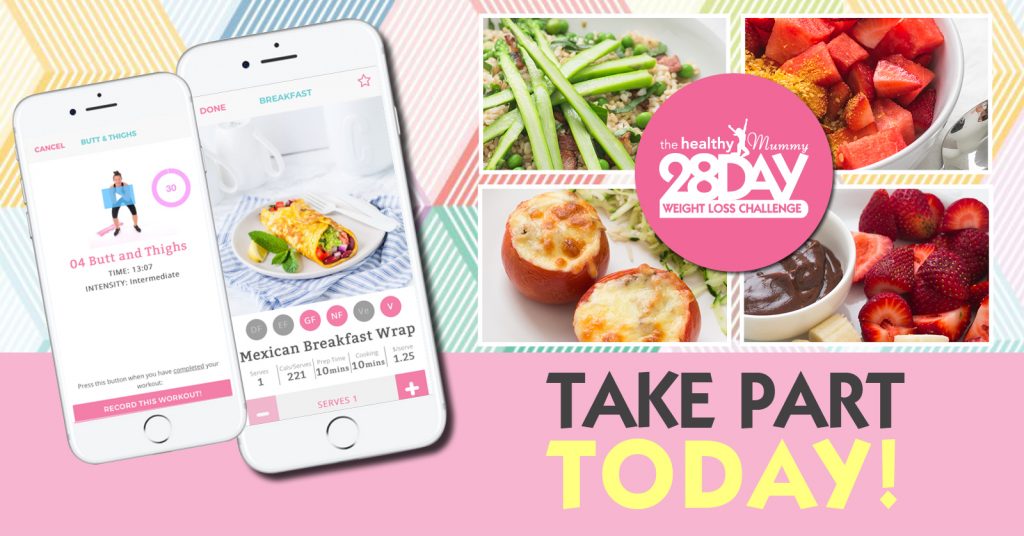 Our 28 Day Weight Loss Challenge is a program designed specifically for tired, busy mums who are eager to kick their sugar cravings to the kerb, lose the baby weight, improve their fitness and just feel amazing overall!
With thousands of exclusive recipes, hundreds of fat burning exercises and 24/7 support – we help mums achieve their health and weight loss goals.
Join our 28 Day Weight Loss Challenge TODAY!
Be INSPIRED By Mums Who Have Reached Their Goals
Jo Hart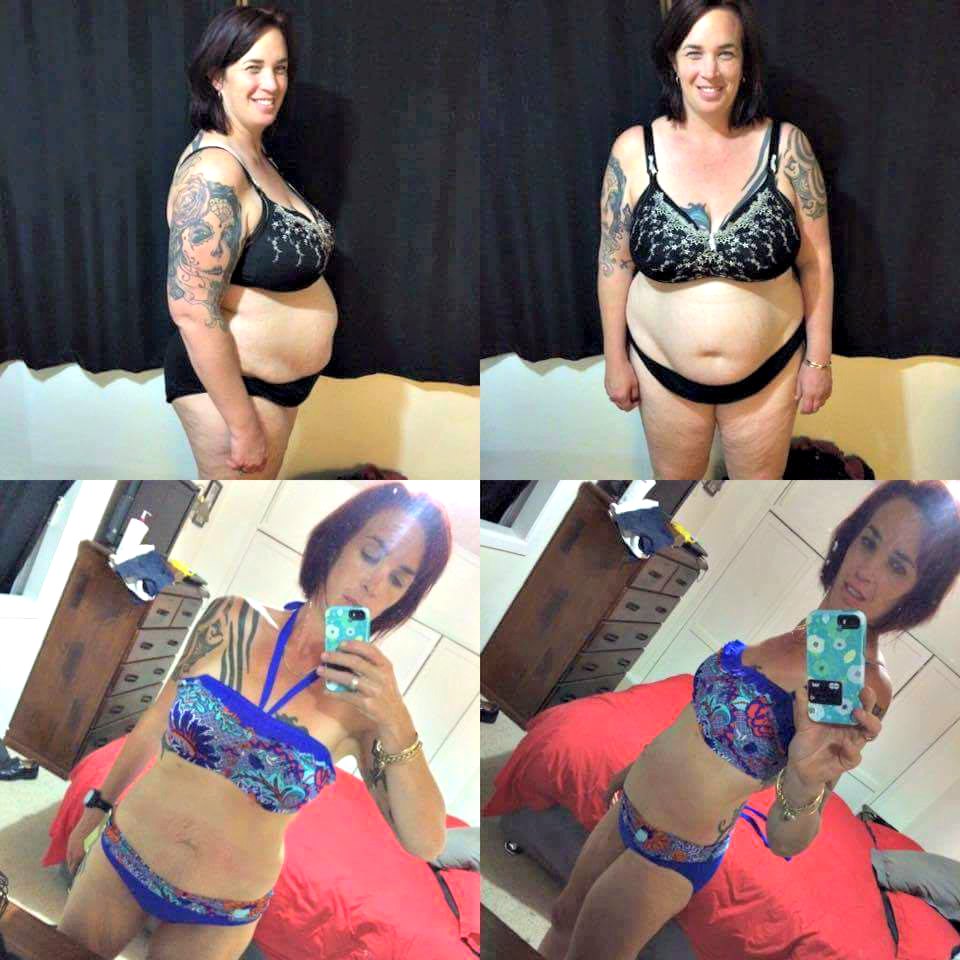 Jo Hart not only rocks her new bikini, she has lost 38kg* with The Healthy Mummy 28 Day Weight Loss Challenges.
She says:  "I am proud of the change I have made for not only me but for my family too".
If you are NEW to us – join the 28 Day Weight Loss Challenge here.