10 mums get together to celebrate their bodies in a gorgeous photoshoot
In a world where women's bodies are constantly scrutinised, these 10 amazing mums have come together to celebrate their bodies and the different stages they are in their weight loss journies for a gorgeous photoshoot.
In a world where women's bodies are constantly scrutinised, these 10 amazing mums have come together to celebrate their bodies and the different stages they are in their weight loss journies for a gorgeous photoshoot.
The Bundaberg-based mums met through a Healthy Mummy Private Facebook Support Group and have been supporting each other ever since, meeting regularly for weekly walks and participating in park runs.
One mum, Tanya Nielsen wanted to celebrate their weight loss successes and suggested they celebrate them all completing The Healthy Mummy's 100 Days To Summer Challenge (which concluded Dec 1) with a 'Love Your Body' photoshoot. Natalie Brown, a member of the support group, is a photographer and kindly popped up her hand up to take the inspiring pictures.

10 mums get together to celebrate their bodies in a gorgeous photoshoot
The women are part of Sammy Wolff's Healthy Mummy Support group and have done numerous fun-runs to raise money and donate to local charities.
This photoshoot however, was orchestrated to celebrate women's bodies – no matter where they are at with their weight loss journey.
Below is each of the mum's weight loss story…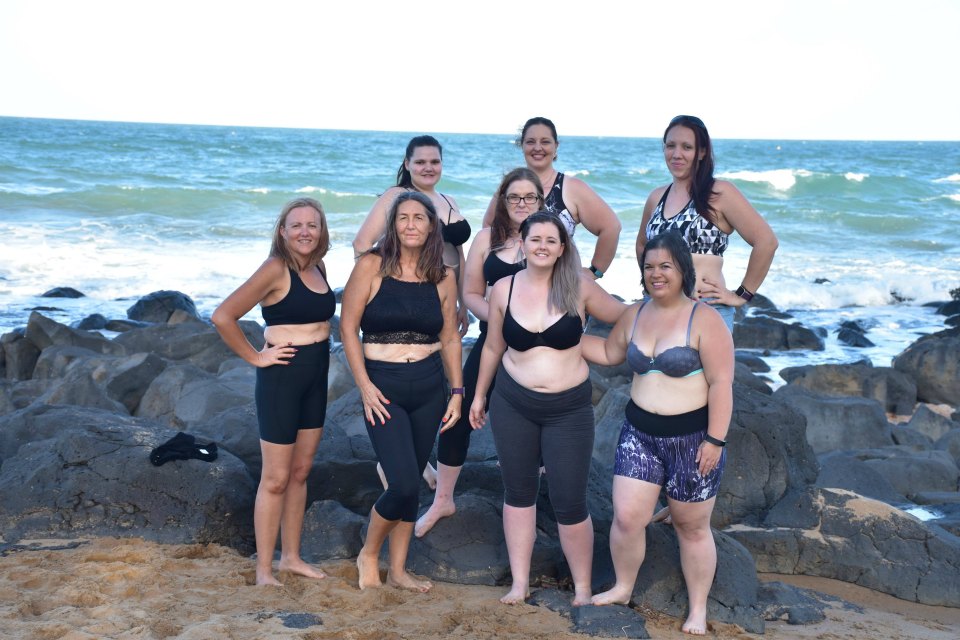 Tracey Duffy now accepts herself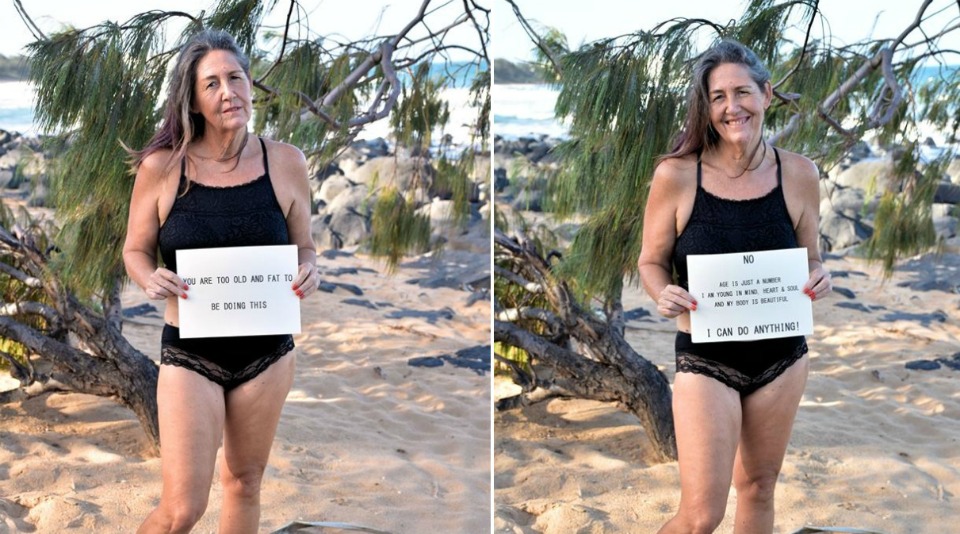 Tracey was introduced to The Healthy Mummy by her daughter in January 2015 after reaching 100kg and being so unhappy.
"I now weight between 68-70kg which I have remained at for the past six months," says Tracey.
"This journey has not only changed the physical side of me, but more importantly the mental and emotional side of me. I now accept all of me.
"This photoshoot was an amazing opportunity to visually show this. My goals are to keep getting fitter and tone up some more."
Jess Knight is no longer afraid to be photographed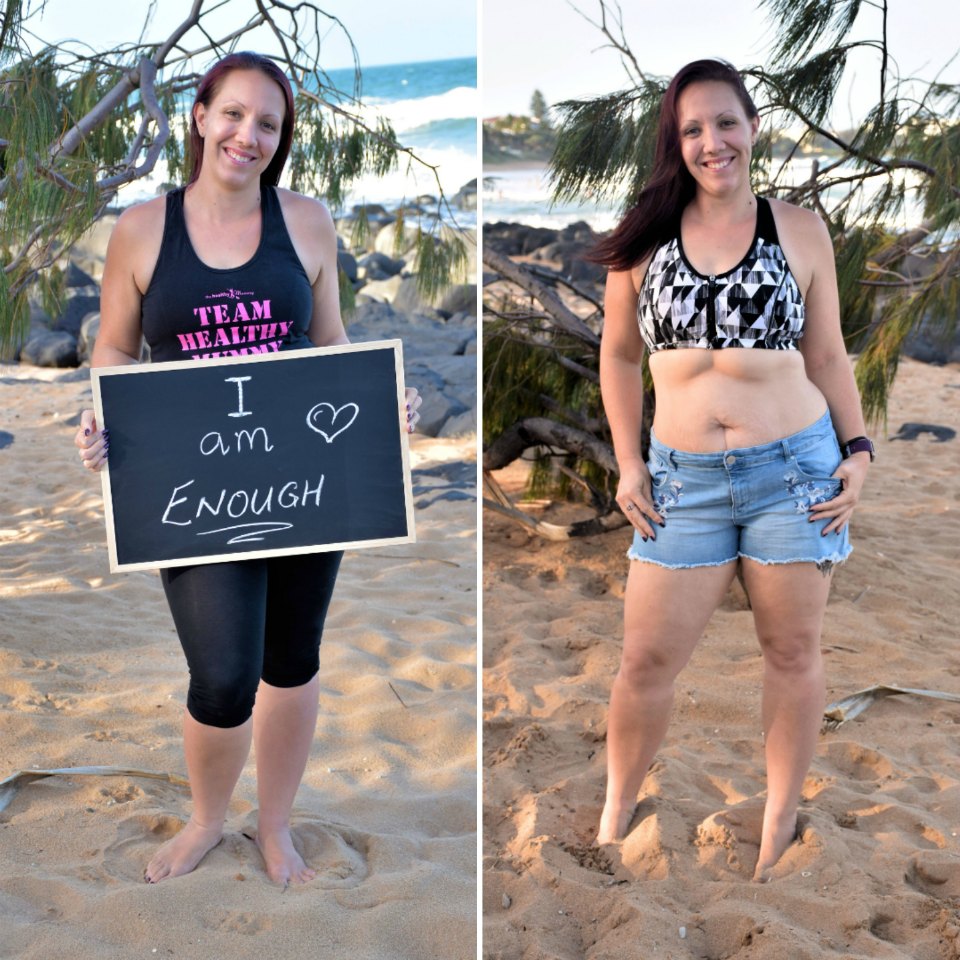 Jess says she joined The Healthy Mummy in July after going to another event she didn't want to be photographed in.
"My mental journey has the hardest part but 10kgs down and I'm emotionally and mentally lighter too," she says.
"I still want to lose another 10kg next year but at least I'm not so scared of the camera now."
Rebecca Forgan is hoping to reach her goal weight
Rebecca has lost 8.8kg thanks to The Healthy Mummy.
"When I first joined the Support Group I was pregnant at the time and loved going to the weekly walking group and seeing how other mothers coped with healthy living," she says.
"I had my first baby in June 2017 and since recovering from that have been using the support of The Healthy Mummy Facebook Group and products. I have lost 8.8kgs. I still haven't reached my goal but it felt important to celebrate my progress so far. Next year my aim is to be able to say I reached my goal."
Tanya Nielsen is aiming to fit back into her prom dress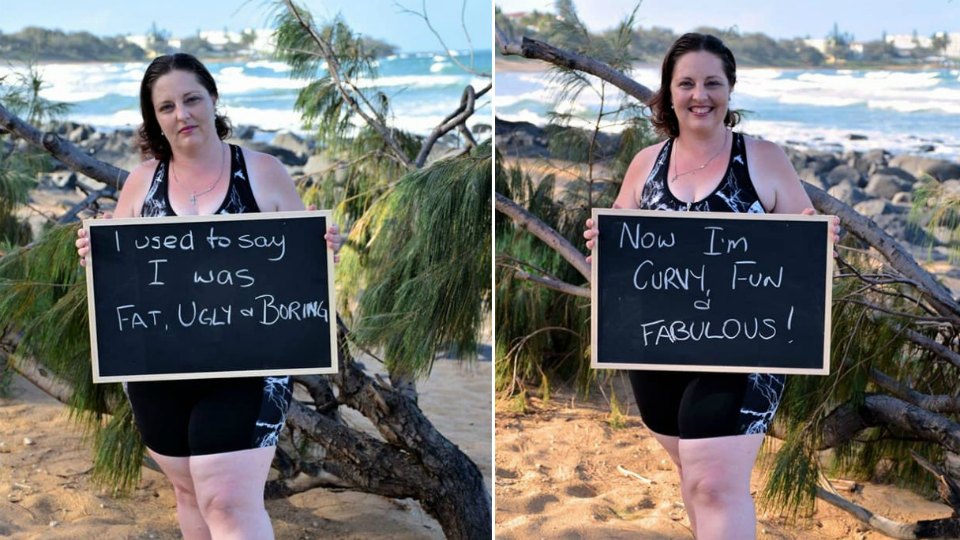 Tanya calls herself a 'wannabe mum' and says she has tried to start her health and fitness journey on several occasions, but this year, things just seemed to fall into place.
"It all started with me starting to do a park run each Saturday. I was added to the local Healthy Mummy Support Group by a friend and I'll be honest, I haven't looked back since," says Tanya.
"I started participating in weekly walks with the group and throughout my journey, I have lost a massive 17kg and 45cm plus off my body. During the 100 Days until Summer Challenge, I lost 8 of those kilograms and 35cm off my body.
"Never, in 100 years, would I have seen myself run/walk 5km, join a gym and do a photoshoot like this. It was so liberating and to be able to do it with a group of women who I admire and am really lucky to call friends, made it even more special.
"So, on to 2018. It will have been 20 years since I finished school and I am still aiming to fit into my prom dress. I want to continue my journey and become the best version of me that I can be, and I'm doing it for me."
Sammy Wolff has gone from hating her body to loving it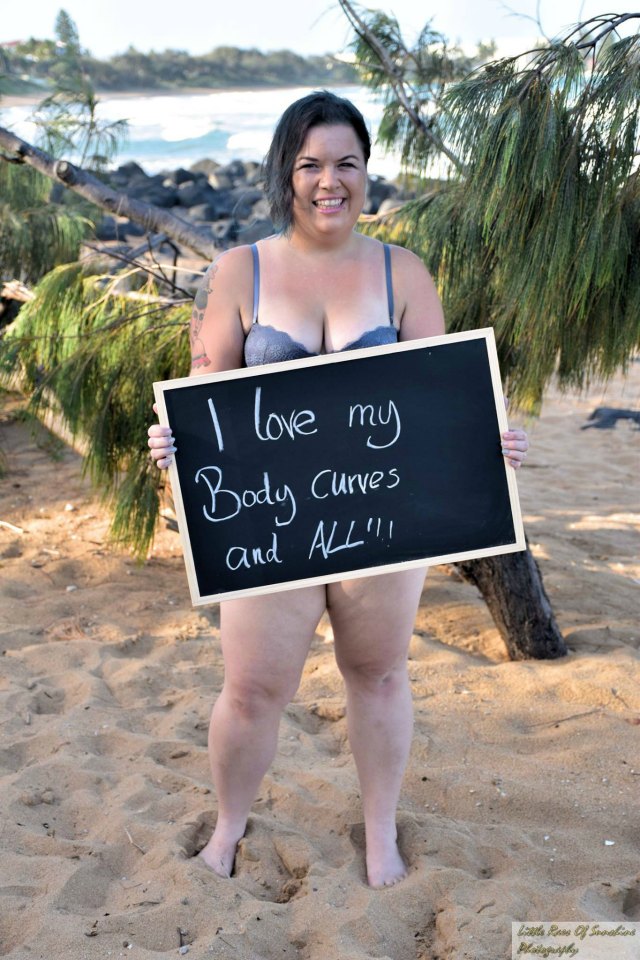 Sammy started her weight loss journey back at the end of 2013, she had got married earlier that year and says that even though she felt beautiful on the day, she didn't like what I saw in the photos.
"Using The Healthy Mummy Smoothies and recipes I have lost just over 17kgs. One of my main reasons for wanting to be healthier is to help my chances of conceiving my first child. I've gone from being self-conscious and hating my body to learning to love it," says Sammy.
"My New Year's goals are to lose another 10-15kg, keep on track with healthy eating and exercise/toning and to be the best version of me!!!!
"I did this photoshoot to prove to myself that I am not the same girl I used to be and show how far I have come in my journey."
Deanna Mcphee is strong, beautiful and healthy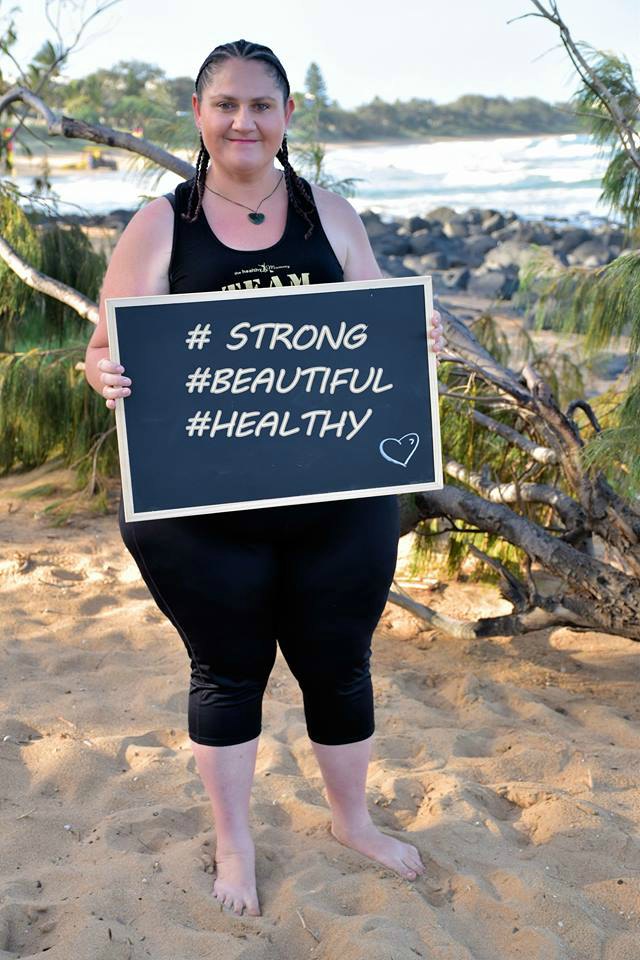 Deanna has lost 25kg through The Healthy Mummy and says she's still got another 24kg to go.
"After coming back from the doctors for a check-up in Feb 2017, I couldn't believe my eyes when I jumped on the scales I was 154kg. I knew it was time for a change," she says.
"I've been doing the 28 Day Weight Loss Challenges, and drinking The Healthy Mummy Smoothies. I'm absolutely over the moon, Thanks Healthy Mummy I'm now 25 kgs lighter and 100cm down.

"And my goals next year is to drop another 24kg."
Linda Stehbens is no longer unhappy with the way she looks
Linda started her weight loss journey in February 2017.
"I was trying to lose weight after I saw a pic of myself that was taken at my 40th birthday in January, I was unhappy with the way I looked," she says.
"I started off with the Healthy Mummy recipes on the website and meeting up for the weekly group walks. In April I started going to our local park run and in July I joined the 28 Day Weight Loss Challenge and it is one of the best things I have ever done.
"I have lost 11.3kg and I can now run 2.5km and I am aiming for 5km next year. This is now my lifestyle. I have made some amazing friends in this group of truly supportive women."
Liz Welch didn't think she could 'afford' to be healthy before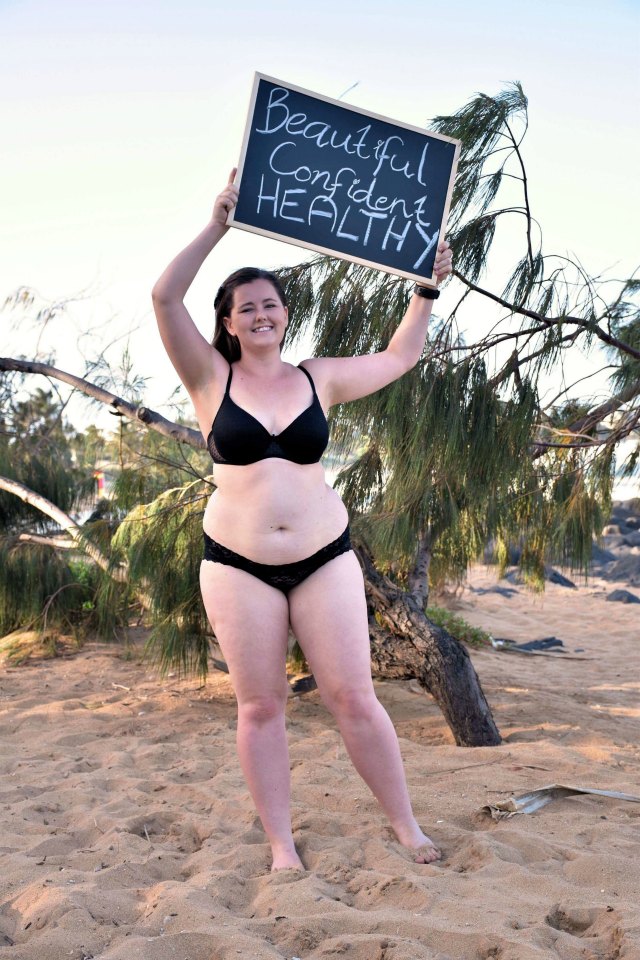 After many 'failed attempts' on kick starting her weight loss journey, everything changed when Liz found her local Healthy Mummy consultant's Facebook group – Sammy Wolff's group.
"I spent some time watching the group, but not really participating. The day after my birthday, I stepped on the scales to reveal that I was the heaviest weight I'd ever been," says Liz.
"I knew something had to change. Since January 2017, I have lost 11.4kgs, lost a dress size, gained a lot of confidence and I have so much more energy! I didn't think I could 'afford' to be healthy but thanks to The Healthy Mummy 28 Day Weight Loss Challenge I spend roughly $50 per week to feed myself fantastic, energising foods."
Leah Hunt beat IBS by changing what she was eating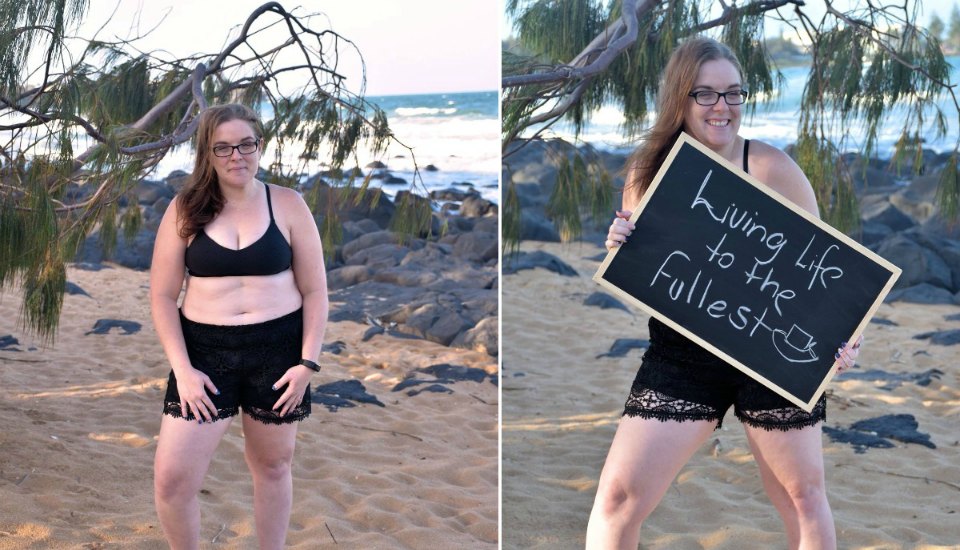 Leah didn't realise she was suffering with irritable bowel syndrome and that was causing her to put on weight.
"After getting to my goal size 2 years ago I suddenly put weight back on and never knew why. Have months of trying I found out I had IBS," says Leah.
"Then I found The Healthy Mummy, which gave me a variety of meals that were easy and didn't affect the IBS. My starting weight was 85kg and I am now 75kg.
"For me my weight loss has mainly been my food as I haven't had much of a chance to exercise as I work full time, a mum-of-two and we built our first home this year. My goal is to get back to my goal weight of 65 kg or a size 10."
What a fantastic shoot, ladies! You all look sensational. Keep up the amazing work, there is no doubt your photoshoot will inspire so many other women in The Healthy Mummy Community.
If you would like to take charge of your weight and fitness The Healthy Mummy has got your back. Check out the video below to see what The Healthy Mummy is all about and how we can help you. 
You can also head here to discover which Healthy Mummy Plan is right for you.
More information
About 28 Day Weight Loss Challenge
The 28 Day Weight Loss Challenge is an online program providing over 4,500 recipes, customisable menus, personalised shopping lists, daily exercises and videos plus constant support.
At any one time over 10,000 mums will be doing the Challenge with you so there is a great feeling of 'doing it together'
About The Healthy Mummy Smoothies
The Healthy Mummy Smoothies are a healthy meal replacement perfect for a quick and nutritious breakfast or lunch if you are short on time. They are free from all artificial ingredients and packed full of protein & fibre. They are safe in breastfeeding and you can see a comparison to other brands here.