After a visit to the doctor left her feeling terrified this mum of 3 turned her health around thanks to the 28 Day Weight Loss Challenge.
"I've lowered my blood pressure and cholesterol thanks to The Healthy Mummy!"
"To feel fitter, healthier and happier in my 40's just feels amazing," says Helen.
Helen Cox, 47, is a NSW mum of three beautiful daughters aged 22, 20 and 5 years. Helen realised she needed to do something to change her health after a visit to her doctor left her feeling terrified.
"I've lost 18 kilos, I've lowered my blood pressure and cholesterol and have lost loads of centimetres off my waist and hips thanks to the Healthy Mummy 28 Day Weight Loss Challenge!"
Helen's health scare
After a trip to the dentist Helen was left feeling terrified and knew she needed to make some changes for the sake of her health.
"I found the Healthy Mummy support group in April 2017 and I signed up in June of 2017. Around the same time, I was undergoing dental treatment and whilst I was sedated it was picked up that I had high blood pressure and I was advised to have a full medical appointment. My blood pressure was 146/99 and my cholesterol levels were above average for a woman of my age. I was 44 years old and it terrified me.
"It's taken me 2.5 years to lose 18 kilos following the 28 Day Weight Loss Challenge and having a Healthy Mummy Smoothie occasionally as I just love the Healthy Mummy recipes.
"One year into my journey I had a follow up medical appointment and my cholesterol is now in perfect range and my blood pressure is also in a good range, along with a low dose of medication as sadly my Blood Pressure is also hereditary", said Helen.
"Changing my lifestyle and exercising, such as boxing in my garage, dance fit, walking and Tabata, with the 28 Day Weight Loss Challenge has been paramount to turning my health around and I now have so much energy to keep up with my very active five-year-old daughter, Chloe."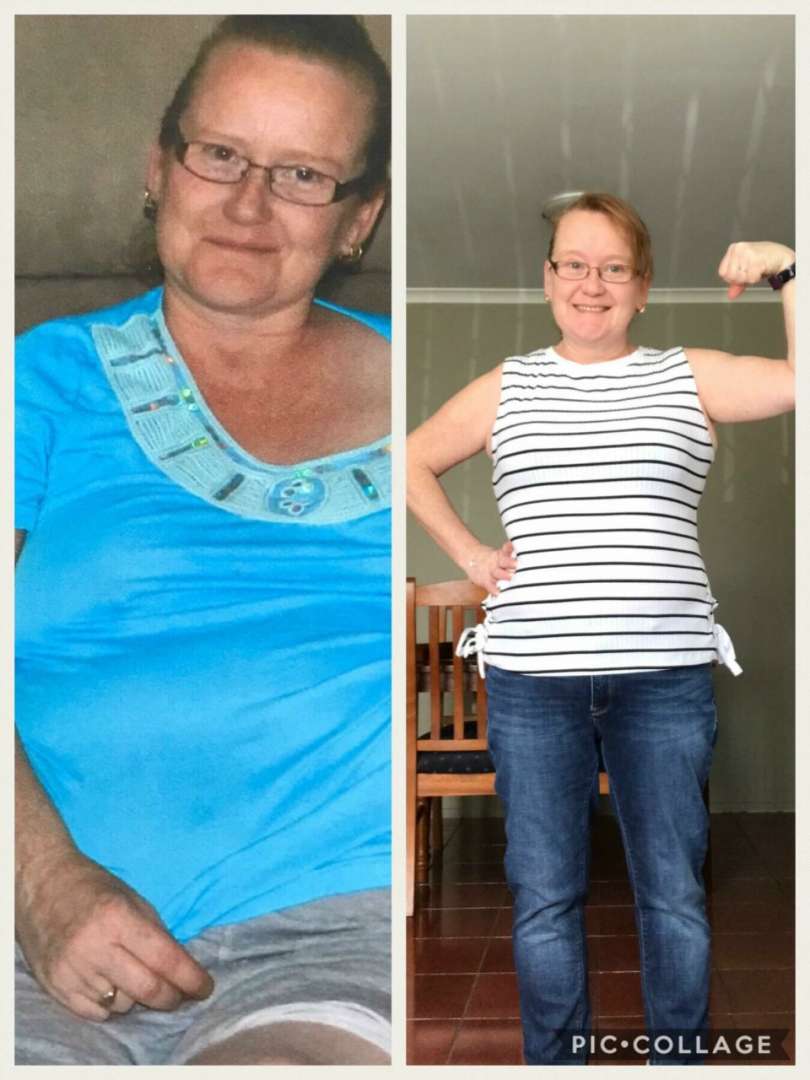 Helen's tips for success
Change things slowly. When I first joined I concentrated on my food and water then later incorporated some exercise and that was walking every day so I didn't feel too overwhelmed.
Find an exercise you enjoy. I love walking as I find it's great for my mental health also.
Take it day by day and remember it took time to gain the weight and will take time to lose it too especially when we are older mums.
Helen's favourite meal
Helen shares, "My favourite Healthy Mummy meals would be the Chicken Laksa, Pork with mushroom sauce and Coconut orange cake."
Helen's tips to stay motivated
Remember why you started, if you have a bad day just brush it off and start fresh the next day. We all have days like that.
Be kind to yourself and remember your health is worth it.
Set small goals they are a lot more achievable than big ones.
Helen adds, "I've made some lifelong friends within the Healthy Mummy Community and we support each other day to day which really is a bonus of being a Healthy Mummy to have that support of likeminded women."
The No.1 mums only weight loss program
You get unrestricted access to :
● Over 400 AT HOME WORKOUTS
● Nutritionist designed weekly meal plans
● Personal Trainer crafted At-home workouts
● Daily Motivation from My Coach
● Personalised Shopping lists to make life easy
● Over 4,000 healthy and delicious recipes at your fingertips