Mums share their inspirational transformations to help others with their weight loss journey
These mums have transformed their lives and their bodies and are such an inspiration!
Read their stories and you will be inspired.
Emma Mirams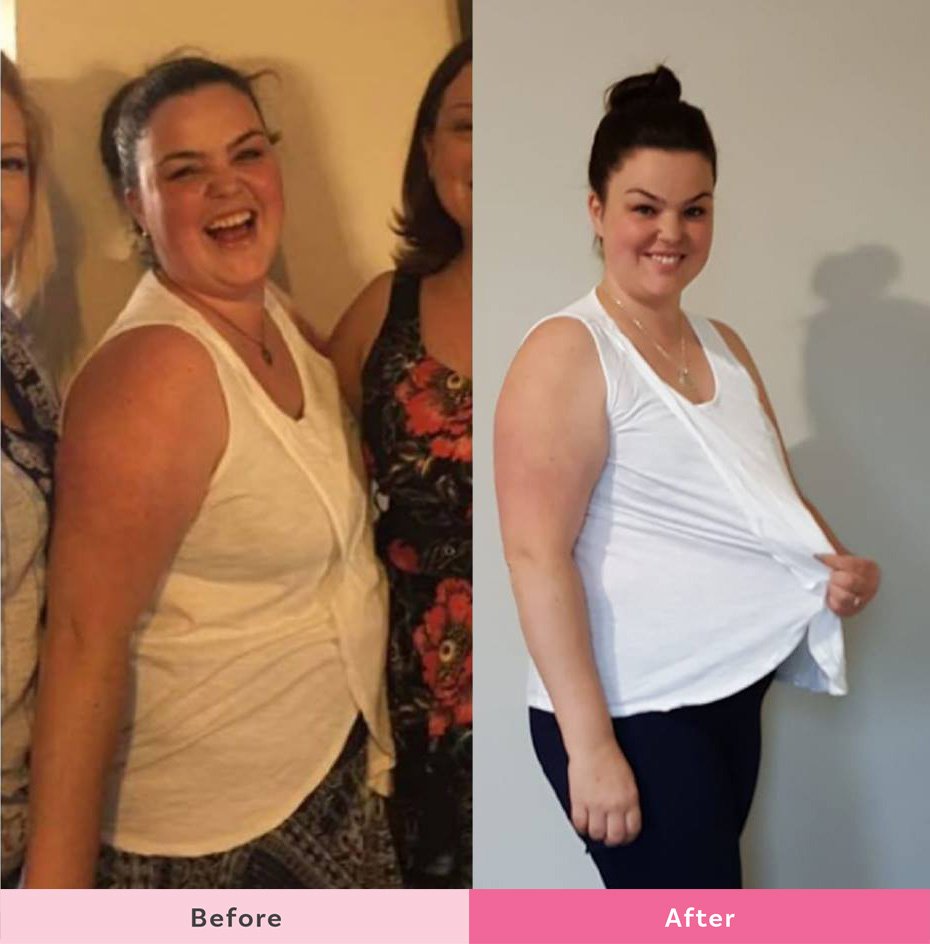 "I remember having the first photo taken with my friends and being horrified at how I looked…
Thanks to the amazing 28 Day Challenges and the tasty dairy-free smoothies I am 15kg lighter… much fitter… much stronger .. eating better and moving more… I'm more involved with the kids play and more willing to try new things.
I am so thankful for the program and the community support that comes with this incredible company."
Steph McCullock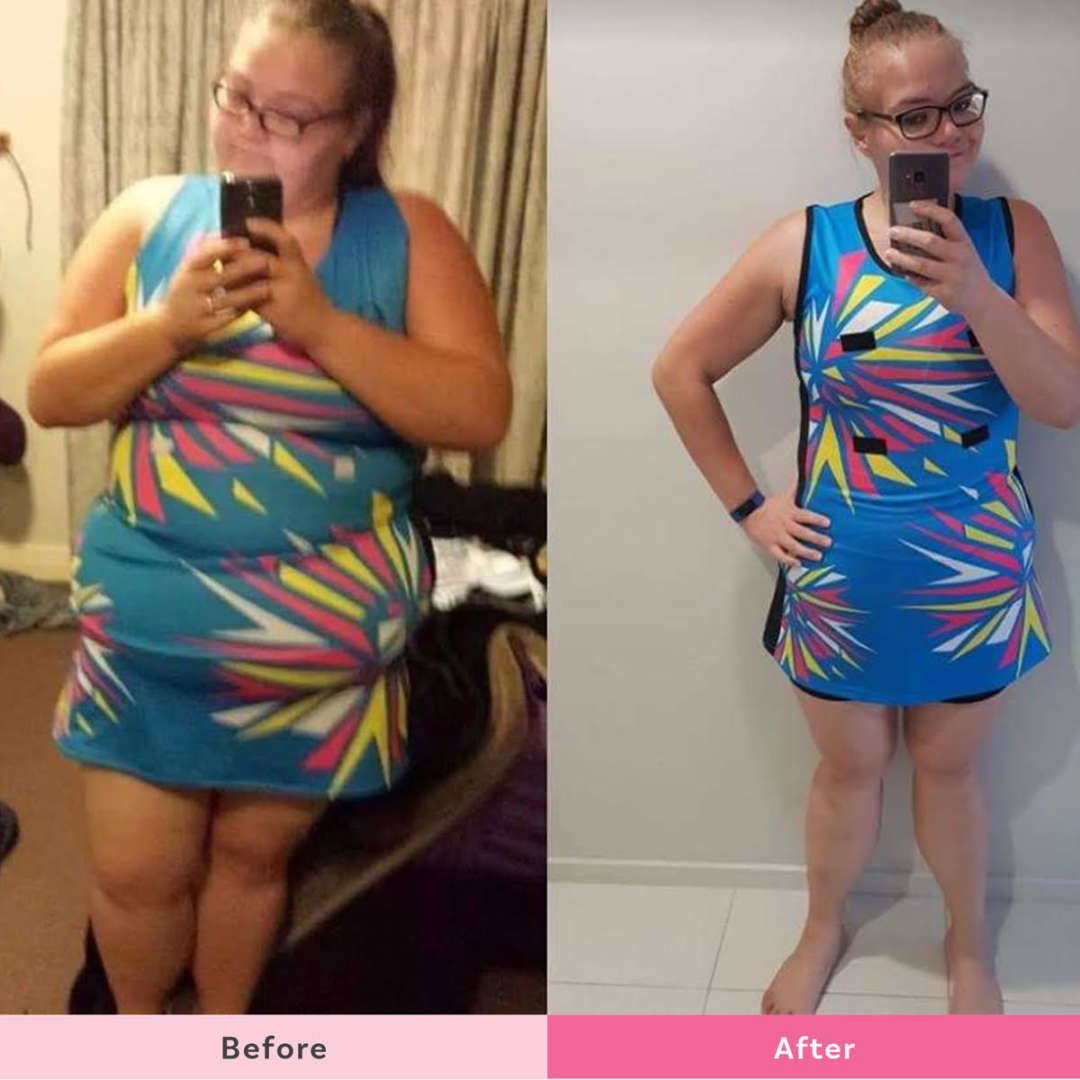 "I have played netball for 16 years and have been overweight during my entire career. Back in 2012 – 2015 I played for a club where unfortunately the grade was a little out of my league due to my lack of fitness and size. I was often benched as I was the weakest player on the team.
The first photo was taken in 2015 when we got new uniforms. My dress was a size 28 – the biggest available and it still didn't fit.
Fast forward the past 18 months
Whilst playing for another club in a full grade below, I was asked today play during last year's season for my old team.
I have to date lost nearly 47kgs
As we prepare for the 2019 season I was surprised and honoured to be asked to not only come back to my old club but take over as captain!
The photo on the right is SEVEN sizes smaller than my original dress!! (Size 14)
Don't be afraid to take the plunge. The opportunities are endless!"
Shanyn Gray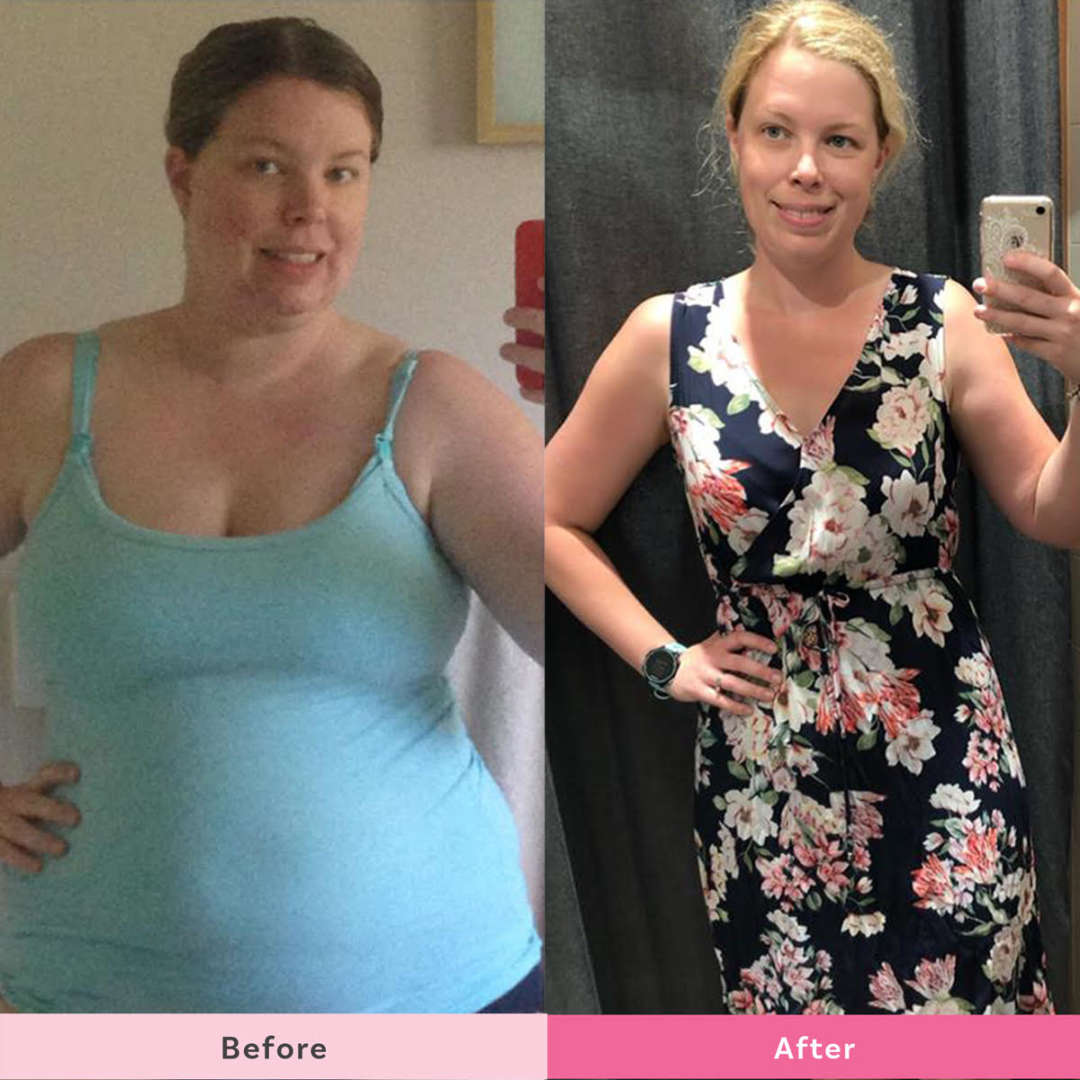 "What if I told you that shopping can be fun? If you told me 35kg ago I wouldn't believe you. But guess what ladies? It is so much fun to walk into a shop and just grab a size 12 and try it on. Who doesn't want that!?!?!?! (Clearly my hair still requires attention)
I know when I was size 18/20 nothing fit me, I felt awful and the stuff that did fit was ugly and tent-like. But thanks to Healthy Mummy, that is long behind me. If I can do it, YOU can too."
Tegan Palmer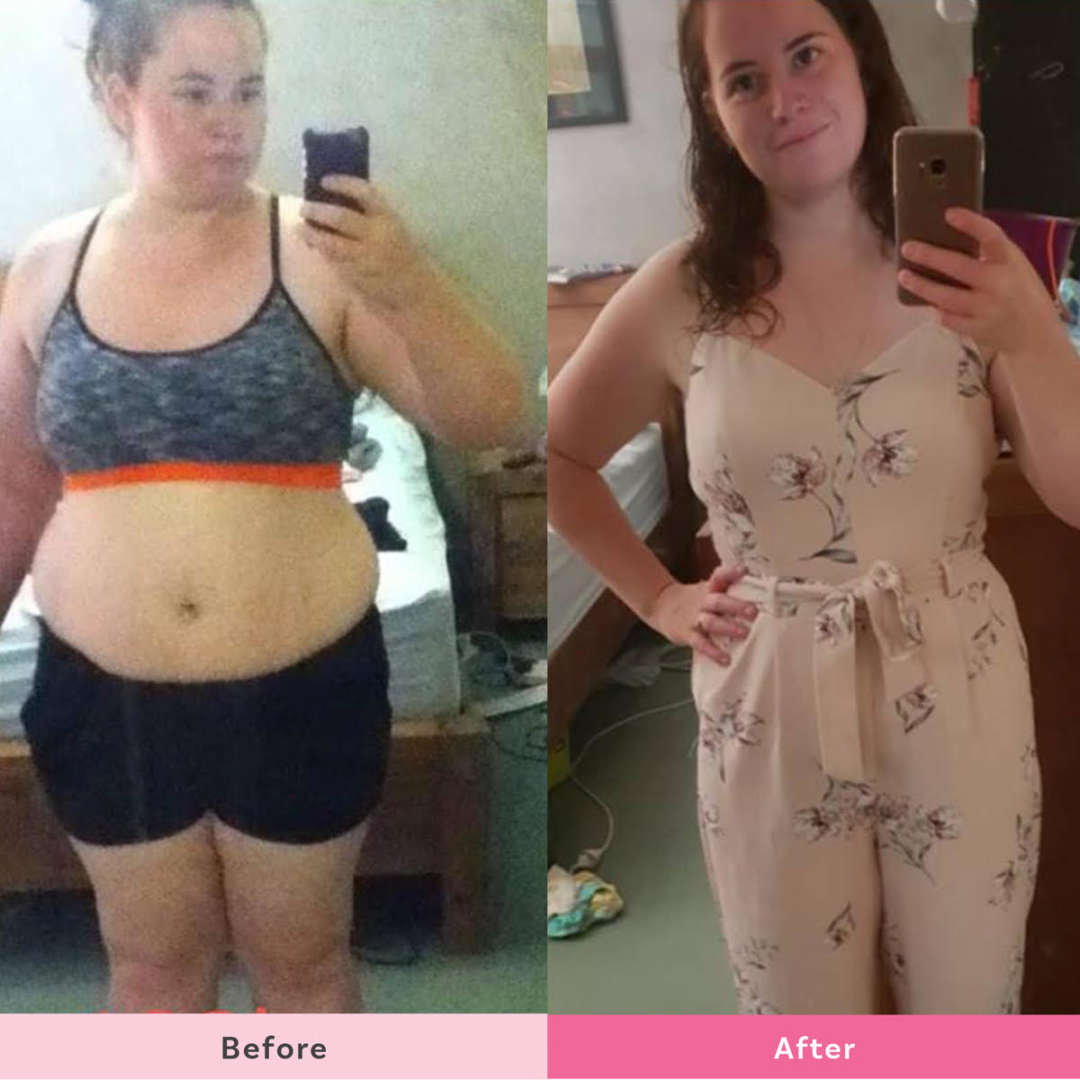 "When I used to sit on the sidelines and watch everyone's transformations I used to say to myself, surely these women do more than just this program to look as good as they do.
Then I joined The Healthy Mummy for myself finally and realised that everything I needed for my weight loss journey was in one app.
There was meal plans, recipes, exercises, measurement sections, fitness tests, smoothie recipes! Everything I needed to kick start my weight loss journey.
I started The Healthy Mummy at 102kg, and a size 18-20. Unhappy, unhealthy, unfit.
Fast forward nearly 18 months using healthy mummy I've lost 27kgs. I never would never have ever thought I'd look this good in a jumpsuit.
I'm now 75kgs, a size 12-14 depending on where I shop from and I'm now happy, fit and healthy."
Taliah C Matthews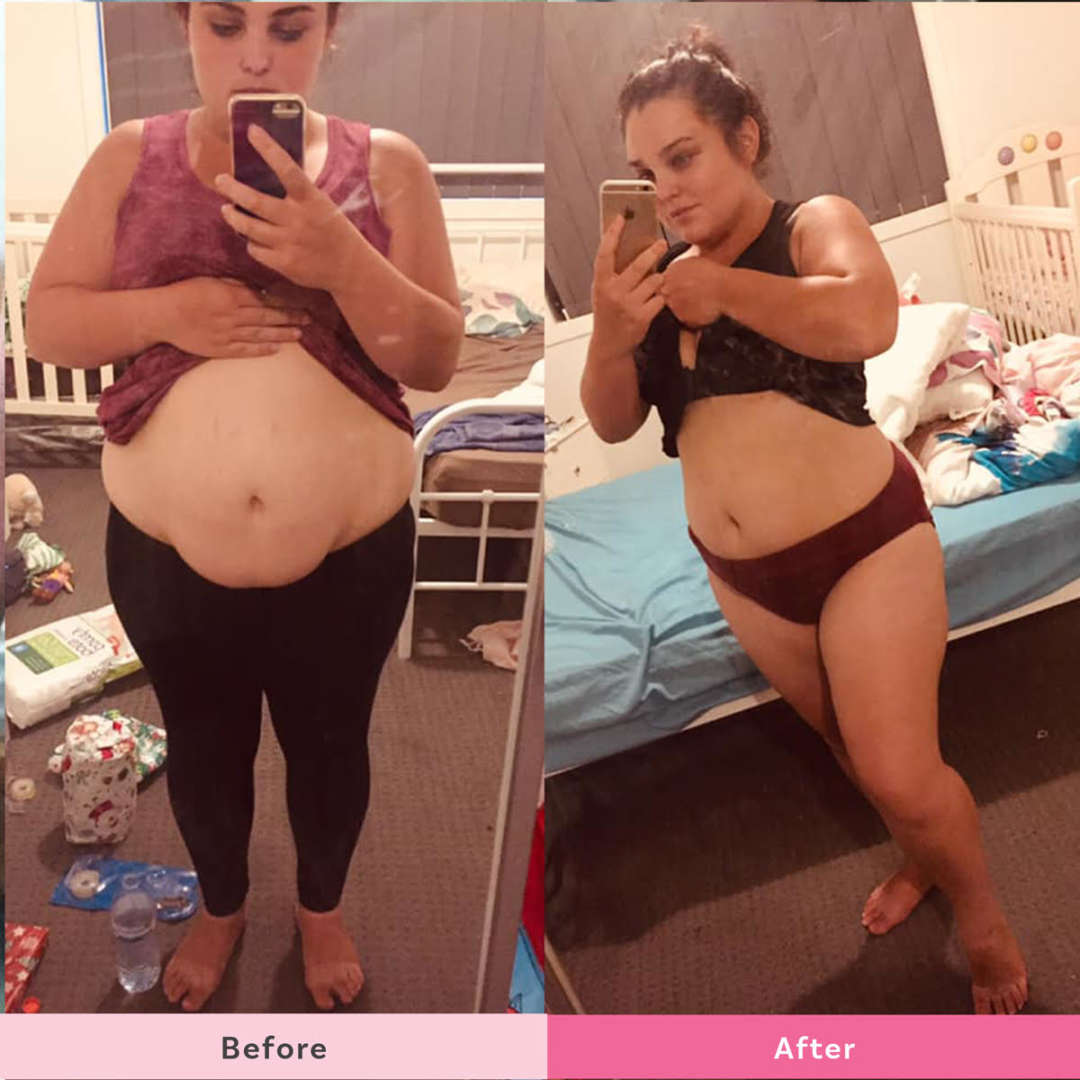 "In the pic on the left I was so down in the dumps about my body and wouldn't do anything to change it, I would just sit feeling sorry for myself while I ate my feelings away, one chocolate, cake, or lollie after another.
I hated myself, I had no confidence, I barely wanted to leave the house because I didn't want people seeing me that way.
Now I am the person on the right and that person is HAPPY, HEALTHY, and CONFIDENT. If I get angry I don't go and eat my feelings like the person I was on the left, instead I work out, I put all of my frustration into my work out!!
I will be forever grateful for Tne Healthy Mummy 28 Day Challenge, The app, The Recipes, The Workouts and my favourite, THE SMOOTHIES."
Want to save money just like Sascha did? Join the 28 Day Weight Loss Challenge TODAY!

If you are wanting to lose weight and improve your energy – not to mention – help improve your overall health and wellbeing – our 28 Day Weight Loss Challenge is an awesome program to check out.
Our 28 Day Weight Loss Challenge includes:
28 days of at home exercise routines (no gym needed) – with video instruction
Customisable and breastfeeding friendly meal plans (including 7 Day Cleanse)
Time-efficient exercises for busy mums – under 30 mins
Challenge combines Pilates exercises with interval and circuit training (HIIT)
Suitable for basic to advanced fitness levels
Home to thousands of EASY-TO-MAKE recipes!
To learn more about our 28 DAY WEIGHT LOSS CHALLENGE CLICK HERE or purchase our Smoothies.