Healthy & Easy Dinner Recipes to lose weight
Eating healthy and losing weight doesn't mean you can't have delicious dinners the whole family will love. There are so many tasty and easy recipes in the 28 Day Weight Loss Challenge recipe meal plans that you can't go wrong.
In this article, we'll share tips on how you can balance out your meals to maximise your weight loss and make better choices to help you feel full and satisfied after dinner. And we'll answer some of the most common questions around choosing healthy and easy dinner recipes that are low calorie to lose weight as well as practical tips for meal prepping family-friendly and easy meals for a healthy eating lifestyle. We'll also be sharing some of our really popular low cal healthy dinner ideas and recipes.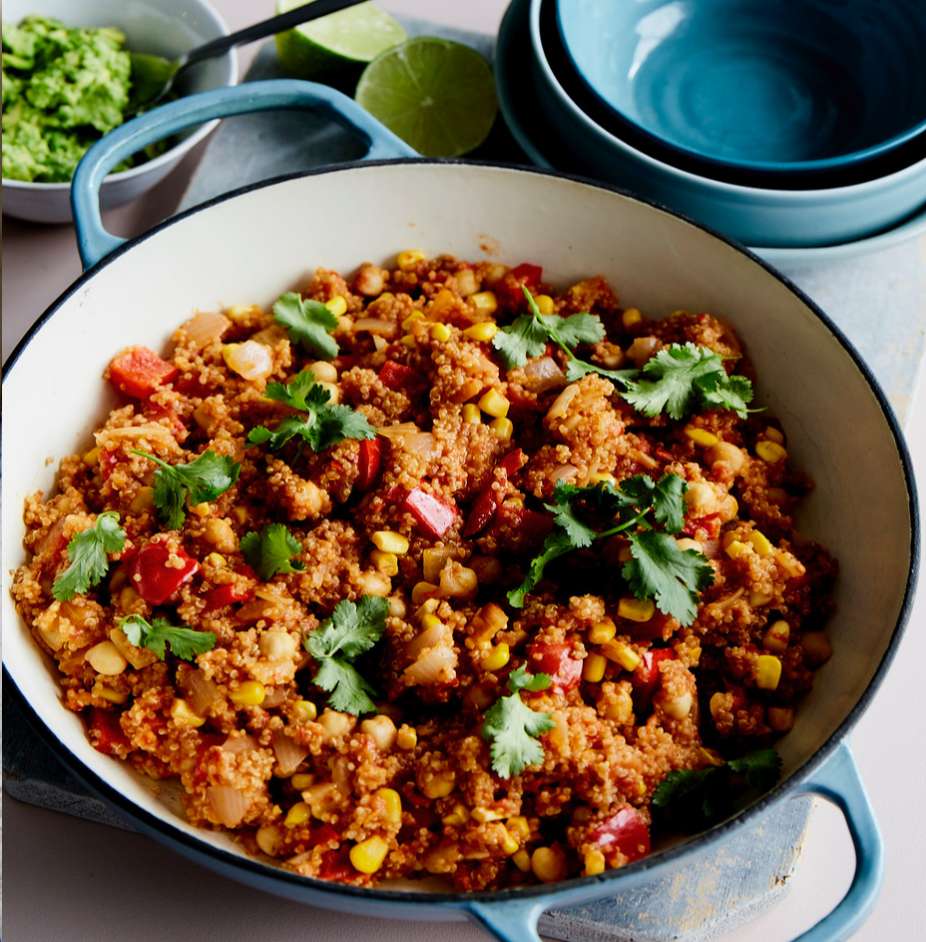 Should dinner be the lightest meal of the day?
There certainly are benefits to eating a lighter dinner. Late night meals that are either heavy or carb-packed are correlated with increased weight. Plus, eating a heavy meal will give you that sluggish feeling the next morning which will mess with your appetite at breakfast.
In general, the later you eat dinner, the lighter it should be, according to many experts. Choosing a lighter option at dinner (especially if you eat dinner late) will help your body digest and break down the food overnight so you sleep better and wake up refreshed and hungry (which is a good thing!). And you'll lose more weight! One study found that the time you eat your food can have a huge effect (more than doubling) on the amount of weight loss you achieve.
How can you feel full for longer?
As you may have noticed, some types of foods and ingredients fill up your tummy for longer and break down more slowly. These foods can stop you wanting to eat again soon after a meal, which is perfect for cutting out after-dinner treats, snacks, and desserts. So, when you're looking for nutritious healthy dinner recipes to lose weight, choose ones that have:
High protein – Not eating enough lean protein has been shown to increase your urge to overeat high-carb and high-fat foods, leading to weight gain, so where possible, incorporate good proteins like chicken breast fillets and lean beef into your healthy meal plan along with legumes like chickpeas and lentils.
Wholegrain alternatives – Compared to refined grains, wholegrain alternatives are better-for-you. Carbohydrates that contain more nutrients and more fibre, like quinoa or brown rice over white rice, will help you feel full for longer.
Healthy fats – Because our bodies burn fat more slowly than carbs, eating healthy fats can help you lose weight by reducing your sugar cravings and ensuring you have enough energy to make it through till bedtime.
Just as importantly, healthy dinner recipes to lose weight should cut back on carbohydrates (especially refined ones) and sugars because these tend to give you a quick burst of energy but break down quickly. That means you'll have an empty tummy and low energy levels very soon after eating a seemingly big meal. And that's why you might feel tempted to eat dessert or a sugary snack. Choosing low carb ingredients to satisfy your appetite will set you up for success between dinner and bedtime.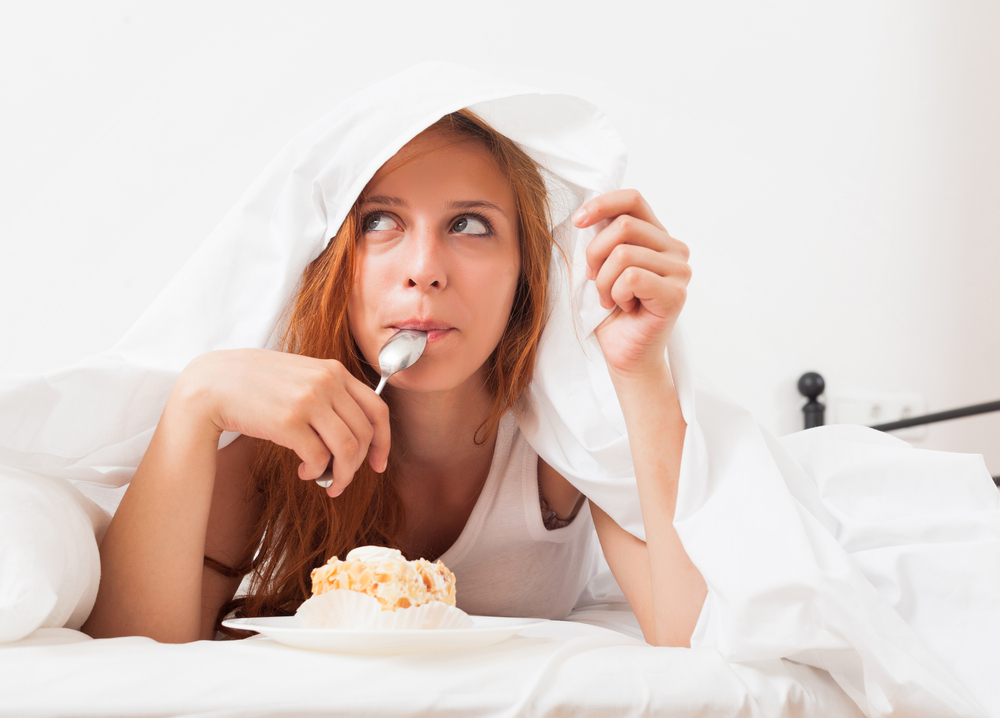 Is it bad to eat before bed?
Generally, yes. There are much better times of the day to eat your food to make sure your body uses up the energy and gets all the nutrients it needs. But if you're REALLY feeling hungry, your schedule is a bit off, and/or your body is telling you to eat… listen to your body. Try to tune in to what's really going on. If it's genuine hunger and it can't wait till morning, eat! Just make sure you eat something healthy and try to set up your schedule and meal plan so that it doesn't become a regular habit.
How long before bed should you stop eating?
Here's the short answer: you should put the food away around 3 hours before you plan to go to bed.
Why stop eating three hours before bed? Eating right before you go to bed (or worse, in bed!) is a bad idea. Here are just some of the reasons why…
You won't use all the energy – Since you're going to spend all night lying in bed, you'll likely have leftover energy from the food you eat that isn't burned and is instead turned into fat stores
You won't be able to relax – If you eat right before bed, you'll get a spike of energy right when you're trying to relax and fall asleep… worst timing ever!
You'll get nightmares – Maybe you've experienced this before… heavy food in your tummy and/or sugars can give you some pretty weird dreams!
Your body needs a break – Your body needs to heal and rejuvenate… but if it spends all night trying to digest what you ate just before bed instead of healing and making new cells, you'll miss out on your "beauty sleep"!
So, stop eating at least 1-2 hours before bed. But ideally, 3-4 hours. That means if you normally go to bed at 10pm, try to make sure dinner finishes between 6-7pm and resist the urge to have supper or snacks before bed.
Want to know more? Read how to stop night time snacking!
What can you eat before bed if you ARE hungry?
First of all, don't be afraid of hunger. It's okay to be a little bit hungry when you go to bed.* For many of us, part of losing weight includes getting used to the feeling of being hungry and being okay with it. You may find that after a few nights of pushing through the urge to snack after dinner, you'll become a lot less tempted to reach for unhealthy foods and after-dinner treats.
*Of course, if you're pregnant, breastfeeding, or anticipate a fairly active night with your little one, you'll need to do what works for you.
But if you are super hungry and you feel like it'll impact your ability to fall asleep (or whatever else you need to do through the night), it's okay to have a healthy snack before bed. Ideally, go for a super healthy, light, snacks like veggie sticks, perhaps mixed with some protein like cheese or hummus or a small amount of greek yogurt and fruit. If you do eat food later in the night, try to avoid lying down within 2-3 hours after eating, and go for a walk to help your body start digesting the food more quickly.

How to include Healthy Dinners the whole family will enjoy
If you've made the decision to lose weight and change aspects of your diet, the last thing you want to be doing is making different types of dinners to satisfy different members of your family. The Healthy Mummy's 28 Day Weight Loss Challenge recipes and meal plans have thousands of easy dinner ideas and are designed so that the whole family can enjoy them and you can stay on track of your weight loss goals.
Loads of the recipes are kid-friendly, with pasta and burger options. What's more, they are often super easy to prepare, think sheet pan or one-pot dinners, some with 5 ingredients or less. There are time-saving recipes for a quick dinner you can get on the table in under 20 minutes.
See some of these recipes our Healthy Mummy Community rave about 10 DELICIOUS family-friendly RECIPES helping mums achieve HUGE weight loss
How Meal Prepping Can help
We talk an awful lot about Meal Prepping at The Healthy Mummy and on the 28 Day Weight Loss Challenge. It really is an amazing way of ensuring you can get healthy family dinners on the table every night, particularly those busy weeknights.
If you think of the time you spend in the kitchen everyday or evening preparing meals, it quickly adds up by the end of the week. And if there's one thing that busy mums don't have enough of – it's TIME. This is where meal prep comes in. By spending some time once or twice per week (or whatever works for you and your family) chopping, cooking and packaging up your meals and snacks you can slice a TON of hours off your weekly cooking schedule.
But you don't have to feel overwhelmed. Meal prep can be made up of simple tasks like chopping ingredients and storing them in airtight containers, making a batch of healthy snacks from the 28 Day Weight Loss Challenge or cooking a double batch of your favourite healthy meal, so you can freeze some for another day.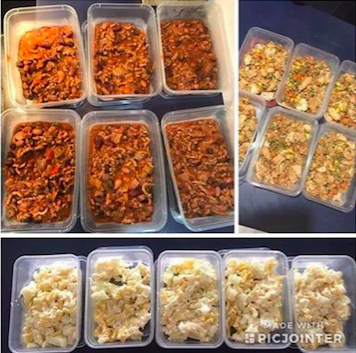 What are the benefits of meal prep?
Oh so many…
No more cooking in the kitchen every single day. By cooking in batches (for instance you might make a double batch of Bolognese, one to use this week and one to freeze for another family meal next week).
Save money by buying your ingredients in bulk – it's often much cheaper if you buy 3kg of chicken breast instead of 500g. Same goes with ingredients like 2kg bags of potatoes, 1kg bags of rice etc. Every little bit of money saved is money in your pocket.
You'll have spare time to hang with the kids in the witching hour (when they just want to snuggle up and read a book or play a game), instead of having emotional kids pulling at your legs while you try to cook dinner.
Avoid the temptation to grab a take out when you're tired and hungry, knowing there is a healthy meal already made at home.
You use less electricity and water as you don't need to cook as often. You'll have less washing up as you'll make one BIG mess instead of a mess EVERY DAY!
If you've never meal prepped before, don't go too hard too soon! To start with, why not just prepare two 28 Day Weight Loss Challenge dinners (doubling the recipe to make 4 family meals) and two double batches of snacks?
For instance, you could make a double batch of Slow Cooker Asian Chicken, and then a double batch of  Healthy Mexican Lasagne.(pictured)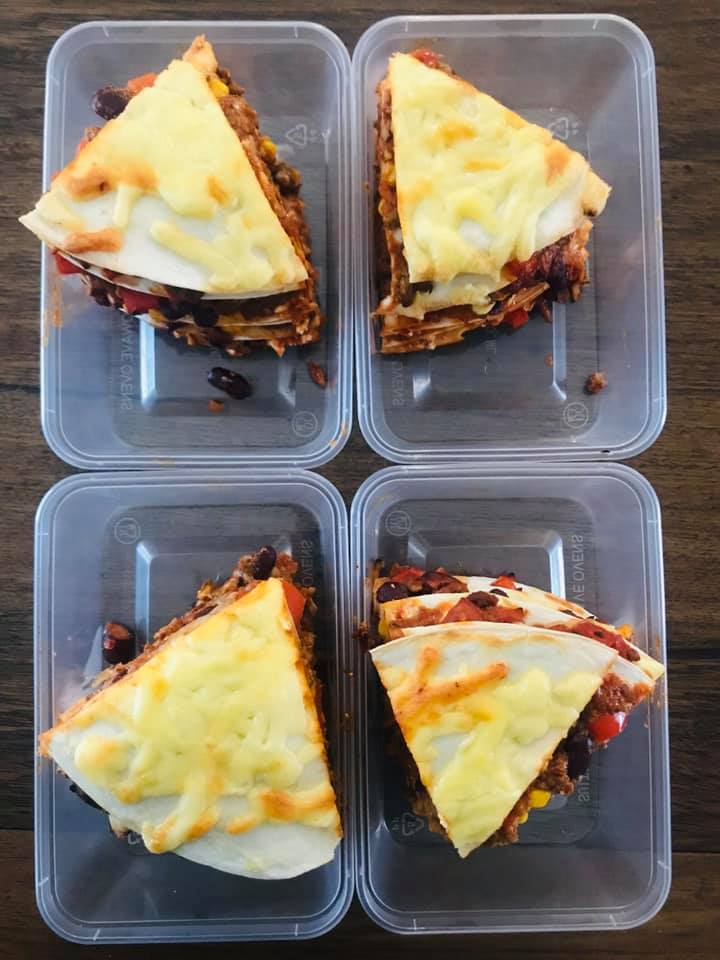 Which Healthy Dinner recipes work well for meal prep and weight loss?
Here are some of the favourites of the 28 Day Weight Loss Challenge members that love to meal prep. All of these recipes are available to members of the 28 Day Weight Loss Challenge.
Meat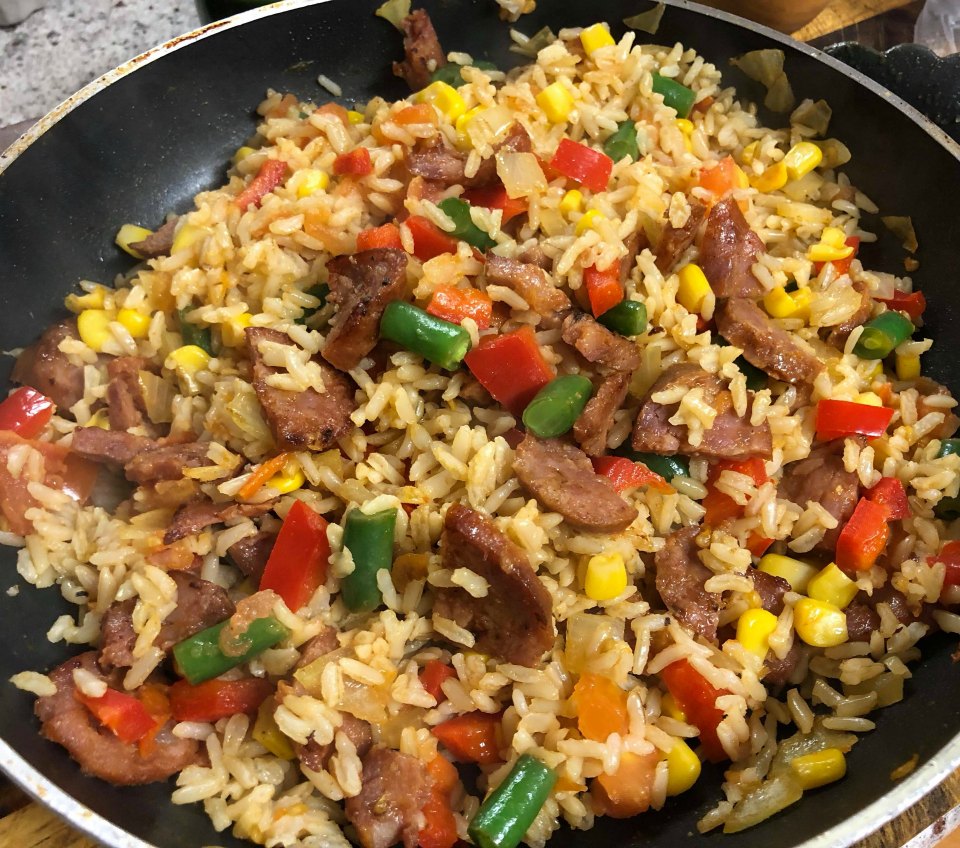 Hoisin Pork with Greens & Rice
Coconut Lamb with Cauliflower Rice
Peanut Butter Chicken Curry
Spanish Rice with Chorizo (pictured above)
Slow Cooker Ragu
Mediterranean Chicken & Vegetable Pasta
Seafood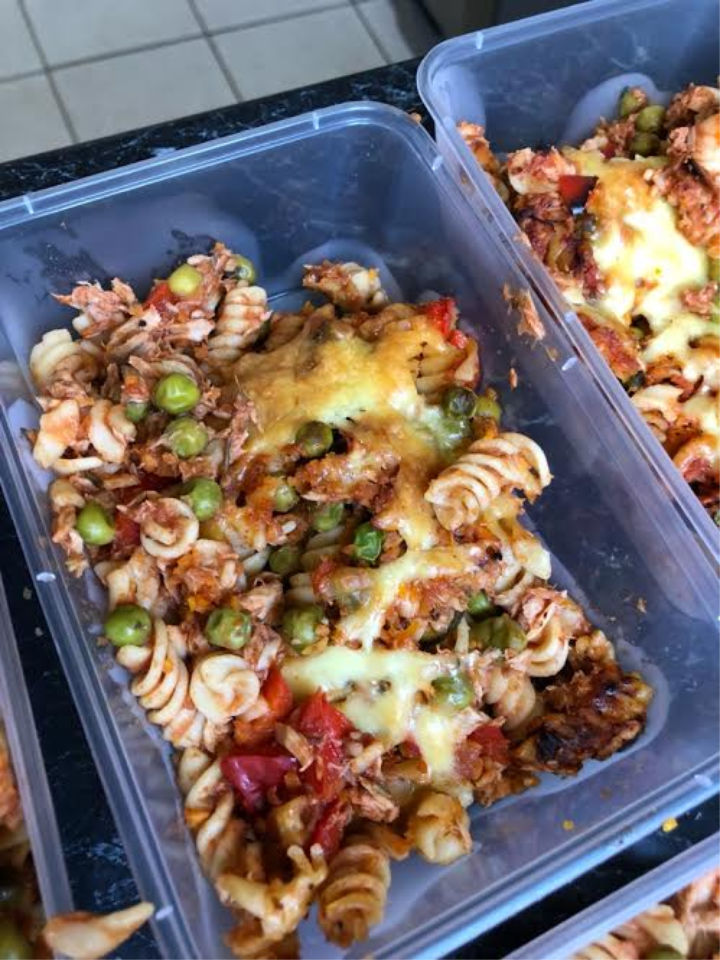 Fish & Vegetable Curry
Coconut Fish Hot Pot
Tuna Pasta Bake (pictured above)
Salmon & Zucchini Patties
Chilli Tuna Patties with Asian Coleslaw. Another delicious zucchini recipe!
Vegetarian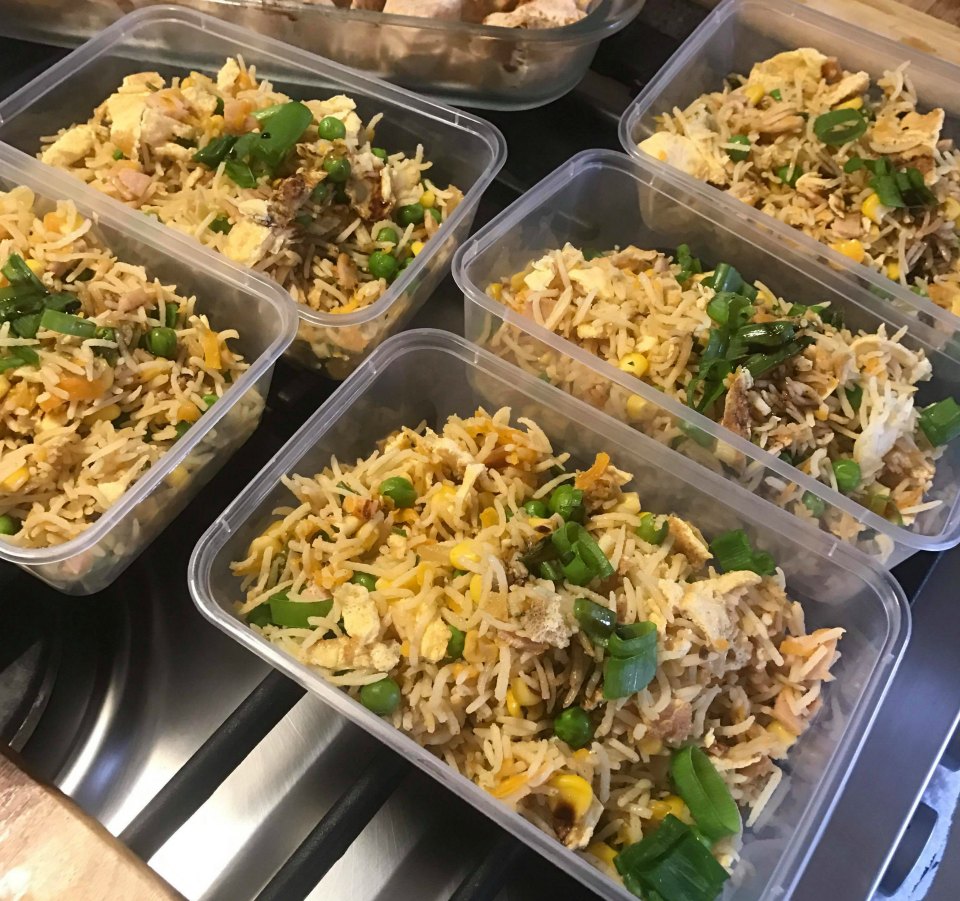 Baked Cheese & Tomato Risotto
Spinach & Pumpkin Curry
Easy Fried Rice (pictured above)
Zucchini & Corn Fritters
Lentil Shepherd's Pie
Family Friendly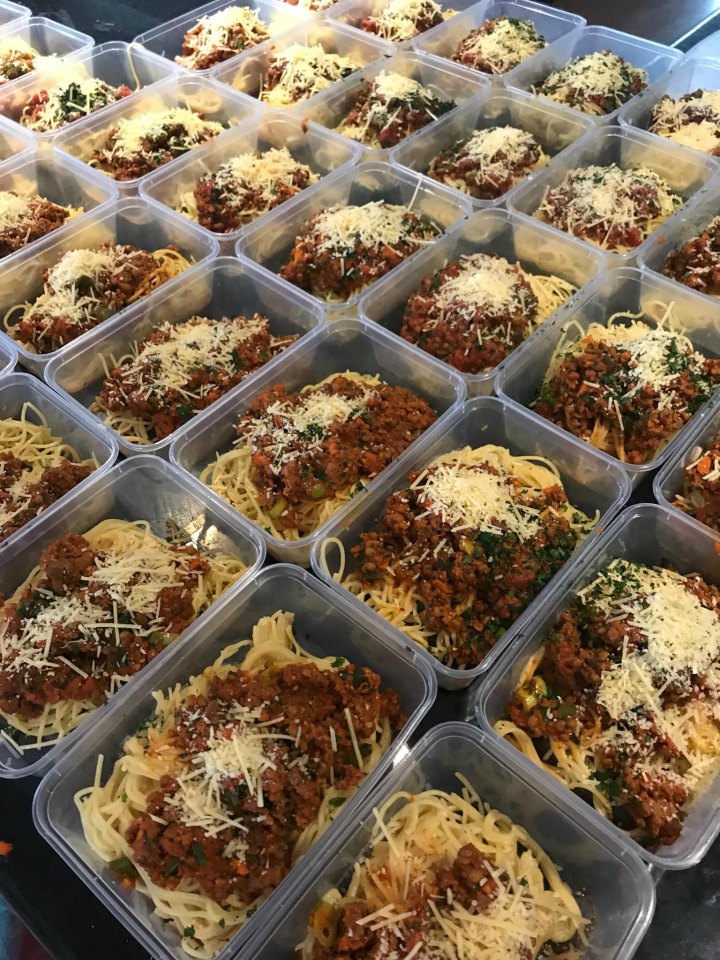 Easy Satay Chicken & Rice
One Pot Spaghetti Bolognese (pictured above)
Sausage & Veggie Pasta Bake
Coconut Chicken Nuggets
Mexican Style Chilli Con Carne
More Healthy dinner recipes to lose weight
Ready to make a positive change to your diet? Add these to your healthy meal plan to help you lose weight as well as satisfying the whole family.
Thai Chicken Noodle Broth 302 Calories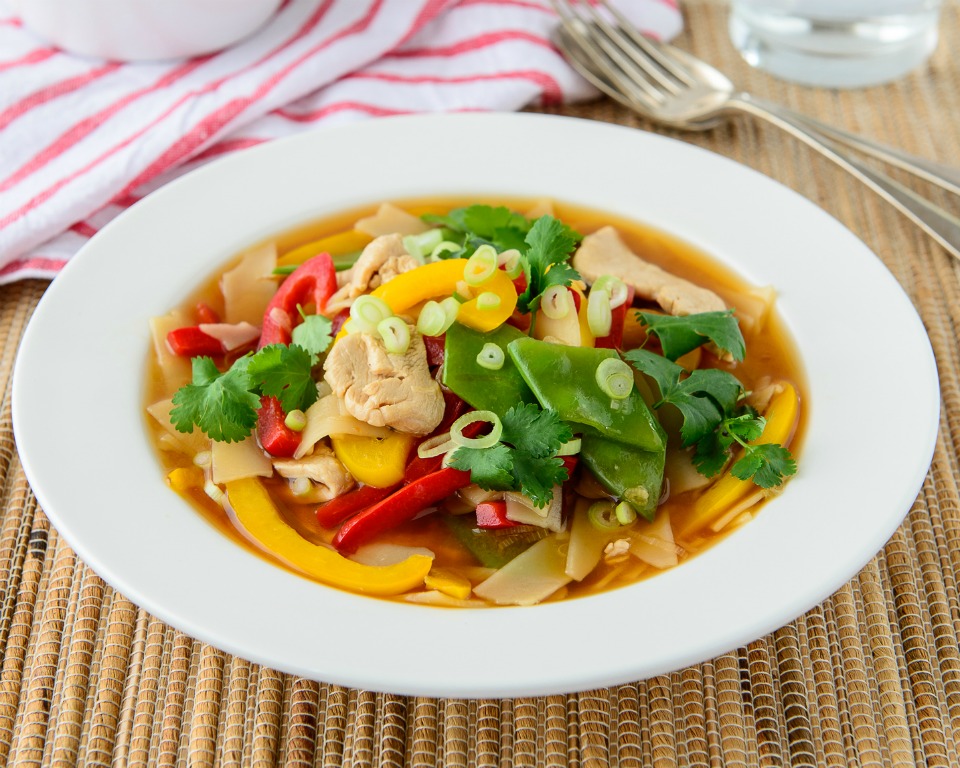 This delicious Asian soup is filled with noodles, chicken and healthy veggies. It's packed with nutrition and will warm you up from the inside out. A great recipe to make in a big batch and then just reheat for a quick lunch another day.
BBQ Pulled Pork Fajitas

This tasty pulled pork recipe is super simple to make – prepare the sauce, then put the sauce and the pork into a slow cooker and cook for 12 hours. That's it! Serve with a big green salad and vinaigrette. for another tasty pork, recipe try our delicious pork fillet recipe!
Comforting Chicken Curry Potato Bake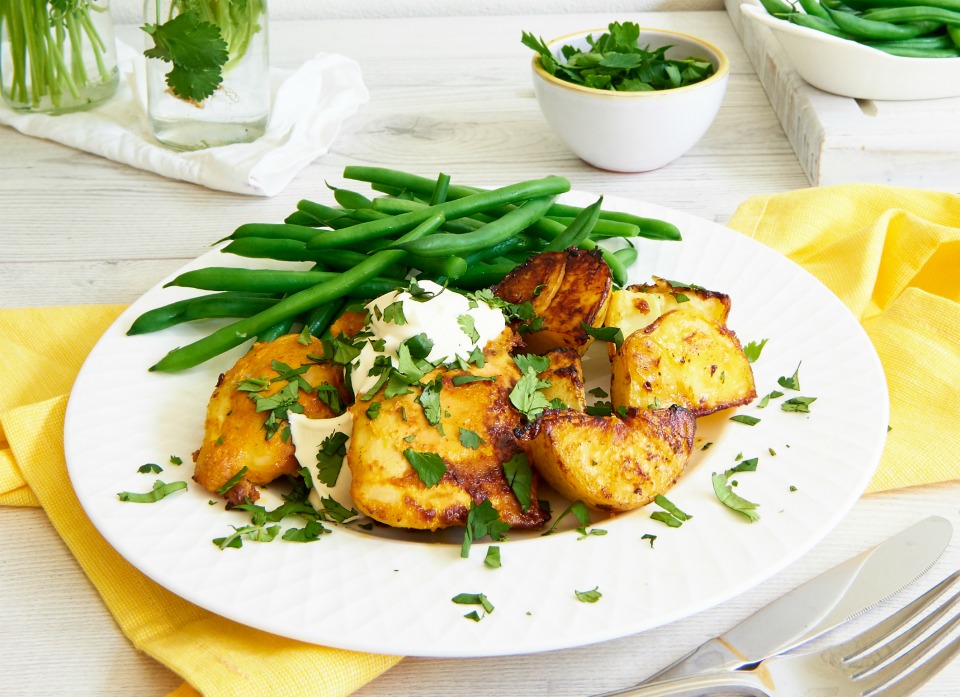 This Chicken Curry Potato Bake is pure comfort food made healthy. The whole family will love this mild curry dinner, and you only need a handful of ingredients to make it. Serve it with some green beans.
Tortilla Nacho cups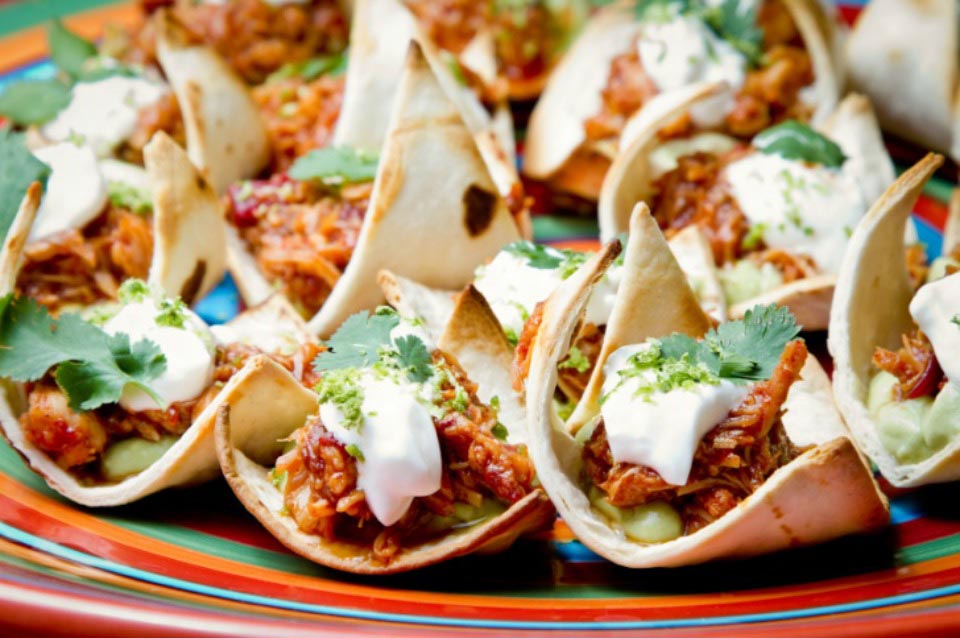 Healthy eating doesn't have to be boring or bland and by using fresh ingredients you can make delicious recipes for a weeknight dinner. These tortilla nachos cups are a change from tacos and are a fun way of dressing up an old time favourite in a healthy and contemporary way. Another delicious Mexican tacos recipe!
Zucchini Noodles with Feta and Mint Pesto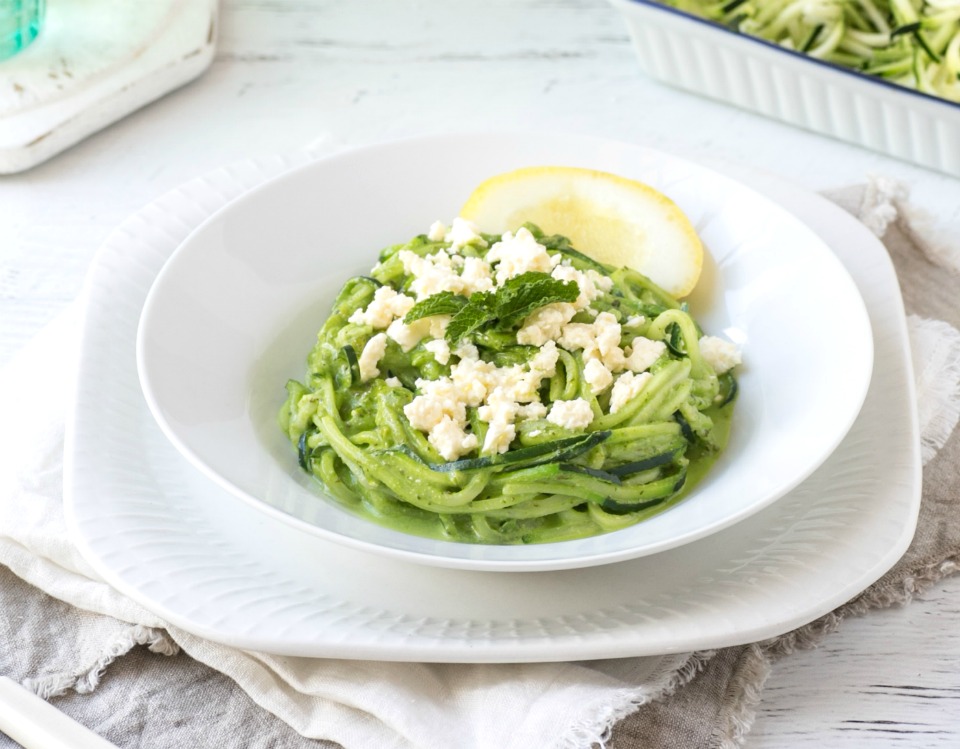 These zoodles with a fresh, homemade pesto are so simple to make. The pesto for this recipe is able to be made in advance making it even faster to get a healthy meal on the table at the end of the day. Got some pesto in the fridge already? Use that instead and just make the noodles.
Sticky Chicken and Fried rice Tray Bake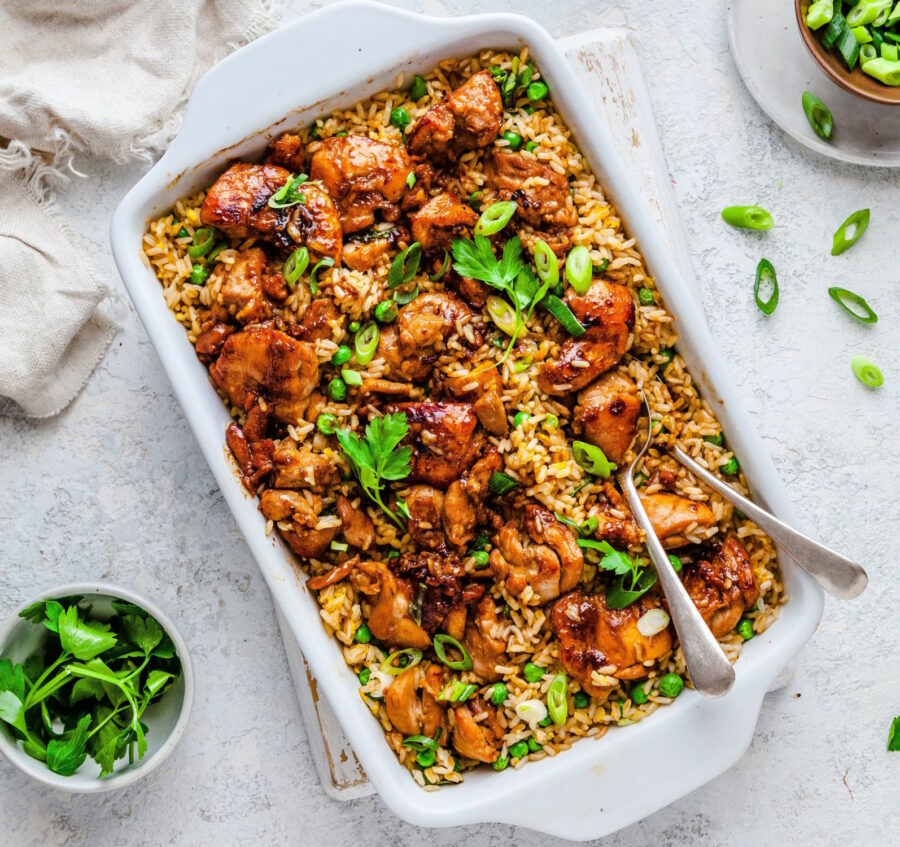 This Asian inspired 'all-in-one' tray bake dish is just like a Chinese takeaway, all in the one pot! It's a perfect 'fakeaway' meal for the weekend or weeknight dinner without all the calories or cost. It just takes 15 minutes to prepare and cooks in under an hour.
Super Speedy Beef Stir Fry Just 245 Calories
If you want a healthy meal that takes just 15 minutes to prepare, this Speedy Beef Stir Fry is for you. Super quick, super tasty and super healthy. You can swap the veggies to what you have on hand and the beef for chicken if you prefer. Totally flexible.
Slow Cooker Porcupine Meatballs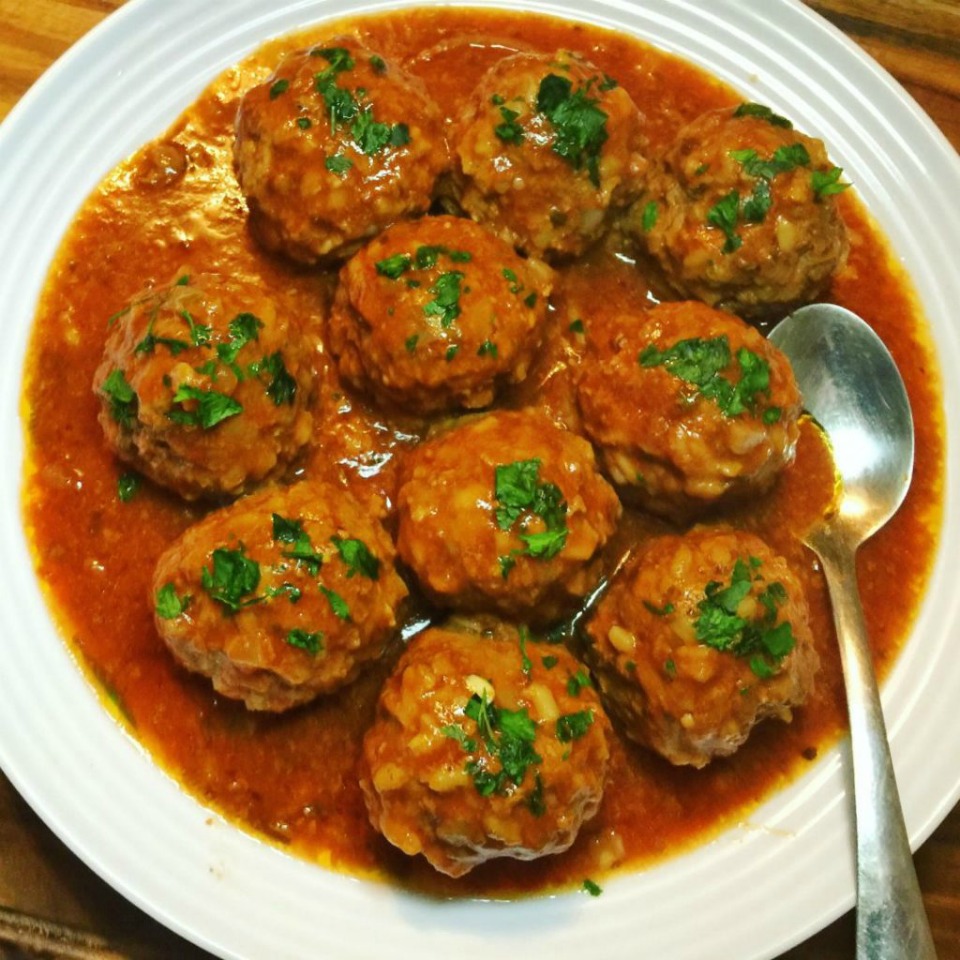 Slow cooked, delicious and full of hidden veggies. If you're looking for a healthy dinner to feed the kids, then you HAVE to try these meatballs! Top with some parmesan cheese for a decadent touch.
20-minute Spinach Pesto Pizza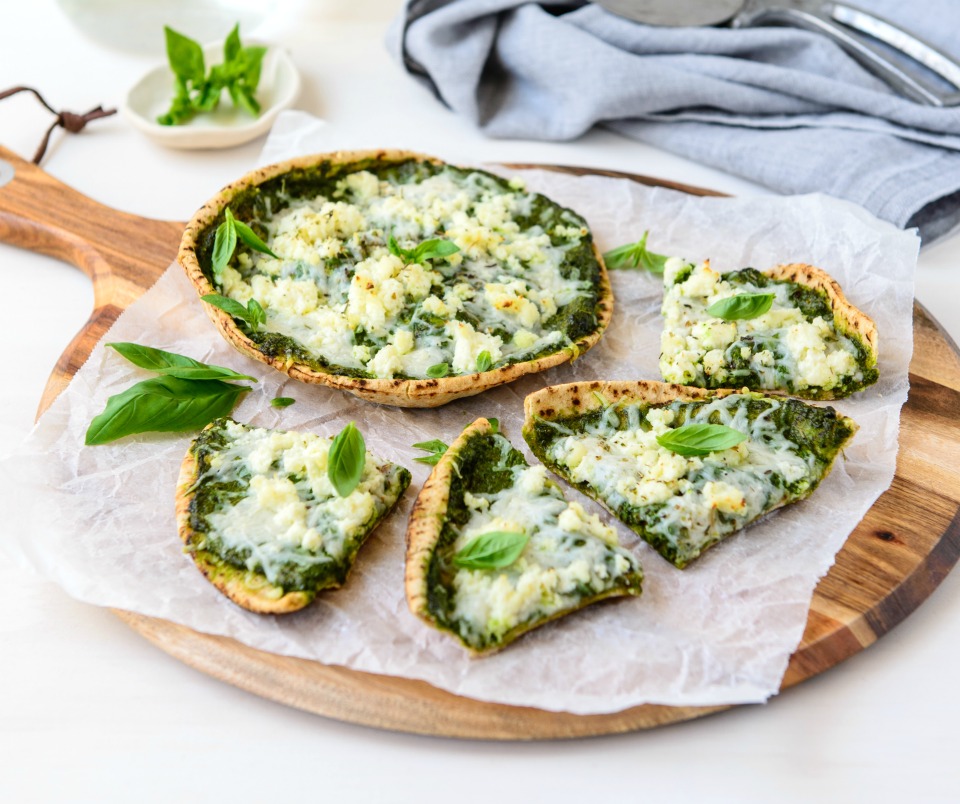 Healthy sweet potato pies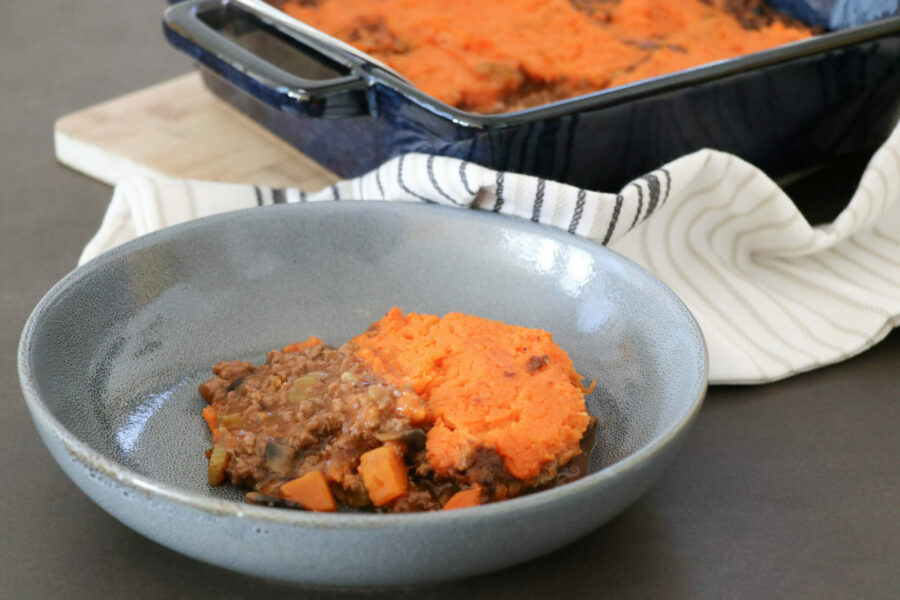 This protein-rich meal will fill your belly up and leave you satisfied, but not bloated..
Better-for-you after-dinner snacks
If you're still peckish after sticking to the healthy dinner recipes in your weight loss meal plan (or you need some extra energy to get through a night shift, an all-night breastfeeding baby, or something else), try these healthy weight loss recipes you can eat before bed.
Get more healthy dinner recipes and weight loss support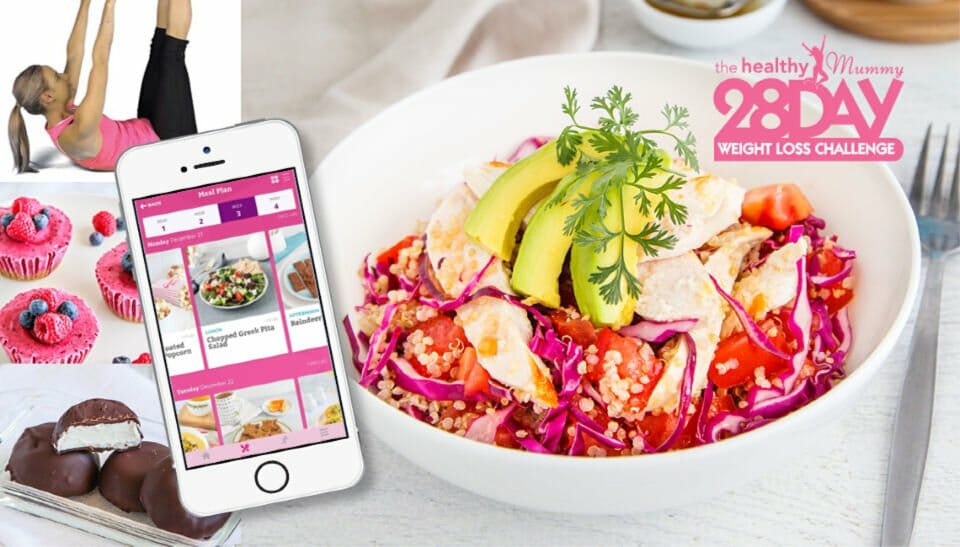 Join The Healthy Mummy's next 28 Day Weight Loss Challenge and get amazing community support, healthy meal plans, and more healthy dinner recipes. To lose weight, you'll find our community of healthy mums are just the support you're looking for. We'll see you on the inside!