Mum Nadi Sanu's 10kg weight loss may not seem like a lot for some people but for her, it's the difference between hiding behind other people when photos were taken to asking for photos to be taken.
Nadi is thriving since she lost the weight and not only is she more confident and a happier person but she is ecstatic that she has been able to maintain her weight loss.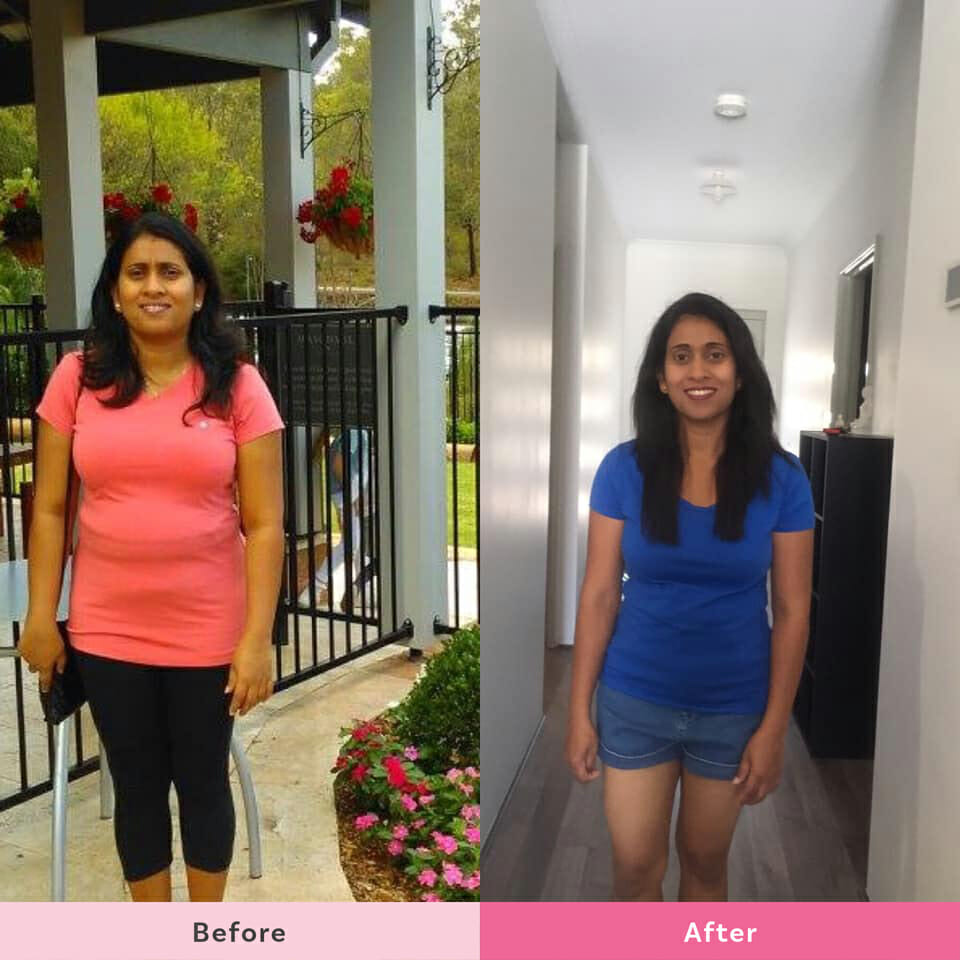 Nadi's new life thanks to her new lifestyle
Nadi says "Wearing short shorts after a long time.
Thanks Healthy Mummy for helping me to lose 10kg and maintain my goal weight over a year (which is the hardest thing for me).
A big thank for all inspiring mums here (The Healthy Mummy Community) for helping me to keep on track. If not for this community I would have fallen off the wagon a long time ago.
I do have mum-tum, many wobbly bits and recently gained 1kg. But I love my body and am working hard to keep going.
This is me with one kid (2016 – 59kg). Now two kids (49kg).
Thank you Healthy Mummy for showing me the correct way to lose weight. I struggled for seven years."
Nadi says a lot of her success has been thanks to the supportive mums in The Healthy Mummy community.
"A BIG BIG THANK YOU for all the amazing ladies in this community for the inspiration. If not for you all, I would have fallen off the wagon and gained more weight for sure. I have no words to explain how grateful I am. 10 kgs and 10cm from my waist have gone."
Her advice for other mums who may be contemplating starting their journey or have just started?
"So ladies, if you just started the journey please take as many pics as possible (casual wear, dress up, undies, swimwear). So you will end up with many comparison pics once you reach your goal.
A BIG THANK to all the lovely ladies in this community for inspiration. I owe you all a lot. If I wasn't a part of this community I will not be able to stay on track for sure."
We love that you are so happy with your new you Nadi and can't wait to see you inspire more mums!
Start your own weight loss journey today with the 28 Day Weight Loss Challenge.
If you are interested in kickstarting your weight loss and want to improve your energy – not to mention – improve your overall health and wellbeing – our 28 Day Weight Loss Challenge is an awesome program to check out. 
Our 28 Day Weight Loss Challenge includes:
28 days of at home exercise routines (no gym needed) – with video instruction
Customisable and breastfeeding friendly meal plans (including a 7 day cleanse)
Challenge combines Pilates exercises with interval and circuit training (HIIT)
Suitable for basic to advanced fitness levels
Home to thousands of EASY-TO-MAKE recipes!
To learn more about our 28 DAY WEIGHT LOSS CHALLENGE CLICK HERE