"Obese for most of my adult life" – Mum loses 40 kilos and transforms her life!
Mum Kim knows all about diets. You name it – she's tried it! Low carb, high fat, pills, over the years she's tried them all. Obese most of her adult life, Kim found all the diets she tried just unsustainable. So she would give up.
All that changed eighteen months ago when she found The Healthy Mummy. She's now 40 kilos down and has no intention of stopping here.
Read more on Kim's incredible transformation below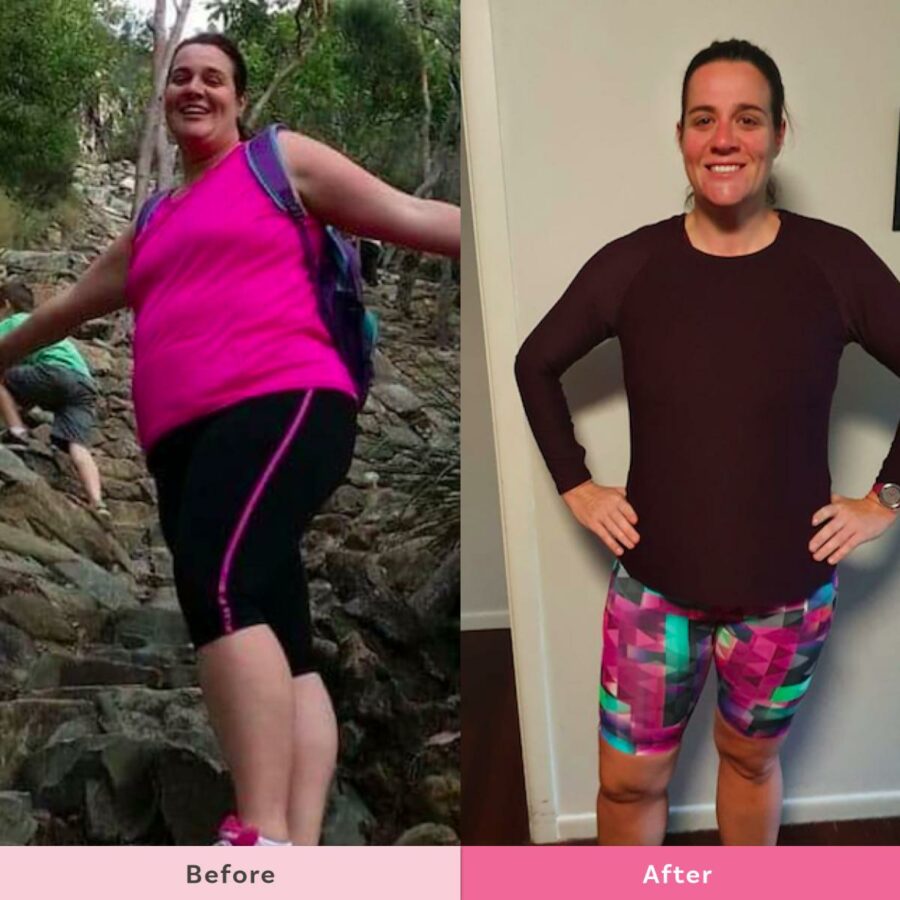 Mum of four from The Sunshine Coast has struggled with her weight all of her adult life. At her heaviest, she weighed around 133kilos but admits it could have been more as she would avoid the scales.
She says, "Like all us mum's I am crazy busy and used this as my excuse to eat bad and do no exercise. I have four children. Two of which are higher needs. My eldest has type one diabetes, which requires a lot of carb calculations and insulin adjusting. My next daughter has behavioural issues including ADHD, odb, anxiety and ptsd so she requires a lot more of my time."
Eighteen months ago and weighing 132.9 kilos, Kim decided enough was enough.
"I had to be serious about my health and take control of my eating. I was spending my days constantly eating junk food and just sitting watching tv. I used being busy as my excuse for being so unhappy and unhealthy."
Weight Loss Results – 40 kilos and 5 dress sizes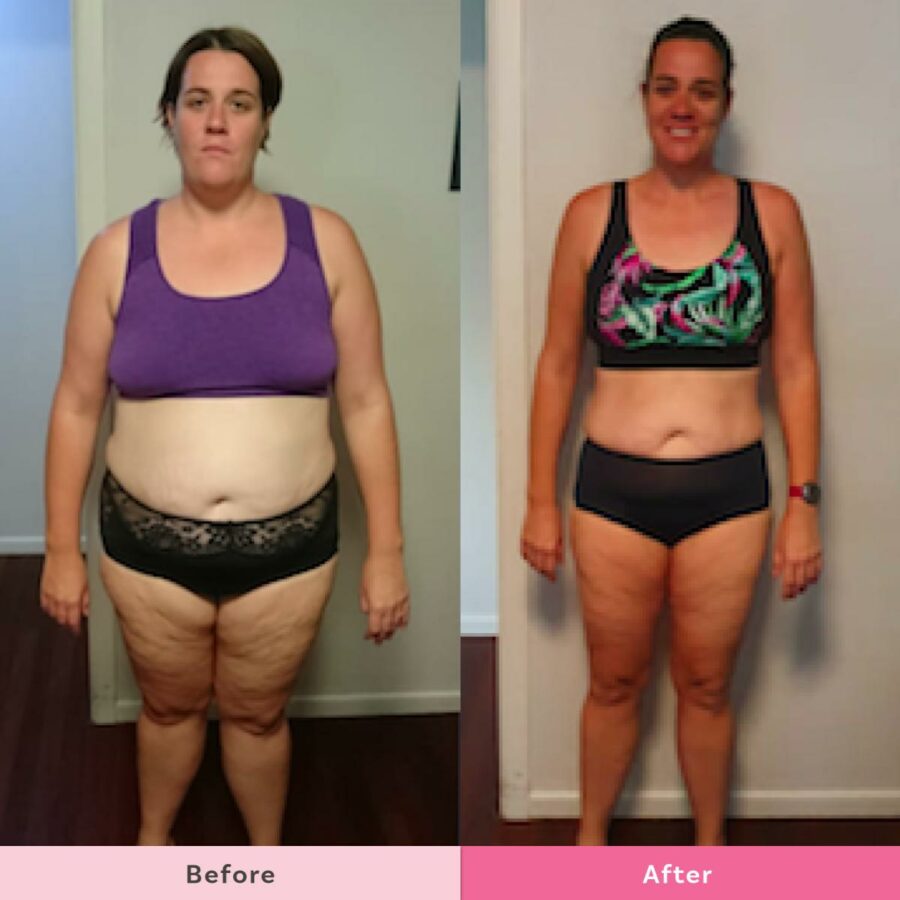 Since joining The 28 Day Weight Loss Challenge, Kim has lost a whopping 40 kgs and 160 + cms off her body and has gone from a size 24 to a size 14/16.
"From being extremely unhealthy and unhappy to healthy and extremely happy. Inside and out."
Kim is 6 feet tall so has a realistic goal weight for her height. "I am currently sitting at 92.6kgs, my ultimate goal is to get to 85 kgs. For me, I have been happy maintaining within 2-3 kgs for the last 6 months."
Quick fix diets no more!
Kim has found the Healthy Mummy's 28 Day Weight Loss Challenge has taught her all about moderation which has made it sustainable and has led to her successful weight loss.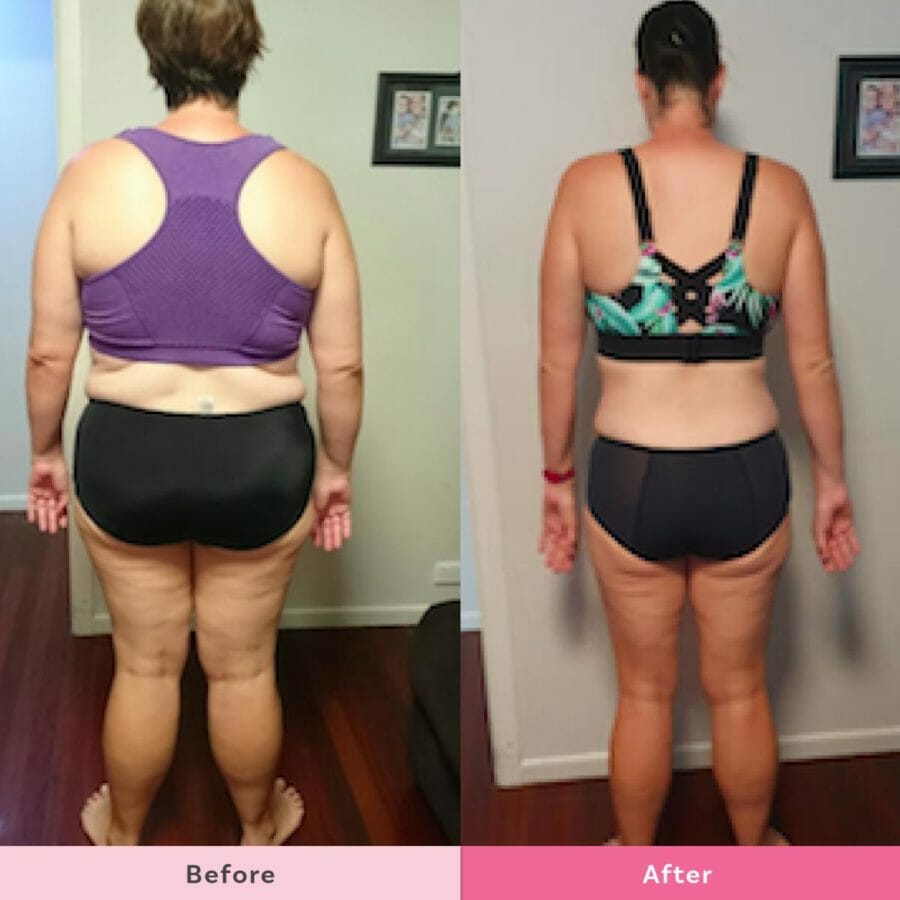 "The Healthy Mummy is a lifestyle change, not a quick fix diet. Why should you restrict something you enjoy? If you love chocolate, or cheese or whatever takes your fancy why should you always avoid those foods."
Kim uses Healthy Mummy Smoothies in smoothie bowls every day and uses Healthy Mummy meals the whole family can enjoy.
"Our family favs are Hidden Veggie Sausage Rolls and Healthy Twix Bars."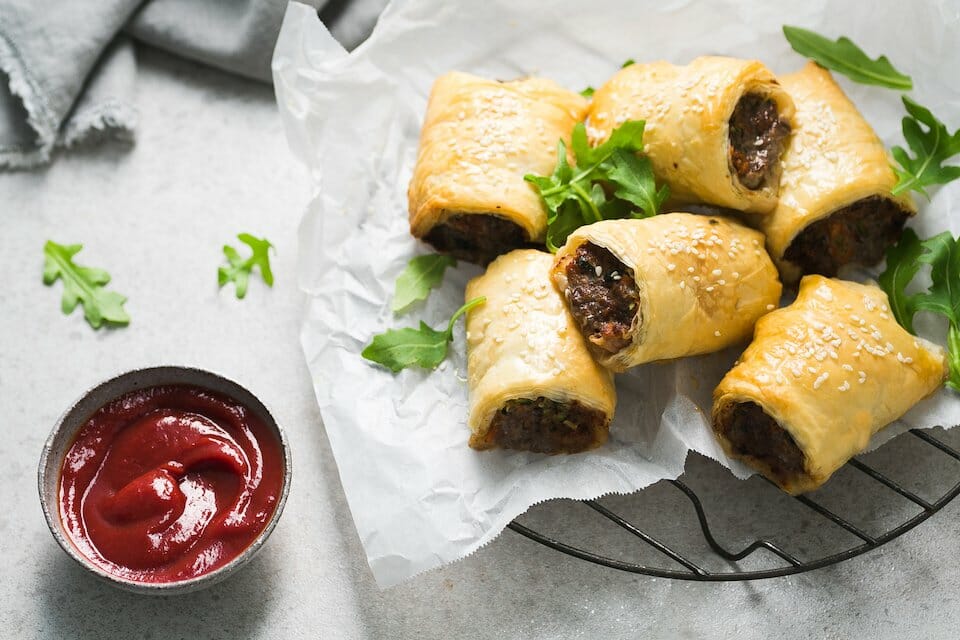 "Don't beat yourself up"
"I am not perfect and don't claim to be. I do and have fallen off the wagon. But the main key is not to beat yourself up and get straight back on. One meal will not make all the weight you have lost come back. So enjoy the meal and get back to it next meal/day."
Exercise – "A natural anti-depressant for myself"
Kim has discovered a new love of exercise which has played an important part in her journey.
"I've gone from walking 5 km in just over an hour to running it in 30:13 min. I used to make excuses to not exercise. Now it's just part of my daily routine. Yes, I do have days where I can't be bothered but I know I always feel so much better after I exercise."
"I exercise not only for my health but also my mental health. Exercise, while it is difficult while doing it makes me feel so much better and clearer afterwards. A natural anti-depressant for myself."
Kims Tips for those needing a boost!
Take one day at a time. You can't change everything at once. Don't expect to be able to exercise for an hour after doing nothing and not be in a lot of pain the next day.
Make small changes. Walk that little bit further, or do that extra 5 mins app exercise.
Make a better food choice or cut something out that you used to make as a food choice.
Ask for help if you need it. There's nothing worse than feeling like you can't do it, when we know you can!
Congratulations Kim on your amazing weight loss so far!
Ready to join Kim and get in the best shape of your life?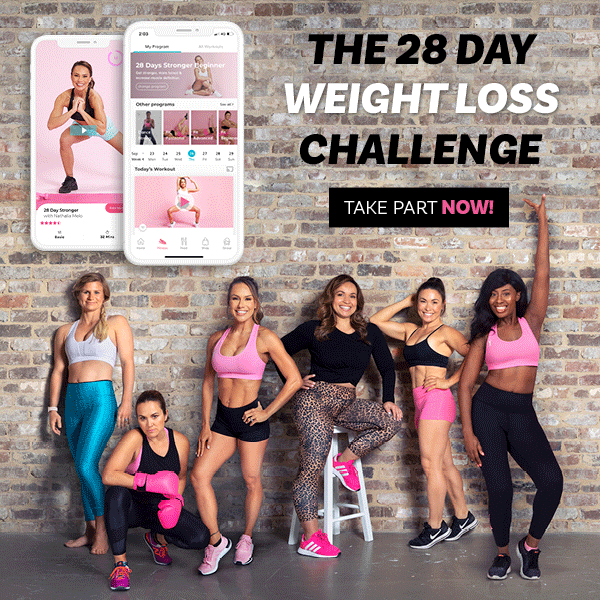 Real mums. Real results!
We've proudly helped millions of mums transform their health. Mums just like you completely transforming their health and bodies. You can do it too (and it's easy!)
The 28 Day Weight Loss Challenge is the mums only 5 star rated app with over 1.6k reviews in 8 weeks!!
You get unrestricted access to :
● Nutritionist & chef designed weekly meal plans
● Personal Trainer crafted At-home workouts- 28 minutes and under
● Daily Motivation from My Coach
● Personalised Shopping lists to make life easy
● Over 4,000 healthy and delicious recipes at your fingertips
● REAL TIME support from The Healthy Mummy Team and OVER 200,000 other mums