Healthy Profiteroles Recipe – just 115 calories!
These decadent and delicious profiteroles from the 28 Day Weight Loss Challenge, are the perfect treat and are just 115 calories per serve.
These decadent and delicious profiteroles from the 28 Day Weight Loss Challenge, are the perfect treat to meal prep and grab as a snack or dessert, or even serve as a swish dessert when you are entertaining. Believe me, your guests will not even realise that these are a healthier version of the usual calorie-laden 70's classic. Using only a small amount of butter, wholemeal flour and nativa instead of sugar, these healthy little profiteroles can be enjoyed guilt free.
At just 115 calories, these bite-size balls of loveliness, have three components of light pastry shells, filled with yummy custard and topped with dark chocolate. While there are a few steps involved, they are surprisingly easy to make and are well worth the effort!
The 28 Day Weight Loss Challenge has thousands of recipes with a healthier version of some of your favourite classics desserts. Think Lemon Meringue Pie, Pavlova, Chocolate Fondant Cake and Vanilla Egg Custard!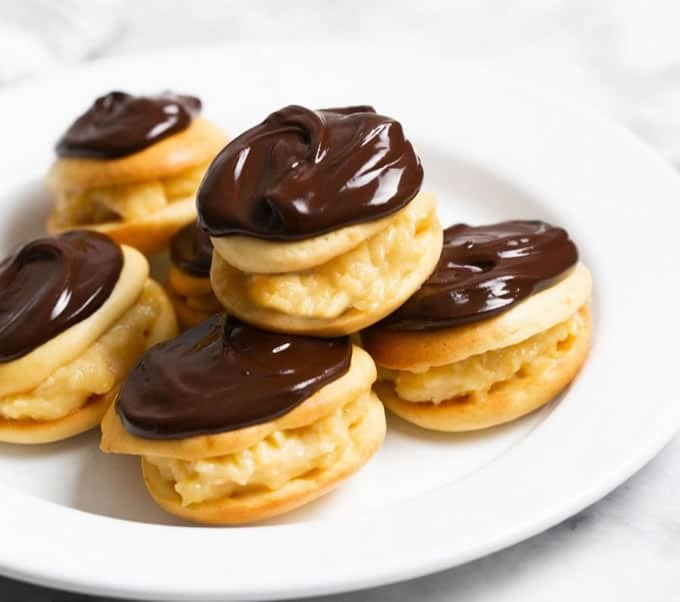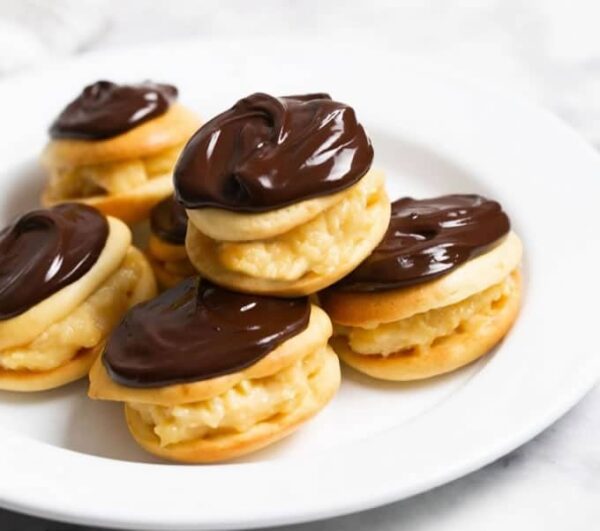 1/3

cup

unsalted butter

6

tbsp

Natvia

salt

1 & 1/2

cups

plain wholemeal flour

6

free-range eggs

3/4

cup

full cream milk

1

tsp

vanilla extract

110

grams

dark chocolate

70%
1/3

cup

unsalted butter

6

tbsp

Natvia

salt

1 & 1/2

cups

plain wholemeal flour

6

free-range eggs

3/4

cup

full cream milk

1

tsp

vanilla extract

110

grams

dark chocolate

70%
Line 2 baking trays with baking paper and preheat oven to 180 C.

Put the butter, 2 tbs of Natvia and salt in a pot with 250ml of water and bring to a simmer.

Add 150g of flour (reserving 2 tbs) and stir over a low to medium heat, until the paste comes away from the pan.

Transfer immediately to a bowl or stand mixer and use an electric beater to whisk on medium.

Add 4 eggs, one at a time, and increase speed until the mixture is smooth and glossy.

Use 2 teaspoons to blob the mixture onto the baking trays. Maintain the height by using one spoon to scoop it out of the bowl and the other to scrape it off gently. You should get 10 per tray.

Bake in the oven for 15 minutes or until golden on top. Remove from oven and set aside to cool. As your pastries cool, they may flatten.

To make the filling pour the milk and vanilla into a saucepan and bring to a light simmer. Do not boil.

Meanwhile, place 1 egg and egg yolk into a bowl with remaining natvia (4tbs) and the remaining 2 tbs of flour and whisk on medium.

Pour simmering milk into bowl very slowly while whisking until smooth and creamy.

Transfer back into saucepan and replace on low heat, whisking until mix becomes thick like custard.

Pour custard into a bowl, cover with glad wrap and place in fridge to cool.

Once pastry has cooled, gently pull or cut them apart half way, leaving one side attached.

Melt dark choc as per packet instructions.

Spoon 1 tsp of cooled custard into pasty. If your pastry has deflated, you can pop your custard into a ziplock bag, trim the end and pipe the custard in. Then drizzle each pastry with chocolate.

Place in fridge in an airtight container for 1 hour to set before eating.

Store leftovers in an airtight container in the fridge for up to 4 days.
This recipe has 115 calories per serve
Tired of wondering what to cook?
Now you can easily meal plan with our personalised plans & over 6,000 family & budget friendly recipes catering to a wide range of dietary requirements.

The Healthy Mummy is a holistic program to nourish your body with nutritious food and help you stay active in your busy, everyday life. Yours and your families well being should be a priority so let us take the hassle out of it.

Unlock the key to sustainable life changes that will leave you feeling your absolute best.
Mums share their amazing Healthy Mummy transformations!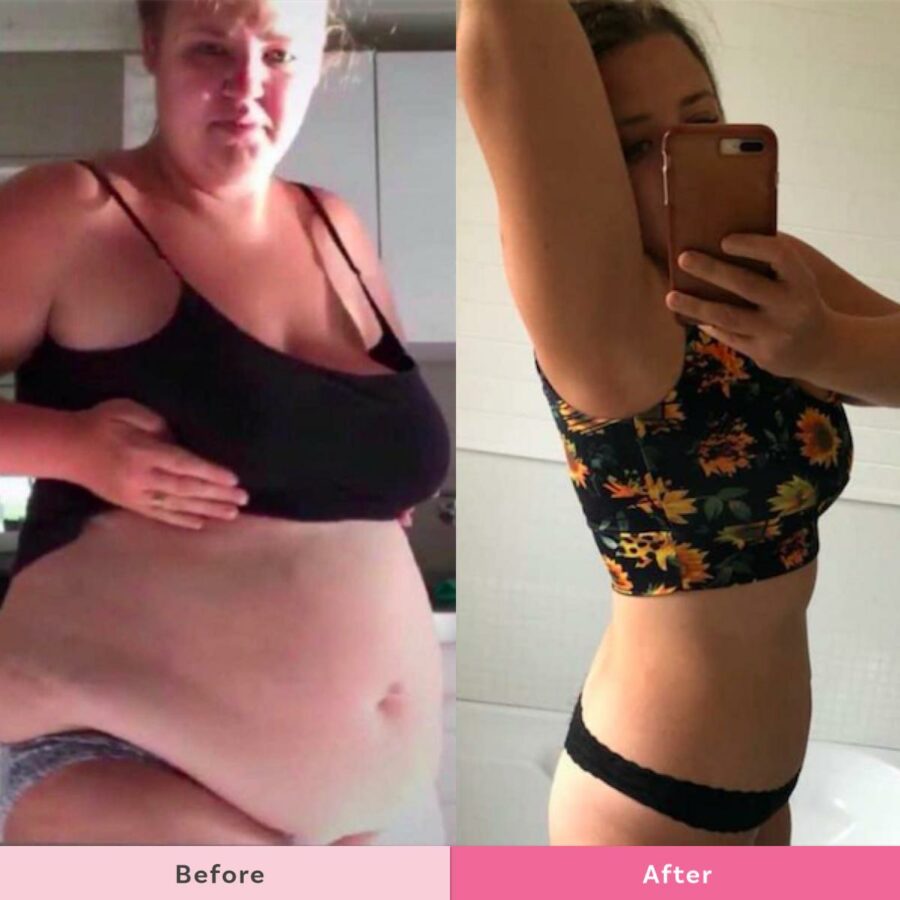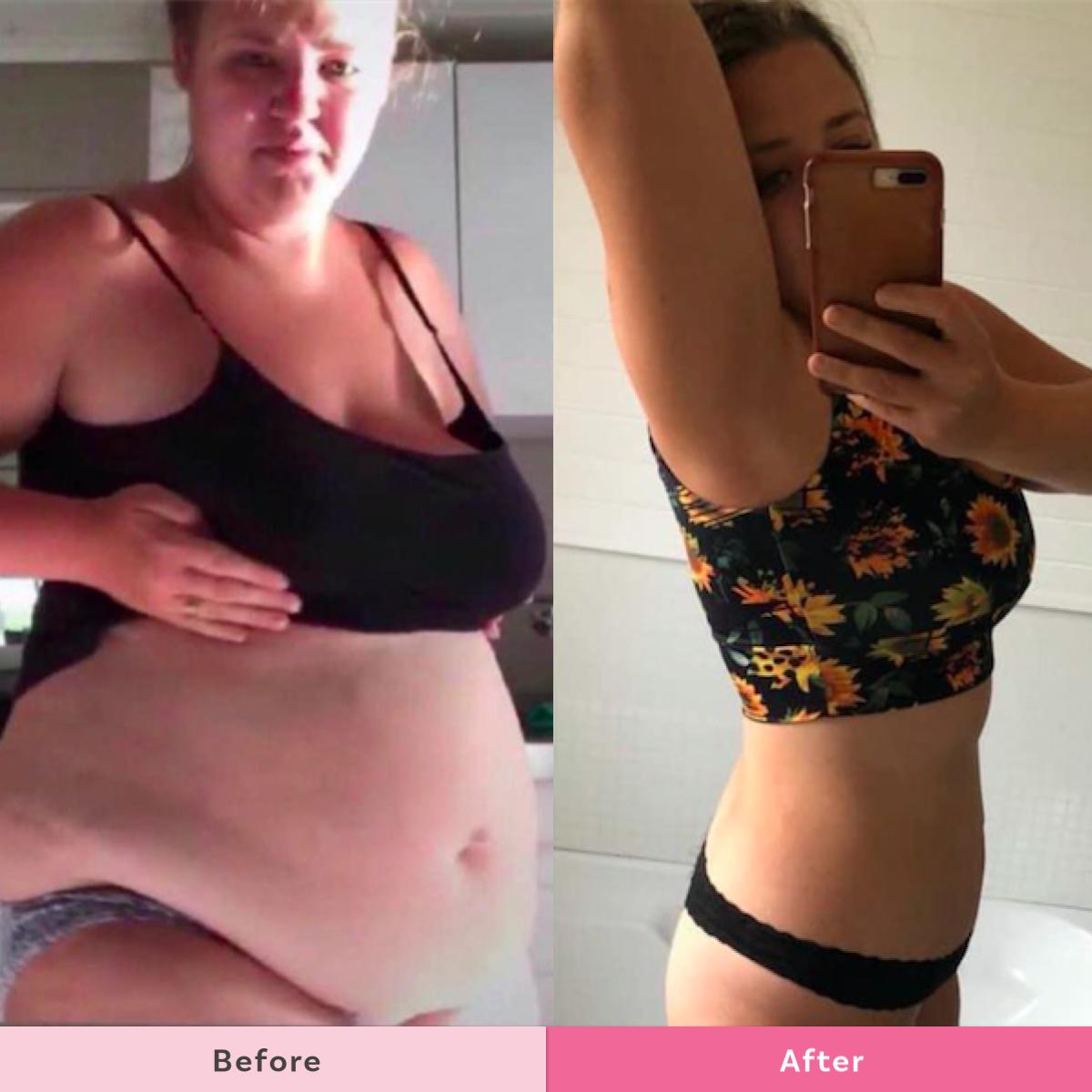 Cicily Goodwin- 35Kgs Lost
Mum of two Cicily started her journey with The Healthy Mummy in July 2016. In the first few months, she lost 20kgs by using The Healthy Mummy Smoothies twice a day and making the 28 Day Weight Loss Challenge meals. She lost another 35kgs over the next year.
Cicily says "I started the year at 110kgs and got to 75kg!! The lifetime goal I've dreamed of my whole life! "
Cicily admits that her when she started her journey it was all about weight loss but after living a healthy lifestyle it became a lot more about happiness.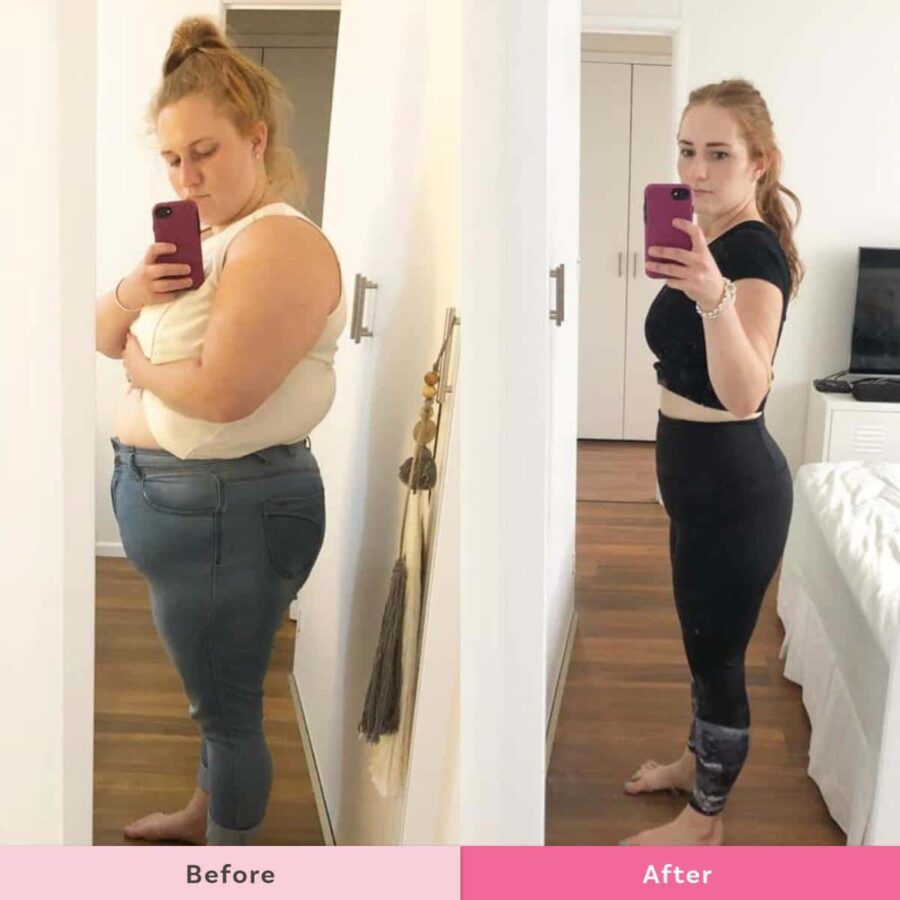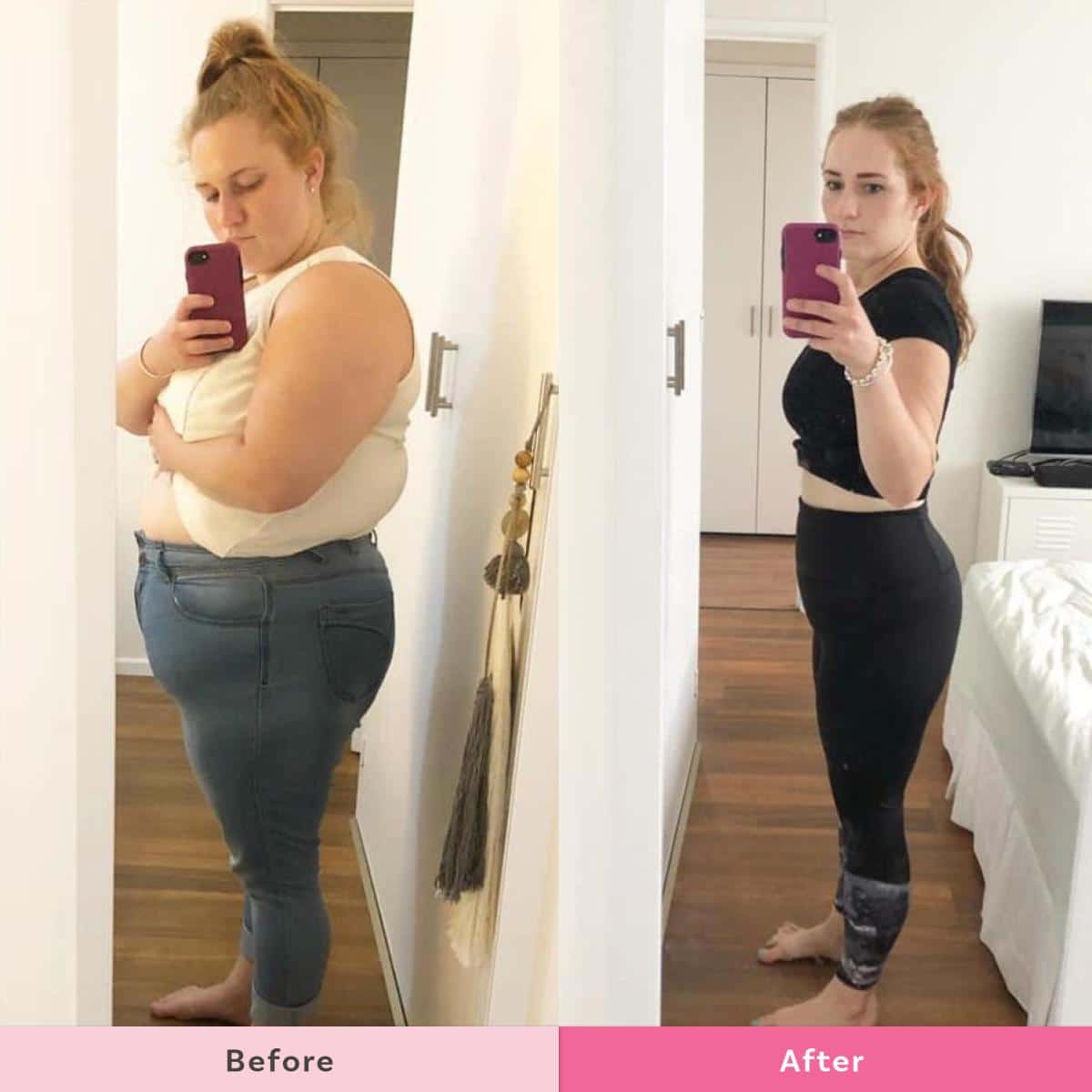 Zoe Terry – 41.7Kgs Lost
Zoe shares, "July 2019 – March 2020 – 41.1kgs gone and definitely not missed! I never thought I could do it. I never thought I would enjoy it. But Healthy Mummy has made it easy and fun!
I have found that 2 smoothies, 3 snacks and a healthy main meal paired with daily exercise is what's worked for me!"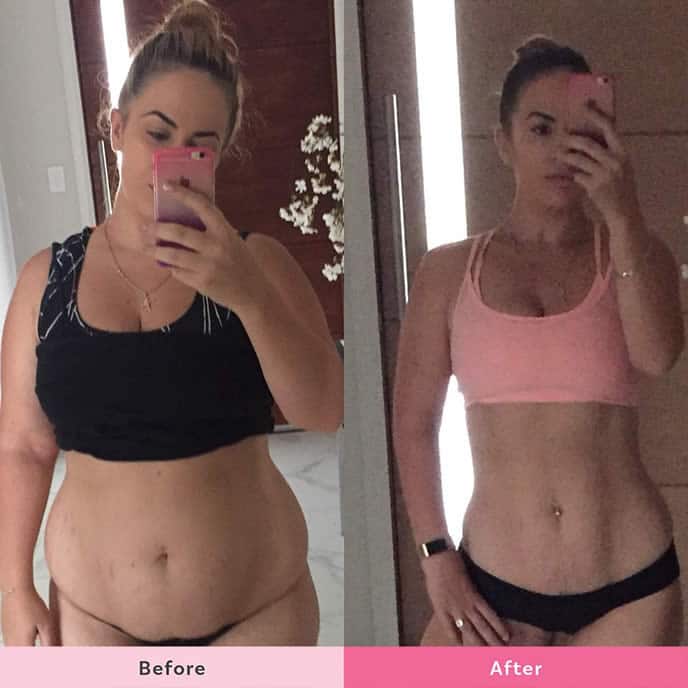 Melissa Timmer – 37kgs Lost
The Healthy Mummy which has helped her take back control and within 18 months, she had lost a whopping 37 kg and has been maintaining her weight for three years.
Even though Melissa's weight fluctuates up and down a little she says "I couldn't care less because this journey is about being happy and if you feel happy in your skin, no matter how much you weigh or what size you are, that's all that matters. "We are all different and beautiful so don't be stuck on what scales say all the time."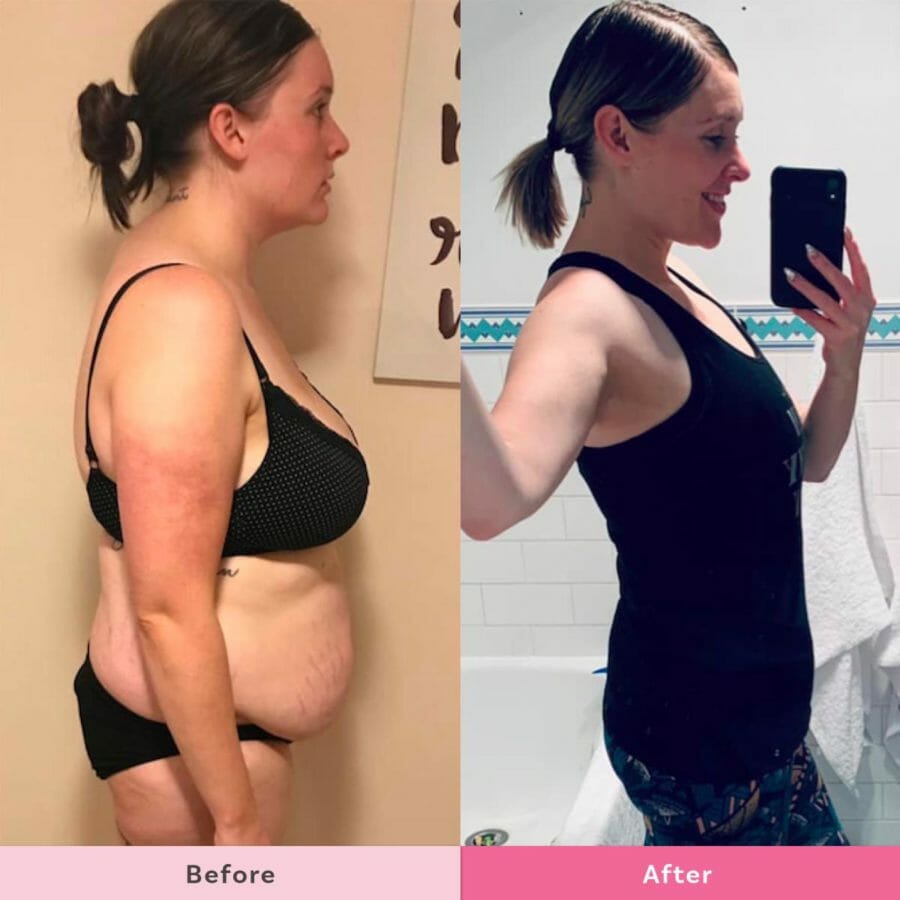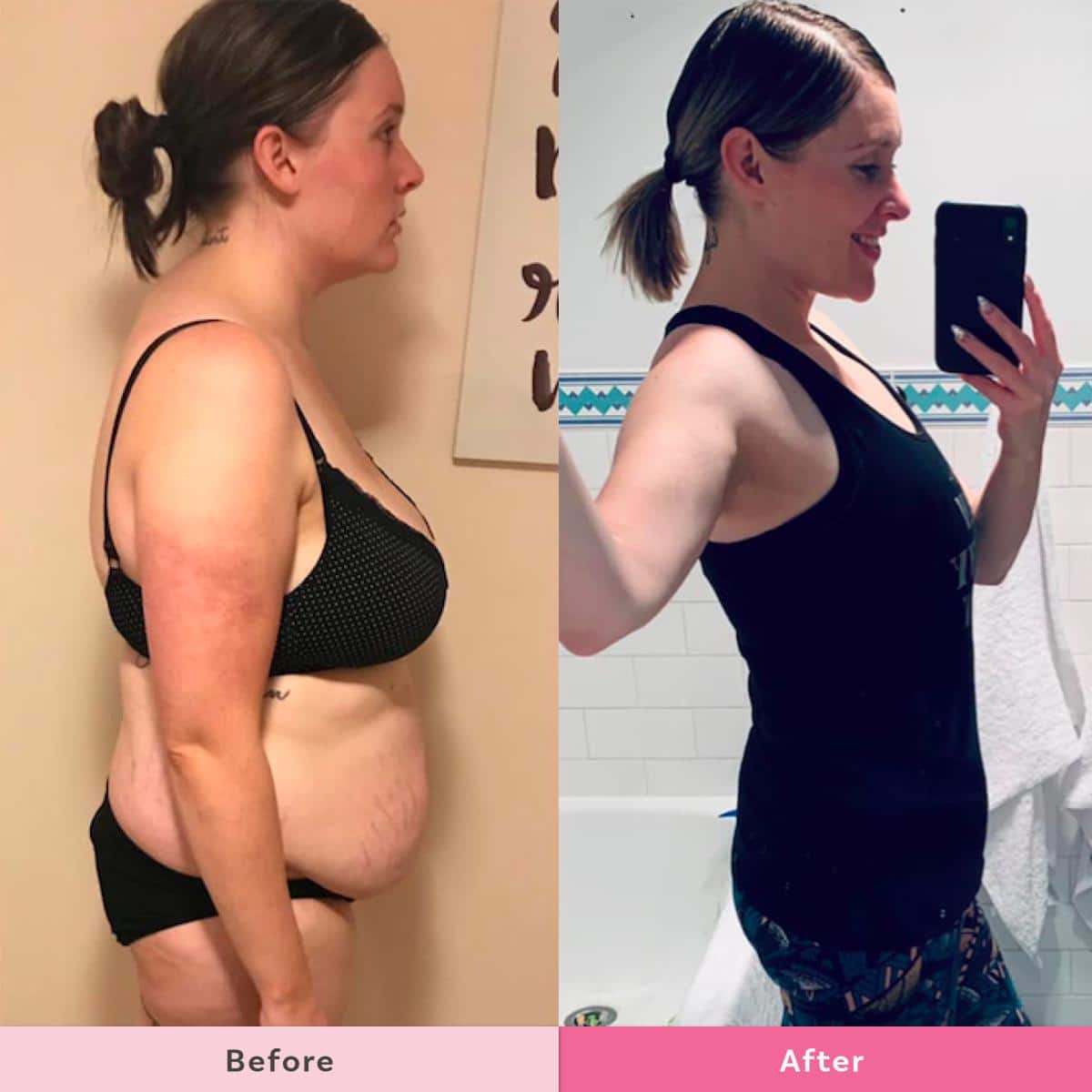 Tarryn Eames – 30Kg Lost
Tarryn says:-
From 97KGS to 67KGS
From a size 18/20 to a size 10/12
From lethargic to energetic
From miserable to genuinely happy
From hating my body to appreciating it.
"At the beginning of my journey,  all I wanted was to lose weight. I never aimed to gain anything. However, all I've gained means more to me than the kilos that are now gone and the cms that have disappeared too. Somewhere along the way, I gained the energy to be able to play with my children and the confidence needed to do that in a public setting.
I gained many beautiful and like-minded friends. I gained confidence. I gained strength both physically and mentally. I gained self-love. I gained knowledge about nutrition and exercise. But most importantly I gained happiness."