Red Velvet Chocolate Layer Cake
 At The Healthy Mummy we LOVE healthy recipes and giving traditional high-calorie recipes a healthy recipe makeover – and we have a FAB one here with the Red Velvet Chocolate Cake – you will LOVE This Red velvet cake recipe!
And if you love this one – make sure you check out the 28 Day Weight Loss Challenge with over 2,500 healthy recipes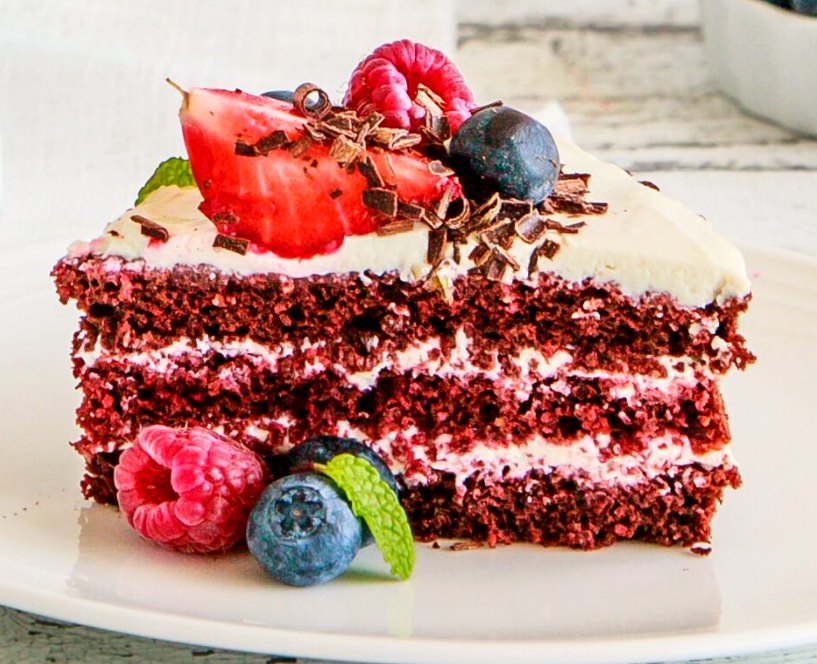 Calories per serve: 306 (1281kj)
Ingredients (Makes 8 serves)
1 cup full-cream milk
1 tbsp lemon juice
1 cup self-raising wholemeal flour
1⁄2 cup almond meal
2 tsp baking powder
Pinch salt
1/3 cup cacao powder
2 eggs
1/3 cup pure maple syrup
2 tbsp rice bran oil or melted coconut oil
2 tsp vanilla extract
2 tsp natural red food colouring
Frosting
125g reduced-fat ricotta
125g reduced-fat cream cheese
1-2 tbsp pure maple syrup, to taste
1 tsp vanilla extract
4 drops natural red food colouring (optional)
Method:
Preheat oven to 180°C. Grease and line a deep 20cm round cake tin.
Combine milk and lemon juice and set aside to curdle.
Whisk together dry ingredients in a large bowl.
Beat eggs until thick and creamy. Add eggs and all wet ingredients to the dry ingredients and mix gently until well combined. Pour batter into cake tin and bake for 30-40 minutes, or until a skewer in the centre comes out clean.
Allow to cool in tin for 5 minutes, then turn out onto a wire rack to cool completely. Carefully slice cake horizontally into three layers.
To make frosting, beat together all ingredients until smooth and creamy. Spread one-quarter of the mixture on each of the two bottom layers, then spread remaining half of mixture on the top of the cake. and enjoy Another delicious vanilla cake Recipe!
Nutrition Per Serve: Energy:1281kj /306cals Protein:9.5g Fibre: 3.7g Fat:19.5g Carbohydrates:29.7g Saturated Fat:6.6g
If you're looking to take the guesswork out of what to have for dinner, join thousands of other mums on the Healthy Mummy 28 Day Weight Loss Challenge.