Rhian Allen, founder of The Healthy Mummy appeared on Studio 10 Live to whip up delicious snacks, all under 100 cals!
Snacks are so important because they can prevent us from overeating! These are really easy to make and anyone can do them, very quickly'says Rhian.
These recipes are all in the new Healthy Mummy Magazine, along with over 80 other amazing and delicious recipes! Get the recipes for Rhian's snacks below!
Watch Rhian whip up Healthy Snacks on Studio 10!
Here's what Rhian made:-
TOMATO SALSA & PITA CHIPS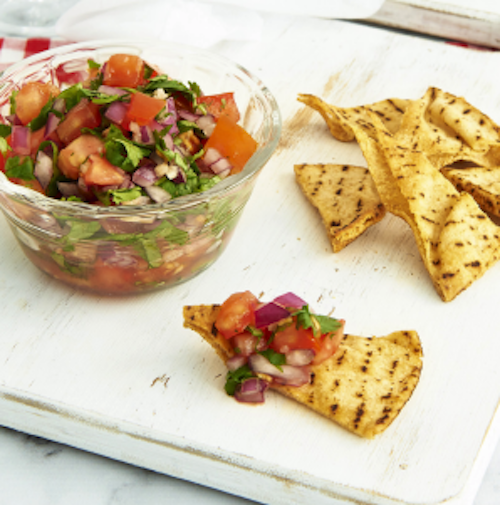 73 CALS Serves 1, Prep time 5 mins, Cook time 5 mins
INGREDIENTS
½ small wholemeal pita bread cooking oil spray
¼ red onion, finely diced
1 tomato, diced
½ clove garlic, crushed
1 tbsp lime juice
1 tbsp fresh coriander, chopped
salt and pepper, to season
METHOD 
1 Preheat oven to 180ºC. Line a tray with baking paper.
2 Slice pita bread into triangles or strips and spread over baking tray. Spray lightly with cooking oil, then bake for 4-5 minutes, turning once, until golden and crispy.
3 Combine all remaining ingredients to form the salsa. Serve salsa with pita chips for dipping.
NUTRITIONAL INFORMATION PER SERVE Energy 306kJ/73 cals Protein 3.2g Fibre 4g Total Fat 0.5g Carbohydrates 12.4g Saturated Fat 0g Total Sugar 4.1g Free Sugar 0g
TZATZIKI ROLLS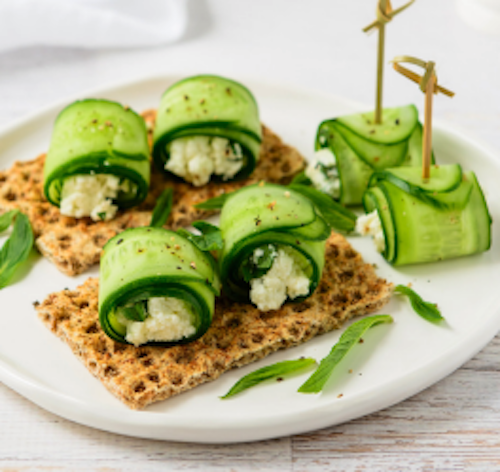 85 CALS Serves 1, Prep time 5 mins
INGREDIENTS
½ Lebanese cucumber
1 tsp reduced-fat feta
1 tbsp reduced-fat ricotta cheese
1 tsp reduced-fat Greek natural yoghurt 2 tsp mint leaves, chopped
pepper, to season
2 wholegrain crackers, eg, Vita-Weats
METHOD
1 Use a peeler to make wide ribbons from the cucumber.
2 Create piles of cucumber ribbons, then lay them out along some paper towel.
3 Mash feta and combine with ricotta, yoghurt and mint. Season with pepper.
4 Spread some of the feta mixture along the length of each cucumber ribbon you have peeled.
5 Roll the ribbons into rounds and serve two on top of each cracker.
NUTRITIONAL INFORMATION PER SERVE Energy 359kJ/85 cals Protein 4.9g Fibre 2.9g Total Fat 2.3g Carbohydrates 9.8g Saturated Fat 1g Total Sugar 3.2g Free Sugar 0g
PAPRIKA-ROASTED CHICKPEAS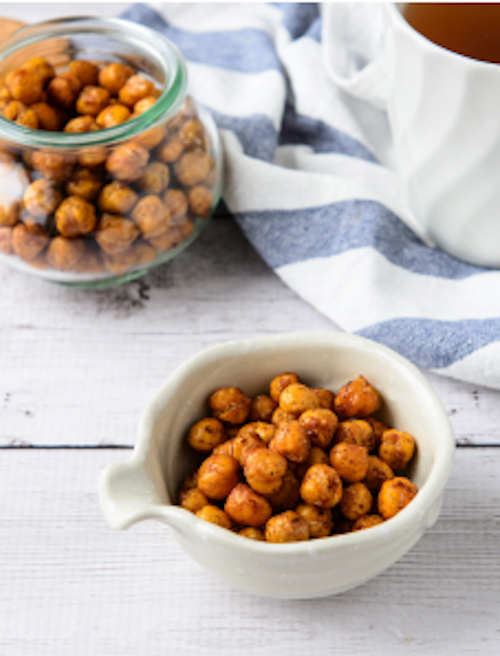 45 CALS Serves 1, Prep time 10 mins, Cook time 30 mins
INGREDIENTS
¼ cup tinned chickpeas, drained
¼ tsp extra virgin olive oil
¼ tsp smoked paprika
pinch of salt
METHOD
1 Preheat the oven to 180ºC.
2 Drain chickpeas. Tip onto paper towel, then rub gently to dry them. Transfer to a lined baking tray.
3 Drizzle with olive oil and toss to combine. Sprinkle with paprika and a pinch of salt and bake for 30 minutes.
4 Allow to cool slightly to serve.
TIP Make extra and store in an airtight container in the pantry for up to a week.
NUTRITIONAL INFORMATION PER SERVE Energy 189kJ/45 cals Protein 2g Fibre 1.5g Total Fat 2g Carbohydrates 4.1g Saturated Fat 0.3g Total Sugar 0.2g Free Sugar 0g
FLOURLESS PARMESAN & SEED CRACKERS
90 CALS Serves 2, Prep time 10 mins, Cook time 5 mins
INGREDIENTS
1/8 cup parmesan, grated
1 tsp black or white sesame seeds
1 tsp chia seeds
METHOD
1 Preheat oven to 200ºC. Line a baking tray with baking paper.
2 Mix all ingredients together in a bowl.
3 Place an egg ring on the baking paper and sprinkle 1½ teaspoons of mixture evenly within the ring, making a circle shape. 4 Repeat to make 6 circles. Carefully remove the egg ring(s) to just leave the circles of cheese on the tray. 5 Carefully place tray into the oven and bake for approximately 5 minutes or until cheese has melted and crackers are golden. 6 Let cool before gently removing from paper. Three crackers are one serve.
TIPS Great served with a healthy dip or enjoyed alone. Store in an airtight container for 4-5 days.
NUTRITIONAL INFORMATION PER SERVE Energy 377kJ/90 cals Protein 5.8g Fibre 1.8g Total Fat 6.9g Carbohydrates 0.6g Saturated Fat 2.6g Total Sugar 0g Free Sugar 0g
Have you got your copy of The Healthy Mummy Magazine??
Available at newsagents and supermarkets,  The Healthy Mummy magazine is bursting with AMAZING content, inspiration, advice, recipes, exercises and tips to empower mums to transform their health, lives and bodies. Get your copy now!