Six amazing mums have all lost dress sizes and gained new found confidence!
It's not just the kilo's lost that these six Healthy Mummy's all have in common. They've all embarked on a life-changing health journey and are smashing their goals!
We love sharing their success stories!
Six amazing mums have all lost dress sizes and gained new found confidence!
Julia Meadows
Julia says "Consistency, hard work and determination to reach your goal will get you there. Size 14 to a size 8.
I've had so many ups and downs on my journey that I lost count and I'm sure there will be plenty more to come but I always get back on the wagon eventually and that is what counts.
You can do this –  just keep going."
Beth Azzopardi
Beth says "I have been completing The Healthy Mummy 28 Day Weight Loss Challenge for just over two years.
I have one  Healthy Mummy Smoothie a day, and two Challenge meals a day. I complete the Tabata app exercise three times a week at the gym.
I have lost 24kg (18kg in the first six months, the rest has come of slowly over time).
I took the photo on the left the day I signed up to my first 28 Day Weight Loss Challenge. I needed to change, I was unhappy with myself, my second child was six months old and three times I had been asked if I was pregnant.
I really enjoyed my first Challenge and we are now a healthy active family that enjoys exercising together.
The Healthy Mummy really works for me and my family! I will be a Healthy Mummy for life!
Laura Whitford
Laura says "Before: On the left I was pre-kids and gaining weight already, I was a bridesmaid at my sister's wedding and felt so self-conscious. After: I had three kids in four years and struggled with weight gain. But I signed up to The 28 Day Weight Loss Challenge and bought the Smoothies, and thanks to Heathy Mummy I have since:
Lost 16kg
Become healthy and fit
Learnt to de-stress by running instead of eating!
Saved time and money by taking two Healthy Mummy Smoothies to work
Found a great group of friends who are all working towards the same goals
It's an ongoing process working towards my goal weight, but I know I can get there with The Healthy Mummy"
Belinda Dunning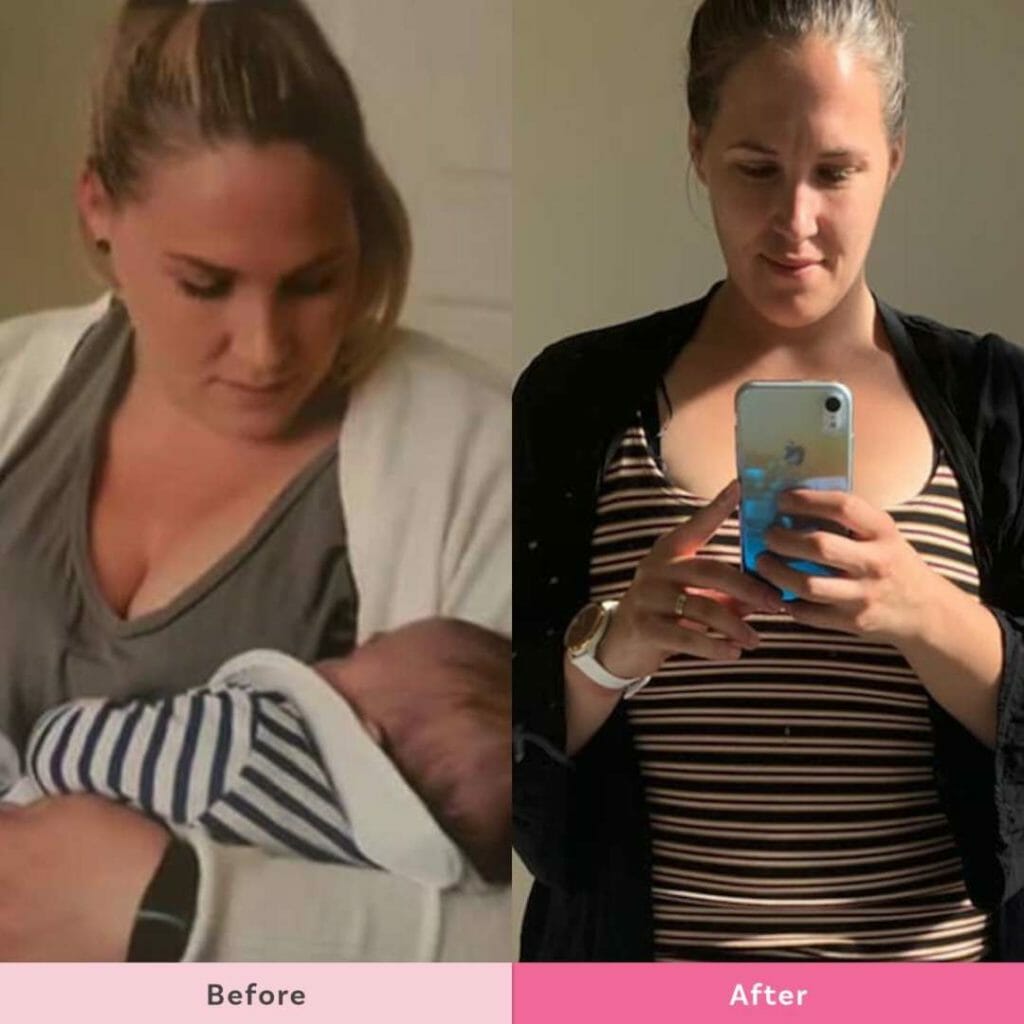 Belinda says "I may not be where I want to be just yet or even reached my ultimate goal weight but I WILL get there!
I am happy with how far I have come and the changes I have made to not only mine but my families life! I am happy with my progress big, small, fast or slow! I am celebrating every win!
I break my goals down into small achievable goals and work towards them I like to do 5kg increments that way I don't get overwhelmed by the big number I have to lose. I celebrate reaching each goal with a non food reward to keep me motivated!
Commitment and hard work will get me there! It isn't easy and I may stumble at times but its all worth it!
I am now a Healthy Mummy and damn proud of it!
And you can be too!"
Heather Breed
Heather says "First time sharing anything like this. 10kgs gone (the weight of my toddler!)
I love love love The Healthy Mummy! It is so easy to follow and completely family friendly. Toddler and husband approved.
I always see before and after photos and it makes me so determined to keep going. So I hope sharing this encourages somebody else to keep pushing – we got this!
I had to put my big girl pants on to share this, if I can do it, you can too."
Lisa Porteous
Lisa says "By following The 28 Day Weight Loss Challenge and using the The Healthy Mummy Smoothies I have lost 40kgs and six dress sizes!! As well as losing I have gained a healthy understanding of food and exercise, I love living this lifestyle and will continue for the rest of my life."
Are you ready to be a Healthy Mummy? Join the 28 Day Weight Loss Challenge today.

If you are wanting to lose weight and improve your energy – not to mention – help improve your overall health and wellbeing – our 28 Day Weight Loss Challenge is an awesome program to check out.
Our 28 Day Weight Loss Challenge includes:
28 days of at home exercise routines (no gym needed) – with video instruction
Customisable and breastfeeding friendly meal plans (including 7 Day Cleanse)
Challenge combines Pilates exercises with interval and circuit training (HIIT)
Suitable for basic to advanced fitness levels
Home to thousands of EASY-TO-MAKE recipes!
To learn more about our 28 DAY WEIGHT LOSS CHALLENGE CLICK HERE or purchase our Smoothies.