10 Healthier Curry Recipes to Warm up Winter Nights
10 healthier curry recipes from the Healthy Mummy that are not only lighter on calories but packed with flavour and quick and easy to make .
Is there anything better than a warming curry on a cold winter's night?! It's the ultimate comfort food, both fragrant and filling. While you may be tempted to just grab a takeaway, they are not always the healthiest choice, often packed with calories, saturated fat and sugar. It's a much better and healthier option to make your own curry at home.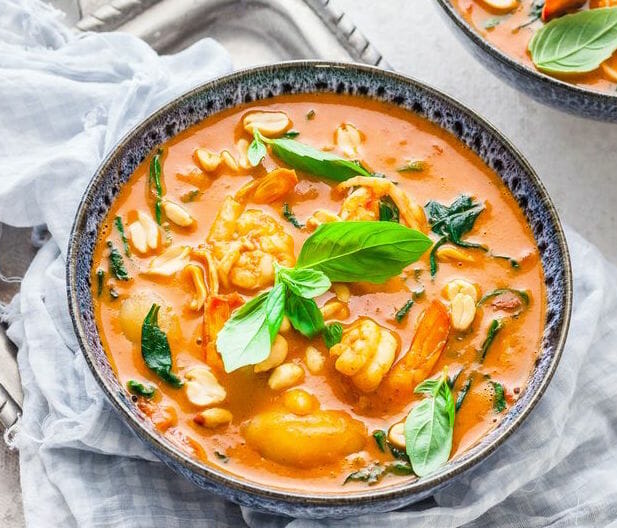 10 Healthier Curry Recipes
We have pulled together 10 healthier curry recipes from the 28 Day Weight Loss Challenge that are not only lighter on calories and packed with flavour, they are super easy and quick to make so you can have it on the table (or in a bowl on your lap in front of the TV) quicker than it would take for a takeaway delivery to arrive!
In fact, most of these curries take under 45 minutes to make, some even in as little as 15 minutes, only one is slow-cooked. All are under 450 calories and are family-friendly. Most are also perfect to make in bulk, so you have extra portions in the freezer for those days when all you want to do is press buttons on the microwave.
Whether it's a mid-week veggie curry using Indian spices or Asian inspired fish curry, we have a healthy curry option to suit you. So for those extra chilly nights, warm up from the inside out with these amazing flavourful curries from around the world.
Butter Chicken – 330 calories
This is a quick and easy homemade butter chicken recipe you can have on the table in under 30 minutes. It's a great one to make it bulk and portion up for another day. It's popular with kids too as it's not too heavy on the spice.
Thai Red Fish Curry with Four Hidden Veggies – 401 calories
Using red curry paste and white fish of choice, this curry includes veggies and lentils and is packed with fibre that will keep you fuller for longer.
Veggie Packed Chicken Yellow Curry – 382 calories
Another recipe option that is ideal to make in bulk. It's packed with veggies and flavour and takes just 30 minutes to prepare.
High Fibre Vegetarian Curry – 424 calories
This is a versatile healthy curry recipe loaded with veggies that is a great one to make for the whole family or to save leftovers for another meal.
15 Minute Prawn Massaman Curry – 377 calories
This recipe proves that curries don't always need to be simmered for hours to achieve their rich flavour. This recipe has a few simple tricks to speed up the process, still giving you the classic Thai curry that you love.
Get the recipe from the 28 Day Weight Loss Challenge
Pork Jungle Curry – 424 calories
This fragrant dish is easy to make and adjust to suit your tastes. Swap out the pork for chicken or dial up or down the chilli depending on how hot you like it!
Curried Chicken Zucchini Boats – 218 calories
Curry in a zucchini boat? Whatever next! This recipe is super popular with families and well worth giving a go!
Indian Pork Curry – 390 Calories per serve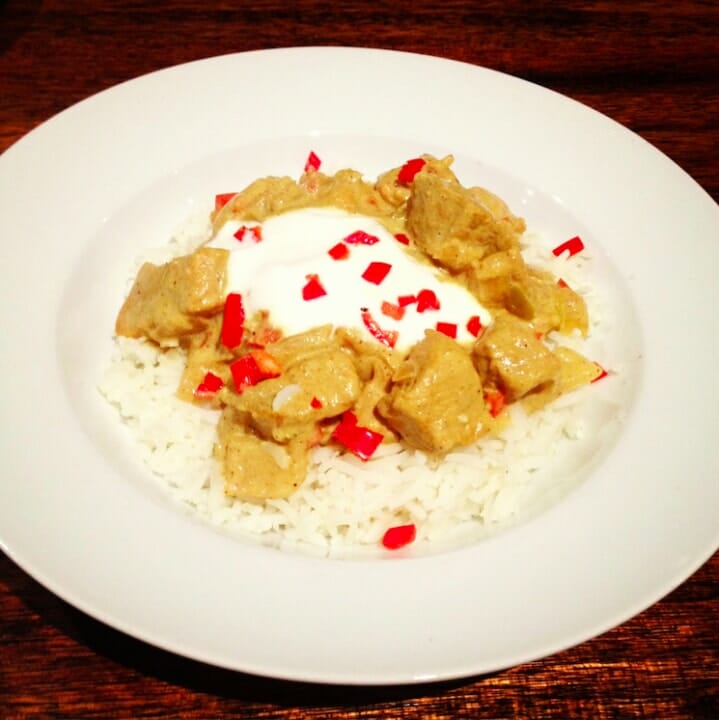 This 

Indian curry recipe

uses 'cauliflower rice' to decrease calories while increasing nutrition. This is a mild-medium spiced dish. If you prefer your curry extra spicy, add an extra chilli or do not remove the seeds.Ingredients
1tbsp rice bran or coconut oil
400g diced, lean pork
1 tsp turmeric
1 brown onion
2 cloves garlic
1 tbsp fresh grated ginger
1 large red chilli, deseeded and finely chopped
2 tsp garam masala powder
¼ cup malt vinegar
1 ½ cups boiling water
2 cups grated cauliflower
1 cup low GI rice (such as Brown, Black, Red or Basmati)
20ml natural Greek yoghurt
Method
Sprinkle turmeric over pork, stir well and set aside.
Add the oil, garlic, ginger and onion to a saucepan and sauté until softened. Add pork and cook for a further 5 minutes while stirring.
Add chilli, garam masala, malt vinegar and boiling water and simmer for 30 minutes.
Meanwhile, after a short time, bring water to boil in a medium saucepan.
Add rice and cook as per packet instructions. 1 Minute before the rice is ready, place a steaming pan or basket to the top of the saucepan with grated cauliflower.
After one-two minutes turn off the heat, rinse and strain the rice, Stir through steamed cauliflower and place evenly into dinner bowls.
Remove pork curry from the heat and stir Greek yoghurt.
Spoon pork curry mixture over the cauliflower and rice to serve.
Serves 4
Thai Beef and Broccoli Soup 342 calories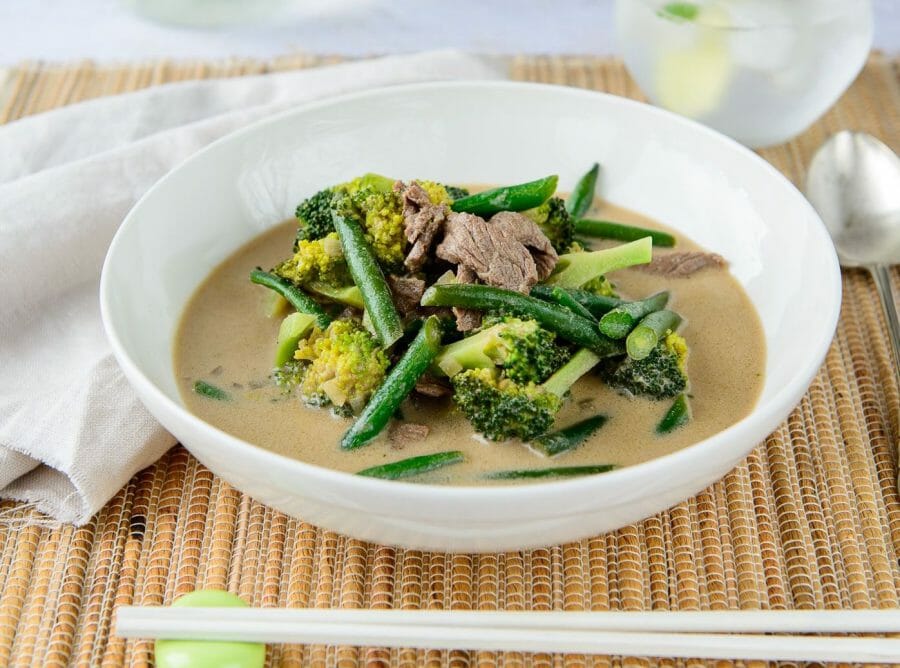 This is a delish high protein option for a belly busing diet. Flavoured with green curry and packed with veggies, this is a great curry in a hurry option and takes just 25 minutes to prepare.
Get the recipe on the 28 Day Weight Loss Challenge
Slow Cooked Lamb and Coconut Curry – 249 calories
If you are want to fill your home with the aroma of spices then this delicious slow-cooked lamb and coconut curry is a great option. It takes 10 minutes to prepare, then let your oven to all the work.
Want more Healthy recipes like these? Check out the 28 Day Weight Loss Challenge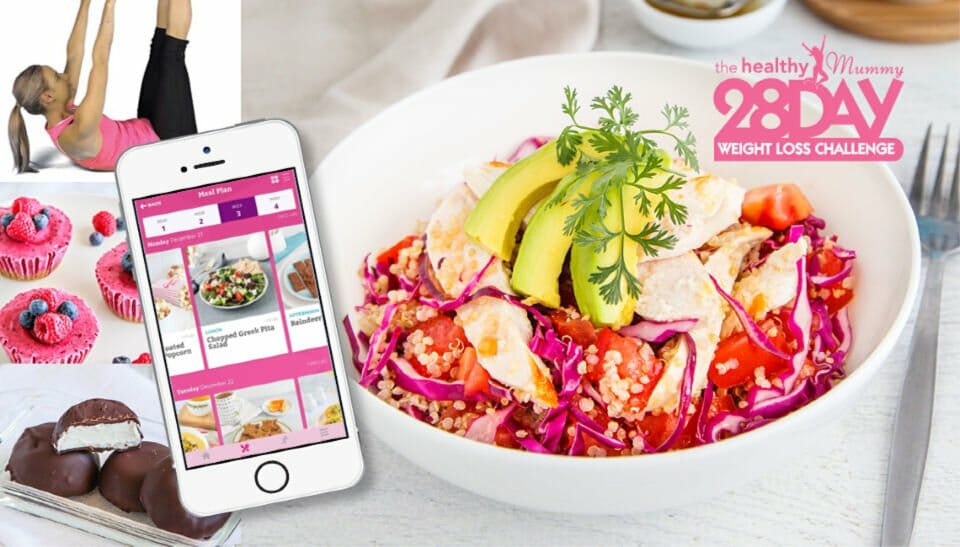 These recipes from our  28 Day Weight Loss Challenge are an example of just SOME of the delicious, healthy and easy to make meals and snacks you can tuck in to.  
With over 4,500 recipes to choose from our 28 Day Weight Loss Challenge helps you eat well (and deliciously) with ease and while losing weight.
You can learn more about our Challenge HERE.
Are You Ready To Become A Healthy Mummy?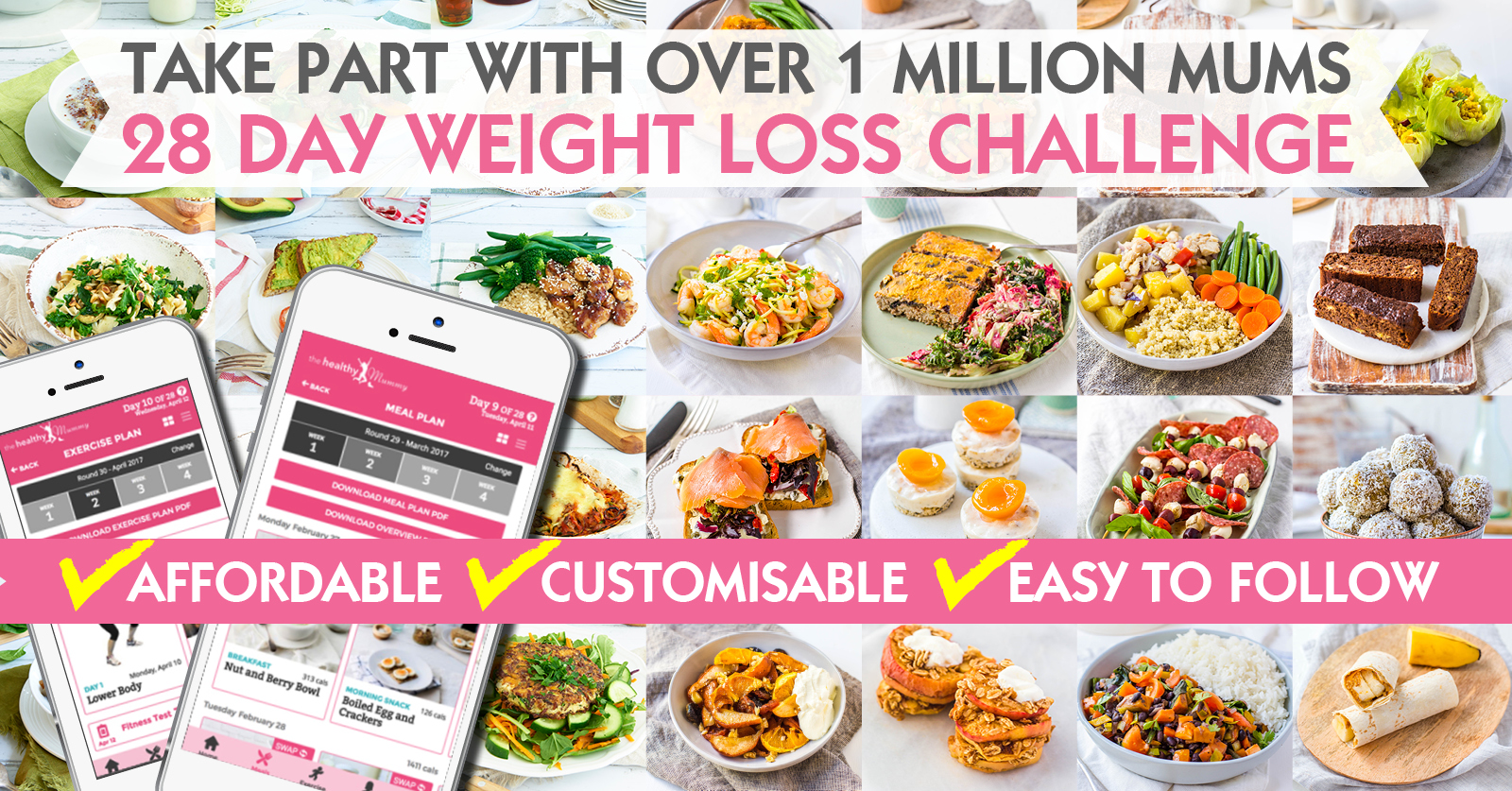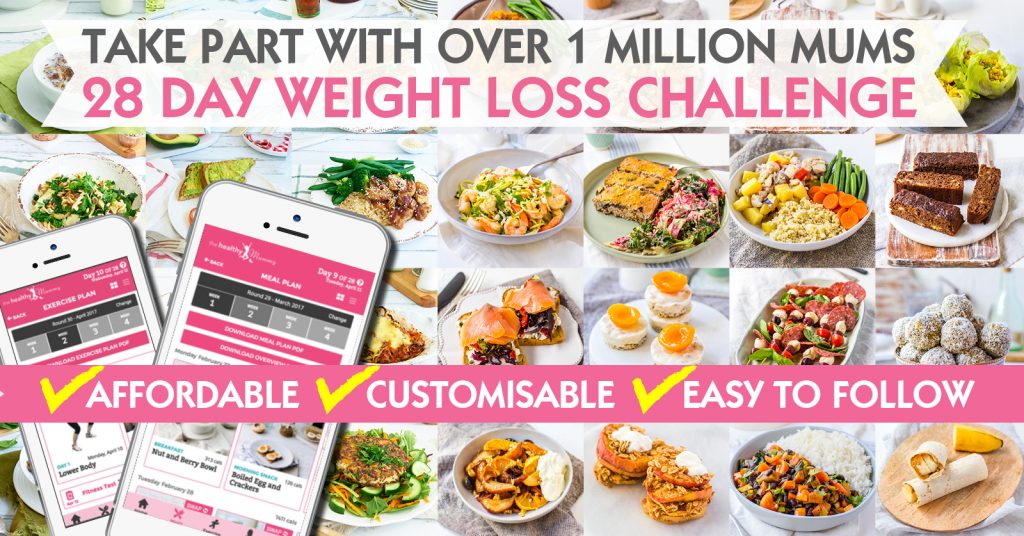 Our Challenge entails: 
28 days of at home exercise routines (no gym needed) – with video instruction
Customisable and breastfeeding friendly meal plans
Time-efficient exercises for busy mums – under 30 mins
Challenge combines Pilates exercises with interval and circuit training (HIIT)
Suitable for basic to advanced fitness levels.
Home to thousands of EASY-TO-MAKE recipes.
To find out more on the 28 Day Weight Loss Challenge click here.