Amazing mums love their new bodies and healthy lifestyle!
These inspiring mums are all at their fittest and healthiest, thanks to the 28 Day Weight Loss Challenge.  They're happy and confident and are celebrating their success!
These inspiring mums are all at their fittest and healthiest, thanks to the 28 Day Weight Loss Challenge.  They're happy and confident and are celebrating their success!
Amazing mums love their new bodies and healthy lifestyle!
Alicia Brown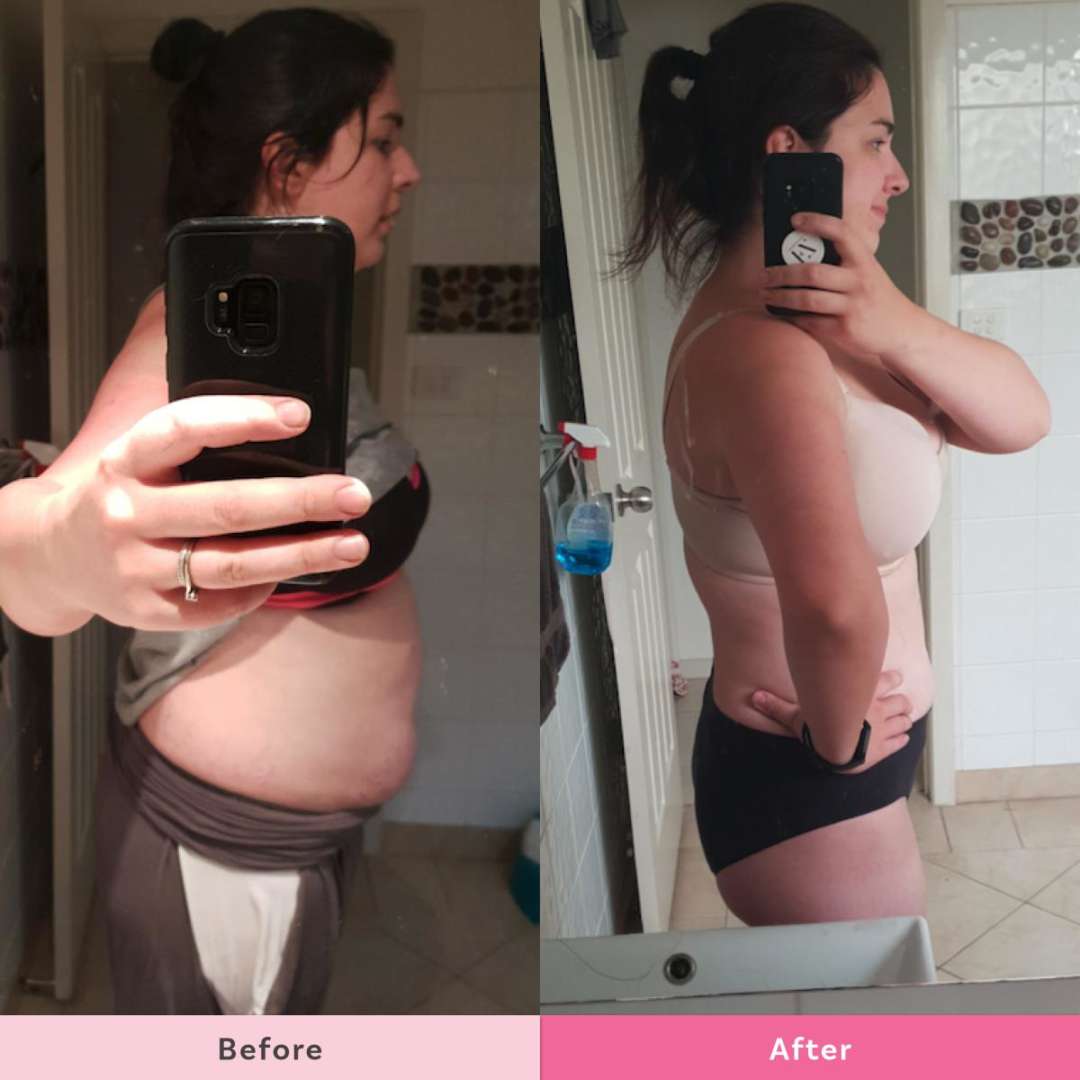 Alicia says, "Yesterday I finally hit the magical 10kg loss mark!! 
The left pic was taken the week or so after I restarted The Healthy Mummy on the 1st Oct 2017, weighing in at 98.2kg and the right was yesterday – 88.2kg.
This is officially the lightest I have been since around 20 years old! (I'm soon to be 31). I'm shocked. Im proud. I'm a little teary at the achievement but it's a good feeling not a shameful one.  This is attempt 1,234,567 of trying to lose the excess weight and create healthier habits. This time they are sticking. Why? I keep asking myself what is different about this time?
I think having finally taken responsibility mentally for the past ten+ years of poor habits and a bad relationship with food, I have found self acceptance and have been able to move away from the self sabotage cycle I was caught in. It took ten+ years to get here, so I'm accepting that it will take time to slowly lose the extra weight from those years.
I feel stronger – mentally and physically.
I feel confident again.
I feel like I've got this.
Can't wait to kick the next 10kg for good."
Megan Jane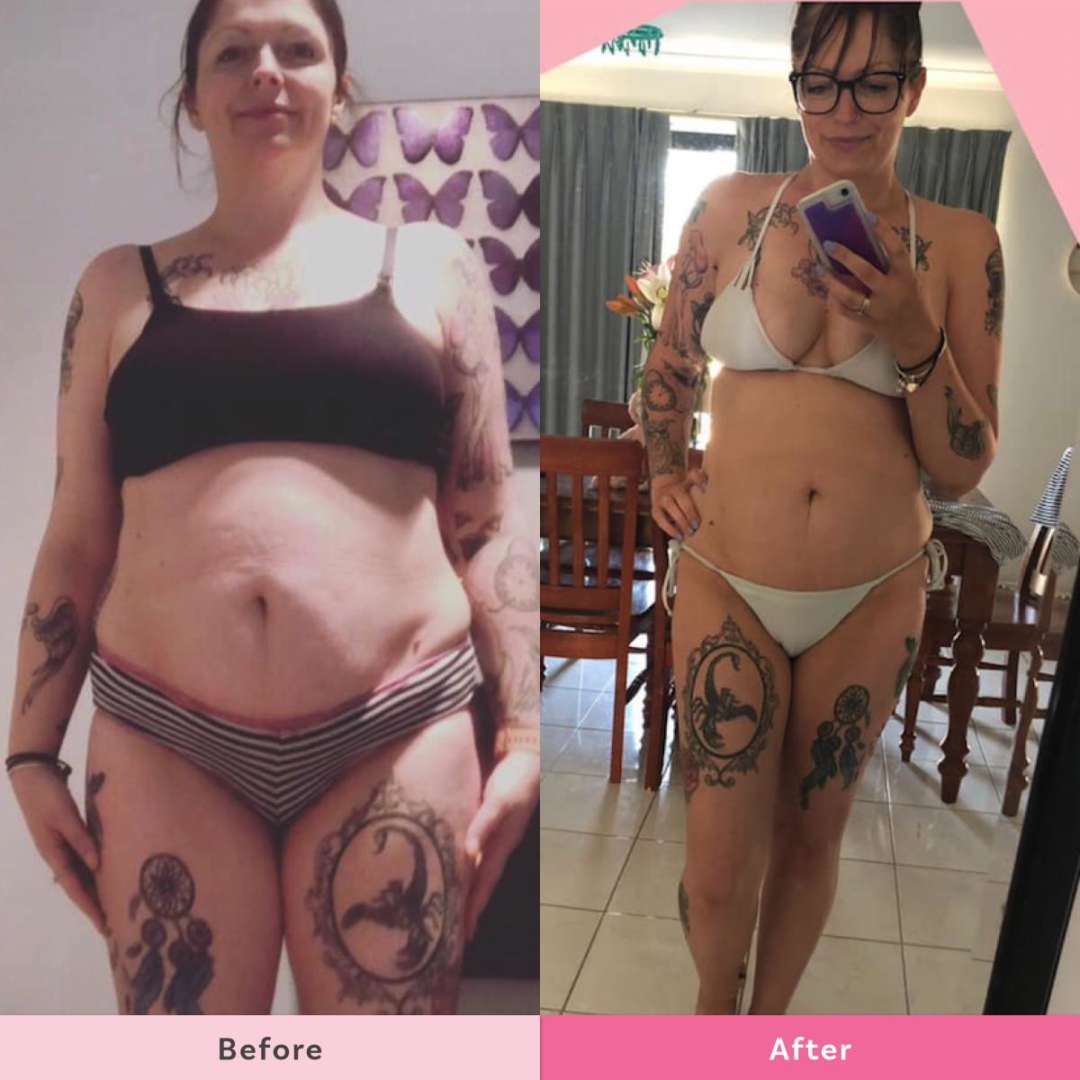 Megan says "Before – 93kgs. After – 70kgs. 
Smile never reaches my eyes –  eyes sparkle with happiness. 
Unhealthy  – healthy. 
Weak – Strong. 
Unfit –  fit. 
Withdrawn  – confident. 
Before Healthy Mummy –  Living the Healthy Mummy lifestyle 
Thanks to The Healthy Mummy I'm living my healthiest, fittest, strongest and happiest life and bringing my family along for the amazing ride."
Phoebe Phillips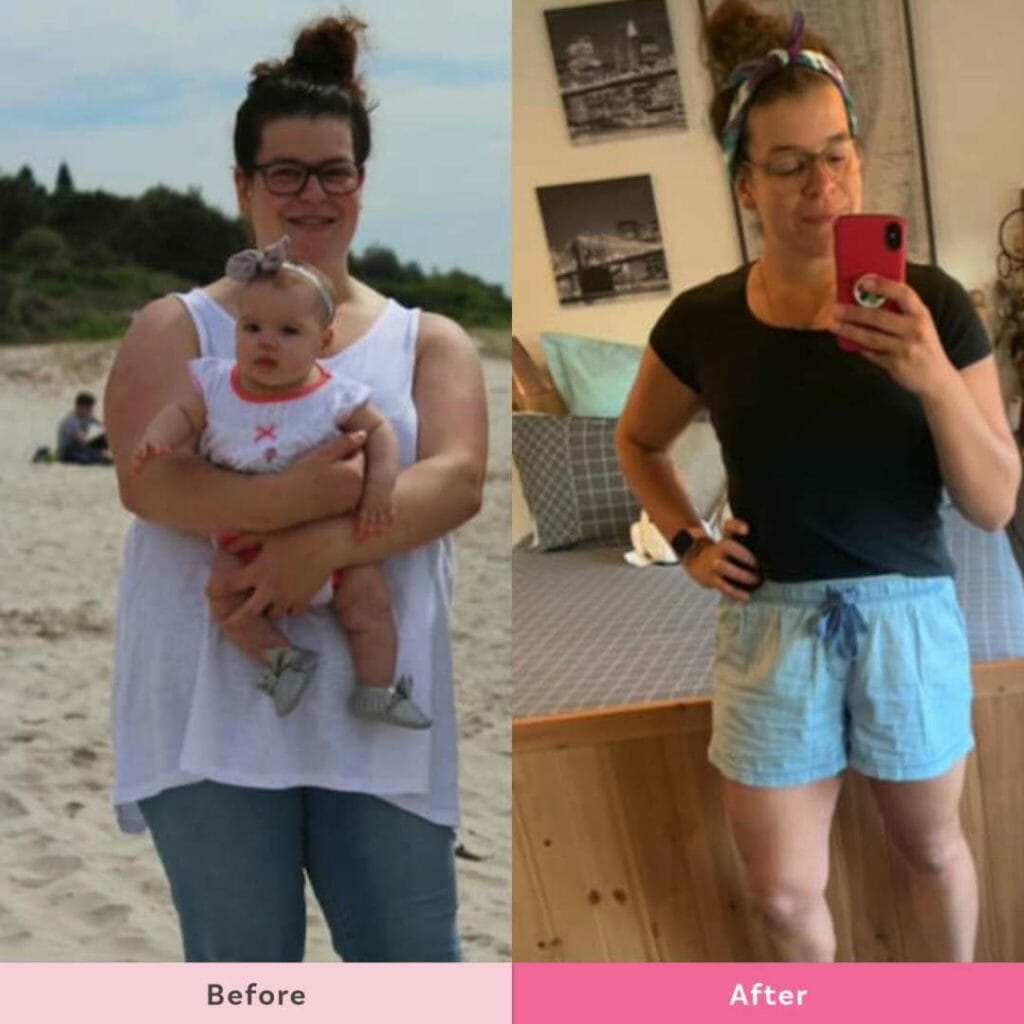 Phoebe says, "The Healthy Mummy has changed my whole life! And it's certainly shaped my future. 
No longer am I lazy and unmotivated! I'm confident and willing to put myself out there and get myself involved.
34 kilos down following The Healthy Mummy 28 Day Challenge for the last eighteen months. And swapping out not eating breakfast at all for having Healthy Mummy Smoothies every day!
And I'm also not trying to hide behind my children anymore."
Kate Jacklin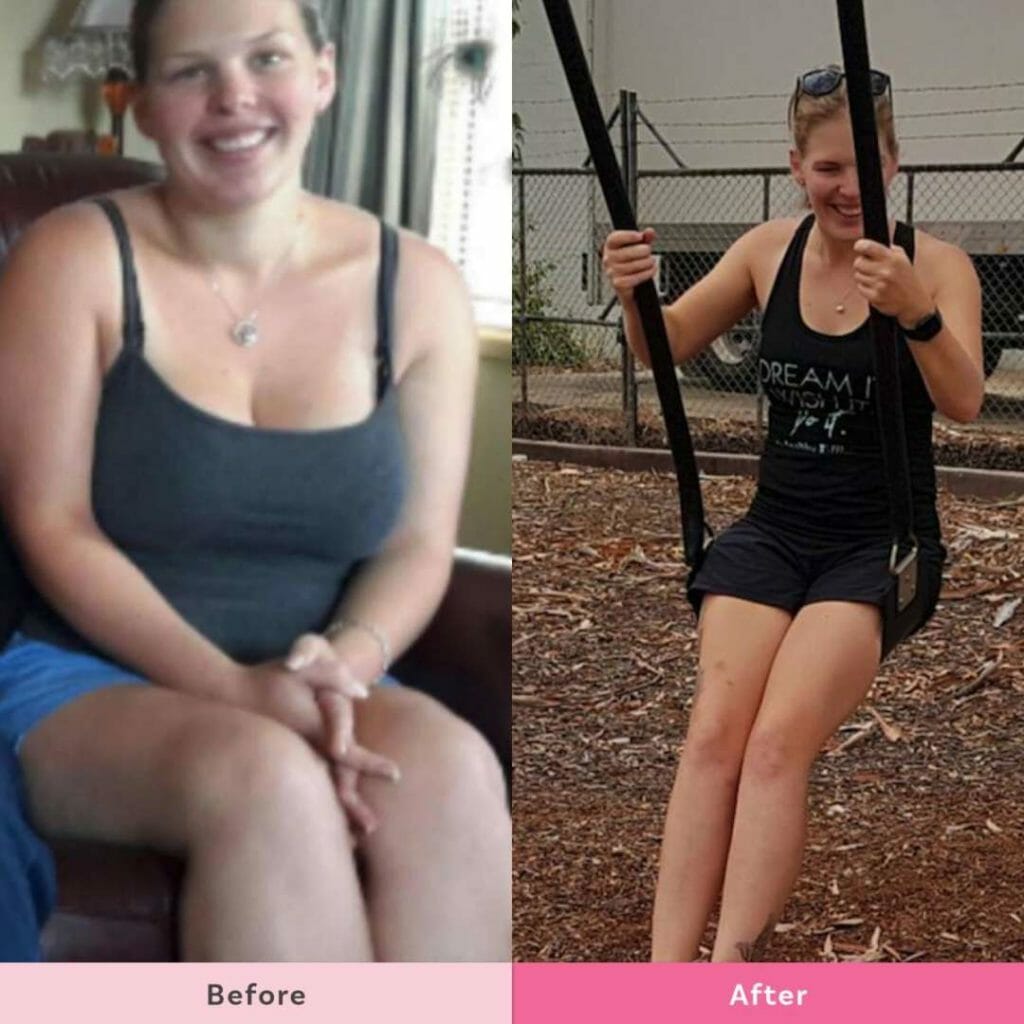 Kate says,  "26kg lost. 
There was a time where I wouldn't go near a swing because my legs and bum would bunch up and the seat would dig in and embarrassing me.  
NOW I love going to the park with my kids, chasing them around, climbing on the equipment, taking turns pushing each other on the swings and just enjoying daily life with them.
All thanks to The Healthy Mummy teaching my how to live a healthy lifestyle and introducing me to a side of myself I didn't know existed."
Bec Jackson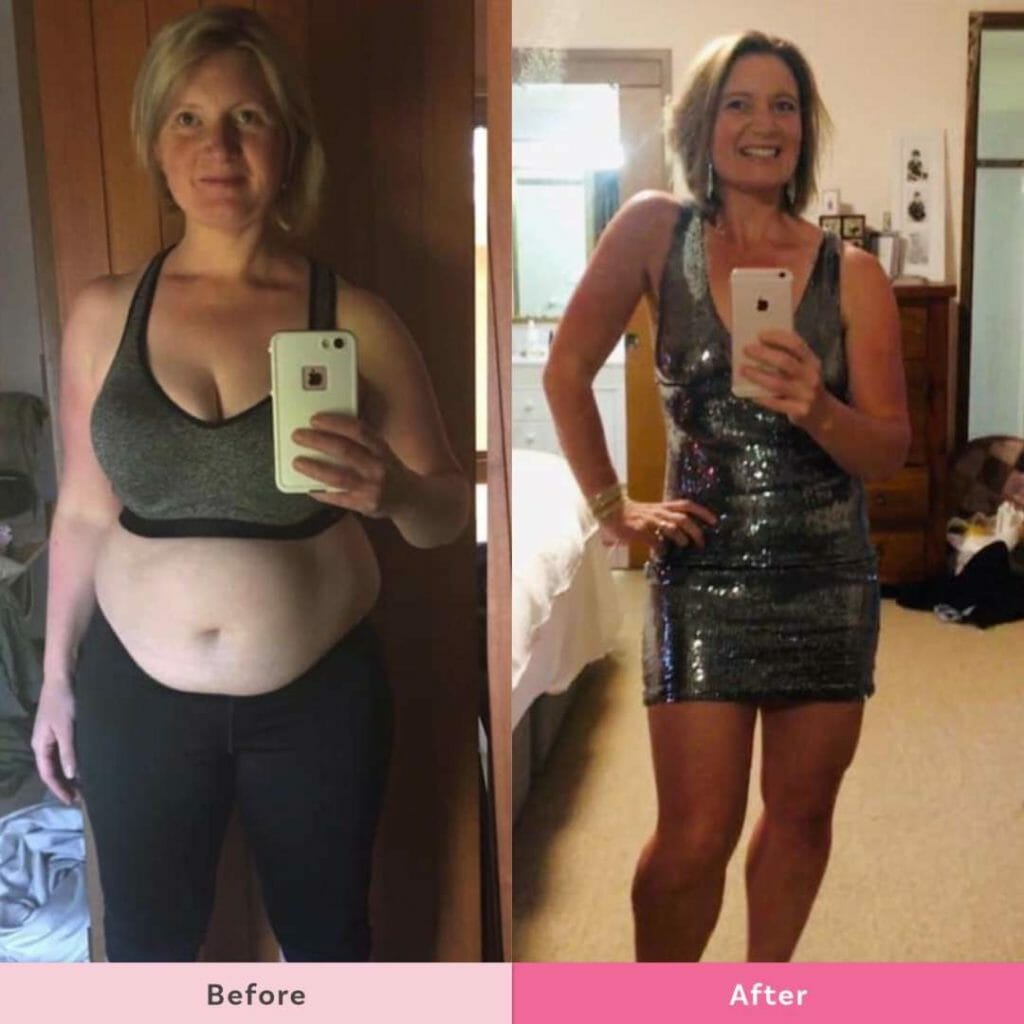 Bec says, "I never in my wildest dreams thought I'd have the body confidence to wear a figure hugging, low backed, short dress in public. I've always been conscious of my limbs being too flabby and my back being hunched and without tone, and my pancake bum – even when my weight was same as now.
But thanks to consistency which has come with The Healthy Mummy and learning to love my body for being athletic and strong I did exactly that on Saturday and felt fantastic!

Here's fifteen months of difference!"
Jinjamarda Blue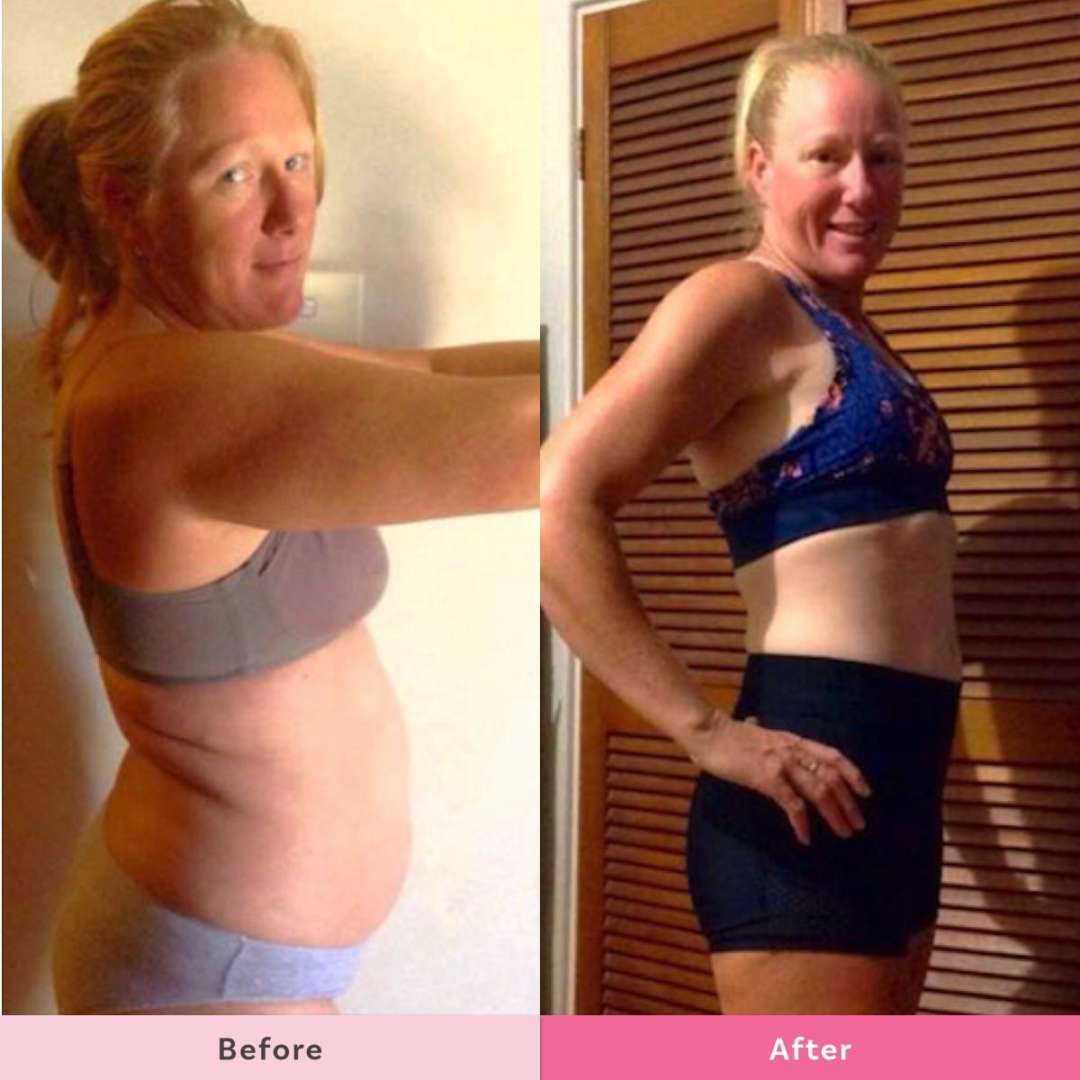 Jinjamarda says,
"Tired and unhappy vs energetic and loving life!
Ashamed of who I was and my body vs confidence and self love
80kgs vs 65kgs
Ate food fueled by my emotions vs eating food to fuel my metabolism
Lived on the couch painfully existing vs having a passion for exercise and never sitting still!
Two  years and I've lost 15kgs and 122cms from my body but gained a whole lot of unexpected extras like happiness, mental health and learning what I am capable of and celebrating that daily! This is what The Healthy Mummy 28 Day Challenges have done for me!!"
Well done ladies! We are so proud of all you have accomplished.
Are you ready to be a Healthy Mummy? Join the 28 Day Weight Loss Challenge today.

If you are wanting to lose weight and improve your energy – not to mention – help improve your overall health and wellbeing – our 28 Day Weight Loss Challenge is an awesome program to check out.
Our 28 Day Weight Loss Challenge includes:
28 days of at home exercise routines (no gym needed) – with video instruction
Customisable and breastfeeding friendly meal plans (including 7 Day Cleanse)
Challenge combines Pilates exercises with interval and circuit training (HIIT)
Suitable for basic to advanced fitness levels
Home to thousands of EASY-TO-MAKE recipes!
To learn more about our 28 DAY WEIGHT LOSS CHALLENGE CLICK HERE or purchase our Smoothies.