Ultimate exercises to help you BLAST your belly fat THIS OCTOBER
Each month we have a NEW theme on the 28 Day Weight Loss Challenge. October, for instance, is our BELLY BLASTING Challenge.
In The Healthy Mummy Private Facebook Support Group we see mums ask 'what's the quickest way to shift tummy?' and 'what foods should I avoid to ditch the mum tum?' all the time.
While weight loss and a toned, flat tummy requires a little bit of patience, motivation and determination – it is ENTIRELY possible. It's just important you know what to eat, stick a healthy meal plan and include core-focussed exercises and movements into your weekly exercise regime.
That's where we can help!
28 Day Weight Loss Challenge Members in October will have access to tummy-toning specific exercises daily, a meal plan developed by nutritionists loaded with light, healthy meals to help fight belly fat and experience our BRAND NEW Core Workout Video series.
You'll be beach season ready before you know it!
Workout videos to help you BLAST belly fat THIS OCTOBER
Want to know MORE about our NEW Core Workout video series and get a SNEAK PEAK at the type of exercises included in these workouts? KEEP ON READING!
About core muscles
Core muscles create a solid base for your body, allowing you to stay upright and stand strong on your two feet. A strong core enhances balance and stability and underpins almost everything you do.
Your core stabilises your body and support balance. It helps ensure that your movements are strong and pain-free.
Weak core muscles contribute to slouching. Core muscles lessen wear and tear on the spine and allows you to breathe deeply. Good posture helps you gain full benefits from the effort you put into exercising, too.
How do I complete this Workout?
The Healthy Mummy Core Workouts are 10 minute videos, designed to tighten the tummy, reduce belly fat and strengthen your core muscles.
To keep your body challenged, you should aim to complete a training routine that incorporates core exercises once to twice per week. Start with one session and as your strength increases, add in a second 10 minute session.
The Healthy Mummy Core Workout is best done at the end of any of your regular Healthy Mummy video workout – e.g Tabata, DanceFit, Butt & Thighs.
When is the best time to complete this workout? 
It is best to focus on core training at the end of your workout. This will ensure you do not injure yourself and that your are are not fatiguing your core before starting other exercises, where your core is activated – which is almost ANY type of exercise.
You should always use a Cool Down exercise at the end of your Core Workout. Focus on slow movements and stretching, allowing the heart rate to return to normal.
SNEAK PEAK: 4x Workout clips
Below are just 4 of EXAMPLES of awesome, tummy tightening video work out moves you'll have access to on the 28 Day Weight Loss Challenge.
Join the BELLY BLASTING CHALLENGE
Our 28 Day Weight Loss Challenge is an affordable, customisable weight loss program PROVEN to help mums reach their weight loss goals.
Each month is NEW Challenge theme and OCTOBER is all about helping you tighten and tone your TUMMY!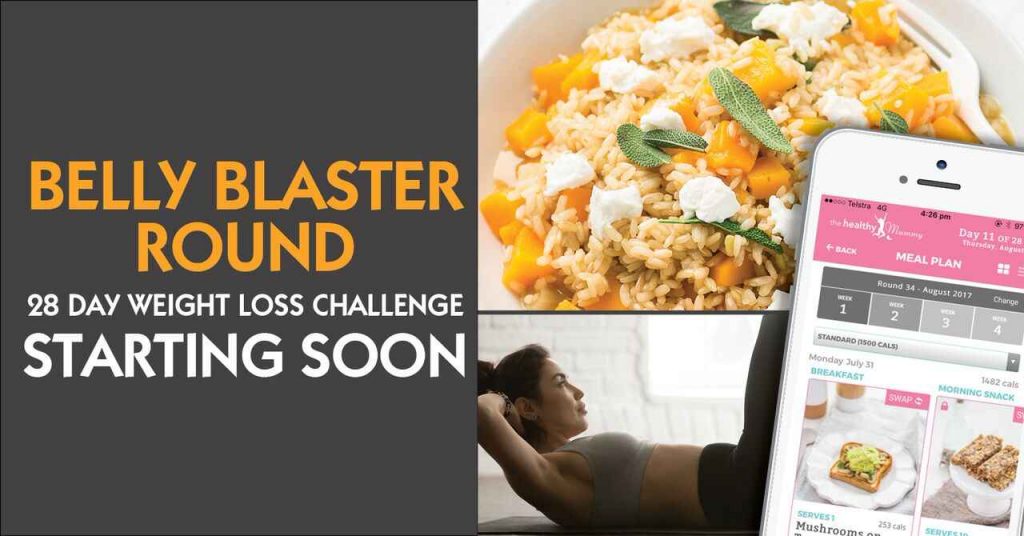 Our October Challenge will be LOADED with delicious and healthy recipes to help you fight tummy fat, minimise bloating and core-focussed exercise plans to help you achieve a tighter tummy. On top of this (as mentioned above) we will be introducing our CORE WORKOUT videos.
Our Challenge entails:
28 days of at home exercise routines (no gym needed) – with video instruction
Customisable and breastfeeding friendly meal plans
Time-efficient exercises for busy mums – under 30 mins
Challenge combines Pilates exercises with interval and circuit training (HIIT)
Suitable for basic to advanced fitness levels
Home to thousands of EASY-TO-MAKE recipes!
To find out more on the 28 Day Weight Loss Challenge and check out our MEGA CHALLENGE OFFER click here.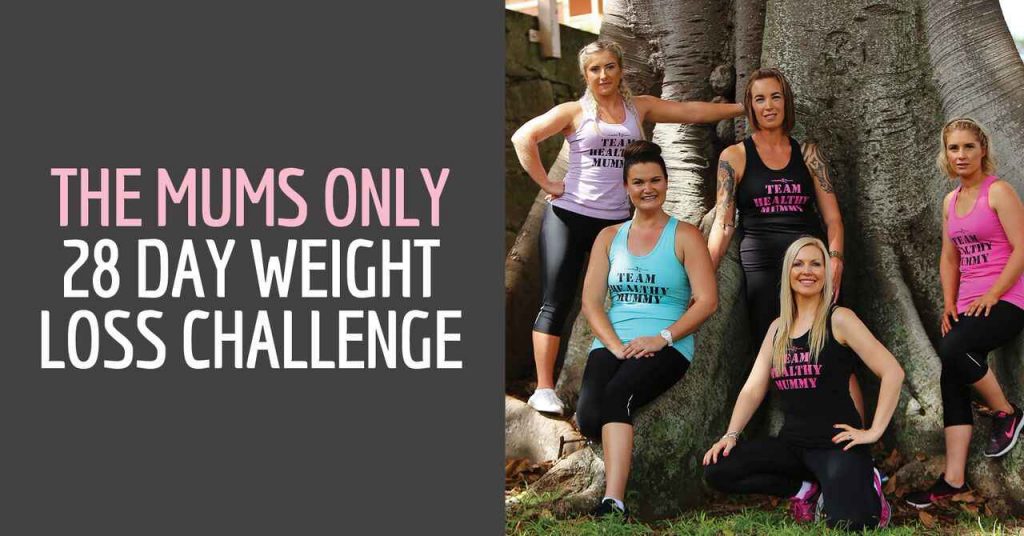 NEXT CHALLENGE STARTS SOON!