Top 5 fitness trackers for women on the market right now
If you want to stay fit and healthy, a fitness tracker may be your best friend to help keep you on track. Here are 5 of the best on the market.
If you want to stay fit and healthy, then a fitness tracker may be your best friend to help keep you on track. In fact, lots of women are now turning to smart watches to keep track of how they are exercising.
Smart watches are able to help you access to your quality of sleep, step count, check your blood oxygen level and see how much energy you are outputting. They're not only useful, but they can also be incredibly motivating.
There are a huge selection of trackers that can watch your health as well as your heart rate tracking and so many options on the market.
Below, we've found five of the top fitness watches on the market right now…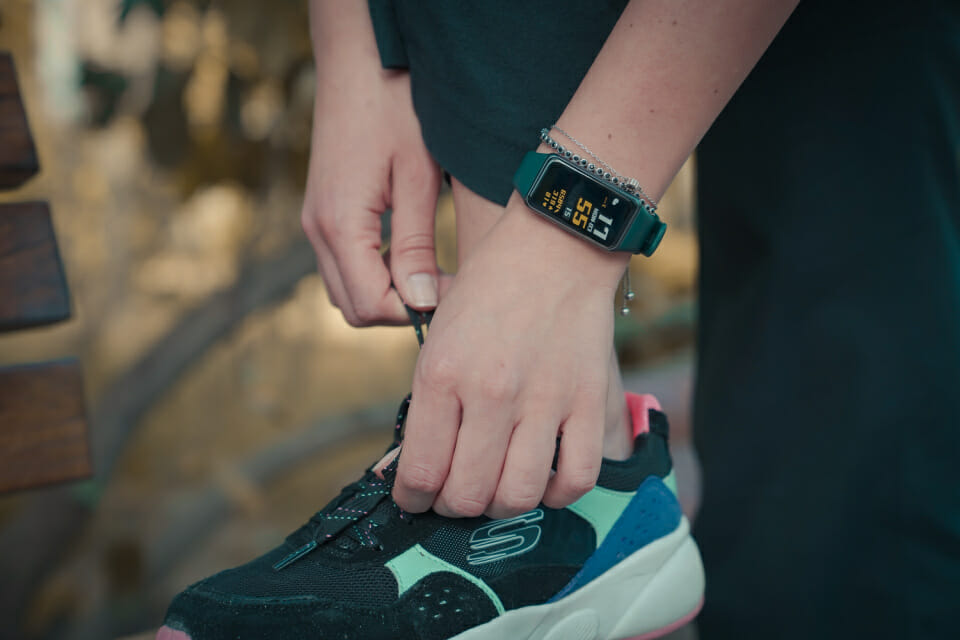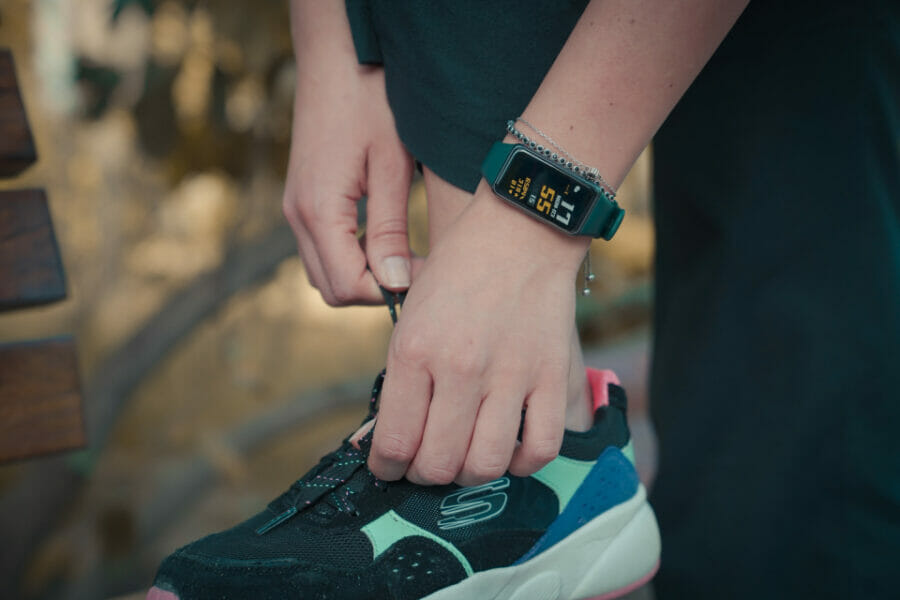 Why do I need a fitness tracker?
Some people like to have a measurement of what they are doing and to be able to their progress in data form.
What's more, it can be extremely beneficial if you are hoping to track the number of steps you are doing each day, if you have a goal number you want to reach.
They may also be able to help you stay motivated and train more effectively. They come in a variety of different brands so there's lots of choice out there.
Some you can wear around your wrist like a watch, others you can download on your smartphone. Some can even check your heart rate monitor, have built-in gps, have sleep tracking, measure oxygen saturation, keep note of your menstrual cycle, let you know your activity level, as well as stress tracking and other health tracking and fitness tracking.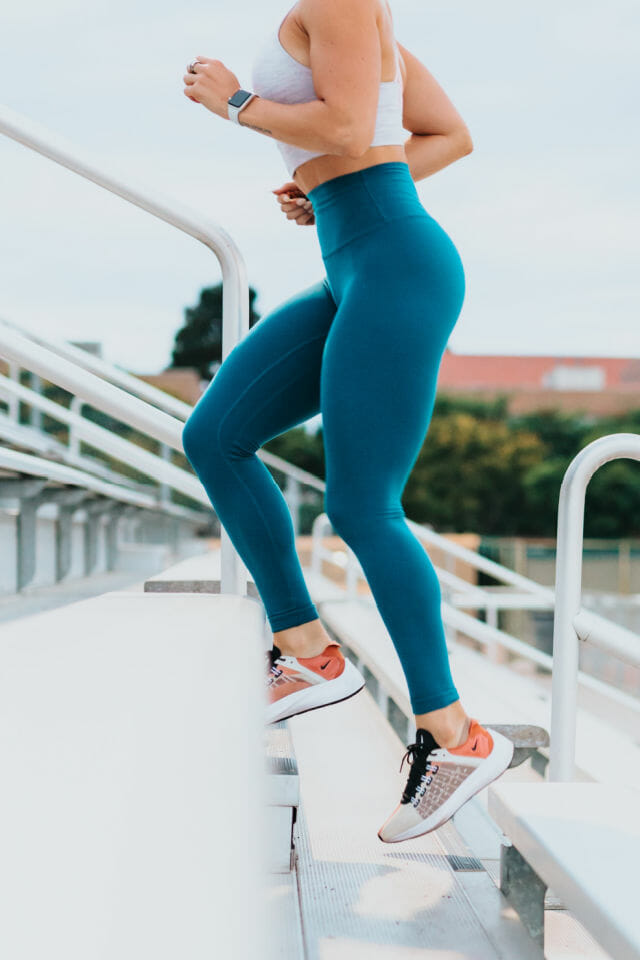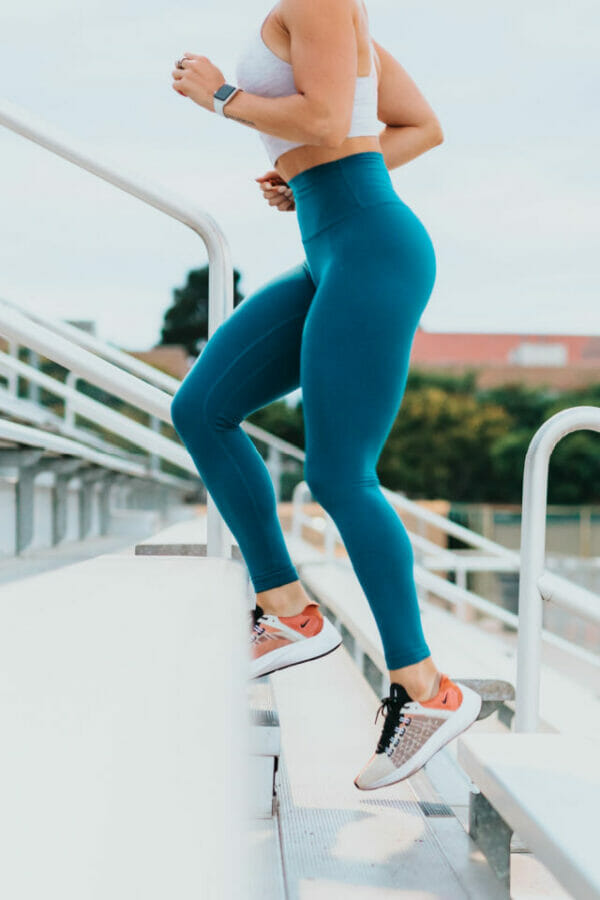 5 of the best fitness trackers for women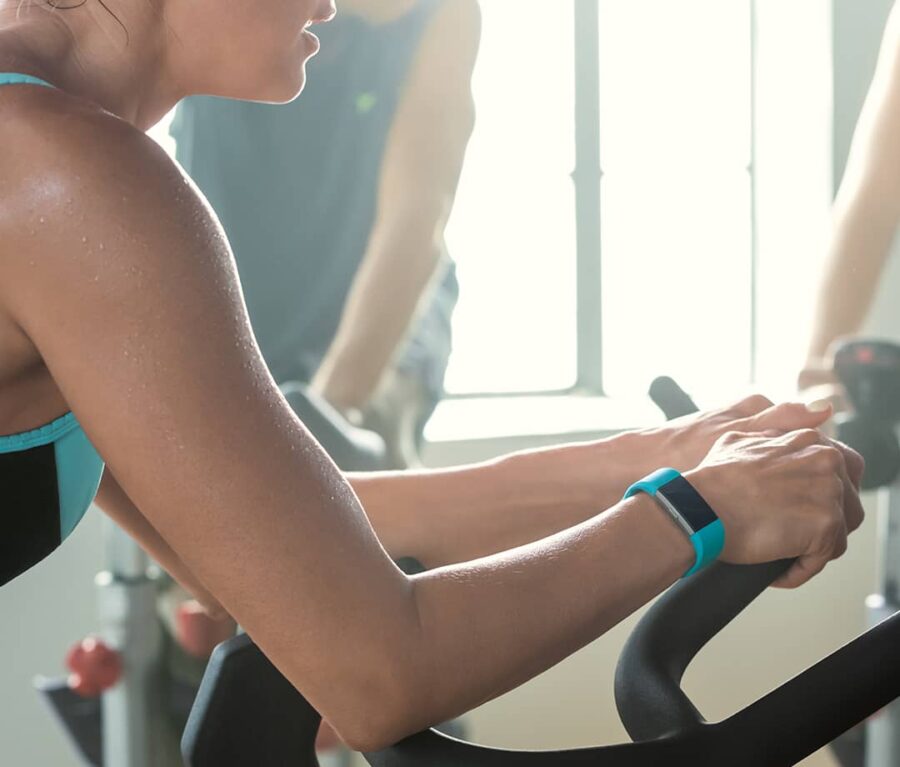 It makes sense that there are different types of smart watches on the market for men and women, women often have small wrists and they might need different types of fitness trackers, for example to track their menstrual cycle.
We've pulled together the ones we think are the best, with a watch built-in, the measure heart rate and that can be used as a multisport gps watch as well as the most affordable.
It's important to choose the right one, so hopefully our list can help you find the best fitness trackers and watches.
1. Garmin Vivofit 4
Garmin Vivofit 4 takes the top spot for overall satisfaction, affordability and user friendliness and great for all health and fitness levels.
Better still, this fitness tracker is great value for money, durability as well as charging.
"It brings you activity tracking and the freedom to keep moving without taking a break to recharge. With its 1+ year battery life, Vívofit 4 is perfect to wear 24/7, so you're always tracking your activity, automatically and so much more."
2. Apple Watch8
Apple Watch 8 has been hailed the second best fitness tracker on the market, as it has a big following with its rage of smartwatches. They are part of the Apple Watch series which has a variety of different makes.
However, Apple tends to be one of the more expensive brands.
3. Samsung Galaxy Watch5
Samsung Galaxy Watch5 is a great option for Android users. We love the design and the large display and the price is right too.
Like Apple, Galaxy watches by Samsung tend to be on the more expensive end.
4. Fitbit Sense2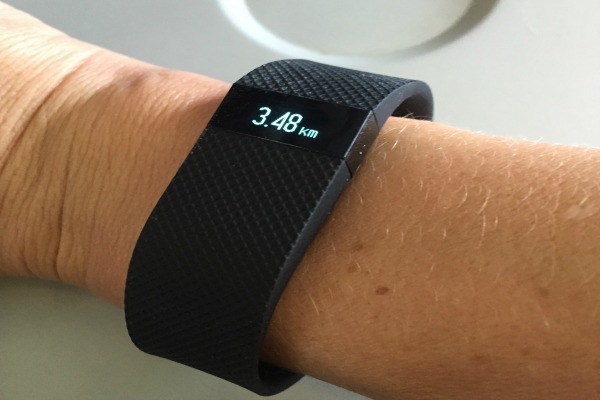 Another affordable option that comes with the FitBit features is the Fitbit Sense2. Fitbit has been on the market for years and remains a favourite fitness watch among fitness reviewers.
5. Garmin Instinct 2 Solar
The Garmin Instinct 2 Solar has a solar charging GPS built-in the watch face and has been designed to be tough enough to keep up with you and unique enough to fit your style.
It comes in two sizes to fit every wrist and is easy to use.
"Go longer than ever with unlimited battery in smartwatch mode. Plus, power manager lets you extend your battery life by controlling what sensors and settings draw power."
Pros and cons of buying a smart watch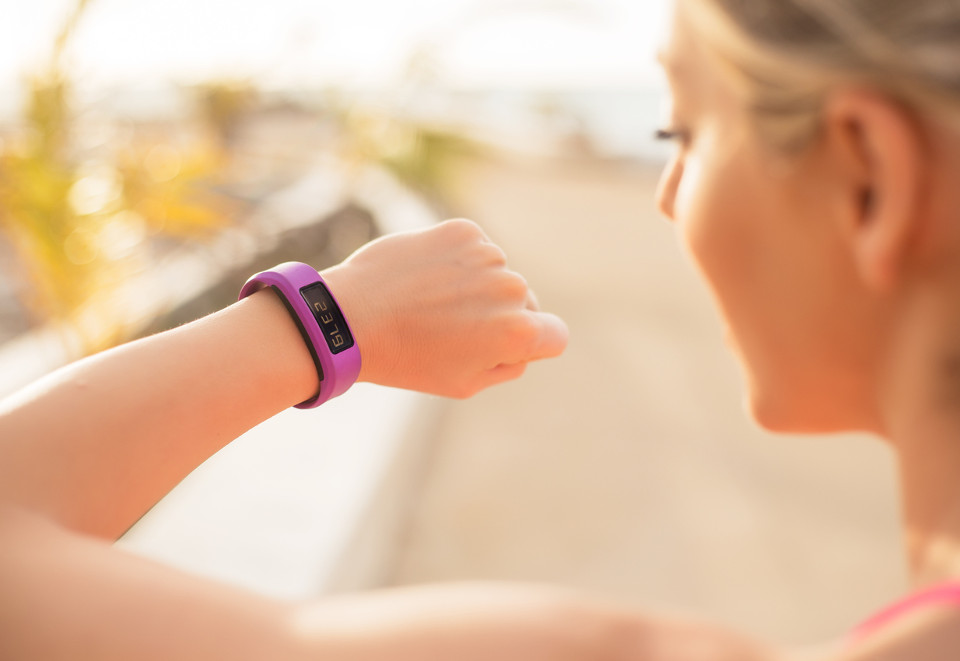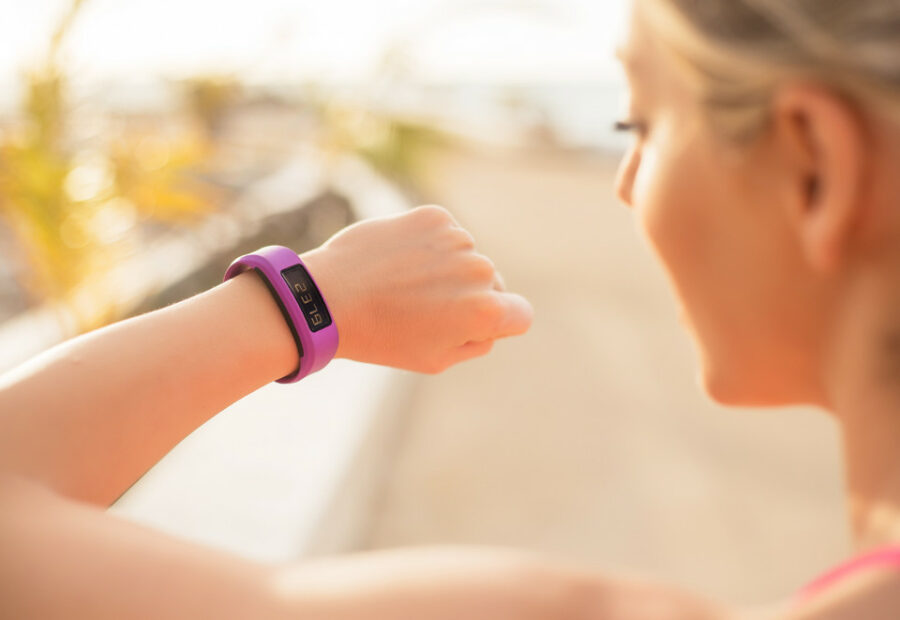 Pros
You can easily track your progress.
It's easy to see what workouts have had an impact on your health, so you can keep it up.
You might find you see results quicker.
It may help keep you motivated and reduce your stress levels.
Make sure you are healthy, by checking your blood oxygen levels etc.
Monitor your heart rate
Keeps track of calories burned
You don't need to take your sport watch off to exercise
Some have heart rate sensors that can track your resting heart rate as well as your skin temperature and health and fitness tracking
Cons
The cost of buying a fitness tracker.
It could make you feel a bit more competitive and overexert yourself.
You may feel a lot of pressure if you have a few quiet days, as you've not reached your targets.
They are some of the best trackers for women on the market right now. It may be worth getting the same Garmin watch as your significant other or bestie if you want to compete against each other or create a competition.
They are a great option for women with lots of features like using your heart rate and sleep trackers. Garmin are one of the forerunners for having one of the most affordable fitness app which is herald for it's ease of use.
Challenges between Connections can be created in the Garmin Connect app or Garmin Connect web. Find out more here.
How to sync to your fitness trackers to The Healthy Mummy app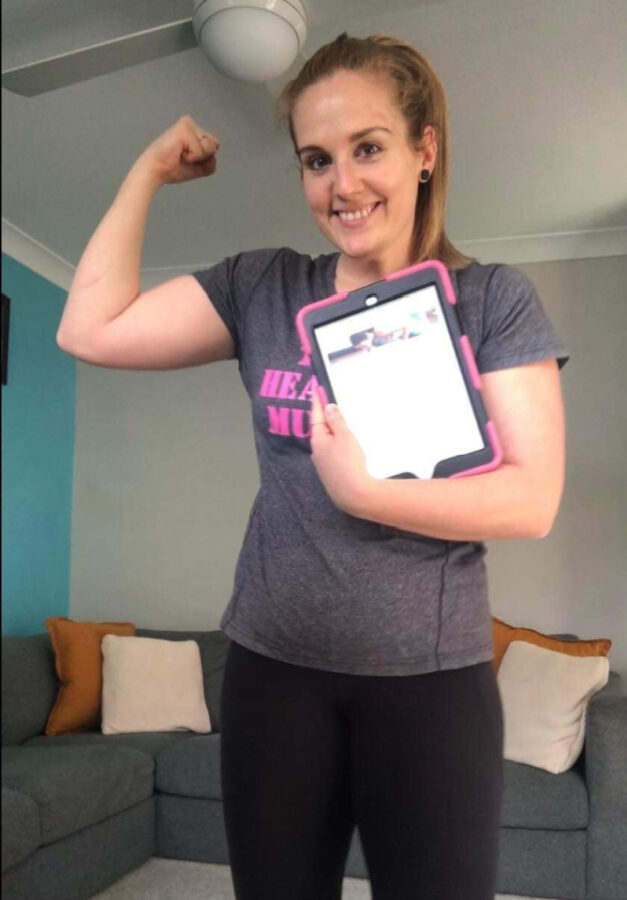 This is set and forget feature which means once you have set it all up it will automatically sync any data from your FitBit, Garmin, Apple Watch, or Apple Health with The Healthy Mummy app.
Below is how to step up your Garmin, FitBit or Apple Health to sync with The Healthy Mummy App, we also show you how to make sure your Apple Watch or other wearable data is properly synced through Apple Health which then syncs to The Healthy Mummy App.
Open The Healthy Mummy App and go into the activity section as if you need to enter a workout or steps manually where you'll find an option to "Sync" in the top right-hand corner: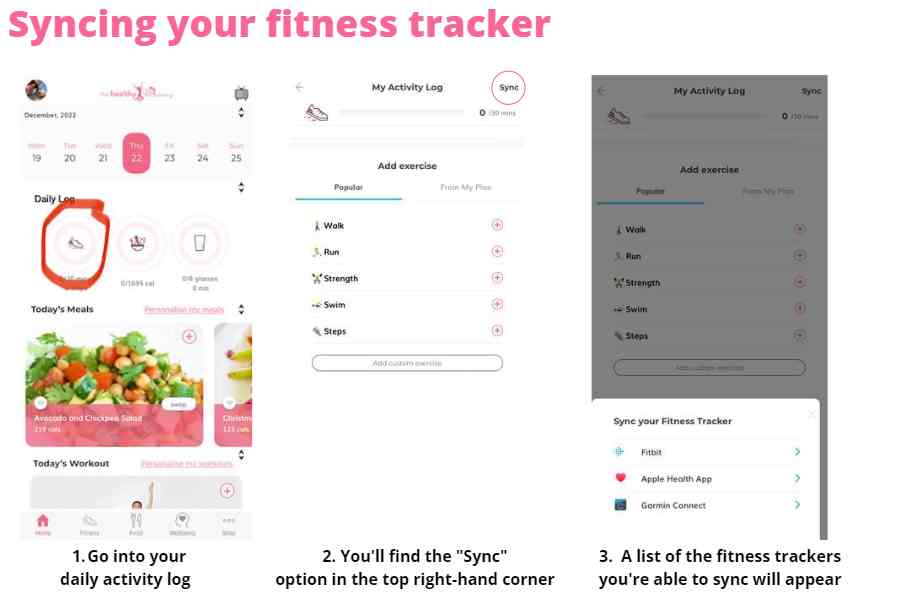 NOTE: The first time you open your activity section after updating the app you may be auto-prompted to sync your activity tracker rather than having to tap the "sync" option in the corner: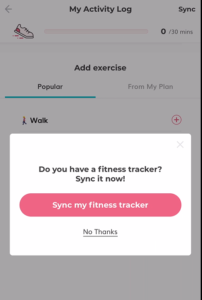 If you tap this a menu will pop up at the bottom of your screen giving you the option to pick your fitness tracker: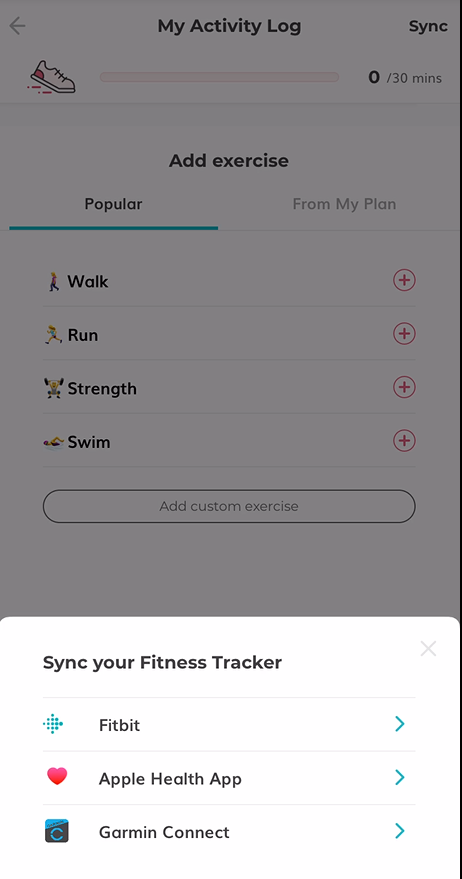 You can then select the activity or fitness tracker you want to sync from the menu (noting that Apple Health often includes Apple Watch data).
Skip to the instructions for your preferred tracker: Garmin, Fitbit or Apple Health
Garmin
A browser window will open where you will need to log into your Garmin account: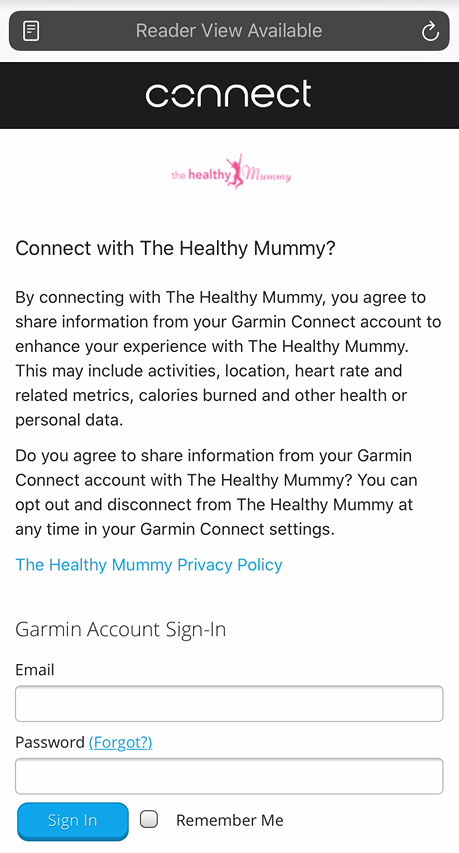 Once you have logged into your Garmin account you will need to give permission for The Healthy Mummy app to connect to your Garmin: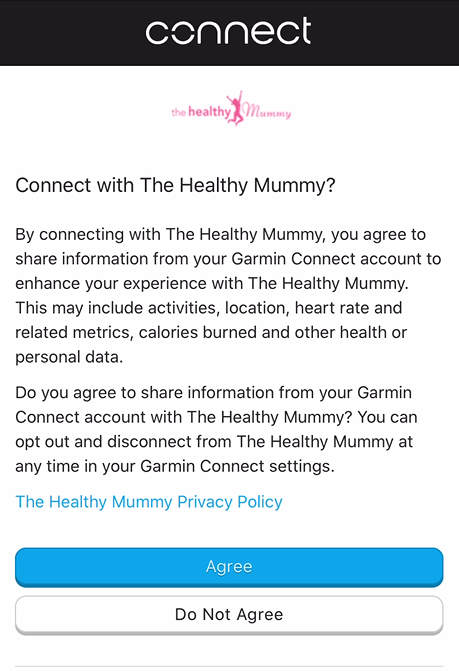 After you have done this you will be asked if you want to go back to The Healthy Mummy app: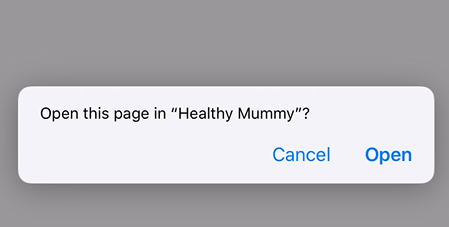 Back in the app you will then be able to see if the sync has been successful, there will be a notification at the top of the screen to let you know: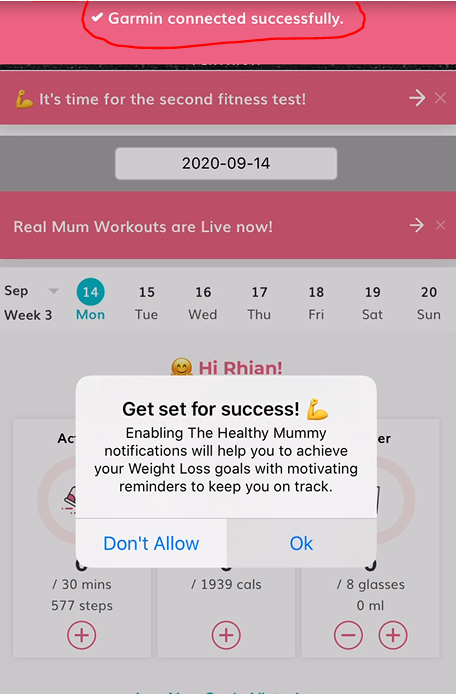 You may also be prompted to allow notifications for The Healthy Mummy app if you haven't already. Your Garmin should now sync your activity data to your Healthy Mummy app.
Fitbit
A browser window will open asking you to sign in to your Fitbit account: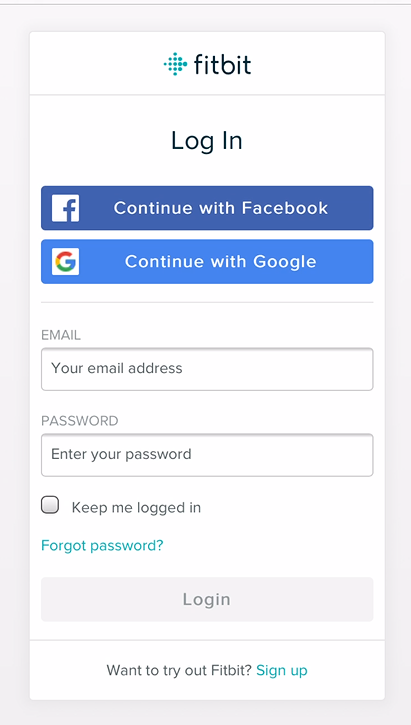 And once you have signed in to your account you will be asked to give The Healthy Mummy app to sync your Fitbit data: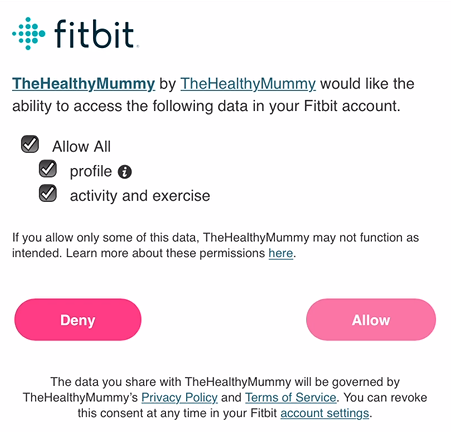 Make sure to select all the options to maximise the information that syncs and make sure the activity data is most accurate, once you agree to allow the sync you will be prompted to return to The Healthy Mummy app: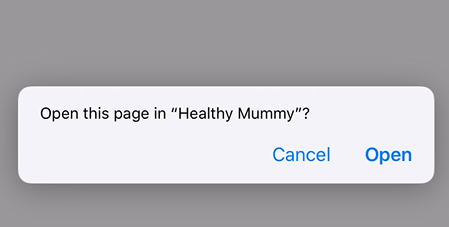 You will then see a notification at the top of the screen to let you know that the sync with your Fitbit has been successful: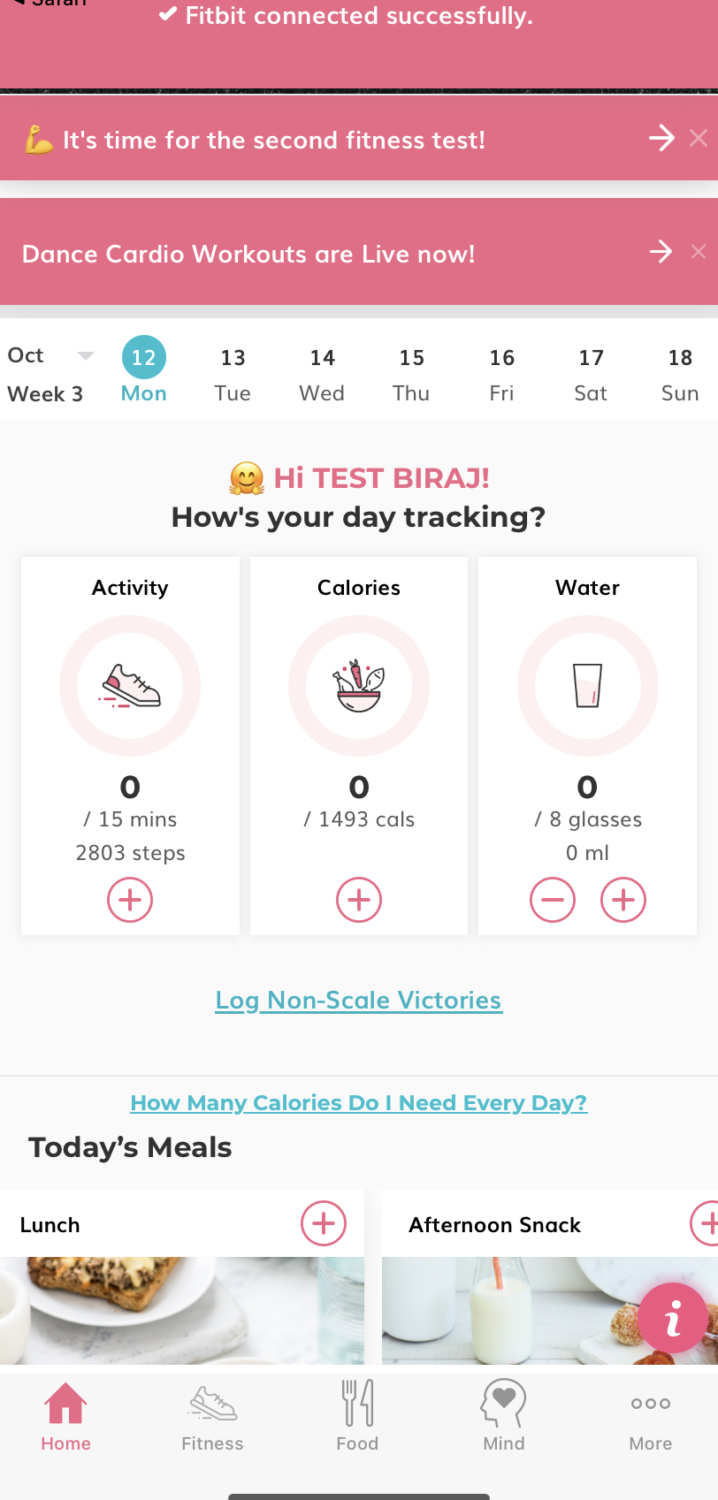 Your Fitbit data will now sync with your Healthy Mummy activity to help you reach your fitness goals.
Apple Health
After selecting Apple Health from the activity trackers to sync menu the Apple Health App will open to the settings page: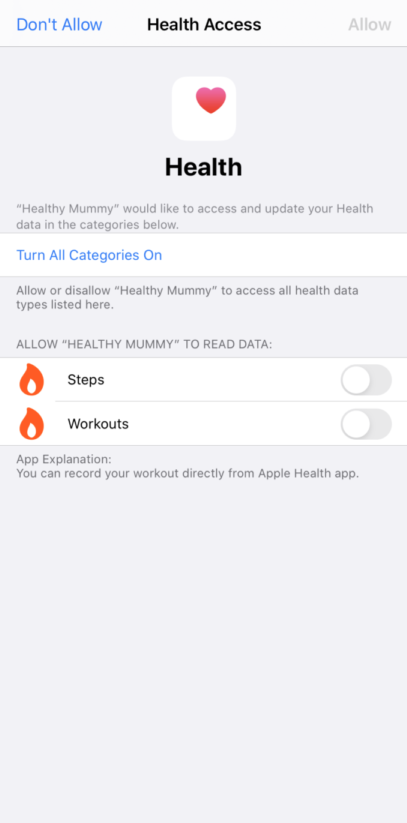 Make sure to toggle both the "Steps" and "Workouts" to the on position and tap "Allow" in the top right-hand corner: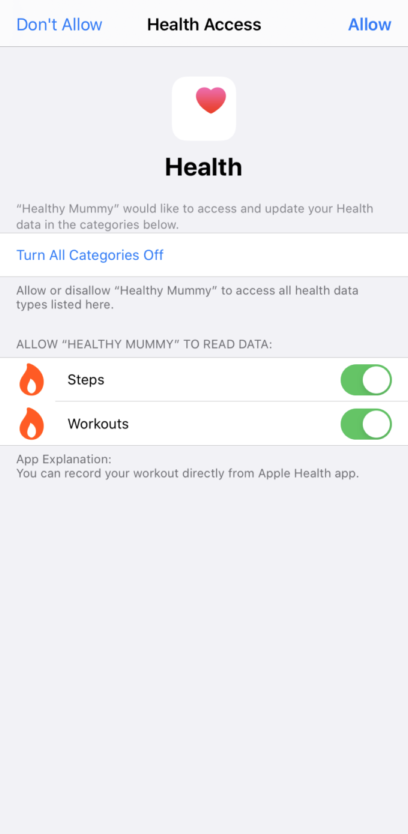 You will then automatically go back to The Healthy Mummy app where it will sync any data and prompt you to check if your activity tracker is also synced to your Apple Health app: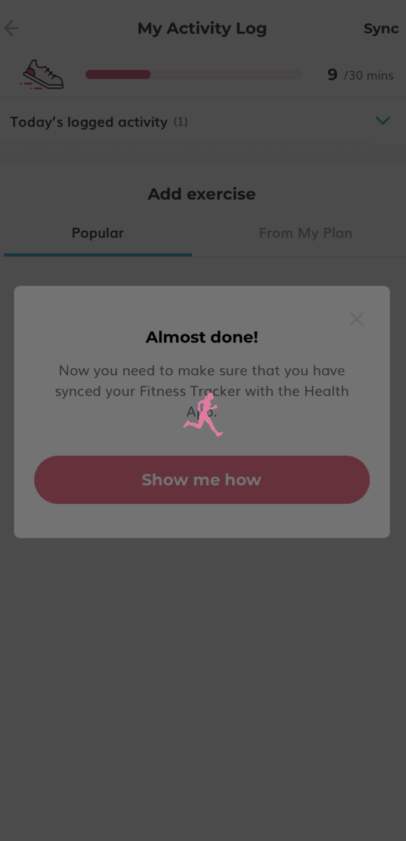 Tap "Show me how" and we will take you through the step-by-step process of making sure your activity tracker (including your Apple Watch) is sharing the activity data with the Apple Health app: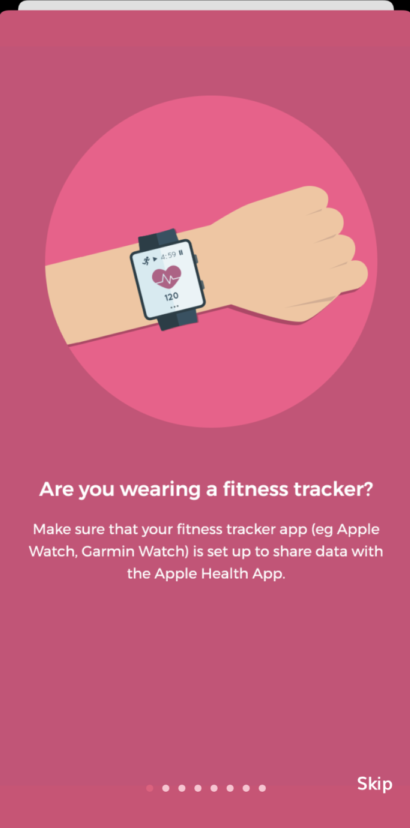 First, you need to check your phone settings: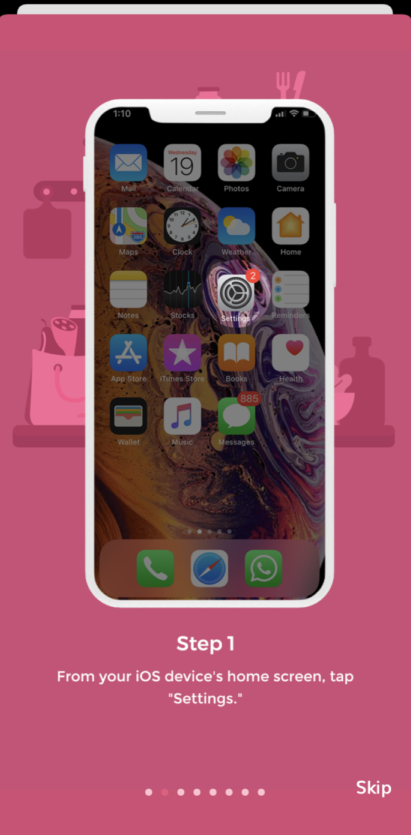 For the privacy settings: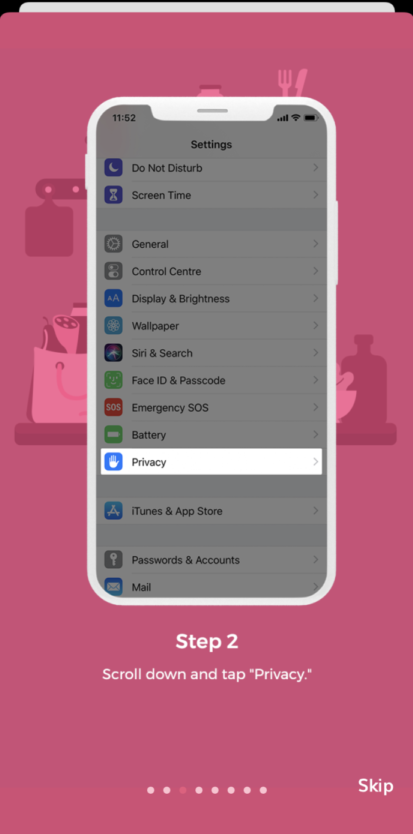 Specifically the Health App settings:The relevant fitness tracker (for an Apple Watch you don't need this step):
Make sure the tracker is sharing all the relevant information with Apple Health: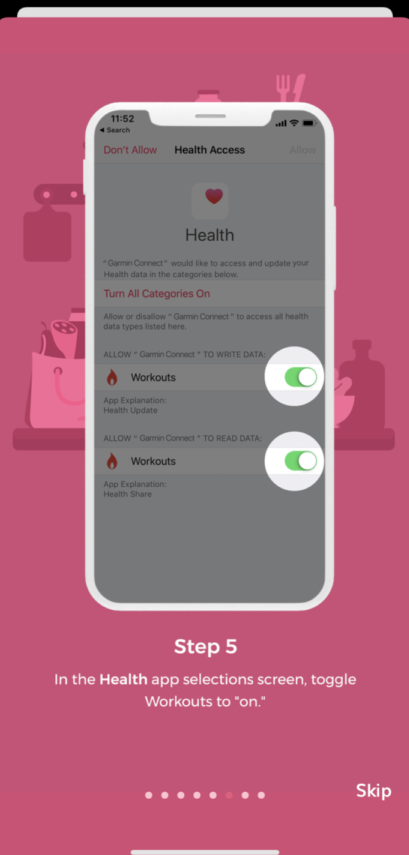 If you haven't already, allow that access to Apple Health: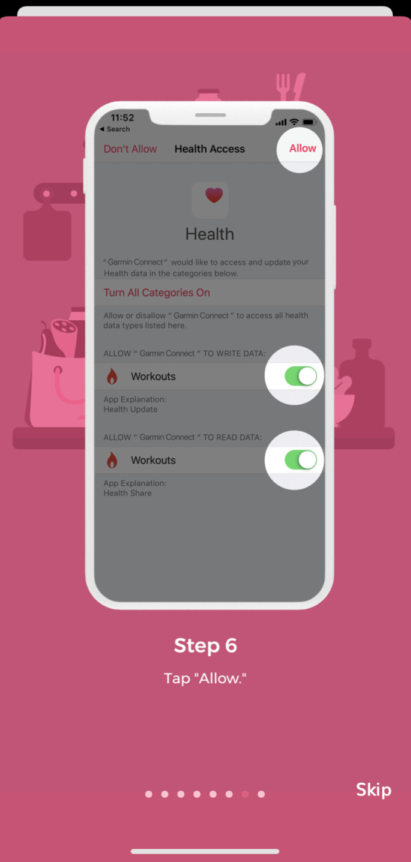 And success! All apps and trackers are now synced to The Healthy Mummy app: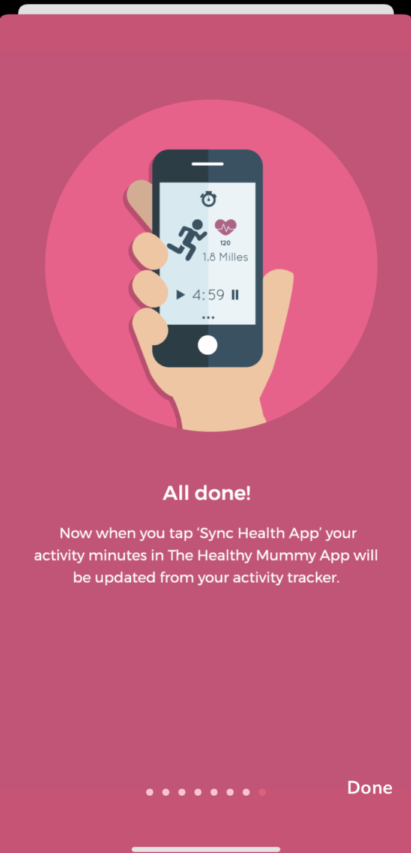 You will see the activity from Apple Health or other activity trackers at the top of your activity screen in The Healthy Mummy app: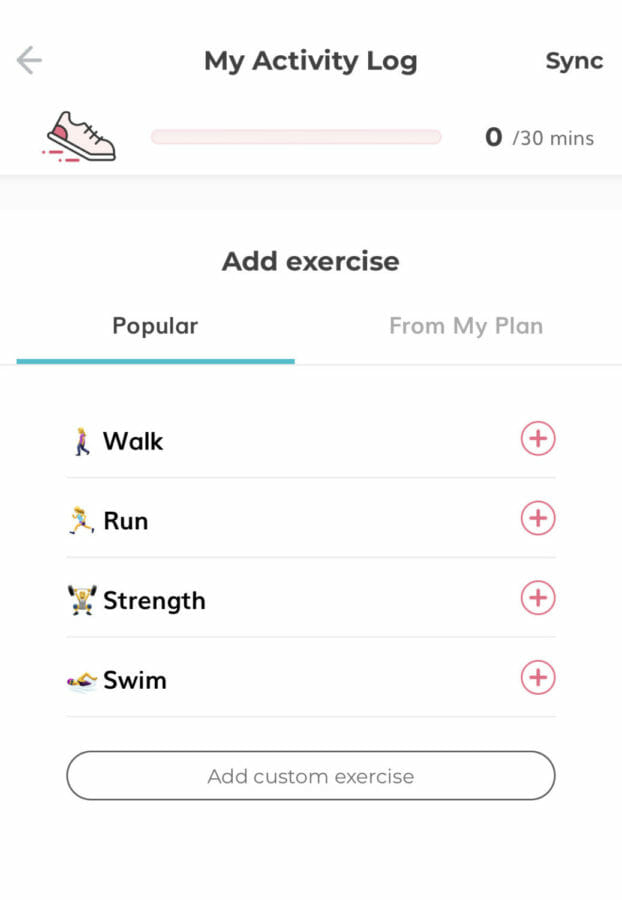 To ensure you have access to all these amazing features and more in The Healthy Mummy app keep your app up to date!