There's a new and improved Healthy Mummy Hot Chocolate available! Not only does this delicious creamy low-calorie comfort drink taste amazing, but with its added collagen and Vitamin C it'll also improve your skin, hair, and nails!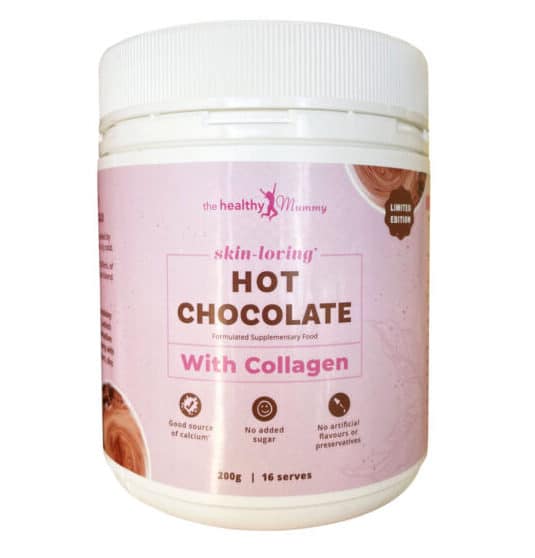 Skin Loving Hot Chocolate
This is a seriously creamy, rich and indulgent chocolatey drink that is only 155 calories when made up with 300ml of skimmed milk. Not only does it taste amazing, but it's also a great source of vitamin C,  magnesium, protein, vitamin E, calcium, potassium and phosphorus!
And here's the exciting bit! It contains 3 grams of collagen per serve!
Benefits of Collagen
Collagen is the most abundant protein in the human body and gives structure to your skin, bones, muscles, and all other connective tissue.
Collagen not only reduces wrinkles, but it also keeps your joints strong and flexible, supports strong bones, and increases skin hydration. It can help boost metabolism, build muscle and burn fat, which is key if you are watching your weight. Not only that, collagen can also improve digestive health!
With no added sugar,  you can enjoy this decadent hot chocolate guilt-free with all the added benefits of collagen!
Hear what REAL MUM Sascha Farley says about SKIN loving Hot Chocolate!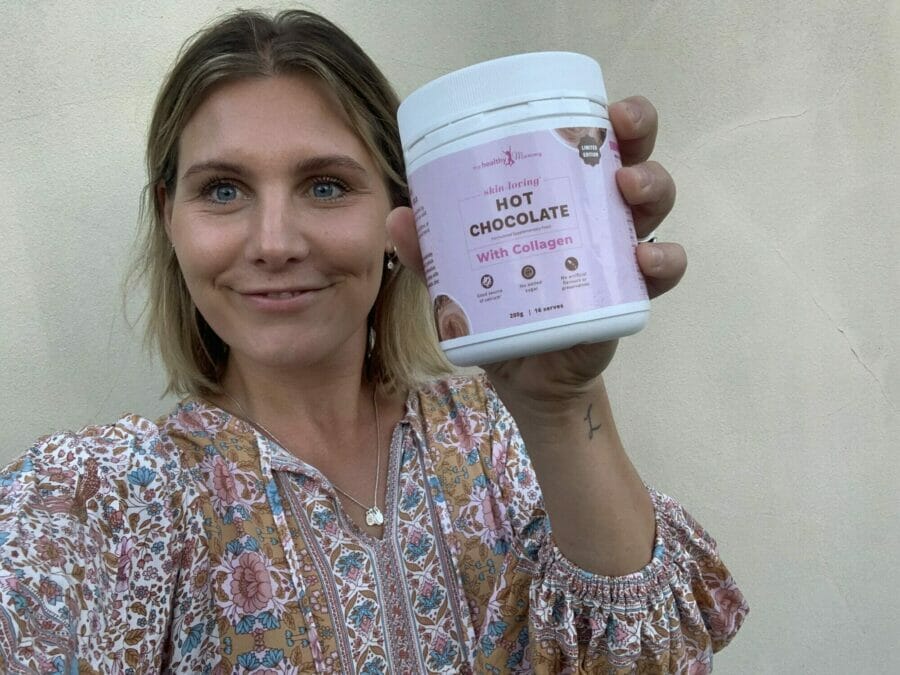 Sascha says, 'Tastes unreal!! Such a yummy and surprising filling drink! It's a big yes from me, the perfect, mid morning, afternoon or evening pick me up!! And how good – double whammy, it has collagen too!
Our Nutritionist Cheree Sheldon also gives it the thumbs up!
"What a decadent way to enjoy the benefits of collagen! A creamy rich hot chocolate that improves hair, skin and nails as well as gut health is such a winner. I love that it's sweetened with no added sugar, and it has the added magnesium to support relaxation."
Reasons to LOVE the SKIN LOVING HOT CHOCOLATE
Added benefits of being good to your skin
Contains 3g of Collagen per serve
Contains Vitamin C and Vitamin E
A healthy alternative to standard Hot Chocolate
Creamy texture
Intense chocolate flavour
Good source of calcium**
No added sugar
No artificial flavours or preservatives
Enjoy hot or cold
Easy to make
Directions
Simply add warm milk of your choice and mix.  You can also enjoy this cold.
You will want to try this! Get your Guilt Free Drinking Chocolate Here!
For a limited time, GET 50% off!