This mum has lost 11kg in 12 weeks – plus, with the savings she bought a house!
This mum has lost 11kg in 12 weeks and saved so much money that it's helped her buy her first home!
Emily Velez has been following The Healthy Mummy since 2020 and, in the last year, had her first Healthy Mummy pregnancy, which she relished in being able to stay healthy and happy whilst pregnant.
Following the birth of her youngest, she was ready to get back on track and signed up for the 12 Week Challenge with the pledge to lose between 1/2 kg – 1kg a week, drink more water and stick to her meal plan.
Not only did Emily lose 11kg in 12 weeks to make a total of 40kg lost with The Healthy Mummy, but she also saved so much money with the help of The Healthy Mummy, that her family were able to buy their first home!
Read how she hit all her goals and more…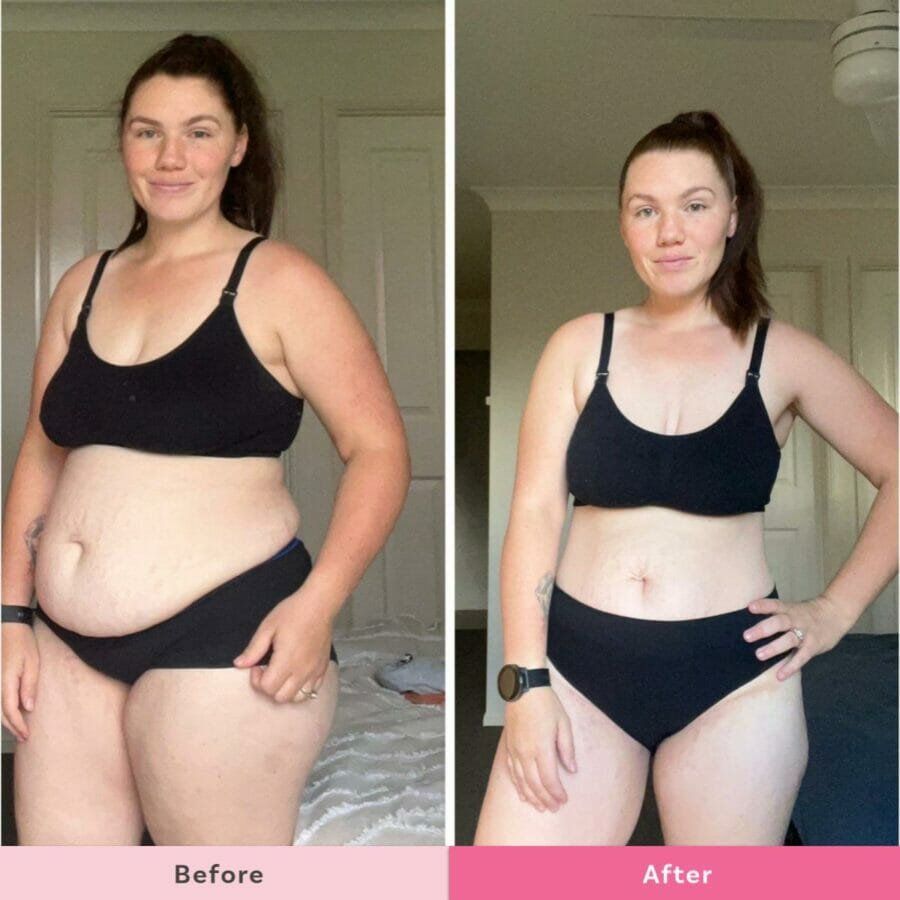 Mum loses 11 kg in 12 weeks and feels fabulous!
Emily is a 23-year-old mum of three boys, including a 4-month-old, and has been using The Healthy Mummy for a few years and has lost a total of 40.7 kg and even had a Healthy Mummy Pregnancy with her youngest.
"23 years old I have 3 boys aged 3.5, 1.5 and 4 months. I've been following the Healthy Mummy since September 2020 and lost a total of 40.7kg! In 2021-22 I did my first Healthy Mummy Pregnancy!"
And after her baby was born, she knew The Healthy Mummy could help her keep the healthy living going, so she committed to The Healthy Mummy 12 Week Challenge.
"I had just had my 3rd baby and was so excited to get 100% back into the Healthy Mummy lifestyle, and I thought the 12 week challenge would be the perfect motivation!"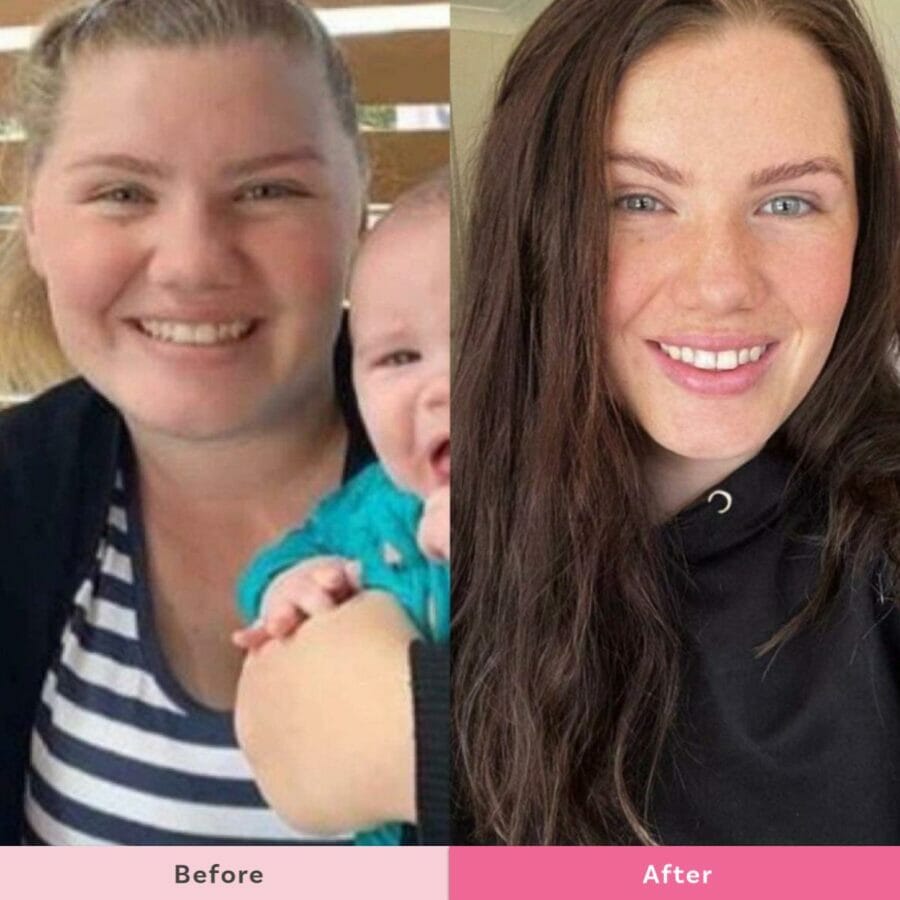 As part of the challenge, she committed to l0se 1/2kg – 1kg a week, drinking more water and sticking to the meal plan along with other goals.
"I pledge to lose 0.5kg – 1kg per week, with my main challenge goal, is getting to 75kg. I also want to drink 3L of water a day, stick to my meal plan and be able to run the full 5km Parkrun again."
"My pledge and challenge will help me kick my postpartum journey's butt!"
She was able to lose weight and cms plus hit her other goals as well.
"I lost 11.4kg over the 12 week challenge! In 12 weeks I lost a total of 48cm!"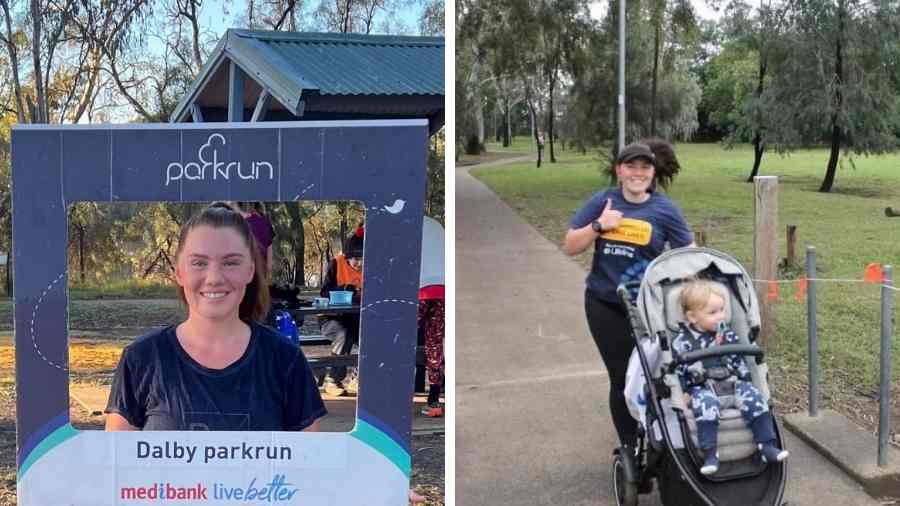 Beyond the weight loss and cms loss, Emily has seen massive improvements in her overall health. She has also been able to complete a full 5km Parkrun and even has run a 10km for the first time!
"I have seen SO many improvements! I've gone down from a size 18 to a 10. My skin has cleared up so much. I've been able to do so many things I never thought I could do before!"
"I smashed my pledge goal of getting to 75kg and got to 70kg! Not only was I able to do a full 5km Parkrun nonstop, but I smashed my personal best and, for the first time, completed it in under 30 minutes! And I ran 10km NONSTOP for the first time!"
What's more, she did all of this whilst breastfeeding her newborn son!
"I was able to do all this while full-time breastfeeding my newest babe (4 months old) – the Healthy Mummy journey has made this postpartum journey my easiest yet!"
"The 12 week challenge has been so motivating. It's helped me stay on track and to smash my goals. I'll definitely be doing the next challenge!"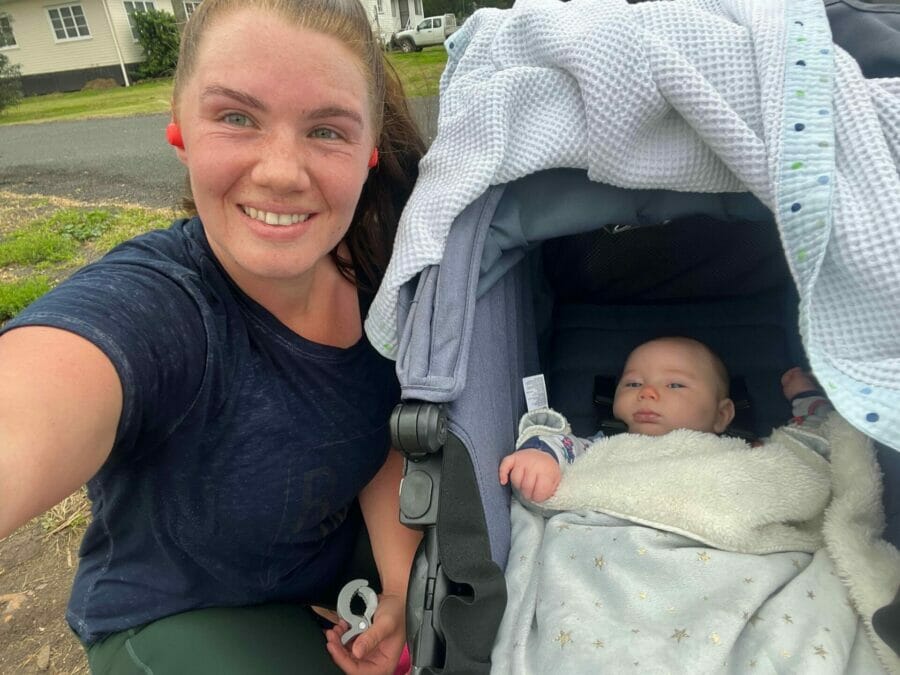 She's not only lost weight but also found her confidence and been kicking goals, and she's saved so much money meal planning and prepping that she's been able to buy a home!
"With the Healthy Mummy, we've managed to half our grocery shop stay under $200 a week! We used to spend $350 + a week! It's been especially helpful with all the price hikes!"
"In the last 12 weeks, I'd say we've saved around $2,000 on groceries alone. Back in February, all the savings we got using the Healthy Mummy program helped us buy our first home! The Healthy Mummy taught us how to properly budget, which allowed us to save enough for our deposit!"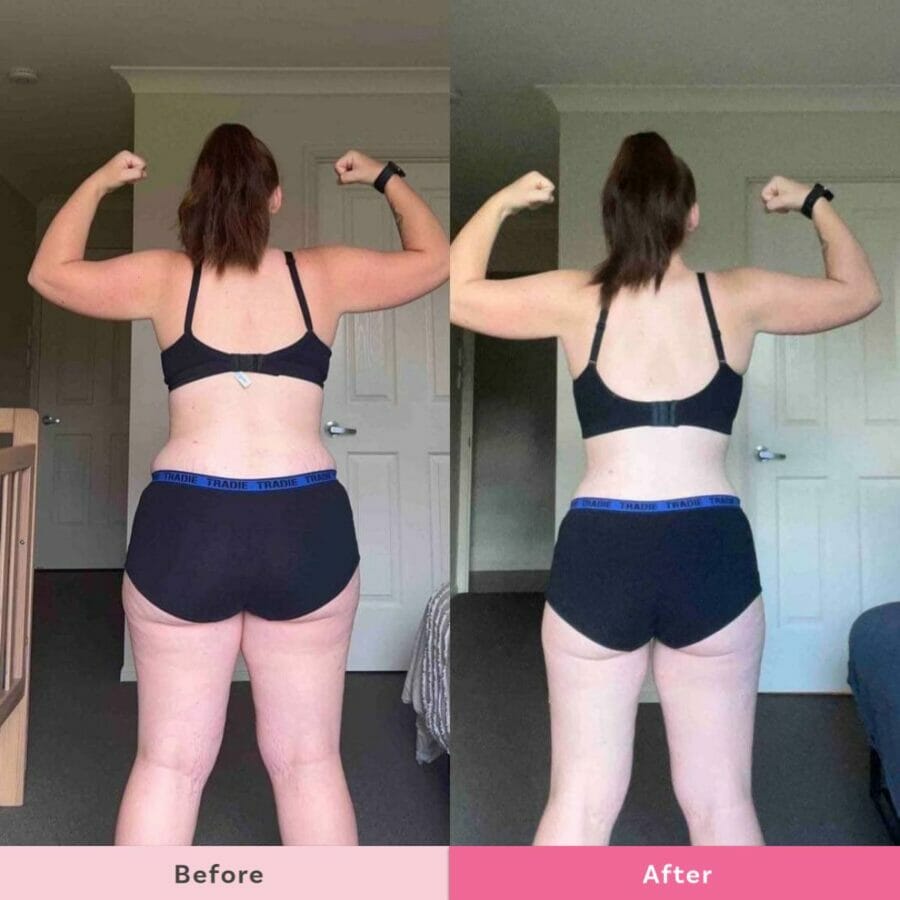 What are some of Emily's favourite Healthy Mummy products?
Along with the meal planning and recipes in The Healthy Mummy app, Emily loves The Healthy Mummy Smoothies, especially when breastfeeding her bub.
"I absolutely do love The Healthy Mummy Smoothies. I don't have them the whole year round (too cold some winter days!), but when I do have them, I'd have them twice per day. Choc-Mint is my favourite flavour!"
She's also been loving the Healthy Mummy SKIN Body Sculpting Lotion, the perfect daily moisturiser.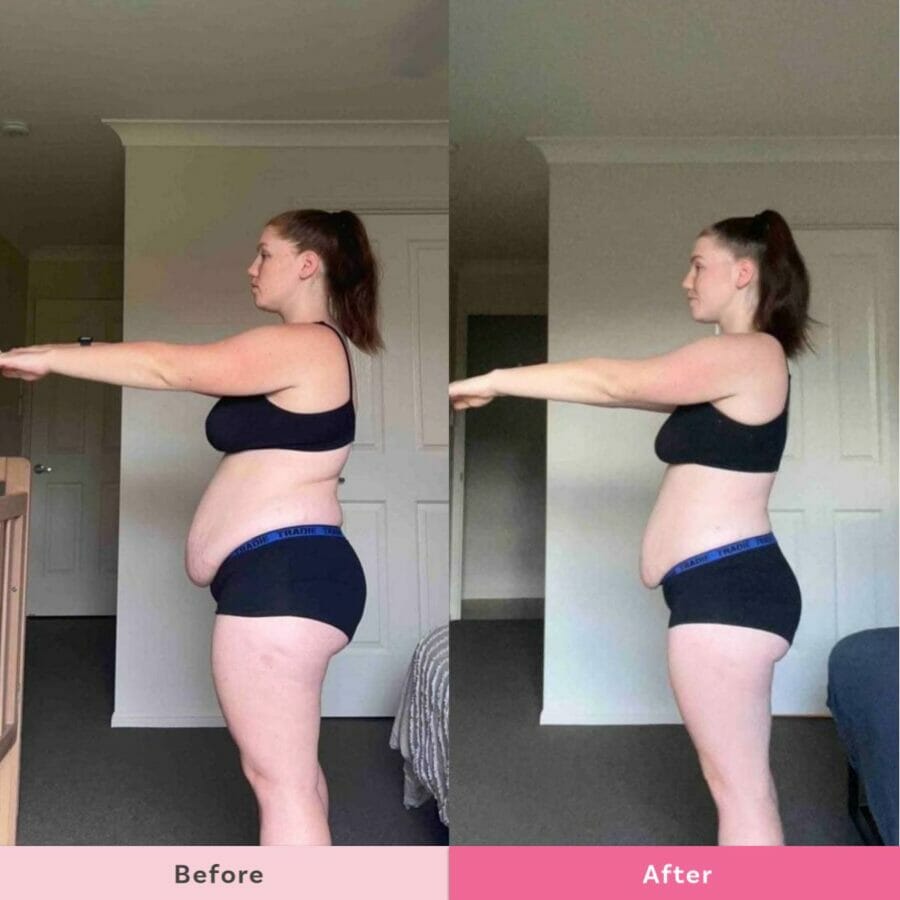 Emily's top tips for weight loss success
With all her success at not only losing weight but also budgeting for her family, what tips does Emily have for other mums?
Don't compare yourself and your journey to others! Focus on you and your ability – what you CAN do and WILL do!
Planning your meals is KEY – order your groceries for click and collect so that you don't have opportunities to stray from your meal plan! And if you have every meal planned, you won't go hungry and overeat later in the day!
Make sure your BMR is calculated correctly, and follow it!
Start out small – don't push yourself 100% into the program from the start (especially if you're new to this sort of lifestyle) because you will burn out – set yourself small and achievable goals! (E.g go for a 30 min walk 3-5 times a week, drink 1-2 big bottles of water a day)
Get your family/friends involved in the lifestyle change! It's SO much easier when your household is on board!
We couldn't be happier seeing Emily not only kick all her goals for the 12 week challenge but also use the changes made with The Healthy Mummy to help her save for a deposit and BUY A HOUSE!