Getting healthy doesn't have to be boring or hard! Says Mum who's lost over 15 kilos in 12 weeks!
Check Samantha's incredible results from the Healthy Mummy's 12 week Challenge! Samantha has lost 15.2 kilos and 91 cm from her body! 
Check Samantha's incredible results from the Healthy Mummy's 12 week Challenge!
Despite already being a 28 Day Weight Loss Challenge member, Samantha used the 12 week challenge for extra motivation and focus to kick start her results.
In just 3 months, Samantha has lost 15.2 kilos and 91 cm from her body!
Find out more below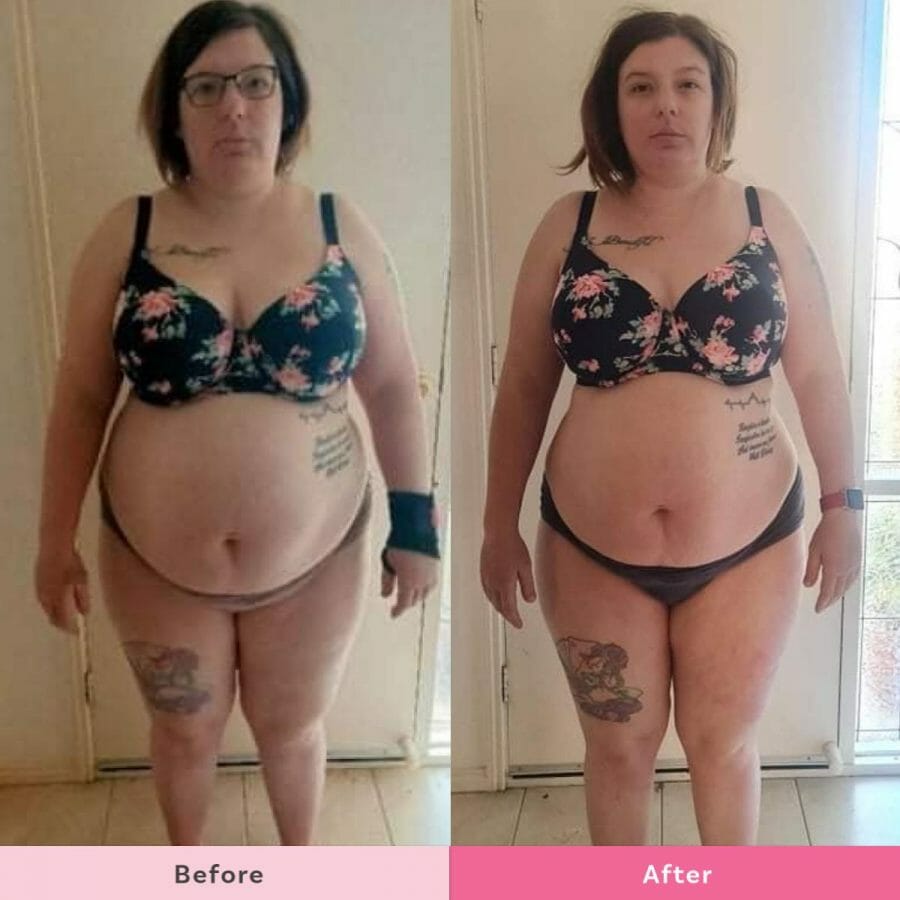 About Samantha
Samantha Hartland is 28 from Werribee in Victoria. She has three young children aged 3, 2 and a 7 month old baby.
Samantha has been following The Healthy Mummy's 28 Day Weight Loss Challenge on and off for 2 and a half years.
"I have lost 9.8kgs in 2020 before falling pregnant with my third child where I put on almost 40kgs. From birth, 7 months ago to now I have lost a total of 27.9kgs."
Pledging for the 12 Week Challenge
Samantha joined the 12 Week Challenge 3 months ago for some extra motivation. That's what the 12 week challenge is all about to give mums some extra support and also accountability.
Find out more about the 12 Week Challenge here
"I wanted to stop talking about actively losing weight and actually do something about it."
"My pledge was to stay on track 80% of the time, workout at least 3x a week, take it day by day, drink my water and lose 5kgs."
Samantha more than fulfilled her pledge, losing a whopping 15.2 kgs over the 12 week challenge. Not only that, she made sure she also took measurements and has lost 91 cms. She is super happy with her results and loving the benefits of her weight loss.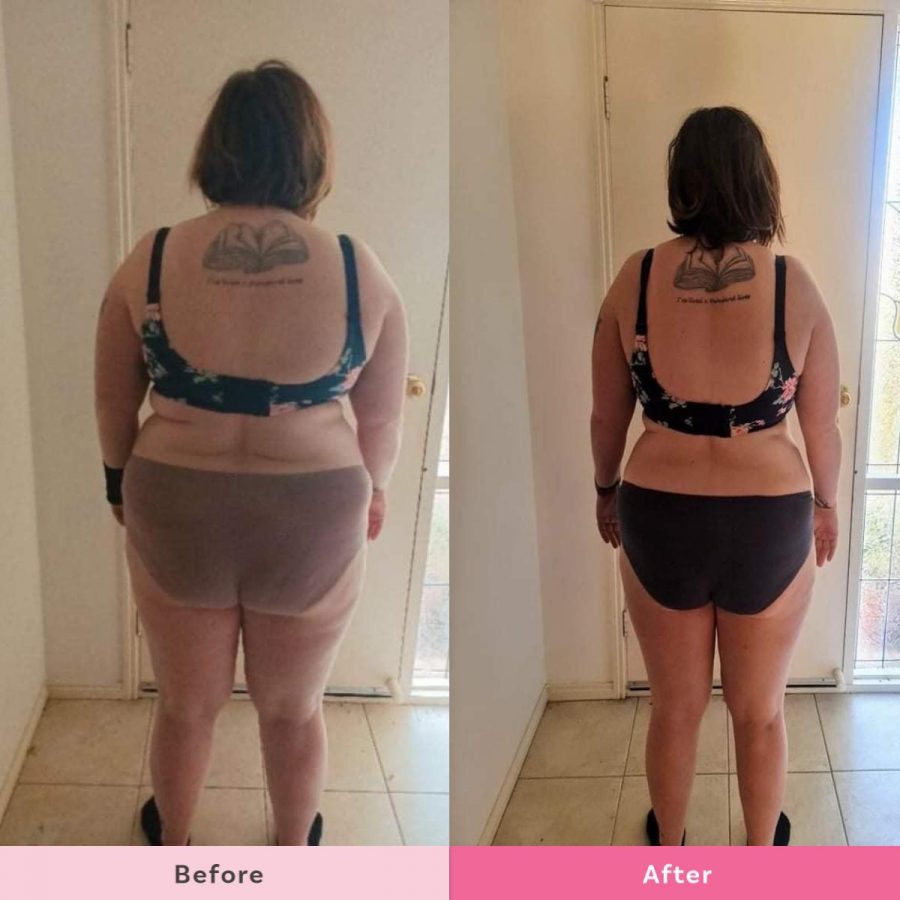 "My mental health has improved, my confidence has grown immensely, I am happier, my skin is breaking out less, I have so much more energy, and I sleep better at night."
Favourite Healthy Mummy Recipes
Zoodles with Haloumi & Roast Vegetables
Low Carb Lasagna
Chicken and Mushrooms just to name a few
My favourite snacks are Choc Chip Banana Bread
Healthy Chocolate Coconut Brownies
Speedy Apple Tart
Samantha has incorporated Healthy Mummy Smoothies, as well as some of our other weight loss products and Skincare range.
"I use the Healthy Mummy Smoothies, mainly for breakfast with frozen fruit and avocado. I love the Honeycomb and Choc Mint flavours I use the Protein Powder, Apple Cider Vinegar tablets, Metabolism tablets and Super Greens Powder as well as the Clay Masks and Coconut Coffee Body Scrub."
She has also utilised the at home workouts in The Healthy Mummy App. "I love the Dance Cardio and Workouts with Kids from the app."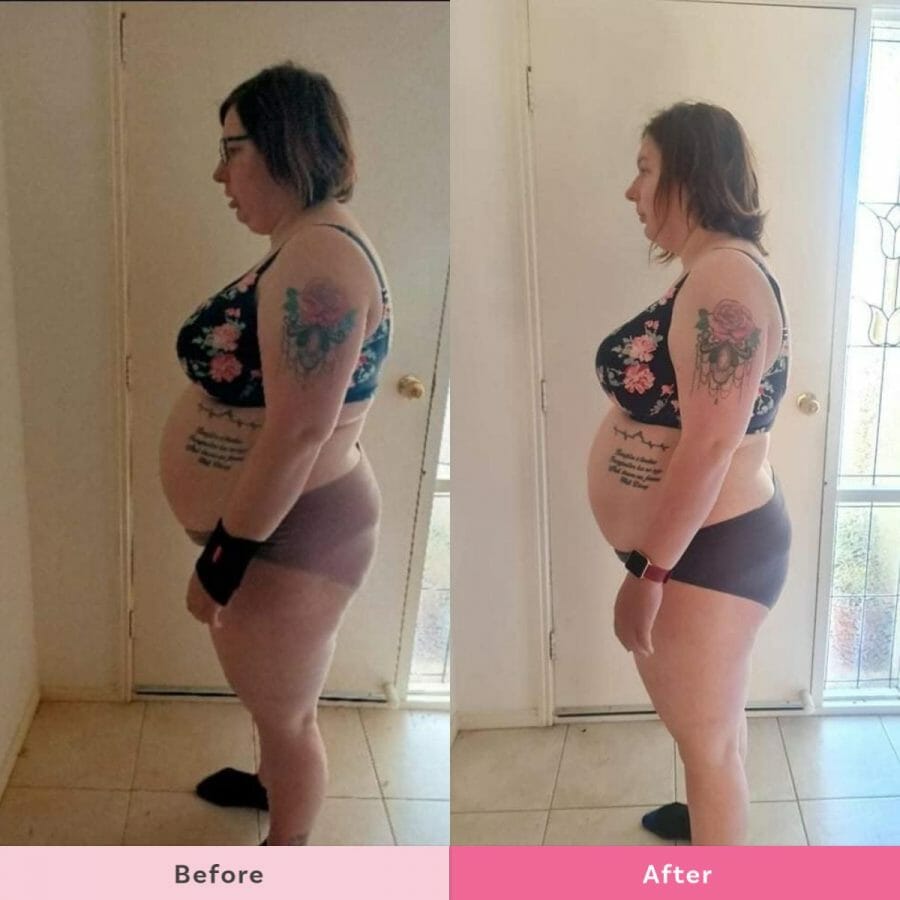 "I have enjoyed my 12 week journey and would participate in as many 12 week challenges as I possible can."
Samantha's Tips for success
Plan your meals and a few options to sub in when you aren't feeling like what's on the menu
Have some quick meals already in the freezer for those busy days
Take it one day at a time and don't let one 'bad' meal ruin your week
Get your family involved if you can
If you can't schedule a workout in do small things around the house while doing the housework like squats, lunges, jumping jacks, etc.,
Set small goals – whether daily or weekly – just something you can accomplish for the day, and find something you enjoy to make your healthy journey/lifestyle more fun – getting healthy doesn't have to be boring or hard.
Great tips Samantha and congratulations!!
Join Samantha on the 28 Day Weight Loss Challenge!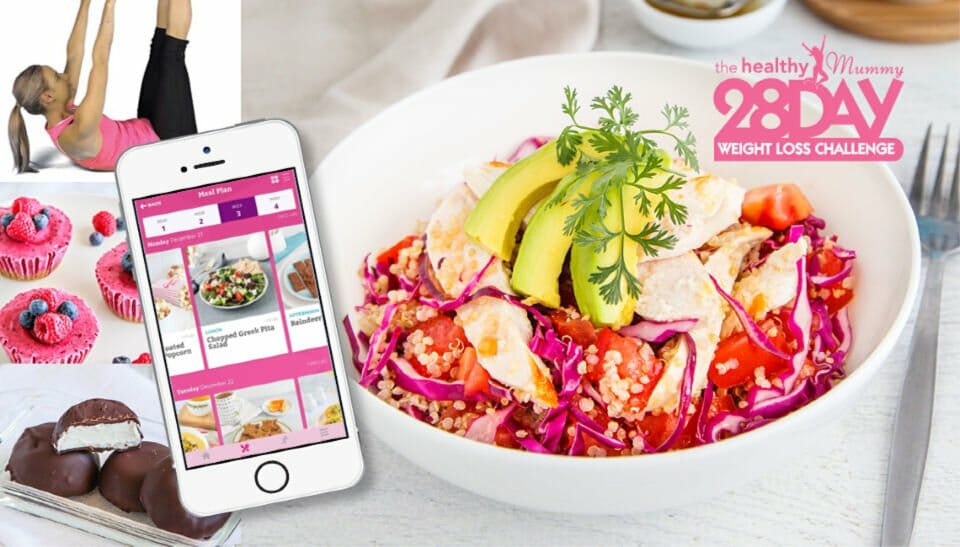 Want to lose weight but feel like you have NO TIME in your day to exercise and eat healthily? That's where the Healthy Mummy's 28 Day Weight Loss Challenge can help.

Our Challenge entails: 
28 days of at home exercise routines (no gym needed) – with video instruction
Customisable and breastfeeding friendly meal plans
Time-efficient exercises for busy mums – under 30 mins
Challenge combines Pilates exercises with interval and circuit training (HIIT)
Suitable for basic to advanced fitness levels.
Home to thousands of EASY-TO-MAKE recipes.
To find out more on the 28 Day Weight Loss Challenge click here.