One great way to ensure you are eating a balanced healthy eating plan is to cook snacks for yourself to either pack in your own lunchbox to take to work or to have on hand at home. This Healthy Zucchini Slice recipe is delicious and will be a winner with all family members, including the kids.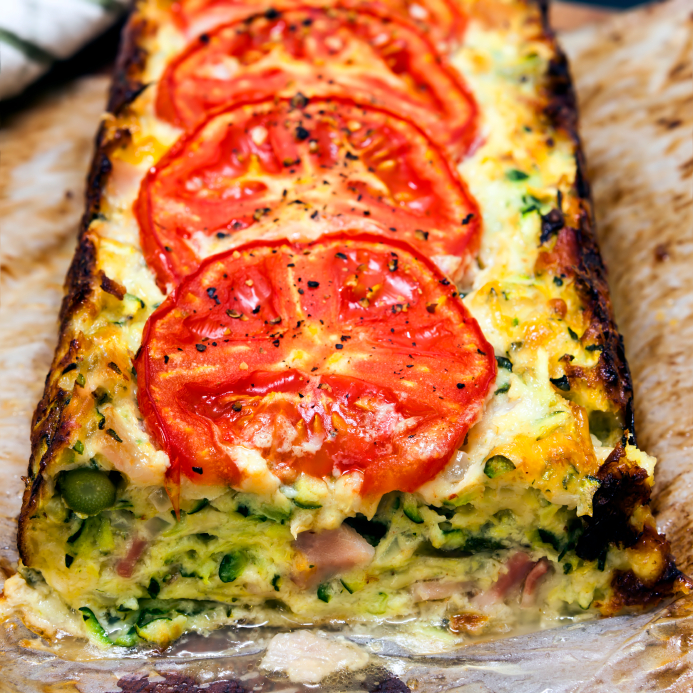 Healthy Zucchini Slice Recipe
Prep time: 10 minutes
Cook time: 30 minutes
Makes 16 squares
Ingredients
1/4 cup of vegetable oil
1/4 cup of milk
500 grams of grated zucchini
150 grams of grated parmesan
1 onion diced
150grams of bacon (no fat) diced finely
1 cup of Wholemeal Self Raising flour
1tsp baking powder
3 eggs
Seasoning
2 large tomatoes
oil spray
Directions
1. In a bowl mix in all the ingredients (except the tomato)
2. Mix well and add to a lined baking tray.
3. Slice the tomatoes and add them to the top and spray with some oil. Season on top with salt and pepper.
4. Place the tray into a 180 degree preheated oven and cook for 25-30 minutes until firm.
Slice into 16 pieces and eat straight away or store in an airtight container in the fridge for a few days.
140 calories per serve
If you're ready to lose weight then The Healthy Mummy plans offer a healthy and safe exercise and diet plans that are safe if you are breastfeeding. Plus we have Cookbooks, Calorie Bibles, Exercise DVD's, Meal Replacement Smoothies and Our 28 Day Plan in our shop.