How to Perfect the Mason Jar Salad PLUS three simple recipes!
Make the perfect salad with this step by step guide for preparing a transportable salad using the humble mason jar - plus three mason jar recipes.
When you are trying to get on top of your health goals, a tasty salad is often a great go-to as part of your healthy eating plan.
The trouble is, once you take a salad out of its comfort zone (i.e. from the kitchen to work) it can end up a soggy old mess. The reason for this is that the salad tends to either go soft from being dressed early in the day, or it can get squashed in transit through a plastic container.
So today we have a step by step guide for preparing a transportable salad using the humble mason jar.
Why a mason jar is great for a packed lunch
It has a seriously strong lid (so no leaking dressing).
The glass is strong so unlike plastic it won't get flattened or squashed in your bag.
You can add the dressing to the bottom of the jar away from the lettuce, which means no more soggy lunches.
The strong seal and the glass keep things fresh so you can make salads to eat for the next 3-4 days and they will keep well.
If you can't get your hands on one, any large glass jar will do – such as a pasta sauce jar.
Follow our step by step plan for a quick and easy lunch in minutes:
Make a simple dressing
This goes on the bottom of the jar so that you can just shake the salad up and dump it into your bowl at lunchtime.
You can use any salad dressing that you like but if you are using packaged dressing always read the label as these can have lots of sugar/salt/oil.
Keep it simple with 2 tbsp olive oil + 1 tsp apple cider vinegar + salt + pepper.
Get our  5 Totally Tasty (and Healthy) salad dressings here 
Add crunch
An important part of a good salad is texture. Add some crunch to give your salad some pizzazz.
This will sit in the dressing so it needs to be strong enough to handle some slight pickling, especially if the salad will be stored for several days.
Some ideas for crunch: diced red or green capsicum, chopped tomatoes, corn, chopped shallots, diced cucumber, lightly steamed broccoli, cauliflower, snow peas, asparagus.
Pack in the colour
The whole point of a healthy salad is to pack in as much goodness as possible and now is your chance to load up the jar with colour and flavour.
It could be: roasted onions, grated carrot, roast pumpkin or sweet potato, mushrooms, cress, kidney beans, chickpeas, chopped zucchini, peas, chopped peach or pears, pesto, red onion, brown rice, wholegrain pasta, or wholemeal couscous.
Pop in some protein
To keep you fuller for longer, add in some protein now. This will stop you reaching for the biscuit jar come 3pm.
We love: a chopped boiled egg, some poached chicken, some slices of roast beef, a leftover chicken thigh or drumstick, 2 tbsp crumbled feta, grilled haloumi, grated cheddar, tuna chunks, leftover roast lamb.
Top it off with greens, nuts and seeds
Bulk up your salad and add more crunch by adding your favourite salad leaves at the end, along with any nuts and seeds that you enjoy.
Stored away from the dressing these will stay crisp and fresh until you are ready to tuck in.
Think: baby spinach, rocket, cos lettuce, raddichio, any salad leaf mix, cashews, chopped almonds, pumpkin seeds or chia seeds.
Then just shake it out
When you are ready to serve, simply remove the lid, tip the jar upside down and shake it out onto a plate. Or you can save on washing up and eat it straight from the jar.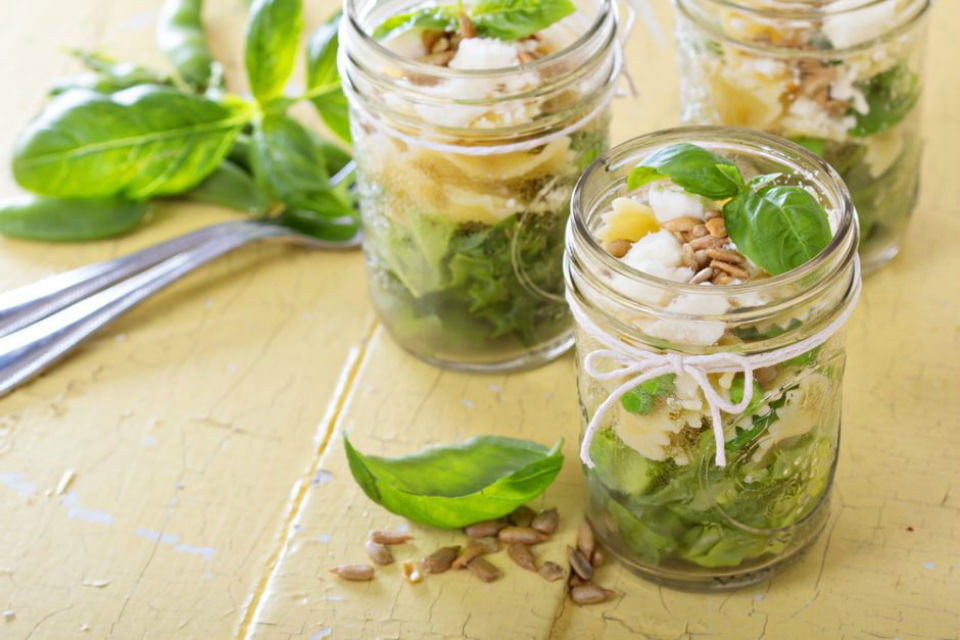 Ready to Make one? Try one of these three great Mason Jar Salads!
Feta Pea and Chicken Pasta Salad
Dressing
2 tsp pesto
2 tbsp natural or Greek yoghurt
Crunch
Colour
Cooked ravioli or pasta
Sliced shallots
Thinly sliced red onion
Protein
Crumbled feta cheese
Sliced roast chicken
Greens, Nuts, Seeds
Pumpkin seeds
Crushed walnuts
Fresh basil
Rocket
 Mexican Veggie Salad
Dressing
2 tbsp olive oil
1 tsp minced garlic
1 tbsp lime juice
Crunch
Diced cucumber
Diced red capsicum
Colour
Kidney beans
Corn, fresh or tinned
Sliced shallots
Diced tomatoes
Protein
Cooked brown rice or quinoa
Grated Parmesan cheese
Greens, Nuts, Seeds
Chopped coriander
Baby spinach
Pumpkin and Chickpea Salad
Dressing
2 tsp olive oil
1 tbsp lemon juice + 1 tbsp lemon rind
Crunch
Colour
Roasted pumpkin
Thinly sliced red onion
Protein
Tinned chickpeas, drained
Greens, Nuts, Seeds
Want more food in jars? Try:
Coconut Choc Jam Nutty Yoghurt Pots
Cleansing Chia Pudding
Healthy Berry Parfait
Access thousands of healthy recipes on the 28 Day Weight Loss Challenge!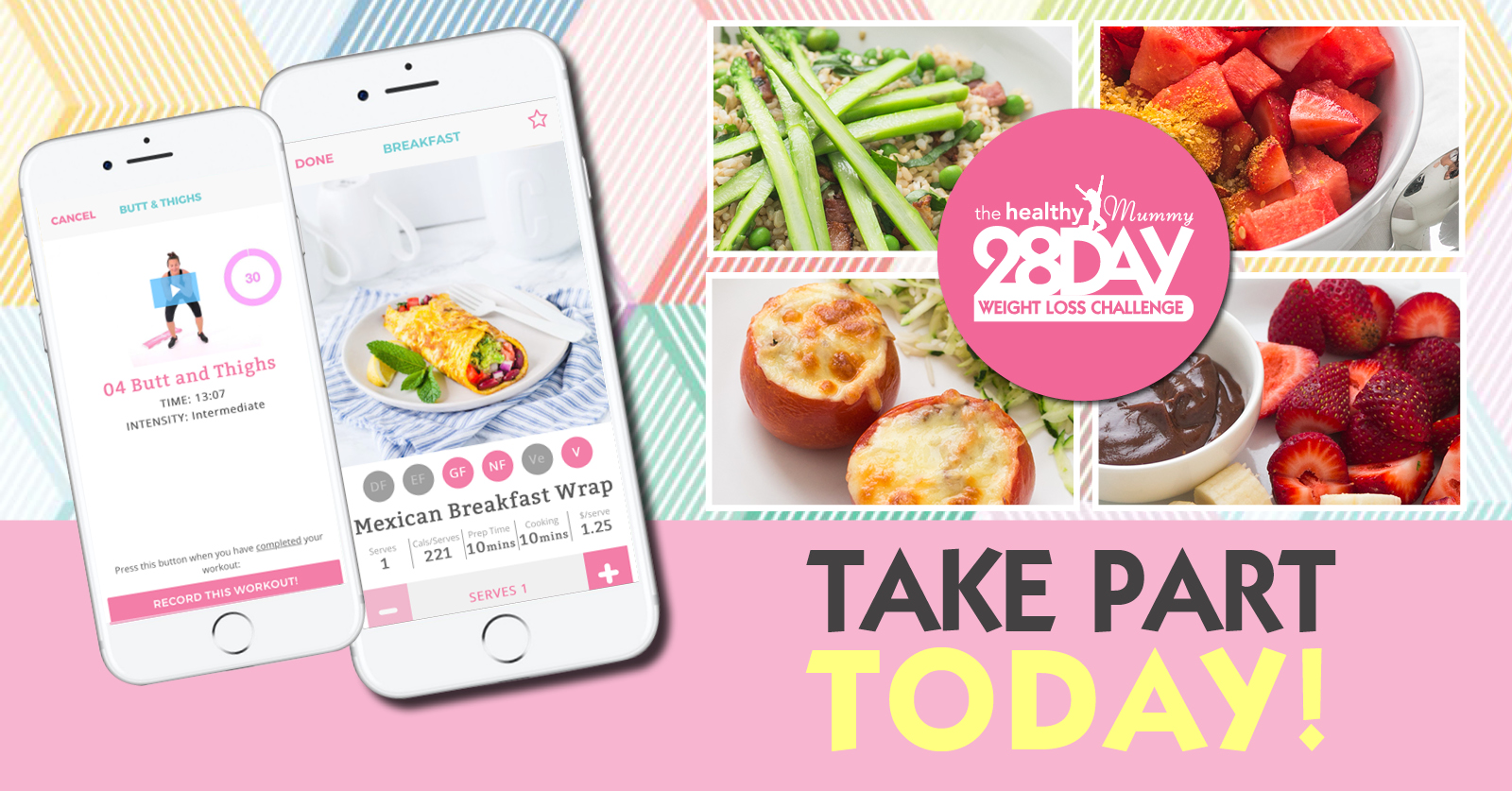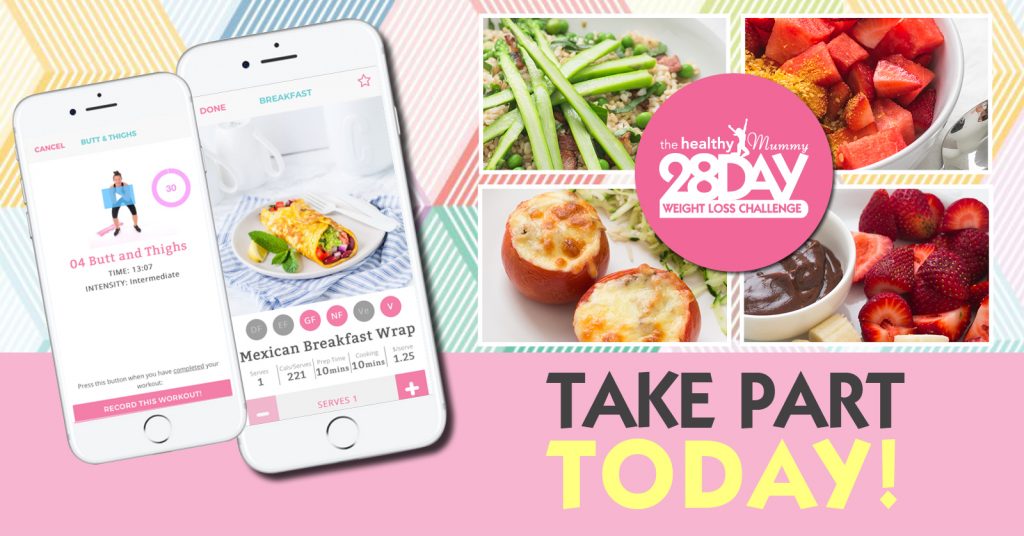 Are you wanting to shift the baby weight and blast tummy fat? Then join our 28 Day Weight Loss Challenge!
Our Challenge is designed by mums for MUMS to help them lose weight through healthy eating plans and exercise.
Each month our 28 Day Weight Loss Challenge is themed, targeting things like reducing sugar, budget recipes, meals for fussy eaters, recipes with 5 ingredients or less, and many more.
Find out more or join the 28 Day Weight Loss Challenge today.