These mums have lots to celebrate! It's not just about the weight they've lost but all the positive things they have gained. They're all more confident, healthy, strong and most importantly, happier now they're living a Healthy Mummy lifestyle.
None of their transformations have happened overnight.  By following the Healthy Mummy and The 28 Day Weight Loss Challenge, they have all put in consistency and time, and are now reaping the benefits and feeling FABULOUS! 
Chelsea Dixon "

I eat carbs and I still lost weight."
Chelsea says "From that first picture that changed my life. The picture that helped me realise I needed a change. The picture that I look back at & wonder why I did not care?? Why did I not look after myself??? Why did I waste so much time hiding behind closed doors ??
To the mum that is proud of what she has achieved, can now chase my four children and not feel like I'm dying, can climb mountains or anything that is thrown at her. She loves a challenge!
It clicked for me and it was worth every change I made to look after the vessel I live in. My body is worth looking after. I have a new lease on life from following the Healthy Mummy meal plans, one Healthy Mummy Smoothie a day, three snacks two meals and I am just loving life. I eat carbs and I still lost weight. The treats are delicious & the meal plan always surprises me.
Exercise I started off small & have built up my fitness. If I can do it you can too."
Tarryn Eames "

I am now officially 30KGS lighter!"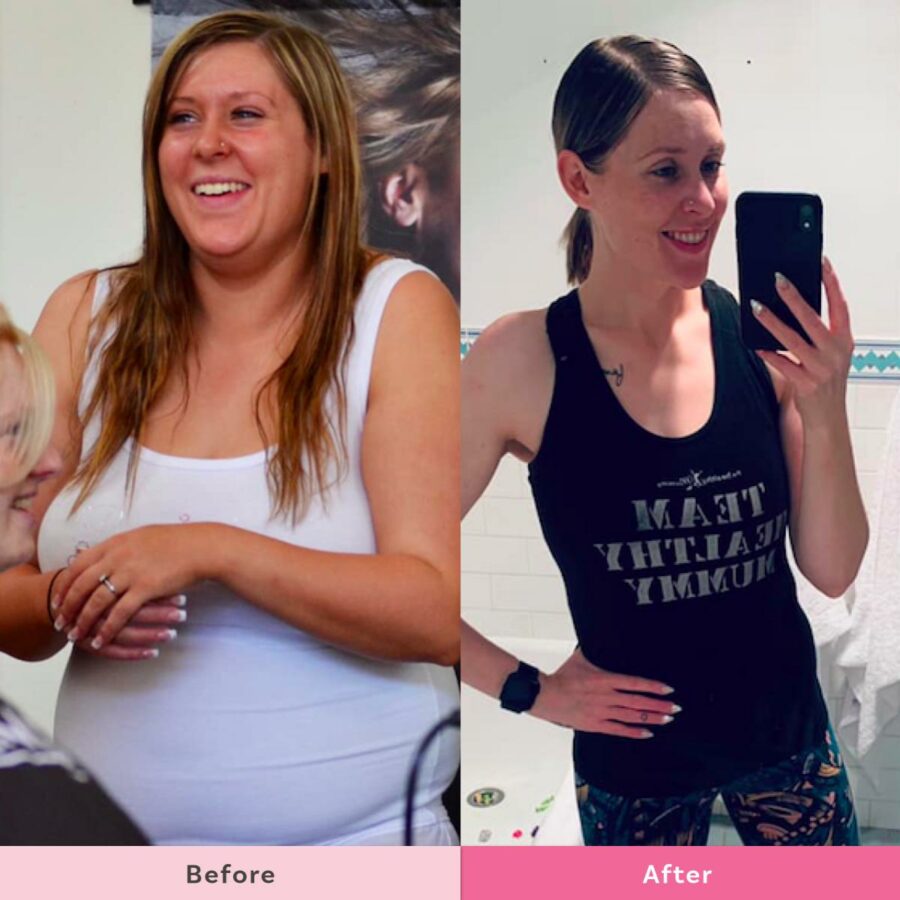 Tarryn says "As of this morning, I am now officially 30KGS lighter!
But more importantly, I am HAPPIER, I am HEALTHIER, I am ENERGETIC, I am STRONG, I am CONFIDENT and I am so very COMFORTABLE with where I am in life. Something I have never quite experienced on this level ever before."
Michelle Knight "I'm now fitter, stronger, healthier and happier"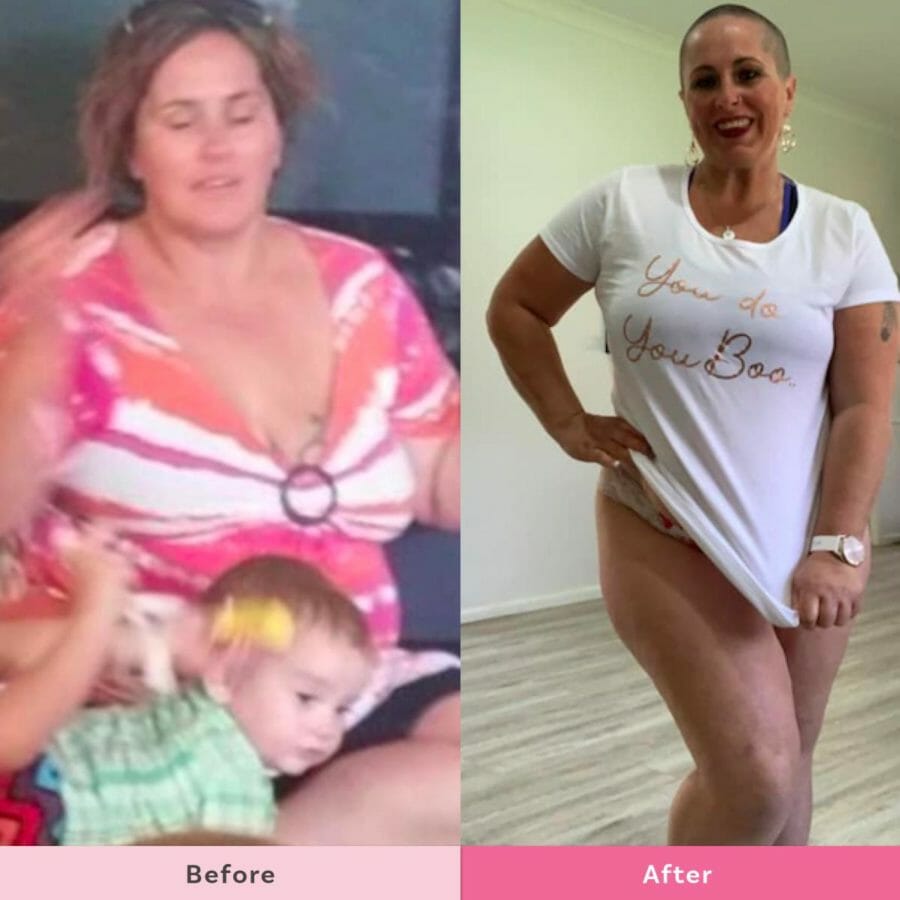 Michelle says " When you come across a photo of yourself and you don't even recognise you. I've been thankful to have all things Healthy Mummy by my side to help me, encourage me and support me and to remind me to never give up."
I was wearing dresses as tops when I was at my biggest. The last weigh I did I was 98kgs but I got bigger after that I just refused to weigh myself. I also finally got to the stage of refusing to buy bigger sizes. My jeans were 18-20. My tops were 18-22 I had gone up a shoe size to fit my feet My bra was 18 EE. I wore jackets bought in the men's section XXL. I was in denial.
In 2017 I finally said enough. I finally was in the right mindset to put me first. I made my first changes. And I haven't looked back. There is 6 years between these photos but I feel 20 years younger. And 20 kgs lighter.
I'm now a size 12 and fitter, stronger, healthier and happier. Thank you Healthy Mummy.  BABYSTEPS are getting me there."
Lisa Porteous – "It's a lifestyle change"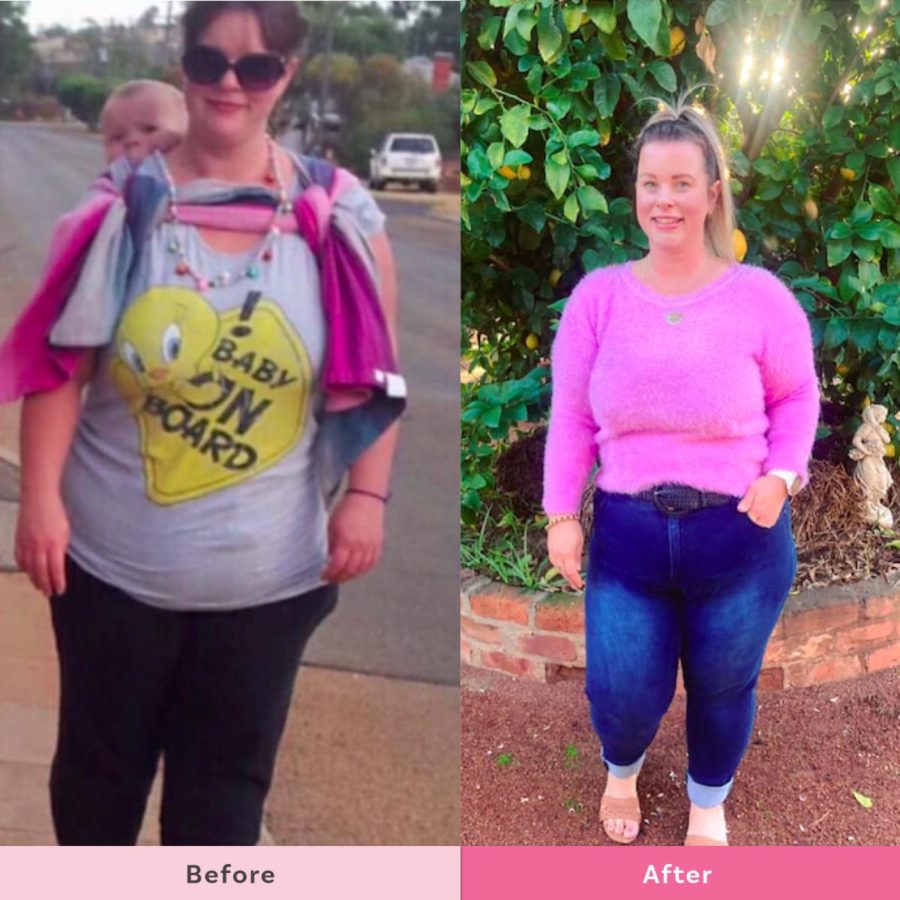 Lisa says, "40kgs, 6 dress sizes and over 100cms lost. The day I discovered The Healthy Mummy my life and health changed for the better. I've never felt better than I do following the 28 Day Weight Loss Challenge and the Healthy Mummy Smoothies make my life so easy. It's a lifestyle change for sure, I can't wait to live like this forever!!!"
Manuela B – "The Healthy Mummy has given me the tools to make my weight loss dreams come true, one step at a time."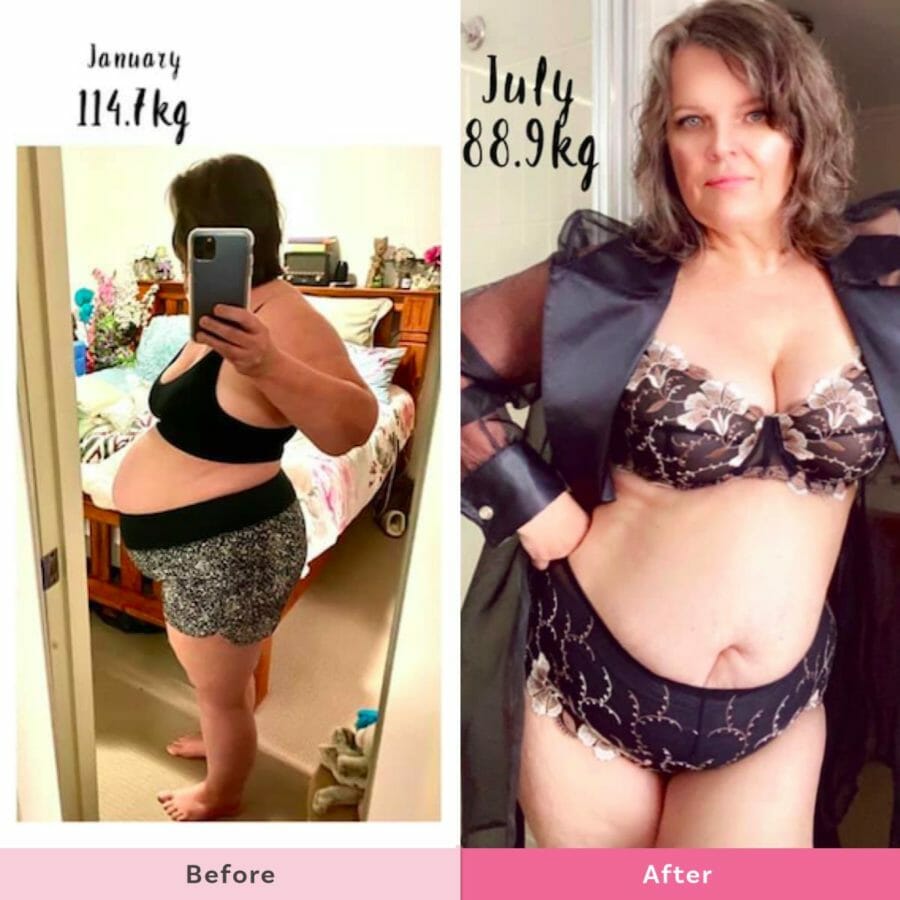 Manuela says "10th January -13th July 2020. Six months, it's a gradual process, it takes time. There is no magic pill or wand! Once you get your mind in the right zone…… you can't fail. I've failed multiple times before because I wasn't "mind" ready.
How do you get there? For me, It was my declining health. I became aware that I only had a few years left. I was convinced my time was very limited. This became my motivation! I joined The Healthy Mummy in January 2020. And I haven't looked back.
I keep my meals very simple. I stick to my calculated calories and I weigh everything! I still weigh everything!!!!! I do pick and choose meals from The Healthy Mummy meal plan at times but I rarely eat treats. I also use the Healthy Mummy Smoothies and I love the Glow Flash Balm from the skincare range. I never go a day without it. And as for exercise I mainly walk.
The Healthy Mummy Groups are a wonderful group of supportive ladies. Each with a journey of their own, but they are also your biggest cheer squad! A wonderful group of caring ladies.
The Healthy Mummy has given me the tools to make my weight loss dreams come true, one step at a time. My biggest advice – don't look at the whole staircase, just take one step at a time!"
Well done, ladies on your amazing transformations.
Are you ready to become a Healthy Mummy?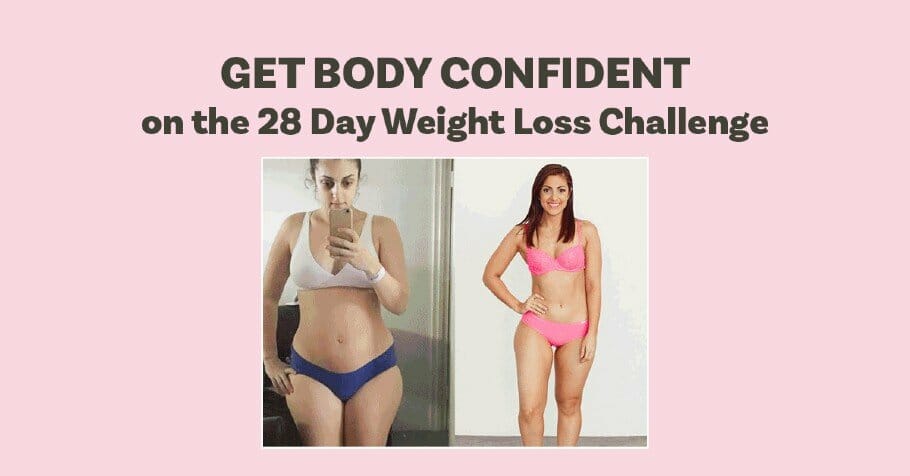 If you are wanting to lose weight and improve your energy – not to mention – help improve your overall health and wellbeing – our 28 Day Weight Loss Challenge is an awesome program to check out.
Our 28 Day Weight Loss Challenge includes:
28 days of at home exercise routines (no gym needed) – with video instruction
Customisable and breastfeeding friendly meal plans (including 7 Day Cleanse)
Time-efficient exercises for busy mums – under 30 mins
Challenge combines Pilates exercises with interval and circuit training (HIIT)
Suitable for basic to advanced fitness levels
Home to thousands of EASY-TO-MAKE recipes!
To learn more about our28 DAY WEIGHT LOSS CHALLENGE CLICK HERE or purchase our Smoothies.